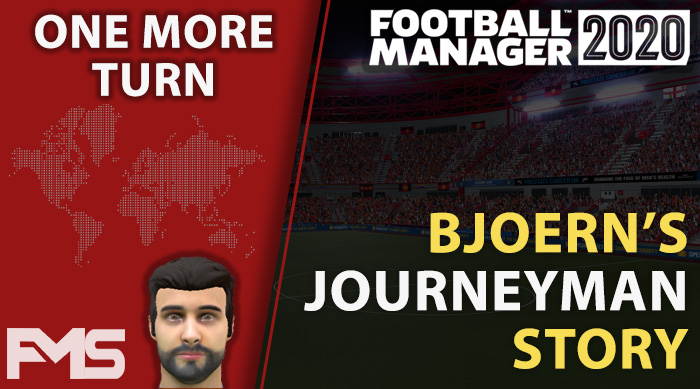 Gabriel's Diary
Jinan, China, August 4th, 2030 — They must be kidding me! Asian Games are due in the first half of September and U23 sides are going to participate. I'm proud that 6 of my players (Jimin, Mizuno (for Japan), Zhigang, Qing, Tao, Yun) have been nominated to represent their countries. But here's the catch: U23 preparation starts two weeks ahead of the Games. And 5 of those guys are first teamers in my team, number 6 is my backup goalkeeper. They will thus be unavailable for these essential two weeks. Two weeks in which we are meeting current champions Beijing Guoan in the fight for a top spot in the division. And we're playing a FA Cup semifinal against Chongqing. I'll be pulling my hairs to deal with this.
Moving to Asia
After my Mamelodi Sundowns won the CAF Champions league in 2029, Africa was done for the sake of this journeyman. I set my eyes on a new goal: win the AFC Champions League. I loaded the Chinese, Korean, and Japanese leagues, hoping that finding a job would be a bit simpler this time round than when I entered Africa virtually unknown. I applied for top division jobs and got interviews with Korean champions Jeonbuk Hyundai Motors, and Chinese sides Dalian Yifang and Shandong Luneng. Jeonbuk and Dalian would have given me Champions League football in the first year, while Shandong were not qualified for a continental competition in 2030. The Jeonbuk board decided to not hire me, while Dalian and Shandong made offers. Interestingly, the Shandong board were willing to give me more transfer and wage budget. And to clarify: we are talking about 100,000,000 EUR in transfer money and 10,000,000 EUR monthly wage budget here. Rich isn't the right term for this kind of valuation.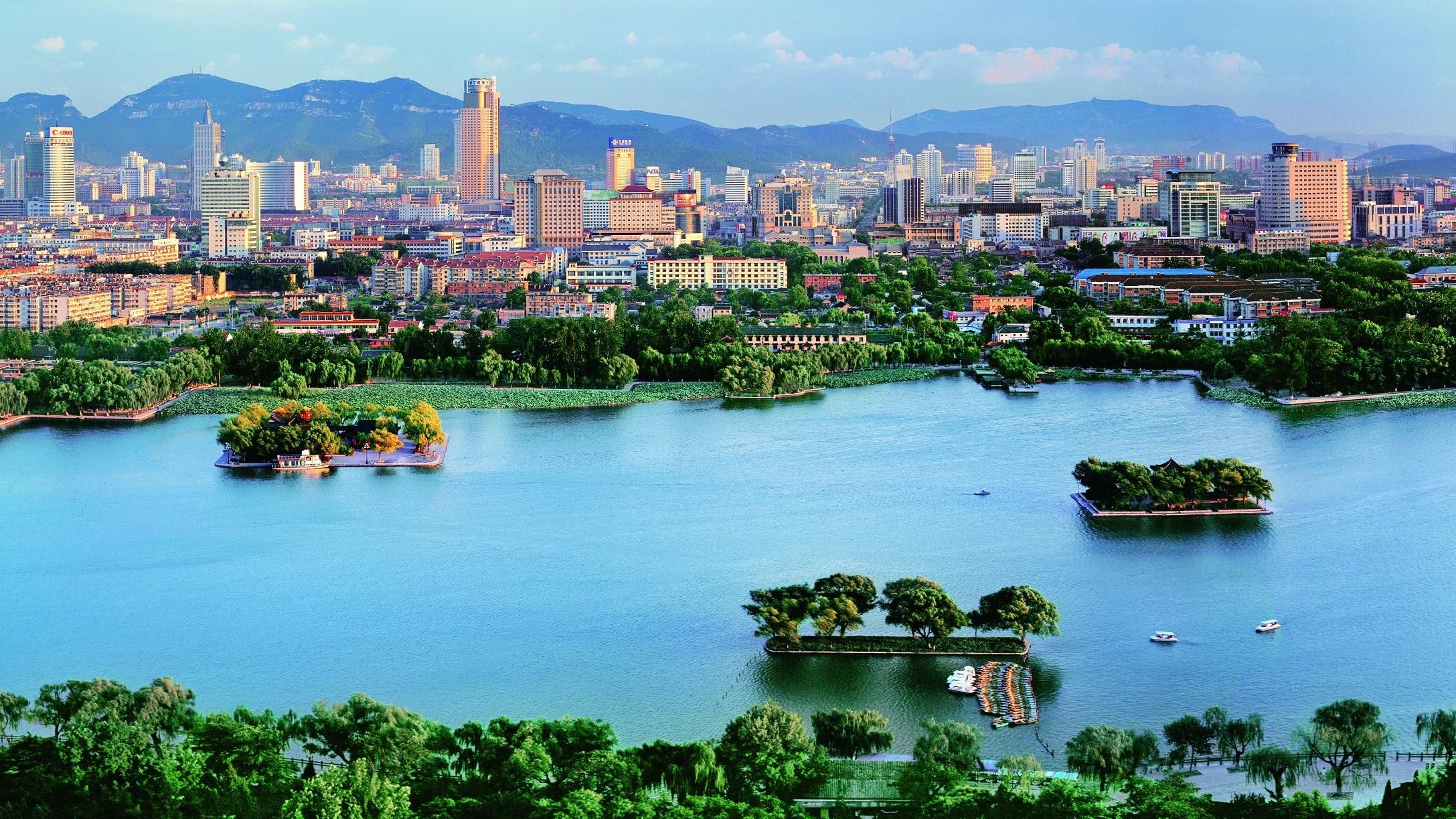 So I signed with Shandong (and later nearly got a heart attack when I saw Dalian reaching the semifinals of the AFC Champions League! Man, was I close!). Splashing the cash turned out to be not so easy in China.. First, there are foreigner rules. Technically, you can have up to five foreign players registered to play, but effectively it is four because the last one must be of Honkong/Macao/Chinese Taipei nationality and those players are rare. Furthermore, only three of these players can be on the pitch at the same time, making the squad selection process more complicated. To ease things here, I settled for a maximum of three foreign players at the club. Imagine my surprise when I found that Shandong had seven of them under contract, although three of those seven were already sold by the board and would leave within my first weeks.
Second, China is a huge country with so many citizens. But the quality of its professional footballers is mediocre at best. So, even having all this money at hand, there's simply not enough good Chinese players worth spending it on. As a result, Chinese clubs invest heavily in foreign superstars that are then supposed to carry the squad. (Extra caveat: if you pay a transfer fee to a foreign club, you are due the same amount in tax.)
Building a Squad
I decided to keep two of the foreigners in the squad.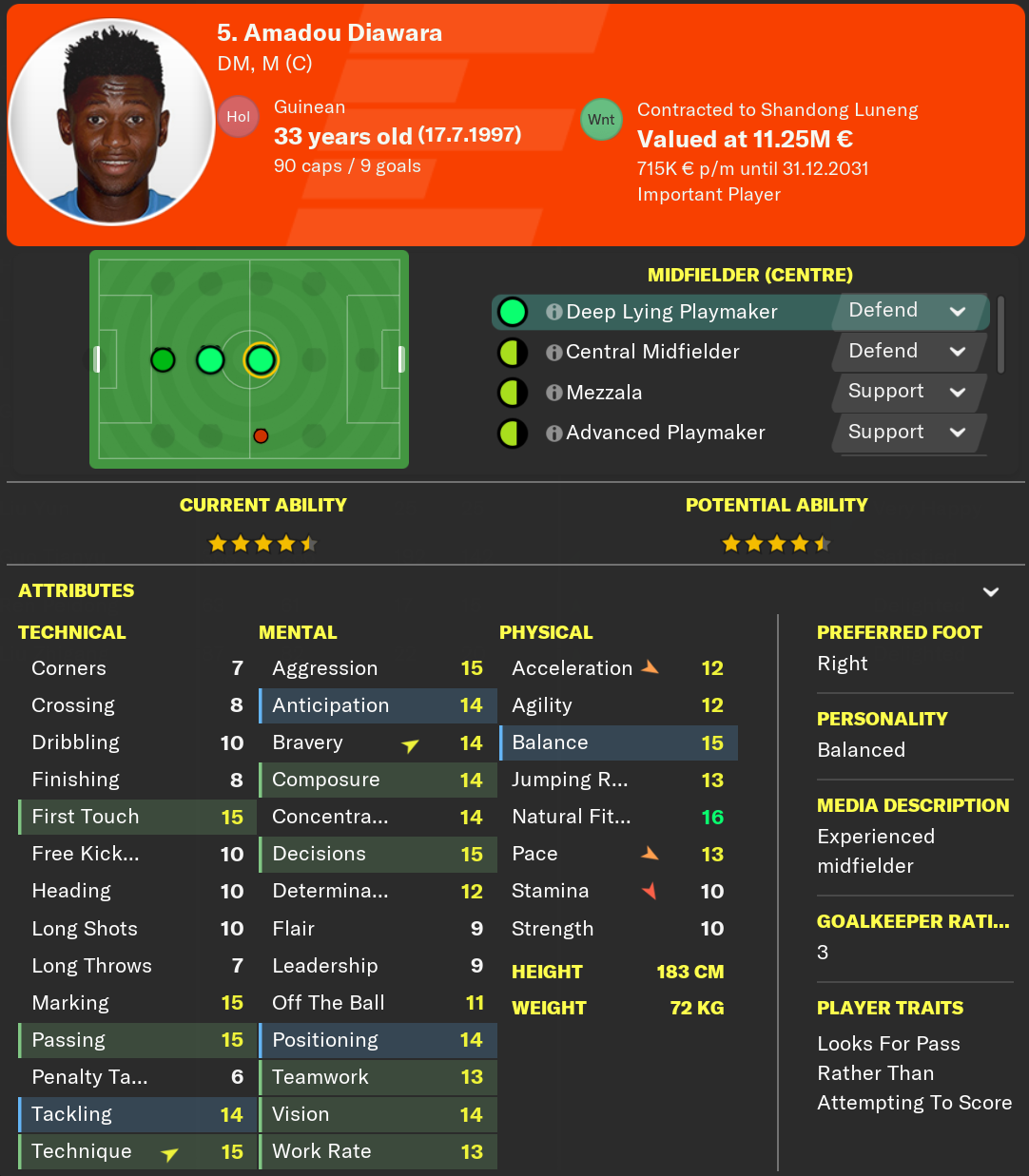 Amadou Diawara played for Roma and Napoli before joining Shandong at the age of 27. When I arrived, he had already been with them for nearly 6 years and was still a defensive force to recon with in central midfield. He would mostly play as DLP or CAR and raked in a 7.48 average rating over 28 league matches.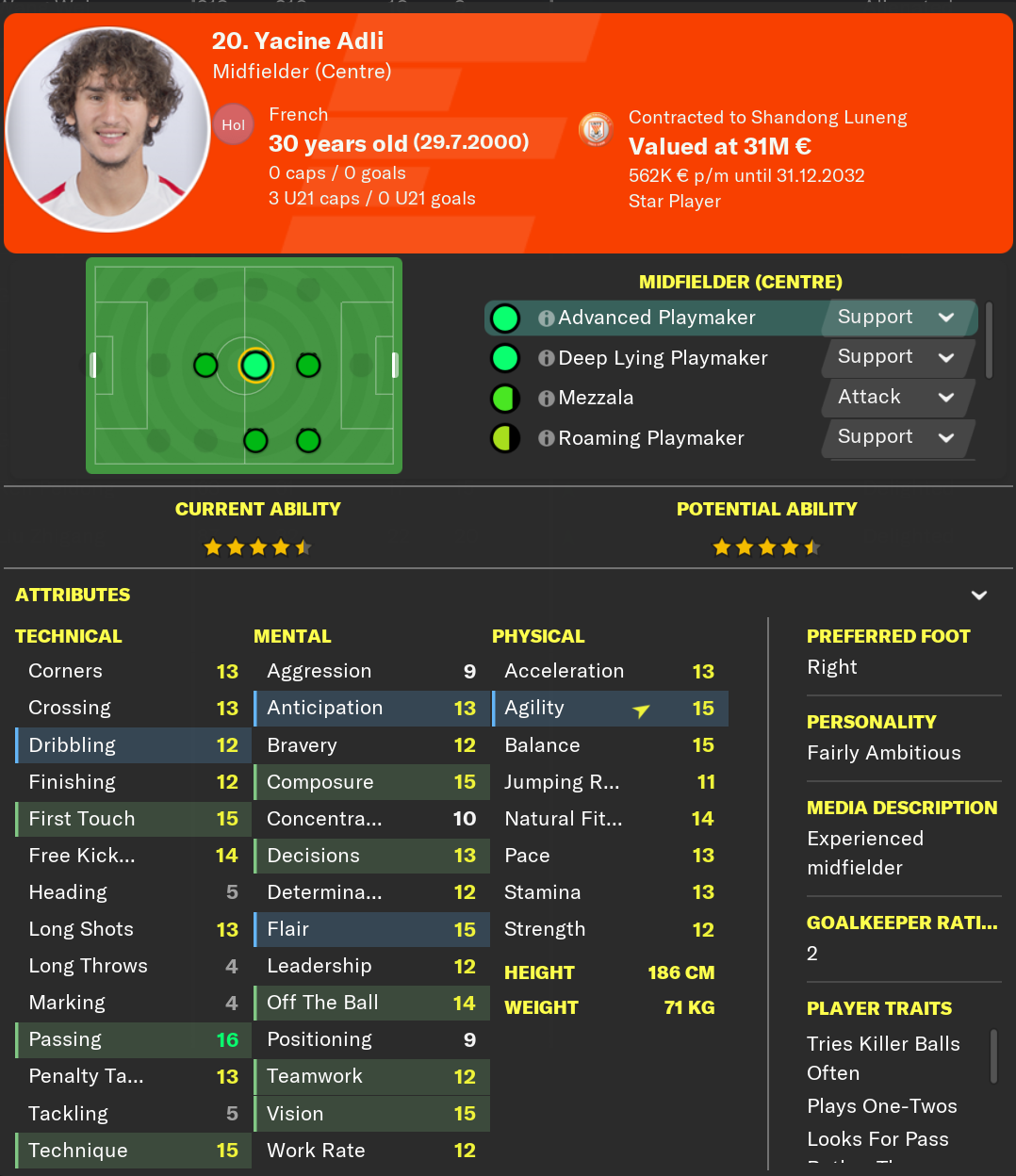 Yacine Adli was educated in PSG's academy before turning out several years for Bordeaux, Sevilla, and Real Sociedad. When I arrived, he was on loan at Benfica, likely because my predecessor had deemed him surplus over the alternatives. I immediately recalled him from there because he seemed the ideal offensive partner for Diawara. I played him as MEZ(a/s) and he won matches on his own.
On top of that, we found some promising Chinese players that performed well.
Liu Zhigang was already at the club and had come through their youth. The attributes don't look spectacular, especially the technical side ins't that great for a striker. Nevertheless, he played really well in the TM(a) role and ended up being our team's top goal scorer with 14 goals in 28 matches played.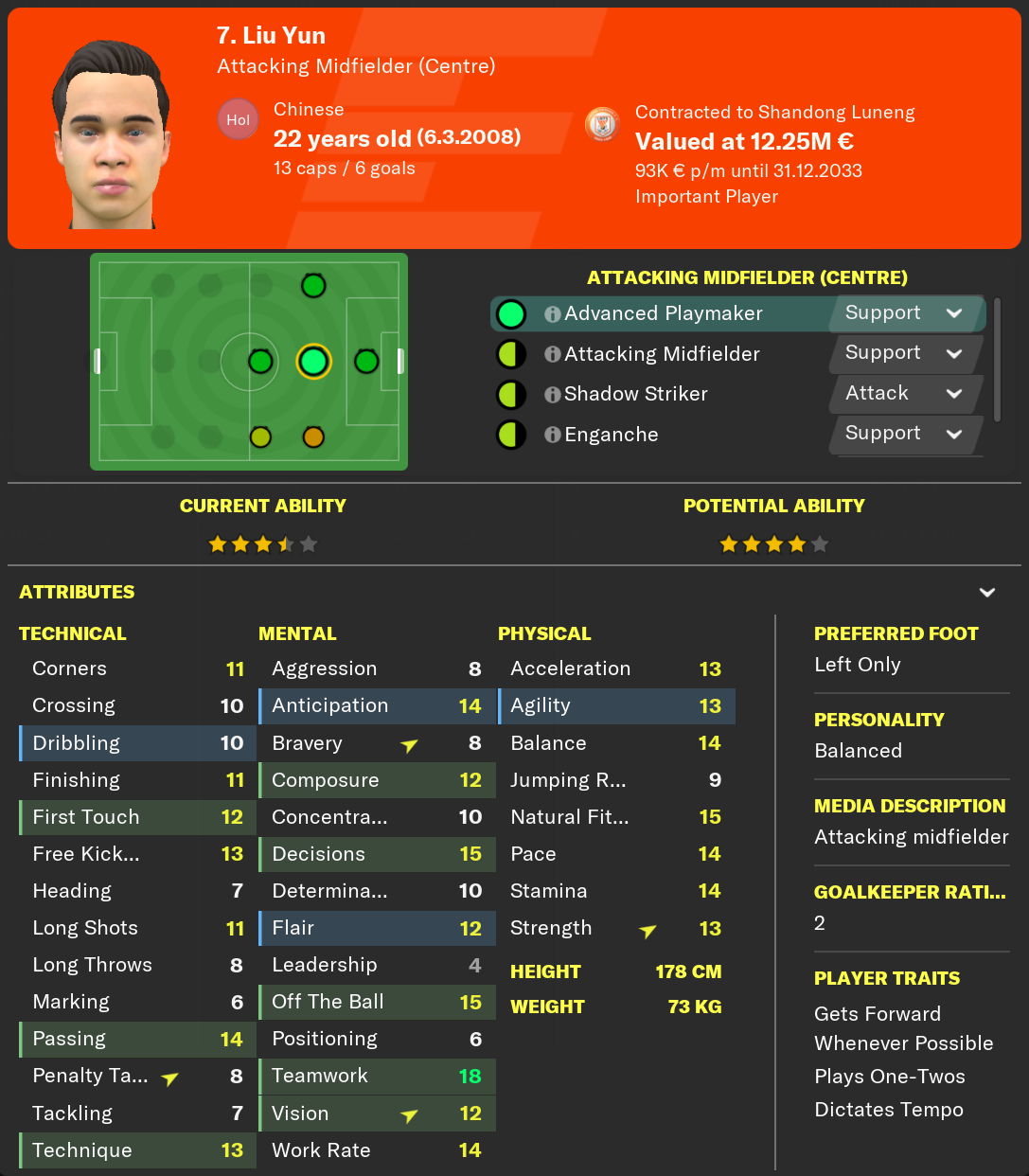 Liu Yun joined us from Dalian Lifang for the Chinese record transfer sum of 22.5 million EUR. I originally intended to use him as the backup Mezzala for Adli and have him ready once Adli decides to leave or retire. However, Liu was so good, he deserved a place in the starting eleven and it turns out he can also make good impact on the wing (IW(s) on the right).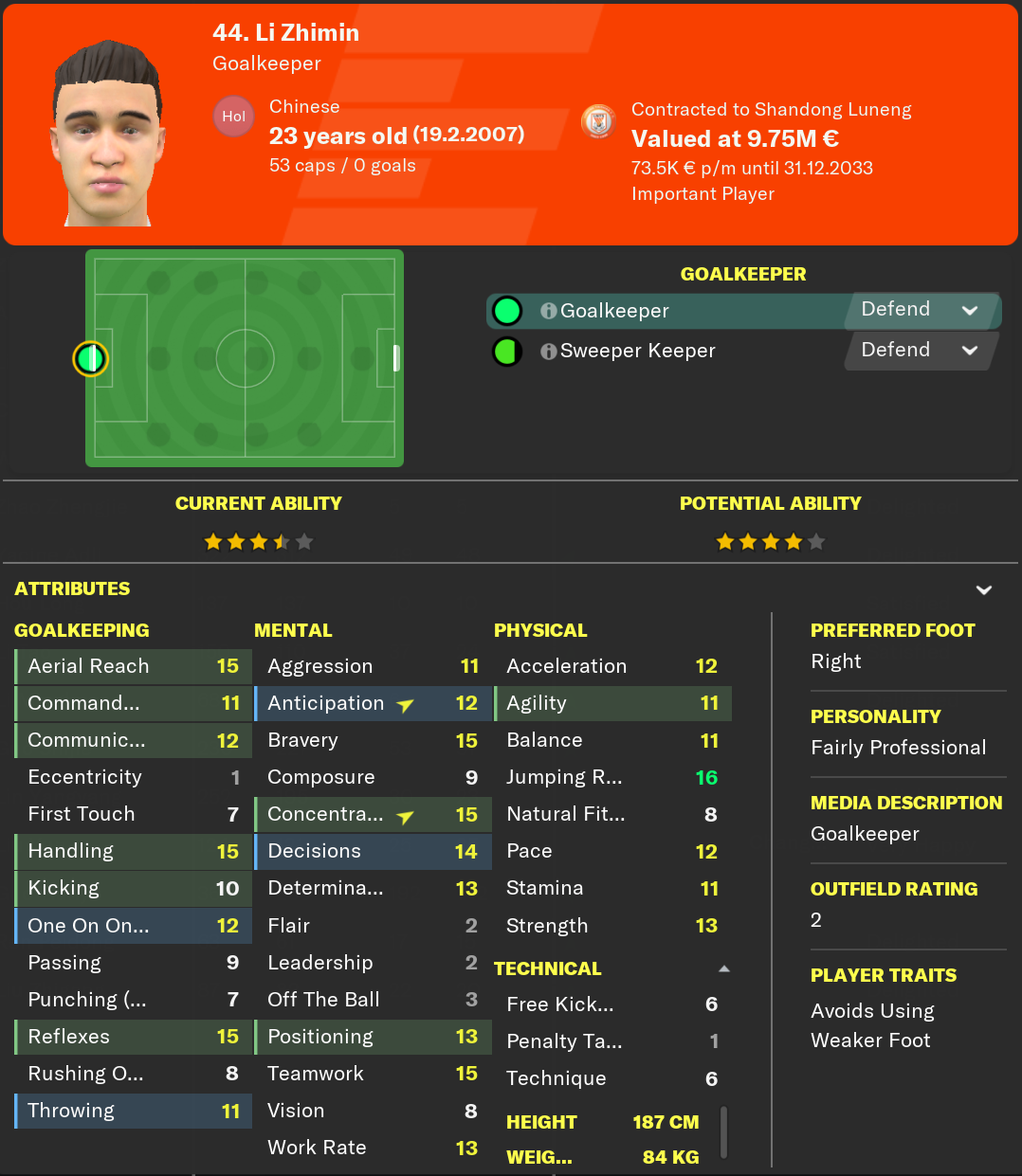 The Shandong squad was lacking in the Goalkeeper area, so we spent another 15 million EUR on Li Zhimin. Chinese national goalkeeper and the best we can get, because the Chinese squad rules allow us to only register Chinese goalkeepers for the competition. He turned out rock-solid and everyone was happy with the transfer.
The Year 2030 in Chinese Football
Tipped to finish 2nd behind Beijing Guoan, we had a rough start into the season. All the new players needed some time to gel together, I presume.

We kicked off with a 1-0 win against Henan (with record signing Liu Yun making his mark right from the start). But then we had two unlucky losses against Shanghai and Dalian before we managed to scrape a draw against Beijing Renhe.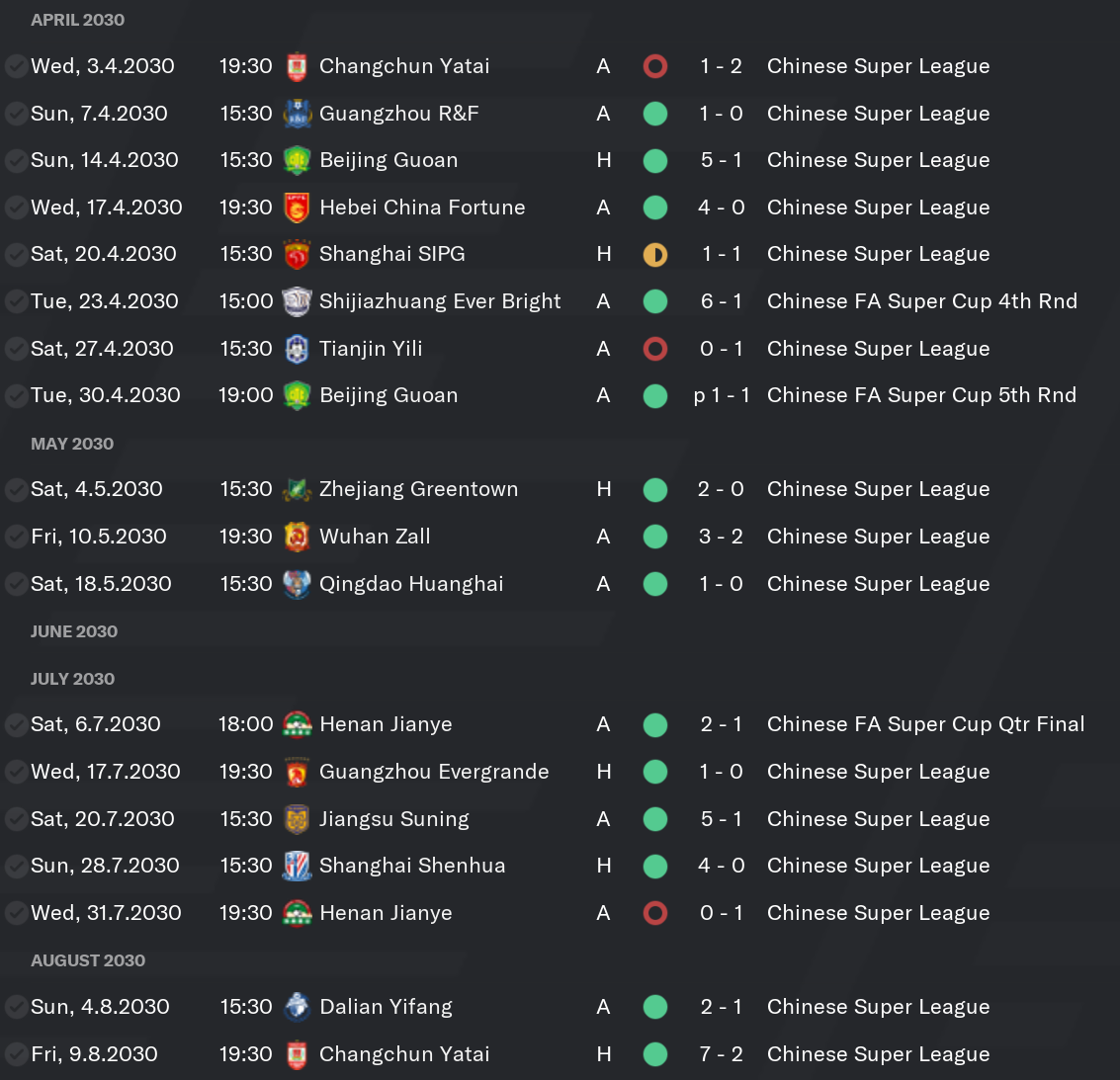 We then went into April with another loss to Changchun Yatai and the press were starting to speculate about my sack looming on the horizon. However, we finally picked up a good run of matches and on the way bet Beijing Guoan 5-1 at home and later managed to also kick them out of the Chinese FA Cup on penalties. The great run went into August, where we bet Changchun 7-2 in a spectacular game (we were 6-0 up before they even started shooting at our goal).
But then scheduling happened: the Asean Games where scheduled for early September and half of my first team squad were selected to represent their U23 sides (China and Japan) there. Situation was especially bad in goal because my first and backup goalkeepers were the first and backup for the national team as well, so we'd have to play our U19 goalie. Combine this with at least two important matches ahead: we were to play Beijing away in a match that likely would be decisive for the league campaign. And there was a FA Cup semi final against 2nd division Chongqing to be played. First I was upset, then I became really afraid.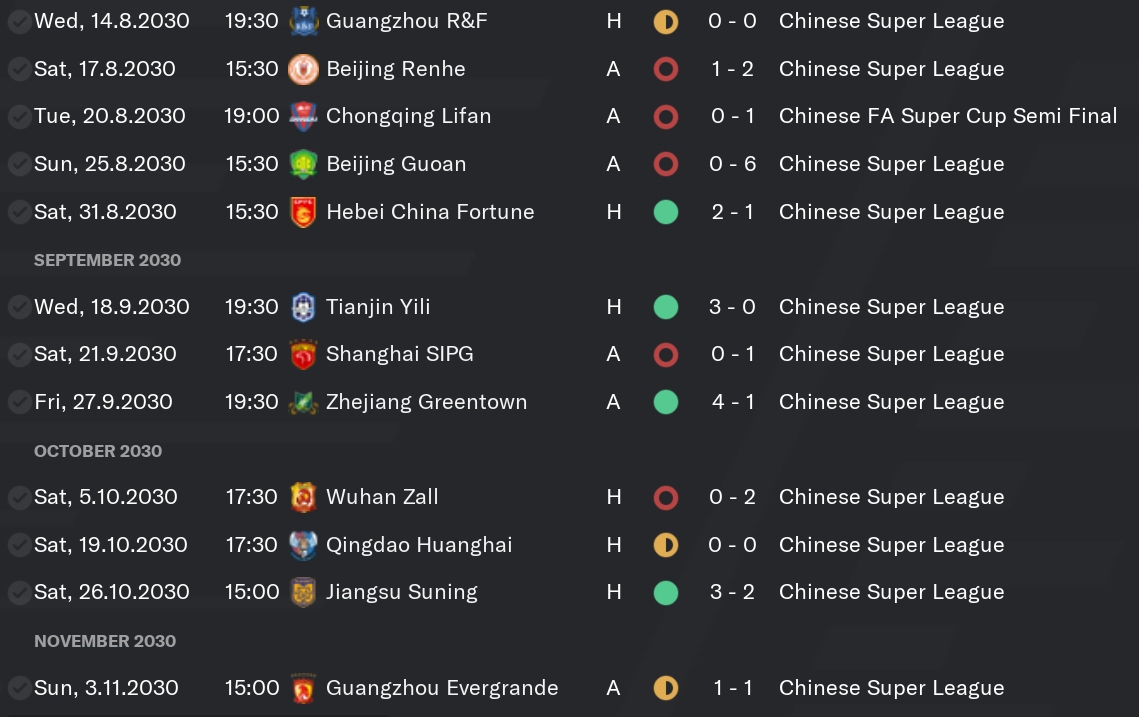 Rightly so, it turned out. We drew 0-0 against bottom-of-the-table Guangzhou and then went to lose against Beijing Renhe. We also lost the semifinal against Chongqing before getting a 0-6 beating from Beijing in which they made clear that they would not accept any challenge to their title hopes. We picked ourselves up after that, but I believe this second half of August was what turned our great run into a season where we just reached the bare minimum of what was expected. In the end, Beijing won the league as expected and we managed to finish 2nd, at least securing qualification for next year's AFC Champions League.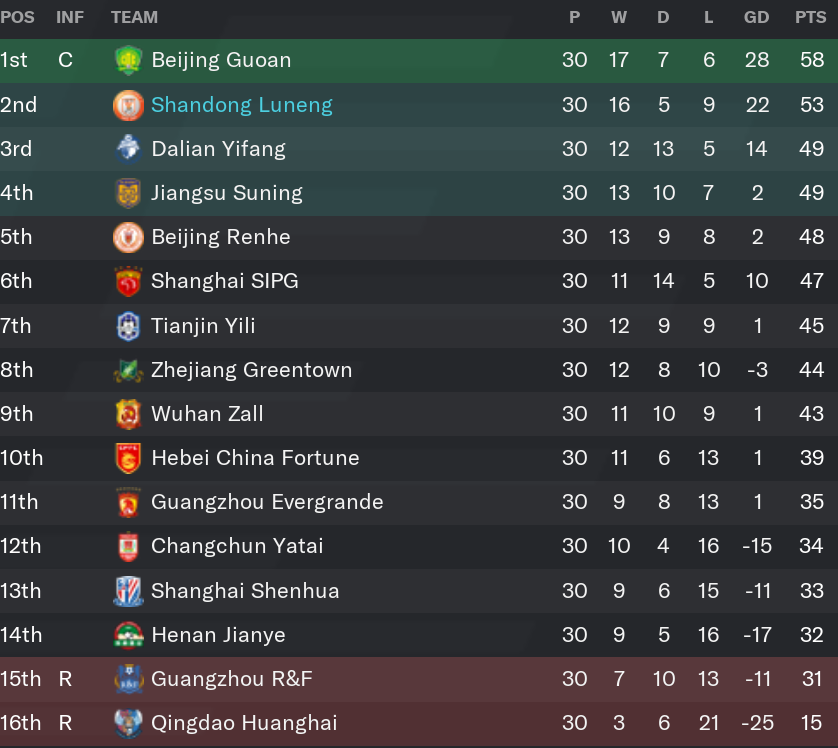 Outlook
We secured Champions League football for next year and apparently, my players did really well. Diawara won Chinese player of the year, Liu Zhigang nearly won the goalscorer award, but at least got Best Young Player. And Liu Yun won the best U23 player trophy (don't ask me what the difference is….).



Still, the way things went leaves a bitter taste. We could have won the league. And we might even have won the cup. Now second-tier Chongqing instead of us qualified for the AFC CL group stage by winning it.
Next year is going to be even tougher. I will probably revise my opinion on foreign players and go for the full contingent of 5, even if I can't field all of them in the leauge. We can do with the quality if we want to succeed continentally. We'll also have to strengthen our B team if we want to efficiently rotate between CL and league matches. Good the board are giving me another 86 million in transfer money to spend, let's make sure we don't disappoint them.
Bjoern has dabbled in FM on and off since around Football Manager 2006. His first attempt at sharing his adventures was a save thread on the now long forgotten Lower League Management forums at SI. It was only much later, that he seriously got into FM again when he started blogging at 'bjoernsfm' for FM2019.