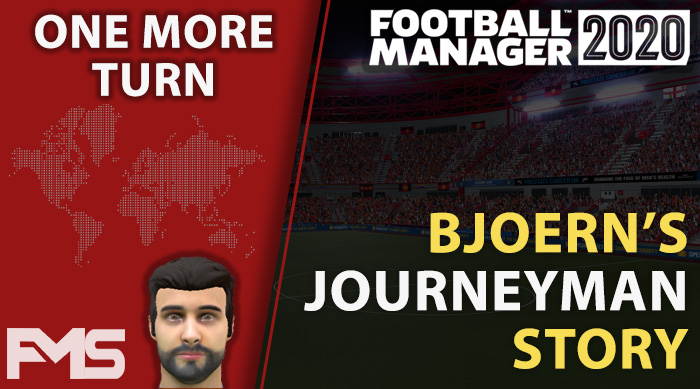 Gabriel's Diary
M'Saken, Tunisia, 14th August 2024. Mind blowing. I can't express all the thoughts that are running through my head right now. We had worked hard last season to gain promotion into the first division. But we had to make many adjustments to the team in order to be competitive. I did not know what to expect from the newbies this afternoon. Eight players in the first eleven were entirely new to the club. The media were expecting us to be pushovers and even my club president only asked me to fight bravely against relegation. Hopes were not quite high.
And then we play our first match against CA Bizerte. Not a top team, but at least a well-established premier division side. If we want to stay up, we will have to beat this kind of teams every once in a while along with all the weaker sides. And beat them we did. Hakim Hnid scored three before halftime. In the end we beat them 6-2, a result no one would have reckoned before the game. I don't think Bizerte knew what hit them. I'm proud of the boys.

But I won't let my mind go astray. We might have 3 points now. But this means we need at least 27 more to stay up. We celebrated today. Tomorrow we get back to work.
2024/25 Tunisian Professional League 1
We gained promotion to the CLP-1 last season with a team that was expected to be around the top half of the table, but not quite that high up. Honestly, I was hoping for some other, more solid team, to approach me in summer so that I would not have to worry about a relegation fight. But nothing substantial appeared, so I sat down and analyzed the squad and our options.
We won promotion with a fairly young squad and I was pretty sure that most of the lads were not quite first team material if we wanted to be successful. The media agreed with that assessment and made us one of the relegation favourites.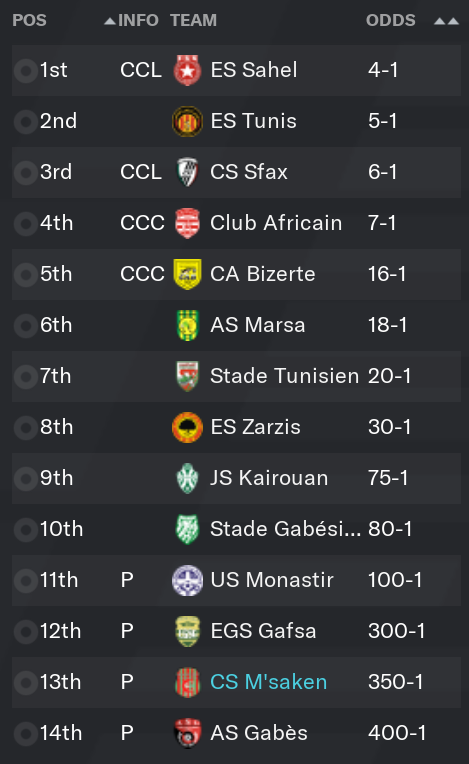 We needed some experience as well as some players that were simply … better in every way. So we had a bit of turnover in the summer break. Luckily, the board amassed a transfer budget of 130,000 EUR (anticipating the 1 million EUR that we were supposed to make from TV licensing during the next year and that would hopefully keep us afloat financially).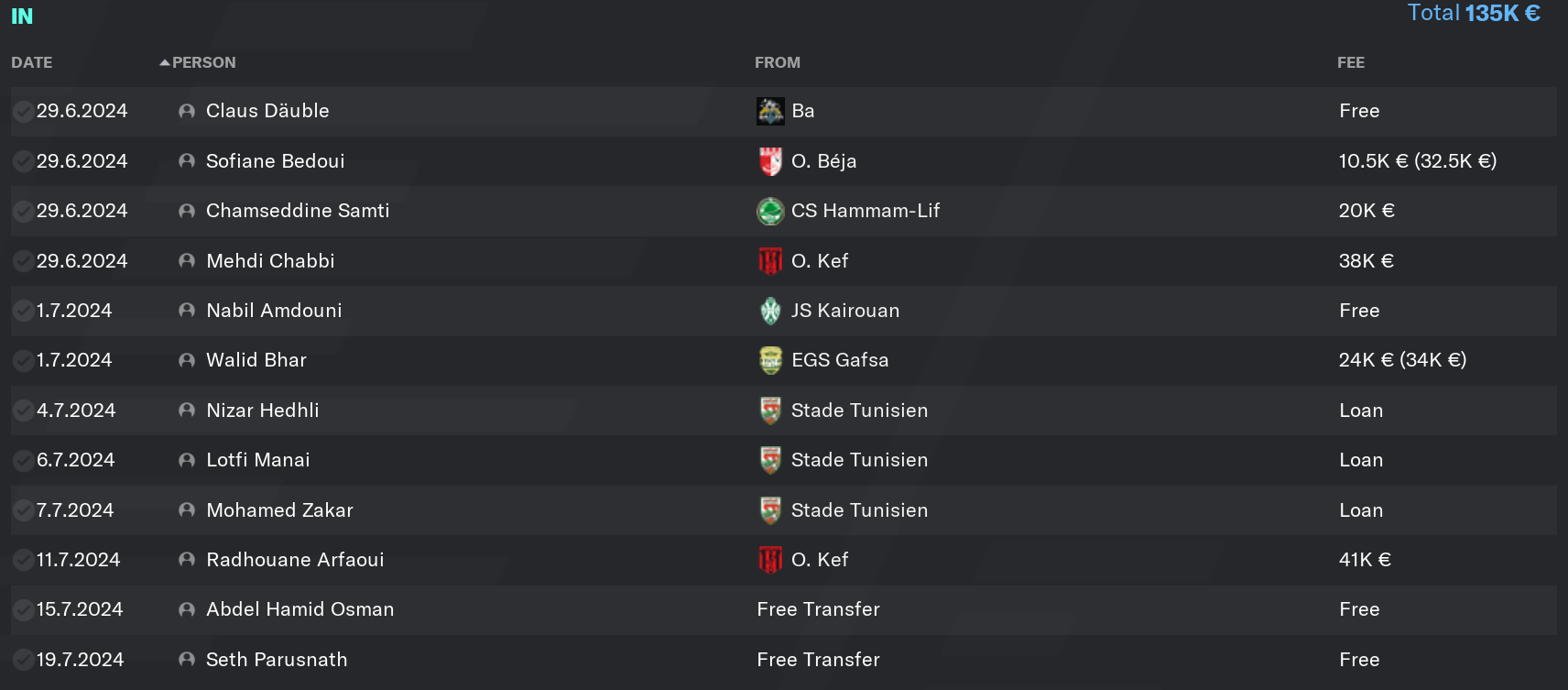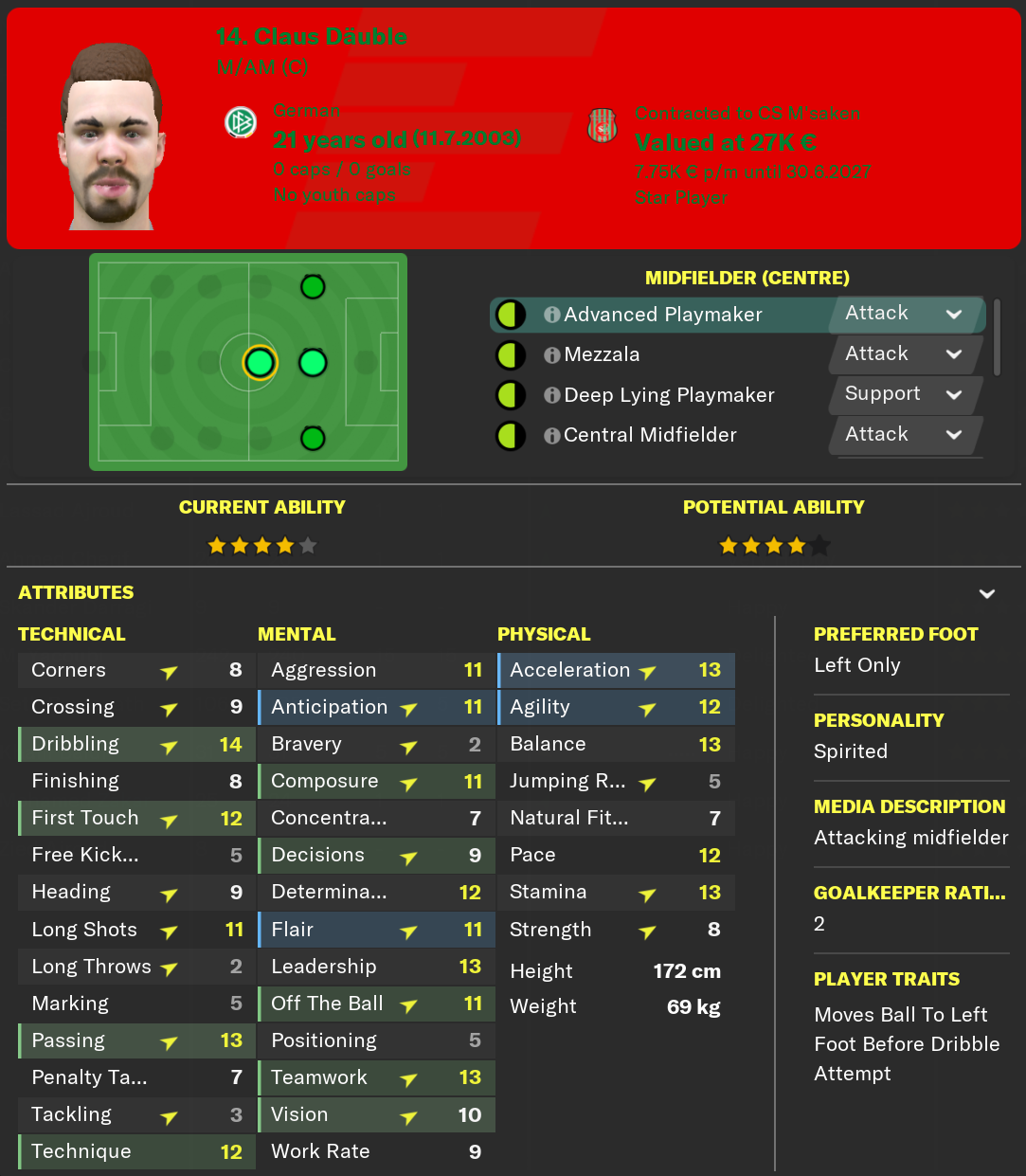 I remembered German youngster Claus Dauble from my time at Ba FC in Fiji. I had brought him in as an 18 year old in my last year at Ba and he had spent his last couple of years over there, winning cups and even yet another OFC Champions League title. But now his contract was running out in September and I was able to convince Ba FC to let him go even earlier by promising them 20% of his next sale. As I'm not planning on selling him, this guy was essentially free and is an all-round upgrade for the advanced playmaker position.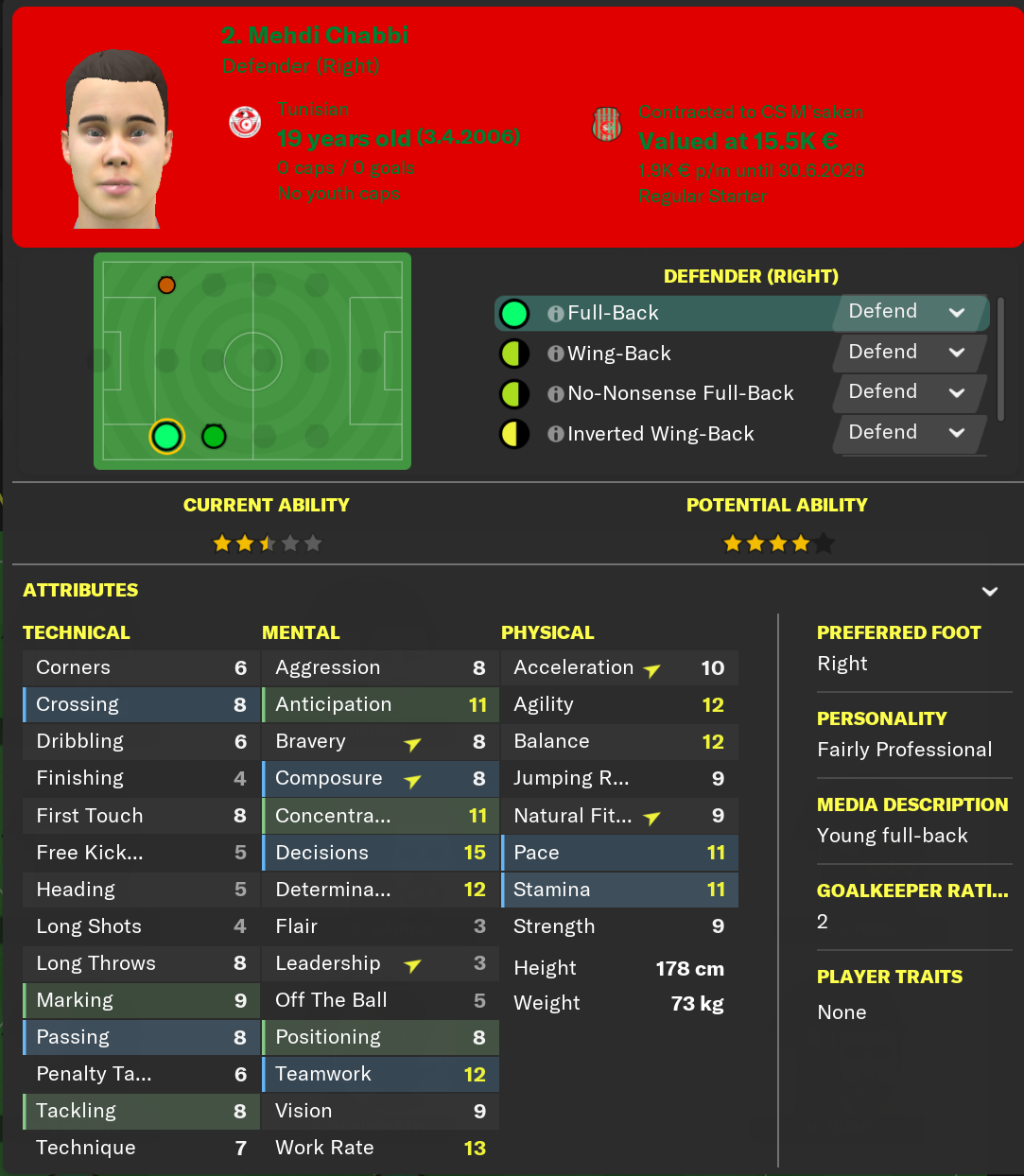 We paid 80,000 EUR to Olympique Kef who had been relegated from the first division and snapped up two of their players. Radhouane Arfaoui came in as our first choice goalkeeper as I did not trust young Ajroud to maintain his nerves even if he had played okay last year. Additionally, we grabbed Mehdi Chabbi to make a claim on the right fullback position.
I decided to fully upgrade to experienced players for the central defender positions. Chamseddine Samti had just lost the relegation battle with CS Hammam-Lif, but was certainly a good player. Mohamed Ali Yacoubi was a top-quality experienced player who had just been released from his contract in Qatar. (And he had won the African Champions League with ES Tunis in 2018 and 2019!)
He initially did not want to join a lowlight club as ours. However, he was thinking about his time after the footballing career and I was able to convince him with a combined player/Head of Youth Development contract, for which I happily kicked out my previous HoYD.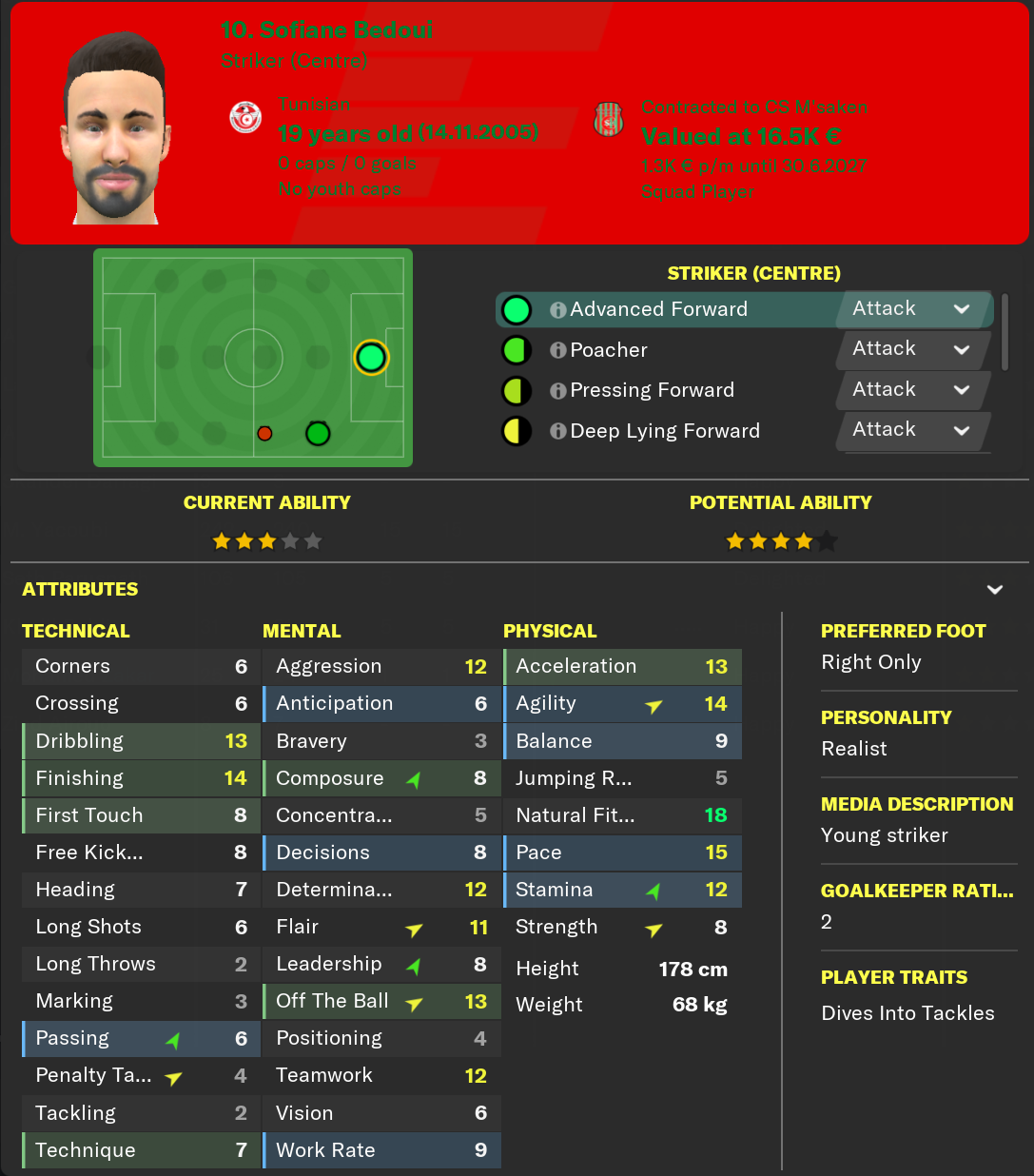 Last, I was fine with Dube and Chebli, my main strikers from the 2nd division time. But Dube's rental contract only ran for one more year and as he's taking one of our four foreigner spots, we might want to replace him soon enough. And only having 2 decent strikers in a 4-4-2 formation is not great either. So we splashed some more cash on Sofiane Bedoui with the hope that he would gel into the team during this season and be ready for a regular starting position next year.
Things could not have gone better initially. We won our first four matches of the season, including a spectacular 6-2 season opener against CA Bizerte and a surprise 2-0 victory against ES Tunis.

At this point we were topping the league, but of course this could not go on forever. Reality struck hard and we had to learn some lessons (All-out offense does not win games every week. Neither does sitting back and waiting for the opponent to score. And practice chance conversion at all times.)
We went on a streak of 7 matches without a win. But there was hope: except for the embarassing 1-3 loss against fellow promoted side Gafsa, we were actually playing okay in the other matches. With a bit of luck here and there (did I mention chance conversion training being needed??), we might have gathered some points there.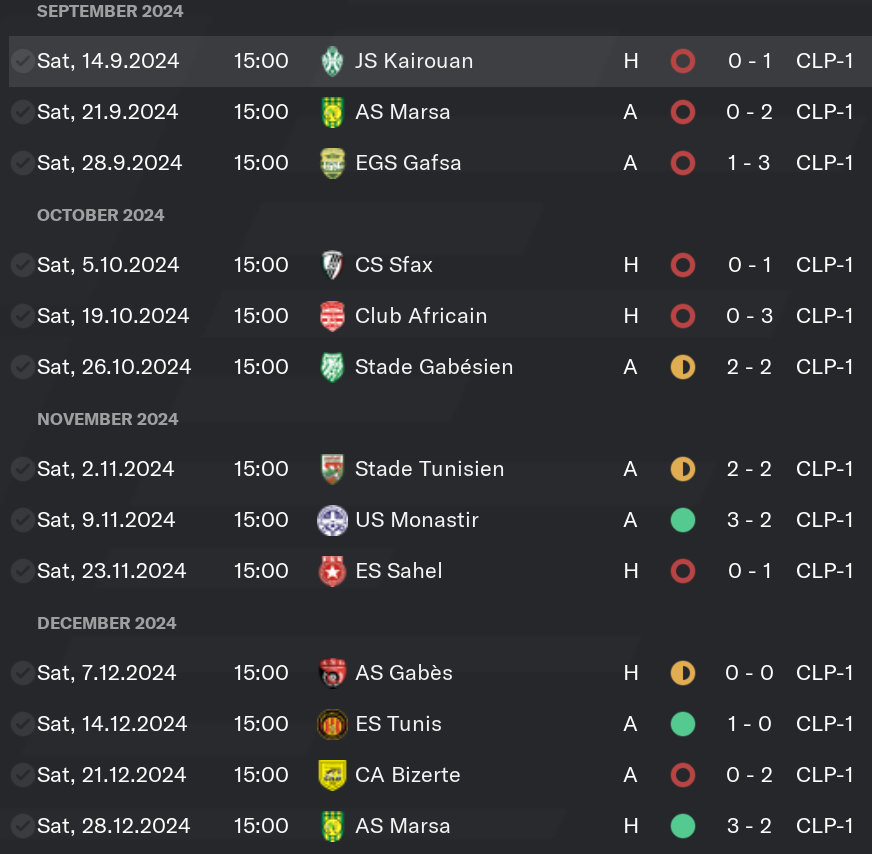 Looks like the team needed some time to grow into the new challenge, but then we started picking up points against fellow relegation candidates (Monastir, Gabes) and even another surprise victory against ES Tunis. At the end of 2024 we had accumulated 24 points and were sitting 8 points clear of the relegation zone.
Having done my research, I knew we had to get around 30 points to avoid relegation and it looked as if we should be able to grab the remaining 6 in the following months. Unfortunately, at exactly this time we got struck by some injury crisis and had to start rotating players more than before.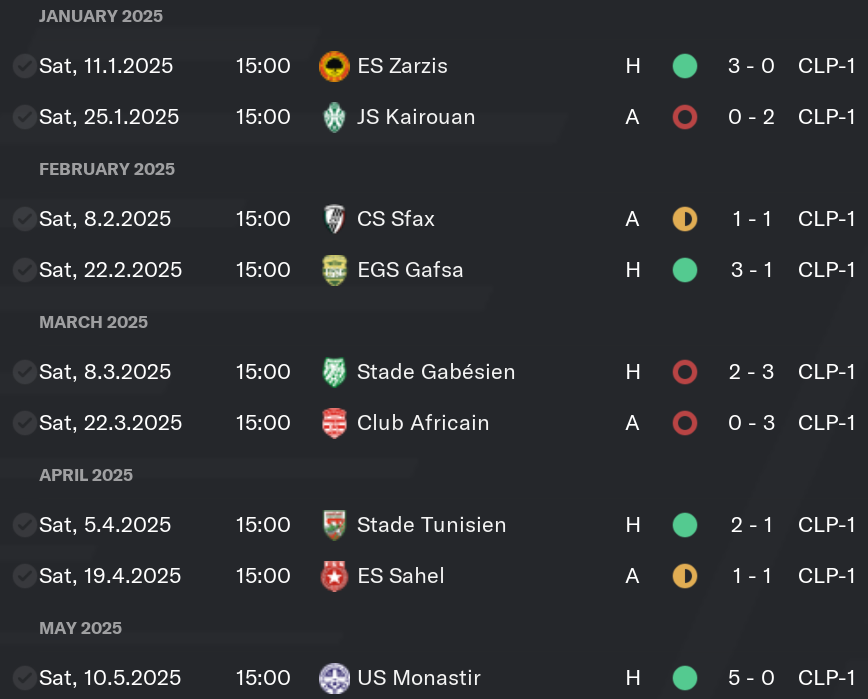 The injuries did not hurt performance too much (haha!). We were able to win a few more matches and reached the magic 30 points already in February after a win against EGS Gafsa. The losses against Africain (who ended up 2nd only one point shy of winning the league) and Kairouan (who had a great run of form leading them to finish 3rd) were acceptable.
The Gabesien match we could have won — we dominated over 90 minutes, but caught two unlucky long shots early on and then had to try coming from behind for nearly 80 minutes.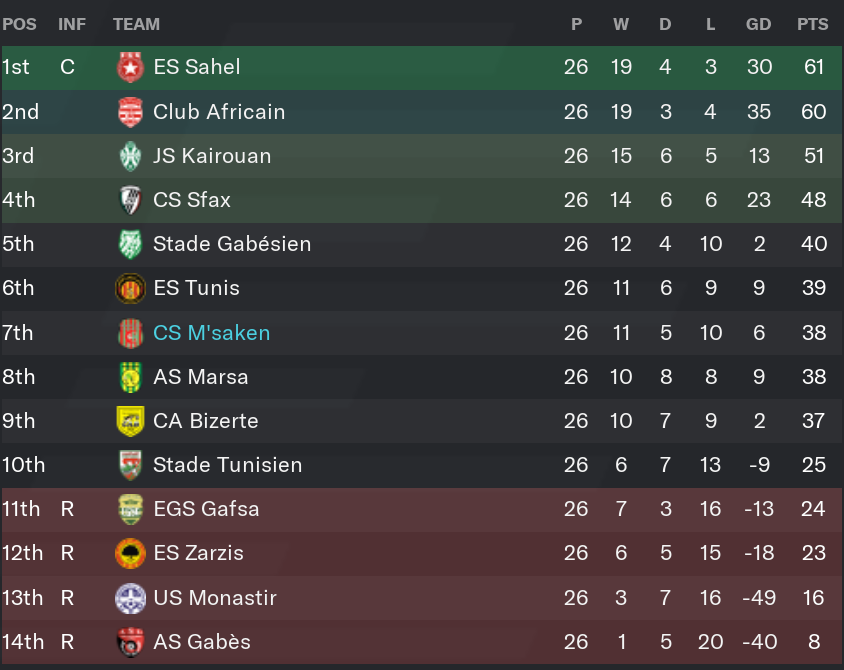 At the end of the year, we ended up with 38 points in 7th place, right behind ES Tunis, who — you may remember — had decided to chose someone else over me in their bid for the title. Serves them right!
2024/25 Coup de Presidente
Long story short: we participated. We met the board expectations of reaching the 4th round. We did not shine in any of the matches.

The 2nd round win against fellow 1st division team AS Marsa was a nice touch as it fell right into our series of losses in the league. We were really bad in the 3rd round against a lower-division side and needed to go to extra time.
We lost against Monastir in a game that we should have likely won. But honestly, I preferred losing against them in the cup and taking 6 points from the league Monastir league matches. :)
2024/25 Season Review
Mission accomplished! Expected to finish 13th and we safely made it to mid-table. The other three teams that had been promoted along with us (Gafsa, Monastir, Gabes) all ended up being relegated again, so we should consider ourselves lucky here. Our form did not go unnoticed and the media elected us to be the league's overachievers this season!

Looking at our performances, a main contributing factor were the contributions of Claus Dauble in the AP(a) position. He provided 6 assists and 5 goals, most of them came at times where the team needed a kick in the ass. His performances deservedly earned him a Player of the Year award (and all the fan awards, CS M'saken were able to give out: signing of the season, player of the season, young player of the season, even goal of the season.)

Unfortunately, Claus has made it abundantly clear that he sees his future in better teams than CS M'saken and refuses to sign any contract extension. The better news: his contract is running for two more years. Going forward, I'm planning to be more precise in strengthening the squad for next year.
South African loanee Dube's contract is running out and as he is becoming more and more dangerous in terms of goals and assists, I'm willing to give him a permanent foreigner spot in my squad. Defender Yacoubi announced his retirement for the end of next season, so we'll be looking to bring in a replacement that can work besides Samti in CD. And I'm not quite happy about the fullback and wingers on both sides, so if improvements turn up, I might be aiming for them as well.
Bjoern has dabbled in FM on and off since around Football Manager 2006. His first attempt at sharing his adventures was a save thread on the now long forgotten Lower League Management forums at SI. It was only much later, that he seriously got into FM again when he started blogging at 'bjoernsfm' for FM2019.