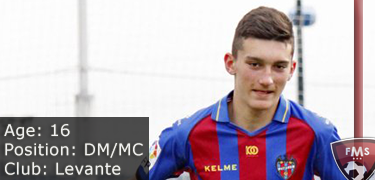 Pepelu
Age: 16
Position: DM/MC
Role: deep-lying playmaker / regista / half back / anchor man / ball-winning midfielder / defensive midfielder / central midfielder
Club: Levante
Nationality: Spanish
Value: £170K
Price tag: £2 million (16.3)
CA: 90 / PA: -8.5 (between 140 and 170)
Pepelu profile in 2015 (after starting new game, 16.3)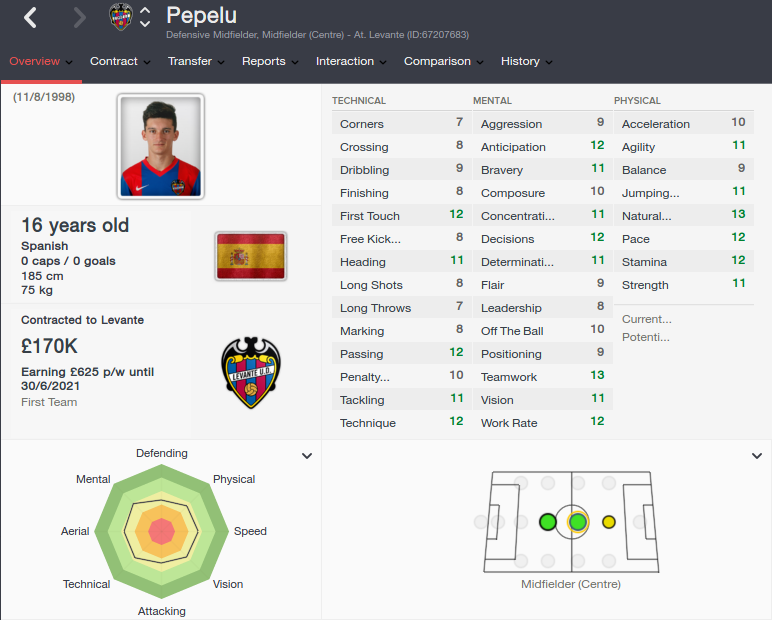 Pepelu profile aged 22 in the year 2021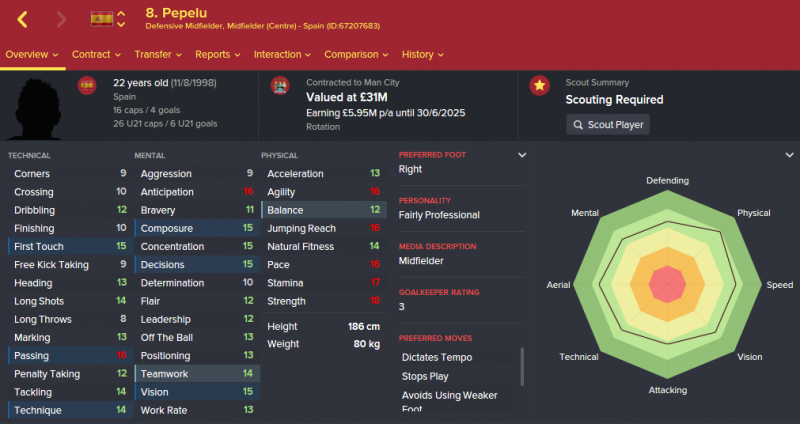 Pepelu career history until 2021

The FM 2016 player profile of Pepelu shows a very talented young central midfielder, with natural ability to play both as a DM and as a CM. He surely has a bright future ahead of him, so if you get him at the age of 16 you could at lease make a tasty profit out of selling him later on.
In my test save he played a few good seasons with Levante before catching the eye of Manchester City, who paid 41.5 million pounds for him in 2020. He also managed to break into the Spanish national team, having 16 caps and 4 goals for such a great footballing nation at the age of 22 is not an easy task for anyone.
He developed very well on the physical side, his passing and anticipation also became top notch. You have to keep in mind that he is 22 years old a the time of the future screen shot, so his development would continue for at least another couple of years. I believe that this kid can become one of the best central midfielders in Europe.
Did this player develop better in your FM 2016 save? Share a screen shot of his future profile with us by uploading the file below! (please include your name/nickname in the file name)
[simple-wp-dropbox]