Wilfrid Kaptoum
Age: 18
Position: MC/DMC
Role: advanced playmaker / deep lying playmaker / central midfielder / roaming playmaker / box to box midfielder
Club: Barcelona
Nationality: Cameroon
Value: £240K
Price tag: £2.2 million release clause (in patch 15.3)
CA: 96 / PA: -8 (130-160)
Wilfrid Kaptoum profile in 2014 (after starting new game, patch 15.3)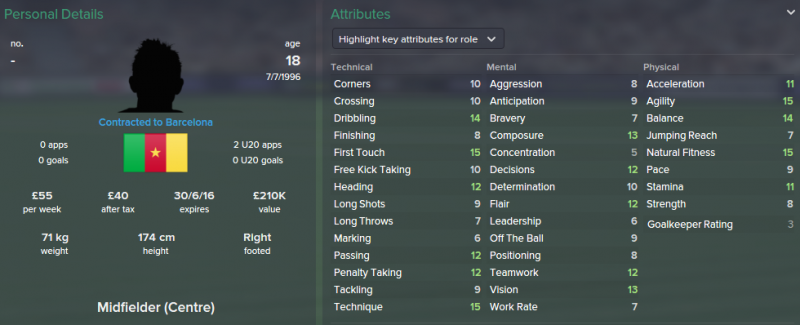 Wilfrid Kaptoum profile aged 25 in the year 2022 (patch 15.1)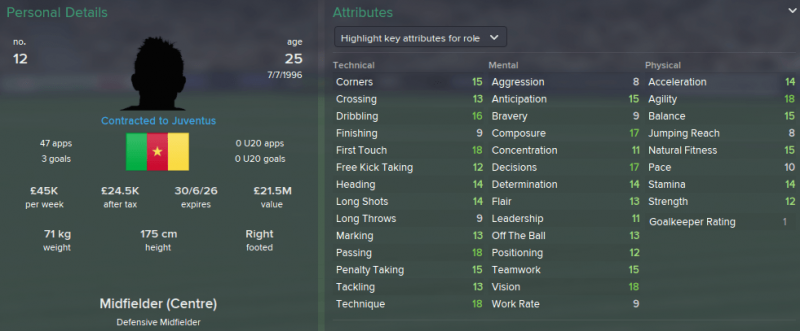 Wilfrid Kaptoum career history until 2022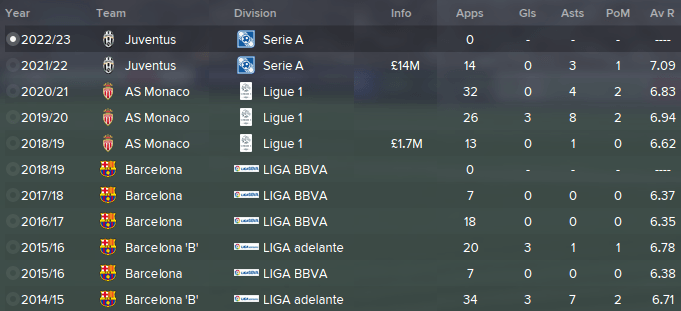 This FM 2015 player profile of Wilfrid Kaptoum shows a great advanced playmaker capable of picking out a pass and beating his man. In my test save Kaptoum developed fantastic passing, decisions, technique and vision, all suggesting a master in terms of picking out a team mate from range. He also gained good speed, dribbling and a handy first touch suggesting the playmaker could also carry the ball forward driving from midfield. Long shots are reasonable and Kaptoum is composed, an all round midfielder that should be the focal point of the attacks.
You should act fast, at the start of the game Kaptoum can be offered a contract with compensation of £2.2 million but this won't last, Barcelona will make a contract offer quickly.
Update: Since the latest patch release Kaptoum has received a big PA reduction meaning he will not develop as well as shown above. 
Did this player develop better in your FM 2015 save? Share a screen shot of his future profile with us by uploading the file below! (please include your name/nickname in the file name)
[simple-wp-dropbox]