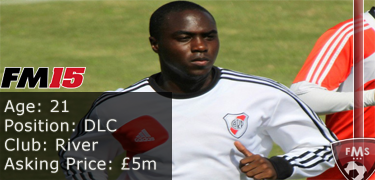 Eder Alvarez Balanta
Age: 21
Position: DC/DL
Role: limited defender / central defender / ball-playing defender
Club: River
Nationality: Colombian
Value: £2.3 million
Price tag: £5 million (in patch 15.3)
CA: 137 / PA: 178
Eder Alvarez Balanta profile in 2014 (after starting new game, patch 15.3)

Eder Alvarez Balanta profile aged 28 in the year 2021

Eder Alvarez Balanta career history until 2021

This FM 2015 player profile of Eder Alvarez Balanta shows one of our favourite wonderkids from the previous edition of the game, an awesome young central defender. Moreover, he comes at a very reasonable price at the start of the game, if you have a bit of money in your transfer kitty buying this kid right away is an obvious choice.
In my test save he joined Borussia Dortmund in 2015 and then made a big-money move to Juventus in 2018. He didn't have such a good time in the Bundesliga but he made up for the lost time in the Serie A, his average ratings through three full seasons speak for themselves. His profile in October 2021  shows a central defender with perfect marking, solid heading and tackling, very good speed and strength and also top notch mental attributes. With 20 for marking and 19 for positioning I guess he can make you feel very safe at the back.
UPDATE
Check out the screen shot below, sent by Will, showing Balanta's progress in his FM 15 save: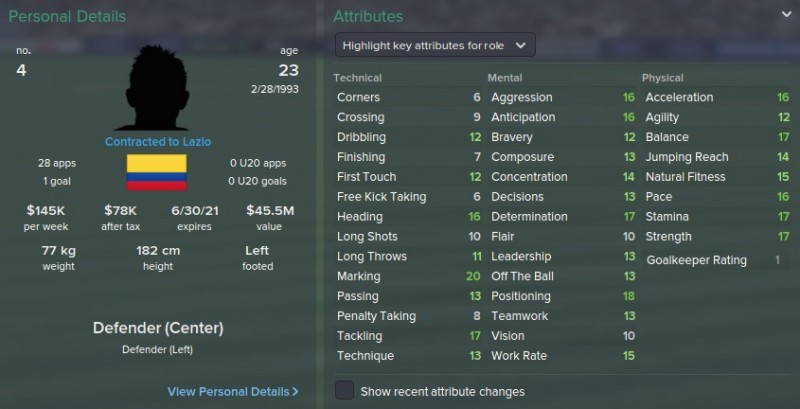 Did this player develop better in your FM 2015 save? Share a screen shot of his future profile with us by uploading the file below! (please include your name/nickname in the file name)
[simple-wp-dropbox]

FM 2020 Stories
Heh guys and welcome back to episode two of this FM 2020 lower league...

Hey guys and welcome to the first episode of my FM 2020 lower league story....

Gabriel's Diary Duesseldorf, December 18th 2017 — Starting the Monday hungover. I can't remember what...