8 Dec 2013
FM 2014 Time Machine: Long Drought at the Camp Nou
I like using FM 2014 as a crystal ball, a more or less accurate way to see into the future of the football world. It's just a game, I know, and that's why I'm doing this just for fun. But some real facts can emerge from this way of playing with Football Manager 2014 and its enormous database.
What if I told you that Barcelona won't win any titles from now until 2020? I guess most of you would give me odds of 100/1 or more on such a wild prediction. Well, I can hardly believe that would ever happen in real life but it did happen in a simulation I ran in FM 2014.
In this simulation Barcelona failed to win the domestic league from now until 2020, they even finished fourth in 2017-2018. The last season, 2019-2020, is not shown in the screen shot below: Barca finished third on 72 points.

With Barca failing the domination was split between the two Madrid clubs, Real and Atletico, with Valancia managing a few podium placements.

What's even more unbelievable is that Barcelona didn't win any other trophies either, no Champions League, not even Europa League, heck, not even a lousy Copa del Rey. Well, they did get a Spanish Super Cup in 2016 but I doubt that was any consolation for the fans.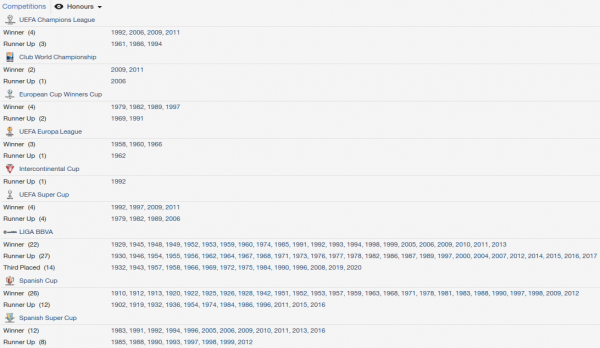 As you can expect Gerardo Martino was sacked at some point, in December 2016, and former Barca and Real player Luis Enrique was his replacement.

What happened? How did the Spanish giants go on such a long trophy drought? Let's look at the best eleven for a few relevant seasons. The screen shot below shows the best eleven for the inaugural season, 2013-2014, a season which saw Barcelona finish second. They were unlucky not to get the title though, they had 90 points at the end of the season but unfortunately Real managed to grab an impressive tally of 95 points.
The line up is one that everybody can recognize, Neymar up front with Messi and Iniesta on the flanks, Fabregas, Xavi and Busquets in midfield, Alba, Mascherano, Pique and Alves in defence. Oh, and Valdes between the sticks, of course.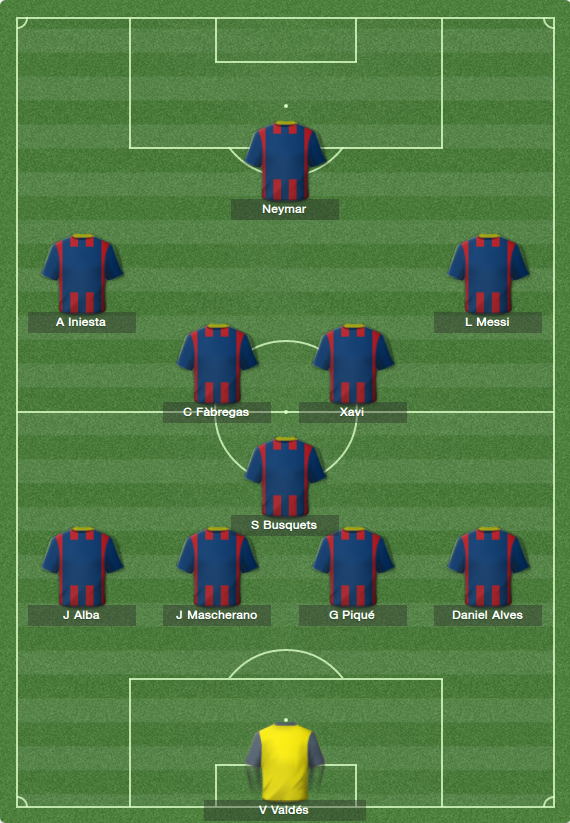 After that season Barca never managed to get close to 90 points again, they best they could do was 80 points in 2015-2016.
In 2014-2015 the club made some changes but not really for the best since Real Madrid won the title with much more ease with Barca finishing second again.
The main change is that Barca bought Sergio Aguero from Manchester City, fee was around 35 million, and sold Jordi Alba in return, also to Man City, and for a similar fee.
The best eleven changed significantly, Aguero was the spearhead, Neymar moved to the left flank while Iniesta was moved back in midfield. But Barcelona forgot to bring in a replacement for Jordi Alba, so they played Puyol as left back, Alex Song as a centre back and new signing Gino Peruzzi as right back.
Valdes was replaced between the sticks by Fernando Muslera, a good goalie in my view but not really a world class one.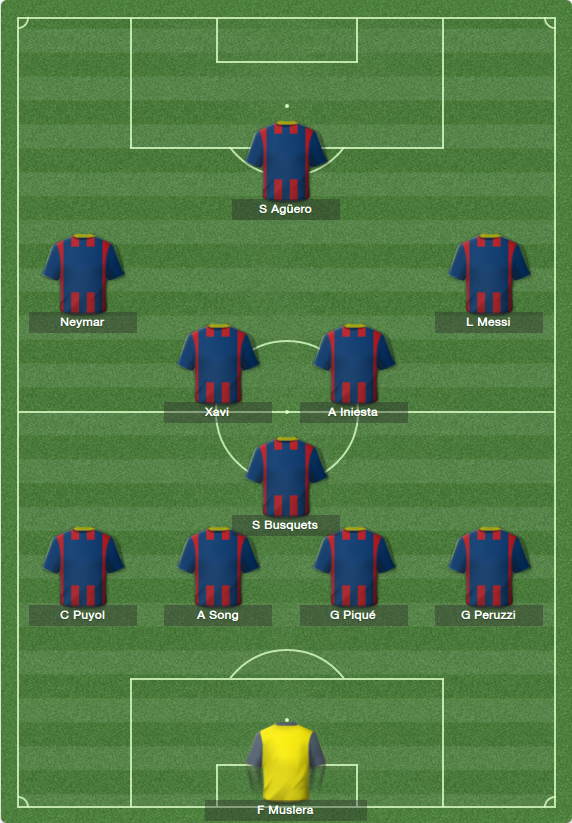 Unsuccessful seasons followed, successful signings were few and far between as well. Fast forward to 2018-2019, let's see the best eleven.
The trio upfront remained unchanged but things did move around in midfield, Alex Song was the first choice DM, Busquets moved up as a CM in pair with new signing Ander Herrera. In defence they still hadn't brought in a left back, so Peruzzi, who normally is a right back, took that position while an ageing Alves was top choice on the right. (I have to say that Alves had the pace of Messi's grandmother at that point).
New signing Doria teamed up with Pique at the heart of the defence while Muslera remained the main man between the sticks.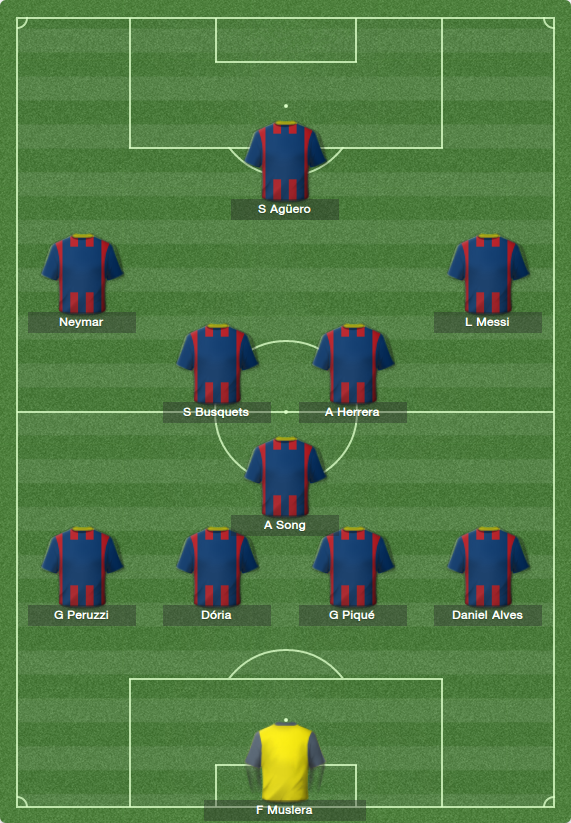 So what happened? They did bring in Aguero, a world class player that did pretty well for the club, scoring quite a few goals each season. Messi and Neymar kept on scoring as well…
For the the big problem was that the team lost their identity. The first thing that I noticed is that they had stopped promoting youngsters from their own academy, all their talented youngsters were sold sooner or later: Sergi Roberto, Alex Grimaldo, Gerard Deulofeu, Martin Montoya, Marc Bartra, Jean Marie Dongou, I could go on and on. All these chaps were sold and the club bought players that failed to live up to the standards.
As a Barcelona fan I would hate to see that happen in real life, otherwise this won't be "més que un club" (more than a club) any more, but a lot less than the club we used to know.
The founder and co-owner of the website, a Romanian Football Manager addict. He's been playing the game since CM '97-'98, never missed any of the versions since then. His footballing career stopped before it began, he liked playing the game but disliked having to run around like crazy during the pretty harsh training sessions. He's a supporter of the Romanian national team, Universitatea Craiova, Arsenal, Barcelona and… the Blyth Spartans! You can contact him at johnny[at]footballmanagerstory[dot]com
You may also like
Comments