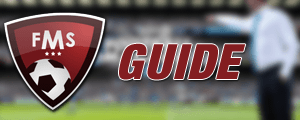 FM 2014 Defensive Midfielders (DM)
Role: Defensive Midfielder | Duty: Defend
Technical: Marking, Tackling
Mental: Concentration, Decisions, Positioning, Teamwork, Work Rate
Physical: Acceleration, Stamina, Strength
Role: Defensive Midfielder | Duty: Support
Technical: Marking, Passing, Tackling
Mental: Decisions, Positioning, Teamwork, Work Rate
Physical: Acceleration, Stamina, Strength
Role: Deep Lying Playmaker | Duty: Defend
Technical: Marking, Passing, Tackling, Technique
Mental: Composure, Creativity, Decisions, Positioning, Teamwork
Physical: Strength
Role: Deep Lying Playmaker | Duty: Support
Technical: First Touch, Passing, Tackling, Technique
Mental: Composure, Creativity, Decisions, Off The Ball, Positioning, Teamwork
Physical: –
Role: Ball Winning Midfielder | Duty: Defend
Technical: Marking, Tackling
Mental: Aggression, Bravery, Determination, Positioning, Teamwork, Work Rate
Physical: Stamina, Strength
Role: Ball Winning Midfielder | Duty: Support
Technical: Marking, Passing, Tackling
Mental: Aggression, Bravery, Determination, Teamwork, Work Rate
Physical: Stamina, Strength
Role: Anchor Man | Duty: Defend
Technical: Heading, Marking, Tackling
Mental: Anticipation, Concentration, Decisions, Determination, Positioning, Work Rate
Physical: Strength
Role: Half Back | Duty: Defend
Technical: Marking, Passing, Tackling
Mental: Anticipation, Composure, Concentration, Decisions, Positioning, Teamwork
Physical: Acceleration, Stamina, Strength
Role: Regista | Duty: Support
Technical: First Touch, Passing, Tackling, Technique
Mental: Composure, Decisions, Off The Ball, Positioning, Teamwork
Physical: –
FM 2014 Defensive Midfielders roles and duties explained
Defensive Midfielder
Main duties are to protect the defensive line from breaking attackers by closing them down quickly and to support the creative midfielders when in possession. A key job for the defensive midfielder is to keep hold of the ball while the defence and attack are reorganising themselves after a period of opposition pressure.
With a defend duty, the defensive midfielder will hold his position between the midfield and defensive lines and recycle possession from a deep position.
With a support duty, the defensive midfielder will step into the midfield line and support attacking moves.
Deep Lying Playmaker
Operates in the space between the defence and the midfield and aims to initiate attacking moves through pinpoint passes to players positioned higher up the pitch. He is a creative player that also has to be competent in defence.
With a defend duty, the deep-lying playmaker will fulfill extra defensive responsibilities by holding position in front of the defensive line, rarely looking to support attacks.
With a support duty, the deep-lying playmaker will bring the ball out of defence and look for long shot opportunities as well as supplying through balls.
Ball Winning Midfielder
His main function is to close down the opposition and win the ball. He also needs the skills to help the team keep possession and create chances for players with attacking roles.
With a defend duty, the ball-winning midfielder will look to win the ball in the middle of the pitch and quickly lay it off to a more creative player.
With a support duty, the ball-winning midfielder will attempt to win the ball back high up the pitch and support resulting counter attack chances.
Anchor Man
Main duty is to take position in the hole between defence and midfield, intercepting moves and winning the ball back. Plays simple passes to his more creative teammates. Doesn't venture too far from his position either to close down an opponent or to support the more advanced players.
Can only have defend duty.
Half Back
Looks to serve a role somewhere between that of an aggressive sweeper and a defensive midfielder. When a half back is employed the central defenders will push higher up the pitch while the half back drops deeper than a standard defensive midfielder. In addition to his defensive duties the half back looks to offer an outlet for quickly recycling possession when the team's attacking play breaks down.
Can only have defend duty.
Regista
A more aggressive version of the deep-lying playmaker, suitable for possession-oriented tactics that press high up the pitch. He is given complete freedom to dictate play from deep positions, offering a dynamic and unpredictable creative outlet from behind the attack. He will seek to maintain intense pressure by constantly looking for new chances as his more advanced teammates get into goal scoring positions.
Can only have support duty.
FM 2014 Key Attributes and Player Roles Index
(click to jump to the desired category)
The founder and co-owner of the website, a Romanian Football Manager addict. He's been playing the game since CM '97-'98, never missed any of the versions since then. His footballing career stopped before it began, he liked playing the game but disliked having to run around like crazy during the pretty harsh training sessions. He's a supporter of the Romanian national team, Universitatea Craiova, Arsenal, Barcelona and… the Blyth Spartans! You can contact him at johnny[at]footballmanagerstory[dot]com