29 Nov 2014
Best FM 2015 Tactics: Tinkerman's Winning Diamond Formation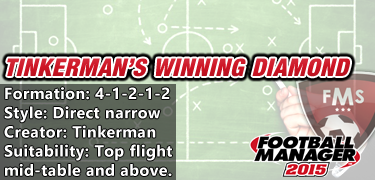 Hey guys
I am the Tinkerman, known for my ability to use various tactics on FM to achieve success, this is my first attempt in the Best FM 2015 tactics series.
Check out this epic tactic and some of the results of it shown below…
In recent seasons the diamond formation has become popular, notably with Liverpool last season whilst other teams such as West Ham and England have also experimented with the diamond formation. Therefore I have produced a winning diamond formation which I have tested with Man United and Hull City. As with all tactics it is important to have players which suit the formation and player roles.
Formation: 4-1-2-1-2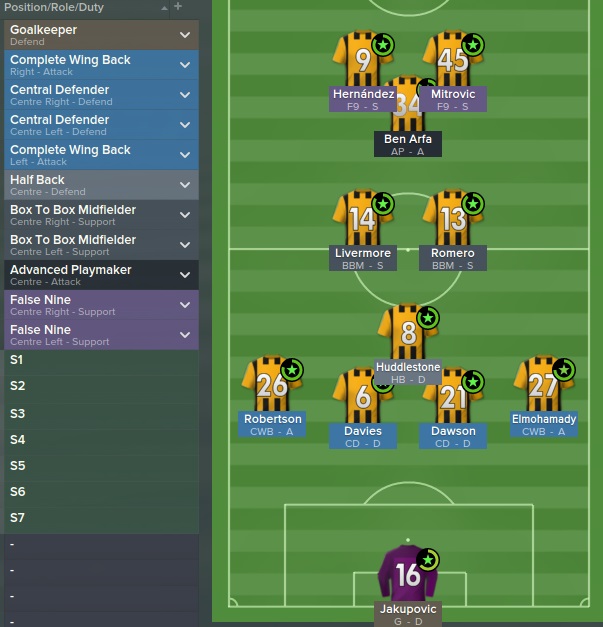 The advantage of this formation is that it allows the selection of two strikers which is particularly useful if your squad has a number of quality strikers. As shown above the formation is quite narrow, leaving the team strong in numbers through the centre of the pitch. When attacking the wing backs push forward and provide the majority of the width. The half back drops in between the central defenders who split to almost form a back three. When defending the half back and two box to box midfielders provide reasonable protection to the back four and the two false nines drop deep which helps to stifle attacks as most of the team are usually behind the ball.
Player Roles:
GK: goalkeeper (defend) – Typical goalkeeper
DR/DL: complete wing back attack (attack) – Very important players in this tactic, providing lots of crosses and assists. Therefore technical ability is important including crossing, dribbling and passing. Pace and stamina are also key due to the amount of work these guys need to do on the flanks.
DC: central defender (defend) – Typical central defenders attributes. I also like to partner a defender with good aerial ability with one that is quite pacey to provide a balance.
DMC: half back (defend) – Important attributes for a defensive midfield player include stamina, tackling, positioning, passing etc.
MC: box to box midfielder (support) – all round midfielder who can help out the defence and supplement the attack, high work rate is useful. At least one of these guys should be defensively minded with high attributes for tackling, positioning etc.
AMC: advanced playmaker (attack) – key attributes would be first touch, passing, technique and vision, basically a technically gifted and clever player.
ST: false nine (support) – they tend to drop deep when defending which is helpful. Teamwork, vision and passing ability are key as they tend to provide a number of assists. Also important that they are good finishers and having decent aerial ability would be useful due to the number of crosses from the wingbacks.
Team Instructions:
Mentality – Control
Team Shape – Fluid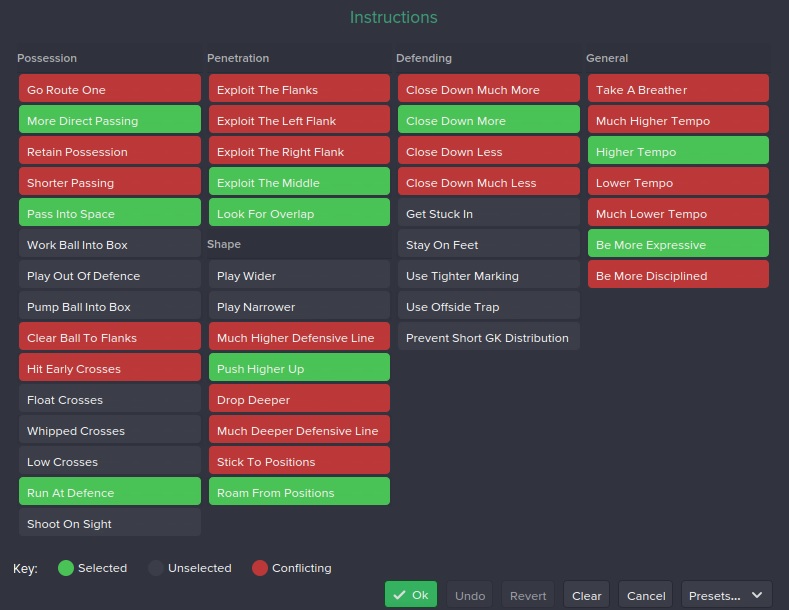 These instructions are self explanatory and should work against stronger and weaker teams. This tactic will not dominate the opposition with large shares of possession (approx. 50/50) but it will pepper the opposition goal with shots. If there too many long shots being taken without success you should change the individual instructions for that player to shoot less often.
Results with Hull City:
League Cup

Good victories against the other PL teams.
FA Cup

Disappointing to go out in the fifth round, although it was against a quality arsenal side, we created more chances than Arsenal, 3 clear cut chances and 4 half chances so it was disappointing to only score one goal.
Europa League

The Europa league was used as a means of resting players as I made the premier league the priority. The chairman was pleased to reach the 1st knockout round as he had only targeted reaching the group stage.
Premier League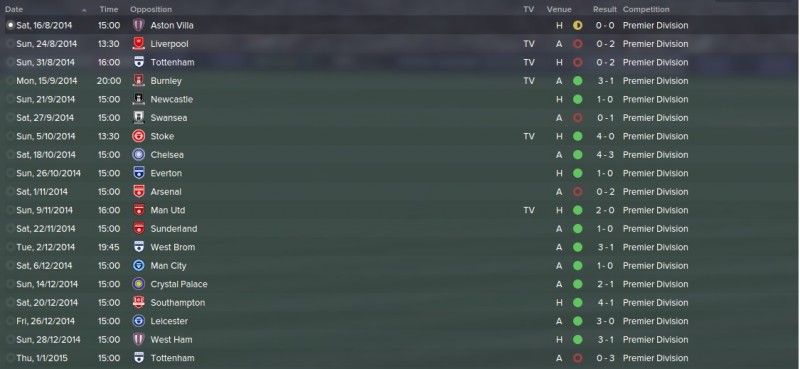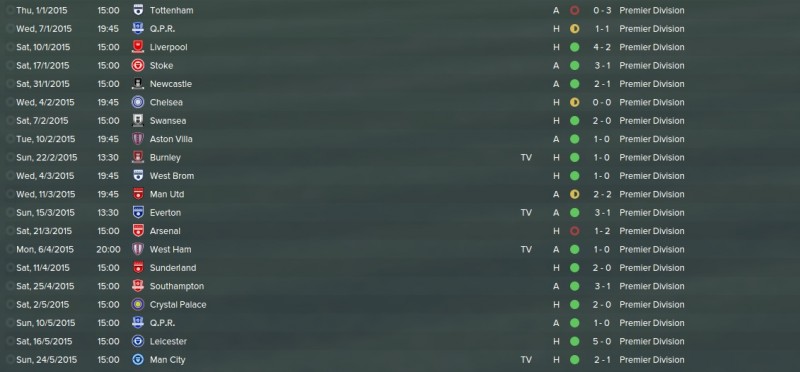 Fantastic run of victories in December, April and May help us on our way. Only conceding 7 goals in the last 15 league games was also vital en route to the league triumph.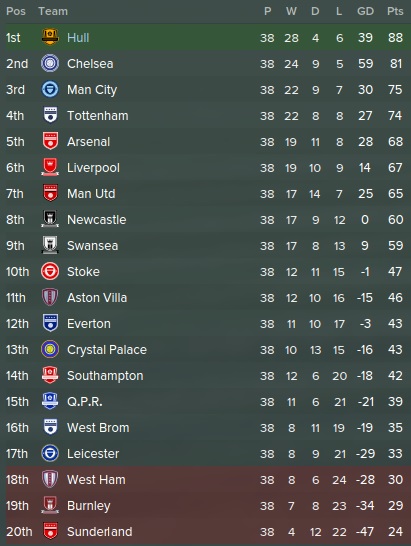 A clear victory over Chelsea by 7 points!!
Opposition Instructions:
As everyone can identify, the current match engine results in a lot of goals from crosses in wide areas. To help defend against this, I recommend employing the following opposition instructions on wide midfielders and forwards to reduce the number of crosses into the box. Always tight marking, always closing down and hard tackling.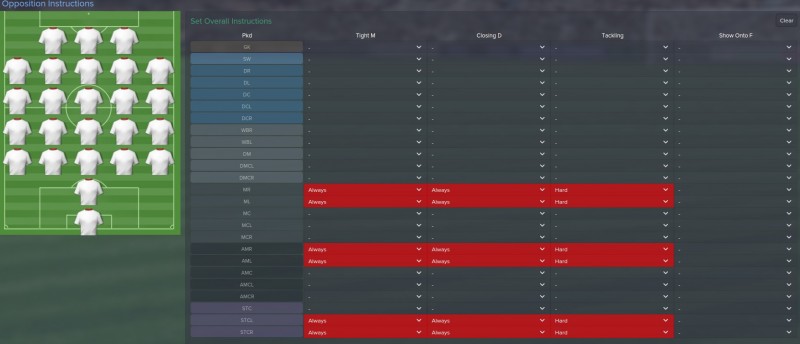 Transfers
Try to cash in on wide attacking players as they are not needed for this system and use the money to buy players best suited to these roles. I always try to have 2 suitable players for each position.
Download Link


How to install
Follow the instructions below to use the tactic in your game:
1. Click the download link above and download the file.
2. Once the file is downloaded move it to the following folder documents>sports interactive>football manager 2015>tactics
3. Now load the game as normal and enter the tactics screen.
4. In the tactics screen, click the tactic you currently have loaded then select manage tactics from the drop-down menu
5. Then Import and then load 'Tinkerman's diamond into your game, then you will be able to select the tactic from the list.
Thanks for tuning in…
Leave a comment and let me know how you get on
The Tinkerman
P.S.: I've got more ideas up my sleeve…keep an eye out for upcoming posts in the Best FM 2015 tactics series ;)
You may also like
Comments