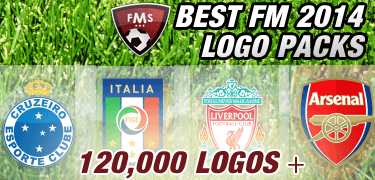 FM 2014 will surely look nicer with some polished real-life team and competition logos in it and there will be quite a few downloads to help you with that. I will select the best FM 2014 logo packs I can find and list them here for comparison, then you can decide which one you download for your Football Manager 2014 game. If you find any good FM 2014 logo packs please let me know and I will add them to this post.
FM 2104 Metallic Logos Megapack
Main features
26,000 club logos.
1,000 competition logos.
Every National Logo, Continental Logo and Flag in the game.
Pictures
Size
Download
This Megapack was put together by Sortitoutsi.net, you can download it from here. (you will need an account at Sortitoutsi to download) Instructions on how to install it are also available at Sortitoutsi.
FM 2104 TAS'14 Logos
Main features
Club logos & competition logos.
Pictures / Size
Unknown, these are not in a megapack but in separate packs for each nation / competition.
Download
More FM 2014 logo packs will be added as soon as I find them, stay tuned. And if you find any before I do, please let me know ;)
The founder and co-owner of the website, a Romanian Football Manager addict. He's been playing the game since CM '97-'98, never missed any of the versions since then. His footballing career stopped before it began, he liked playing the game but disliked having to run around like crazy during the pretty harsh training sessions. He's a supporter of the Romanian national team, Universitatea Craiova, Arsenal, Barcelona and… the Blyth Spartans! You can contact him at johnny[at]footballmanagerstory[dot]com