A surprising announcement was made today by Sports Interactive about a future version of Football Manager. No, it's not FM 2014, it's a totally different thing in a completely different era. It's
Football Manager 1888
, a version of the game that will make you travel in time back to the beginnings of football.
This version is made in partnership with The Football League and the game will celebrate 125 years of the world's oldest league football competition.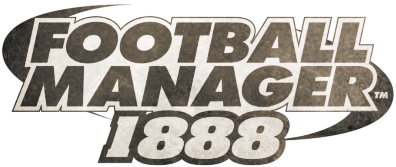 Football Manager 1888 offers players the chance to put their skills to the test in the very first season of the English Football League. You will be able to take over any of the original 12 clubs involved in the 1888/89 season and guide them to league and cup glory.
What's interesting is that you will play by the rules that were in place at that time, and there are some pretty weird ones: no substitutions being permitted during matches, the off-side rule was not yet being introduced to the game and players were able to dive into tackles without fear of being sent off or conceding penalties. There are some other challenges as well, such as losing a player because of him being drafted up to the army.
"This latest addition to the Football Manager family is so good, it's unreal," said Sports Interactive Studio Director Miles Jacobson. "We've worked hard to recreate the excitement of Victorian football and the results have to be seen to be believed."
Here are some of the main features in FM1888:
19th Century match engine
Everything on and around the pitch will look as it did when the league was first formed; from the muddy recreation grounds and the crowds of gentlemen spectators through to the players' movements and the way the old leather ball moved through the air.
All clubs and players from the 1888/ 89 season
Manage any of the original 12 Football League clubs across one league and go deeper than ever into Victorian football with a comprehensive database of more than 150 players and staff from across the United Kingdom.
User interface
Football Manager 1888 boasts a brand new 'late 19th century' style interface and skin reflecting the game's era.
Play by the original football rules
Overcome all the hurdles that managers don't need to worry about in the present game. Have an injury? Well you can't make a substitution. Think he was off-side? Think again, there's no such thing. And was that really a bad tackle? It doesn't really matter, as yellow and red cards haven't been introduced to the game yet.
Overcome the challenges of Victorian football
You will experience real life problems of the era, such as; players being called up to the army leaving you with a hole in your squad and players having to retire from football with immediate effect following a serious injury.
Plus all player and staff movements from the 1888/89 season.
Last but not least, here are some screen shots of Football Manager 1888:
Sounds quite exciting to me, what do you think about it?