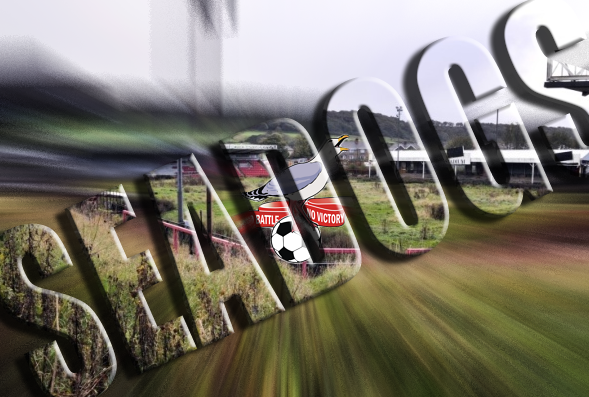 Hey guys and welcome to my FM 2012 Scarborough AFC season 9 report. The Seadogs have finally hit the big time after a close cut season in the Championship, but the even better news is that new owners have blessed my club with some much needed cash. My new chairmen, Mr Bradshaw, completed his takeover in January, but did he fuel the club with mass riches in the transfer market? Read on to find out.
The initial budgets were announced very early, we are talking months before pre-season had even begun. But that suited me as I'd need plenty of time to scout out the best talent. An impressive £17.78 million was given for transfers and £500K a week for wages.

I secured a few signings very quickly but it was soon time to set the expectations. The board were happy with us battling relegation but I went for an extra boost to my budget and guaranteed a top half finish (rather foolish on reflection.) This reinstated the transfer budget at around £17 million. The media agree with my board suggesting we'll struggle to stay in the division…but that's before they saw my new signings ;)


Before we move onto transfers, I thought I'd better show you this. My new chairmen started throwing cash around to the envy of our rivals. More than £13 million was provided to boost our bank balance, this left me wondering how I'd approach the game. Usually I try and build a young team with low wage budget to make a sustainable club…but that clearly isn't necessary here so I will act as any real life manager would in my position and accept the fortunes as a gift.

First things first, I had to get rid of the deadwood and free up some room for my new players. A few players that had made the club what it is today were offloaded, Hendrie and Bartlett were sold for a combined £6 million. On the other hand there were players that I just couldn't offload and had to settle for loan deals to get them out of the way. A total of £8.75 million was raised during the summer and most of this would be fueled back into my budget.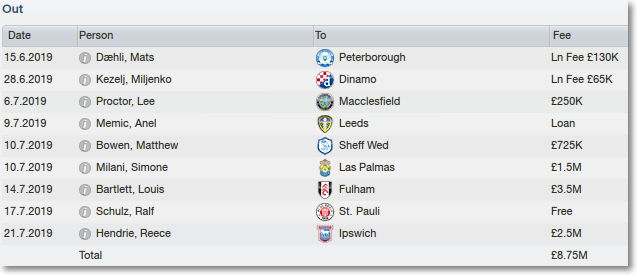 Now its time to introduce my new signings, and there was some real quality. The best of which was left winger Carlos, who had a £825K minimum fee release clause. I also took advantage of Thela Mokoena's minimum fee release clause which was £3.4 million, turning the midfielder into an absolute bargain. I was also proud of my new CB, Pedro, the Brazilian was a snap at £8.5 million. All my new signings came in at a cost of £23.5 million and hours of searching. Believe it or not the likes of Carlos popped up in a filtered search for specific attributes and age, while I manually found Mokoena searching through Groningen.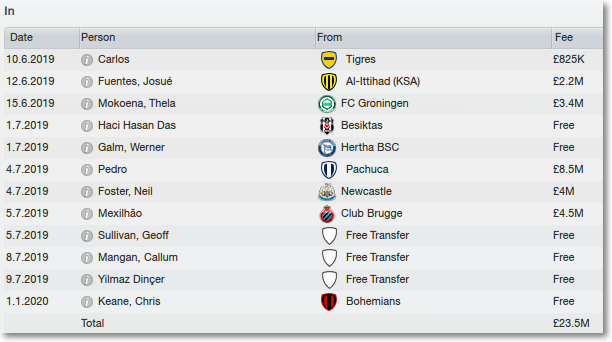 Results – August to October
With my pre-season preparations out the way its time to see if all our hard work would pay off. Unfortunately my mass squad overhaul had a very negative effect and those players that looked like superstars just couldn't settle in. This led to 5 losses and 2 draws from my first 10 games, we may have been unfortunate with tough fixtures but this was certainly one hell of a wake up call.

Results – November to December
After a fixture list from hell November saw the first steps to some better form. We lost to United but then experienced a break through away victory against Aston Villa. Victory over Sunderland followed before we won two of three matches inside of 6 days. All in all 4 victories and two losses from six seems to have started my turn around, not to mention the squad seem much more stable and unified which suggests they are starting to settle in.

Our good run of form through the Winter months saw Scarborough rise from the pits of relegation to a rather comfortable 8th position and well within our season expectations.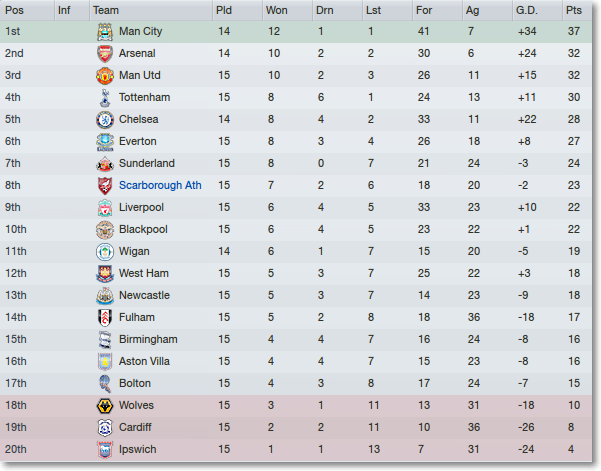 My new chairmen didn't offer any more money for the Winter transfer window but he did boost our bank balance yet again, this time investing £6.25 million.

Results – January to February
I was hoping for a better start to the second half of the season than we did the first and my players duly delivered. We won 5, drew one and lost 3 from our 9 Premier League fixtures. Not to mention beating Liverpool in the FA Cup and earning a replay against Tottenham in the fifth round.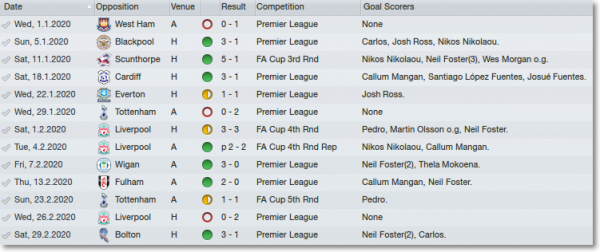 Results – March to May
The great form continued as we drew to Chelsea, Man City, Arsenal and even beat Manchester United. Our final 7 wins, 6 draws and one league loss may not seem brilliant but looking at the opposition we faced I think my boys can be proud. We were eliminated from the FA Cup after a late Spurs equalizer and penalties but I felt like my side had finally bonded and were staring to play some attractive Football. I spent the entire season using a counter strategy due to the difference in quality from my side to the opposition, but this finish has given me the confidence to switch back to our attacking ways next season.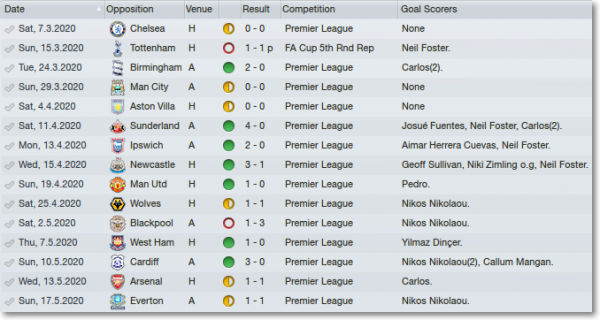 The Seadogs finished their first EPL season in 6th, an incredible achievement on its own but to think we were just 7 points shy of Champions League football…who knows maybe that could be my aim next season…one things for sure, I'm looking forward to playing Europa League football.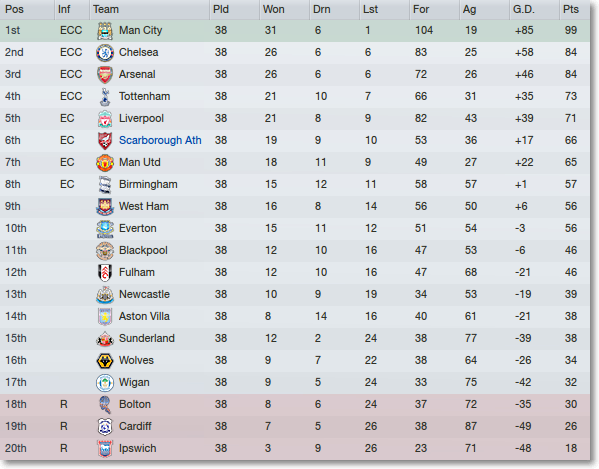 As if the boards investment hadn't already been enough we received further funds in May of £6 million…

I decided to ask for some upgrades starting with the training facilities…

Then the youth facilities…

And finally the stadium which will be increased to a capacity of 5,908 next season.

Squad stats and finances
This season was one of my proudest, despite a torrid start my boys prevailed and fought back through poor morale/form to make the Europa League places. But some of our performances against the big boys destroyed the overall average ratings. As you can see below my best first team performer was central defender Pedro with 7.11. But my new left winger, Carlos, scored 9 goals and assisted 7 with many of those winning us all three points. He has been Scarborough's savior this season.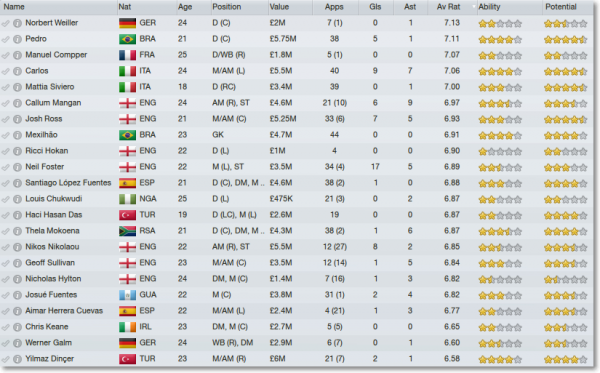 The clubs finances feel rather irrelevant now as the new chairmen keeps correcting them anyway, but for continuity here is how the Seadogs finished the season, with £15 million in the bank.

That should about do it for today and season number 9. Life in the top flight has proven successful so far and I hope you'll join me next time as I take Scarborough on their first venture into the Europa League…it will be a historic year for the club, but until then please feel free to comment below and I look forward to reading your opinions as always.