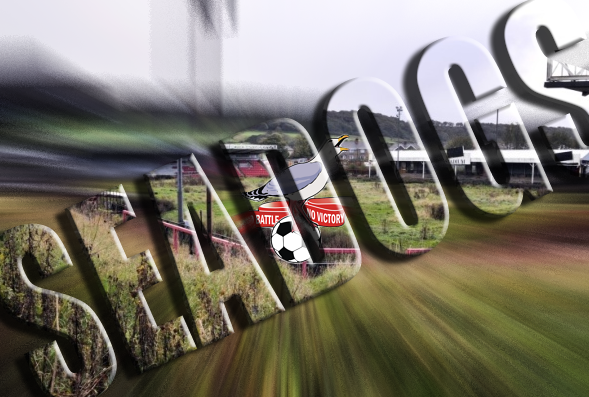 Hey guys and welcome to my FM 2012 Scarborough AFC season 7 report. I hope you like the new image above, I have been learning how to use Photoshop recently and thought I'd give some text a go. Anyway back to the story and we have a lot to get through today, so grab a cuppa or can of fizzy drink, sit back and enjoy the ride. We last left off with a very successful sixth season as Scarborough won League Two and enjoyed some decent cup runs but with every league we rise through the quality of opposition rises too. To counter that we need to be keeping hold of all the best talent and finding more to boot. Obviously that responsibility is largely down to me but the clubs owners can help too and help they did…well kind of, read on…
Pre-season had just begun in the best possible way, the board confirmed we are officially back in Scarborough. The new stadium is complete and while it only holds just under 3,000 its still something to call our own again.

The board also showed their support by offering a transfer budget of £492K in return for a top half finish…they originally wanted us to avoid relegation but I feel we are capable of more and the extra cash made the risk worthwhile. The media seems to agree with me suggesting Scarborough are capable of pushing the top teams.


So all looks rosy and well…until this happens!

I was expecting this to happen far sooner than it has to be honest, but I am still annoyed to lose my prize asset in Southern (click name to see profile.) He is the second top regen I have lost, you all may remember me selling Bob Shepherd when we were in the Blue Square Premier to Genk, well he just made it big with a £6.25 million move to Manchester Utd.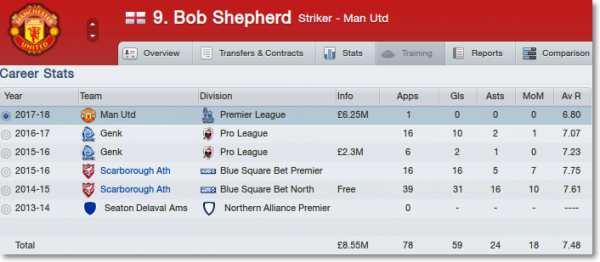 As you can imagine I was very busy during the transfer window. A lot players left and good ones at that but it was all with the aim of improving the squads standard. I managed to raise a total of £3.2 million not to mentioned the extra £500K we are owed for Southern (which is due after 20 league goals.)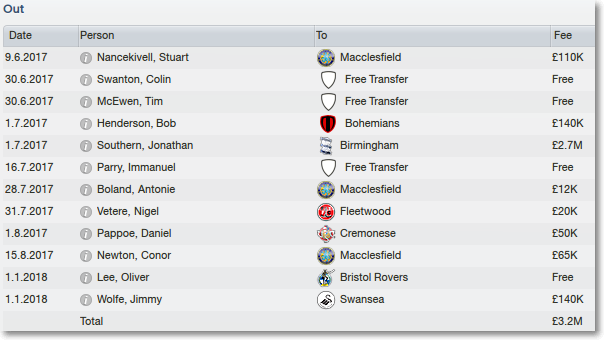 I went about making the squad stronger straight away, my first move was replacing Southern, so enter Man Utd youth product Louis Bartlett. Some of the other top signings are new left back Chukwudi, along with my two new central midfielders Schulz and Hylton. (Click any of the name highlighted to see their profiles.) So now you have an idea of the players we signed, lets move onto the season itself.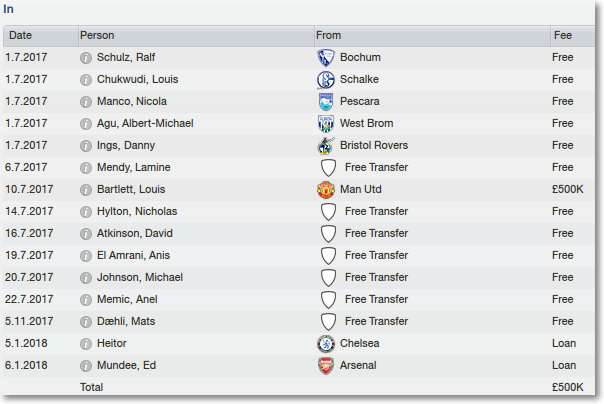 Results – August to September
The first two months were simply perfect, Scarborough won all our leagues games, progressed to the Carling Cup 4th round and JPT second round.

Results – October
Our great form continued as we won 4 league matches and drew just one, we also beat Lincoln in the JPT but our Carling Cup run came to an end against Birmingham. My old striker wasn't playing but he was in the bench and I felt aggrieved to have been in front until the dying seconds and then lose in extra time.

Results – November to December
It took us a little time to get over the Carling Cup exit as we lost our next game to Watford and then drew to Barnsley, but the form soon picked back up. After the poor start my boys lost two more games from eight, progressed to the JPT Northern final and also to the FA Cup third round.

We are at the halfway point and looking very strong, this season isn't as easy as the last but to think we are still top by 12 points is just crazy. After losing my star striker I thought this would be a long campaign but Bartlett has fitted in like a glove.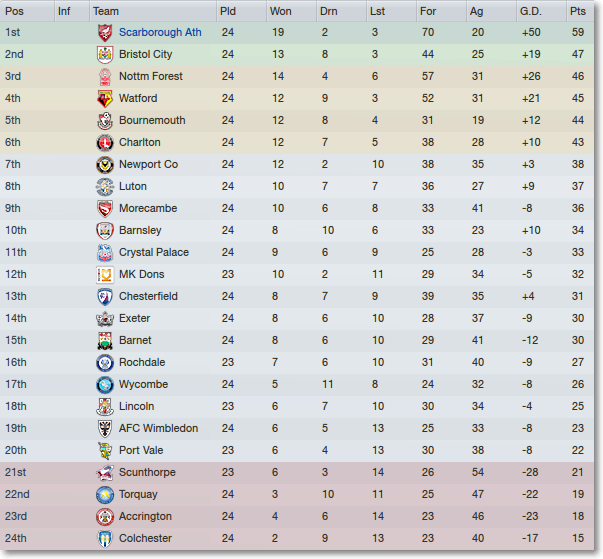 Results – January
The new year started with victory but January wasn't our finest month in the League, we won 3 and drew two matches. The most disappointing result was losing at home to Chesterfield in the JPT Northern final first leg. But I was delighted to beat Premier League's Southampton in the FA Cup third round.

Results – February to March
February to March was when the season really turned crazy, we upheld the usual league form going unbeaten but it was our Cup exploits that provided a shock or two. Firstly we beat Championships Peterborough 4-2 in the FA Cup fourth round meaning I'd guided the Seadogs further than we'd ever been in this competition. Then we came back from the JPT first leg loss to thrash Chesterfield 4-0 away from home reaching the final and Wembley. If that wasn't enough we also beat Blackburn 2-0 in the FA Cup fifth round and then came back from 2-0 down to draw with Cardiff in the sixth round. The replay went into extra-time as my boys walked away 4-1 victors!!

Johnstone's Paint Trophy final vs Wycombe
Venue: Wembley
Attendance: 36,770
Starting formations: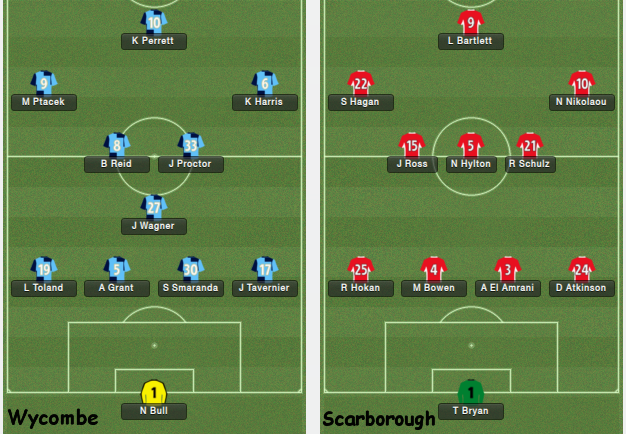 I had a full strength XI available and Wycombe found themselves around mid-table in League One, so obviously I wanted to win and even dominate this final. I won't describe what happened, instead I'll just leave you to watch the match highlights below.
Match highlights: Click here to watch the JPT final match highlights
**** Spoiler alert ****
**** Spoiler alert ****
**** Spoiler alert ****
**** Spoiler alert ****
Match stats: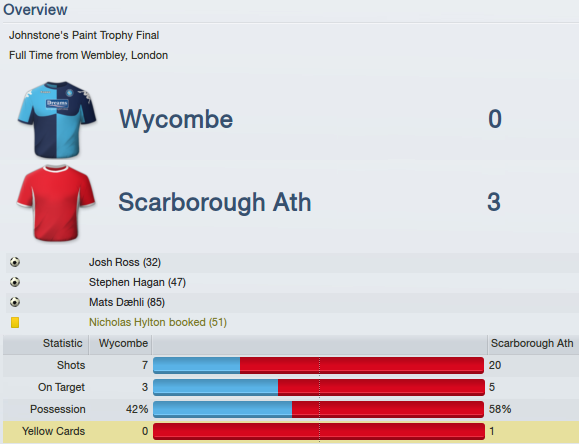 I think the result pretty much speaks for itself but the match facts show our domination and the first goal was outstanding. This is the first time we've lifted the JPT and I'm delighted to add this to our trophy collection. But I had to switch my mind straight back to the league for our final months of competitive Football.
Results – April to May
The final few months of league football went well, as Scarborough won 9 games and lost just two. But it was in our Cup form that we really excelled beating Birmingham in the FA Cup semi-final 1-0 to setup a showcase final against the English champions and current leaders of the EPL, Arsenal!!!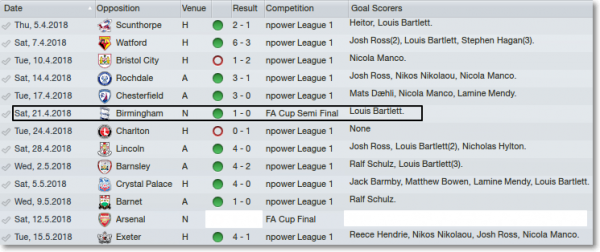 So with the FA Cup coming up lets just breeze through my League One standings. We completed the campaign with 111 points, an impressive 21 points clear of Nottm Forest in second.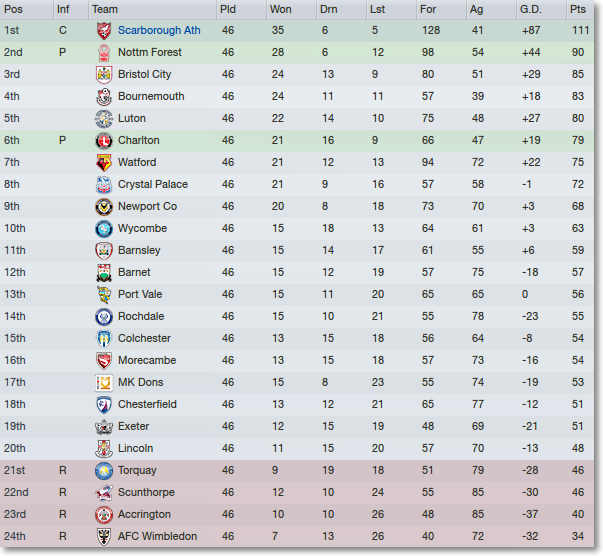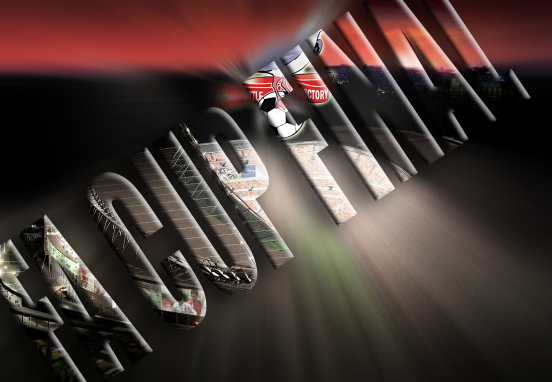 FA Cup final vs Arsenal
Venue: Wembley
Attendance: 90,000
Match stats: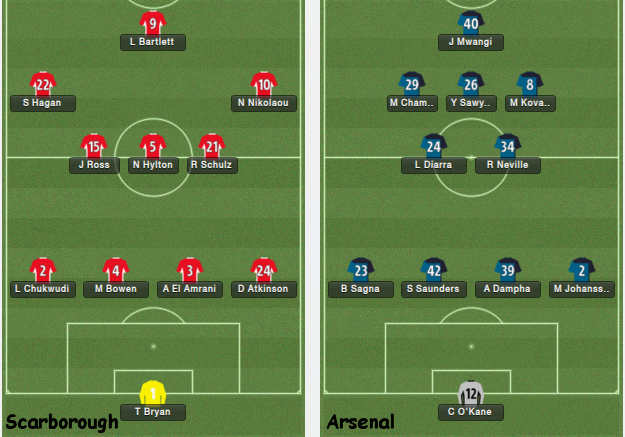 Wow, the FA Cup final! I honestly never expected us to get even close but here we are and against the best team in England. Looking through the lineup Arsenal don't have their best XI out but the likes of Dampha, Neville, Kovacic and Mawangi are all first team starters. Looking at my starting XI, we have a full strength squad bar an injury to our key left winger. The highlights are below.
Match highlights: Click here to watch the FA Cup final highlights
**** Spoiler alert ****
**** Spoiler alert ****
**** Spoiler alert ****
**** Spoiler alert ****
Match stats: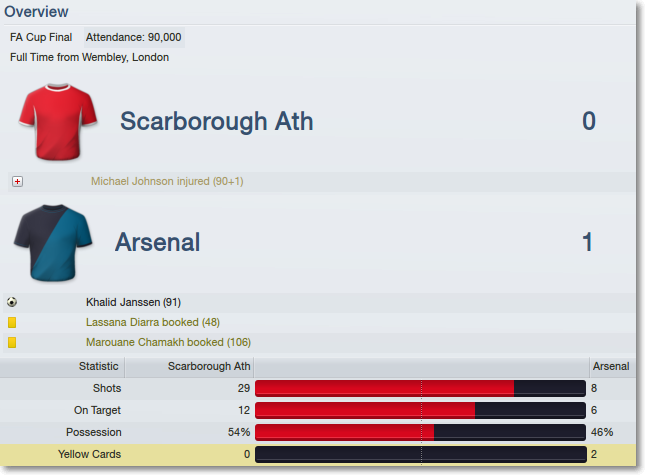 You may be thinking, 'ahh so close, ow well good effort'. But I was absolutely livid, we were utterly screwed over in this match, the amount of chances we just missed was unbelievable. Just look at our possession of 54% and shots of 29 to Arsenals 8, my boys completely dominated this match and then to rub salt into the wound…

It certainly looked like a penalty to me, but its hard to tell from those little 3D men running around. I know I should be delighted by our efforts, but we should have won this match easily on our performance. A tough pill to swallow but it should prove to those who accuse me of cheating that I don't, because I reckon giving this match another go would have finished in victory! Ow and for those who are wondering, finishing runners up didn't lead to European qualification…damn :)
One other piece of big news is that the board were looking to sell the club, but the negotiations had gone on for 5 months!! This meant I couldn't start lining up any free transfers which will have me at a disadvantage come pre-season as I'll have already missed out on some of the top talent. The talks are still going on and I have my fingers crossed our future will be decided soon so I can get strengthening for the Championship.

Squad stats and finances
This has to be one of my best seasons ever playing Football Manager and the players are to thank. Heitor was brought in on loan in January and made the difference for our FA Cup run with 5 goals and 6 assists. Hendrie really stepped up to the plate from the right scoring 9 and assisting 25 while Nikolaou chipped in with 20 goals and 21 assists from the same position. The real hero though was new striker Bartlett who stepped into Southern's shoes with 36 goals.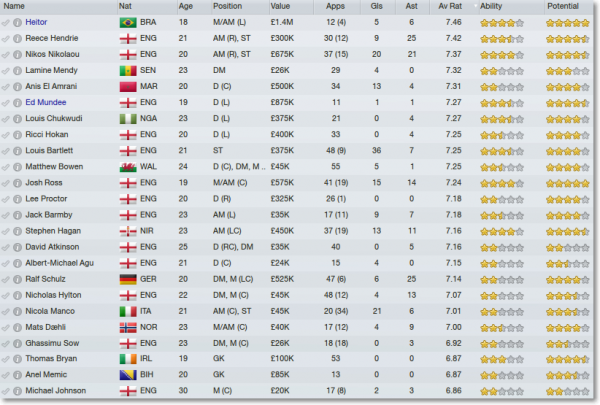 After selling our star asset, winning the league, JPT, reaching the Carling Cup fourth round and FA Cup final Scarborough were bound to hit it rich. My bank balance now reads £5.2 million and that figure would have been far higher was it not for our tiny stadium which has led to losing money every month we weren't earning prize money or big away day payouts.
Thankfully the board put this cash to good use and decided to convert the terraces to seating in our recently built stadium at a small cost of £270K. While this development takes place we will play our football at the McCain stadium which is where I grew up watching Scarborough as a kid so I'm very excited about that.

Well that is all for today and season 7, I hope you enjoyed the read and will be back to see if my transfer embargo is lifted in time for our pre-season in the Championship. The journey has been fruitful so far and I think next season should go well provided I can invest again. Until then please feel free to comment below.
P.S. For those of you who haven't followed our Facebook page (which you can do by visiting here http://www.facebook.com/footballmanagerstory) I recently posted a status update which read ' Just at work dreaming of someday reaching Europe in my Scarborough story. Gave me an idea, if more than 200 people like this post, I'll wear a suit if and when I reach the champions league final for the entire match with the mighty seadogs. I'll get some pics of the whole thing for your amusement :) just click like!!!' Within 24 hours more than 200 people had clicked like so I am obliged to stick by my promise, if Scarborough ever reach the Champions League final I will be sitting in my games room, wearing a suit and playing FM like a real addict. :) Now that's something to wish for lol :)