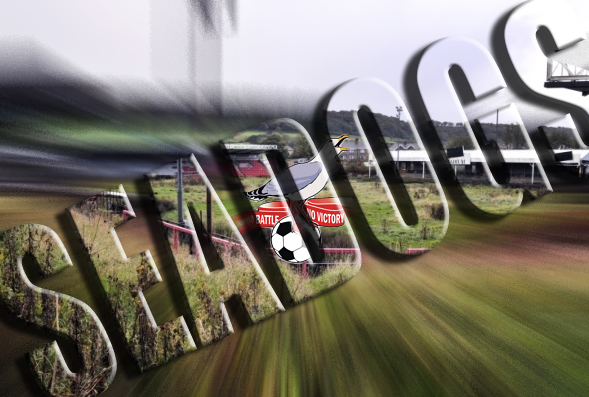 Hey guys and welcome to my FM 2012 Scarborough AFC season 15 report. Last year saw a tonne of high profile departures coincided with yet more silverware as Scarborough won the Premier League, Champions League and FA Cup. With every season that passes my squads average age and wage bill drops, this is all with the intention of making Scarborough self sufficient after living off a rich chairmen during our first few years of EPL football. I can safely say the club is more than self sufficient now, leading to a renewal of my goals, I now want to make Scarborough one of the richest clubs in World football, maybe even make them THE richest, with the best reputation and also top the managers hall of fame while gathering a record amount of Champions League trophies…but we'll see how things go. Anyhow…onto season 15 and another roller coaster at the top.
We'll kick things off with expectations and media odds, to my surprise the board were rather lenient this season just demanding continental qualification. This was accompanied by a transfer budget of £148 million which won't be touched just like the last few seasons. Scarborough are also second favorite for the title behind Man City in the medias eyes.


So with both my board and the media suggesting we may need to strengthen slightly this season, I took action, but not in the most predictable fashion. £97 million was raised from player sales, including the departure of hugely influential players like my best right winger Roberto, best left back Vangjeli and best left winger, Fathi.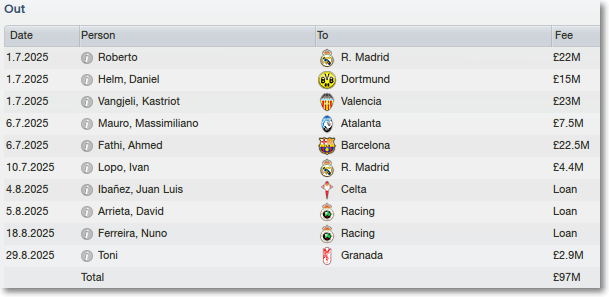 I will mainly be promoting from within to replace those big departures but I did add a few more youngsters to my roster. The most notable of these signings were new right back, Tastet who was purchased for just £2.2 million and my new left back Medina who cost a rather hefty £12.5 million. The £16 million spent balanced nicely against our sales to equal a summer profit of £81 million.

Euro Super Cup and CWC
My boys have won the Euro Super Cup on every possible occasion so far, and I was to face the same opponents as last year, Tottenham. With 60% possession and 21 shots fired we were destined to lift the cup again, but not without a scare. Scarborough took an early lead and looked well in control until Spurs found an injury time equalizer, I started plotting out penalties in my head but a 94th minutes own goal saved me the turmoil of spot kicks.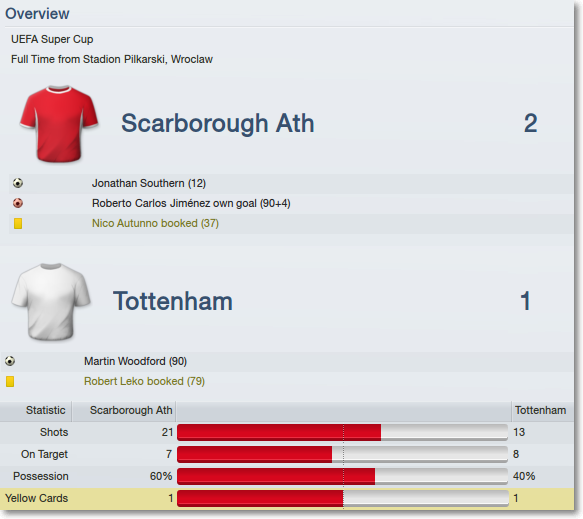 After losing out on the Club World Championships last season, I registered a slightly stronger squad this time around. While our performances didn't show such a commitment our results did as Al-Gharrafa were beaten 1-0 in the semi-final before Argentine big boys Boca were beaten in the final by the same scoreline.

Premier League results – first half of season
With so much talent jammed into one league, it's vital to get off to the best start possible. At the time I felt this was achieved as my boys won 11 games, drew none and lost just three against Tottenham, Man City and Chelsea (all away from home.) You couldn't ask for a better start could you?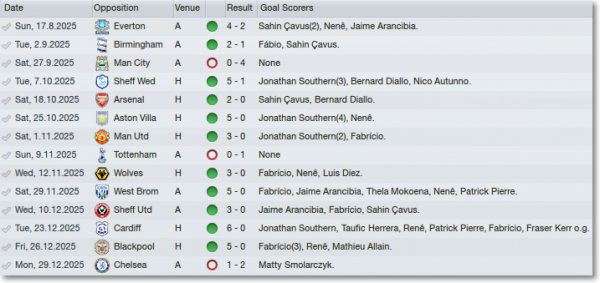 Apparently you could! Chelsea had started the season dropping just two points and Man City 5 points. This left me 9 points off the pace and while we had a game in hand, this campaign was shaping into our toughest yet.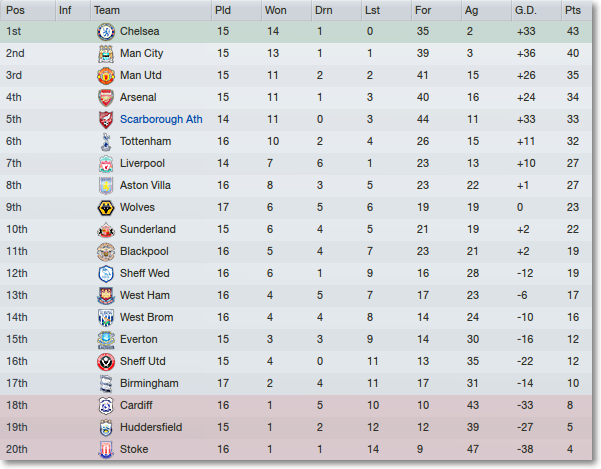 With a tough EPL campaign comes a rather cautious transfer window. I decided just to offload one unwanted youngster, loan a few others out and start looking for ways to strengthen.

I did find one 'first team' transfer in left winger, Gil, who had fallen from grace at Barcelona. To be honest I didn't need the Brazilian but his talent was undeniable at just £9.25 million leading me to dream of the profit I could make, thank you Barcelona for transfer listing one of your better talents. :) I also delved back into the transfer list for McKenzie, a young English center back who had demanded a move away from Wolves, this kid was purchased with an eye on the future and my home grown quota.

Premier League results – 2nd half of season
With Scarborough trailing Chelsea by 9 points, we couldn't afford many more mistakes. And we certainly didn't make many as my boys won their next 11 games. We then lost to Arsenal, beat Wolves and were hit by a costly home draw to Tottenham. From our remaining 10 matches we won 9 and drew just one more. Certainly some impressive form but with Chelsea smashing through the league was it enough?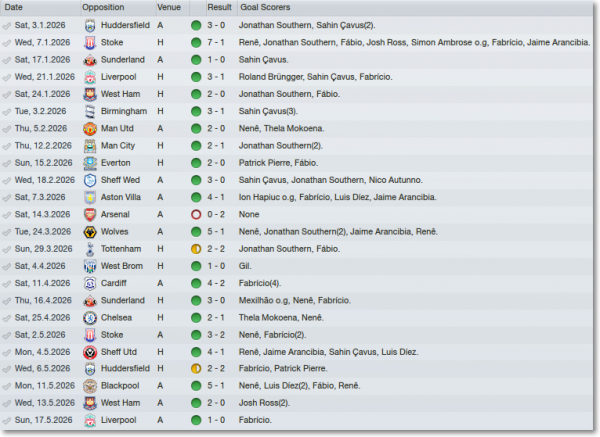 Top spot switched hands around three times during the final four games but the most important was during the final game of the season where Scarborough beat Liverpool 1-0 away and Chelsea drew 1-1 away at Old Trafford. This was enough to help me secure my fifth consecutive EPL title finishing the season on 98 points.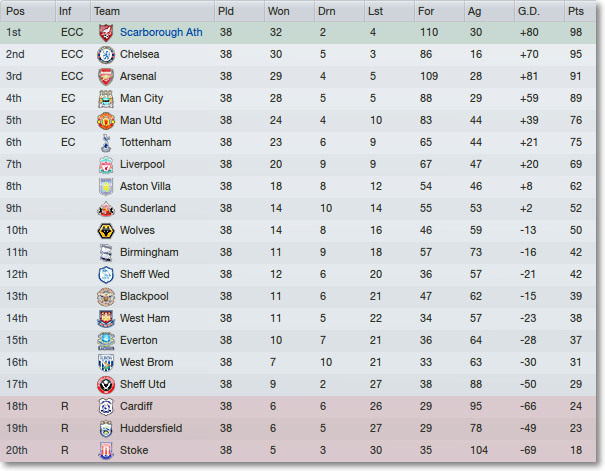 Carling Cup results
This competition has seen plenty of success for my boys over the years, but I really want to rack up the silverware so complacency isn't a word I allow around the club. With this attitude we beat Wolves 3-1, Swansea 2-0, Liverpool 2-0 and Tottenham 8-1 over two legs to reach the final.

Arsenal truly are my boggy side, especially when it comes to Cup finals but we seemed to have a tight grip on this one. The possession may have been close but our 27 shots to Arsenals 5 screamed out domination. My boys even took the lead early on, but as has happened time and time again my opposition just kept plugging away and were rewarded on the 82nd minute with an equalizer. Extra-time couldn't separate us so onto penalties we go, obviously I was confident considering our record of 5 penalty shoot-outs and 5 victories during our last 5 seasons without missing a single kick.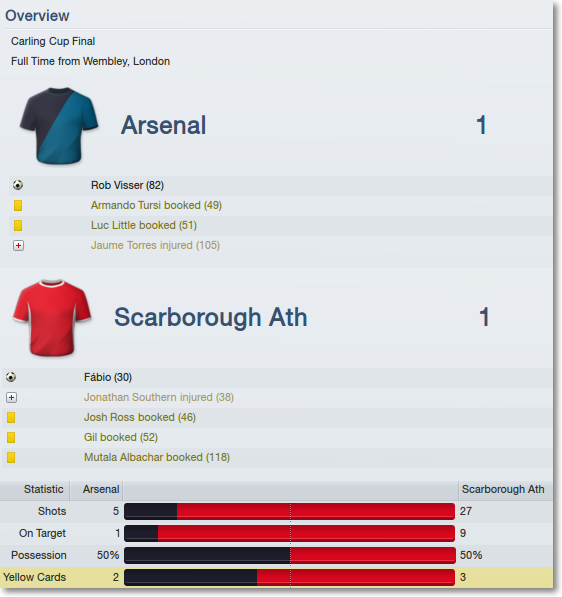 …But bad luck is always just around the corner!

FA Cup results
After losing the Carling Cup in such fashion I was desperate to get another trophy under our belt. The FA Cup was my perfect opportunity and we set off on the right foot. My boys beat Plymouth 8-0, Brighton 4-0, Man City 2-0, West Ham 4-0 and Arsenal 3-1 to reach the final where Tottenham await.

Like most of the finals we participate in my boys had the best chances including 28 shots to Tottenham's 2. If that doesn't give the result away I don't know what does…we obviously won and the final finished 3-0. I waited 14 years for my first FA Cup triumph following many disappointments and then two come along in two years…what is it they say about London buses! ;)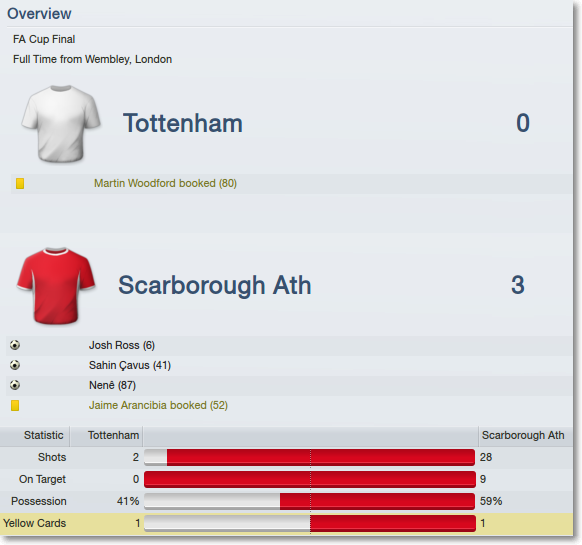 Champions League results
So onto my favorite competition and one that Scarborough seem destined to perform in every year. This season saw us drawn in the same group as Shakhtar, Benfica and Zurich. I saw an opportunity to take 18 points from 18 but fell just short after Benfica held us to a 0-0 home draw.

Our ridiculous scorelines led to top spot with 16 points as Benfica secured second and followed us into the next round. Yet another defensive record to be proud of as my boys conceded just two goals during the group stages.

Onto the First Knockout round and my opponents were Italian giants Juventus. The first leg was away from home and a rather uncomfortable affair as the Italians were held to a 2-2 draw despite dominating the first half. My boys then took control at home thrashing Juve 5-1. Hoping for an easy run in the quarter-final led to Real Madrid popping out of the hat. The first leg was played at home as Scarborough gritted out a 1-0 victory before coming from behind twice to draw the second leg 2-2. This left us in the semi-final where a slightly easier opponent await in FC Porto. My boys struggled defensively during the home leg winning 3-2 but conceding some instrumental away goals. However, we were a completely different side away from home winning 2-0 with confidence and solidarity. Good thing too as we'd need this sort of attitude for the final against Manchester City.

While Man City tend to turn me over in the league, my boys seem to have the edge in cup competitions and despite their very attacking approach I decided to go with the trusted attacking strategy and fluid philosophy that had gotten us so far. This certainly paid off as the Seadogs dominated with 25 shots, 13 of which were on target. We really ran riot winning 3-0, my center back Arancibia could even afford to miss a penalty on the 59th minute. This was my fourth Champions League crown, a feat I hadn't realized until it was mentioned within my inbox after the game.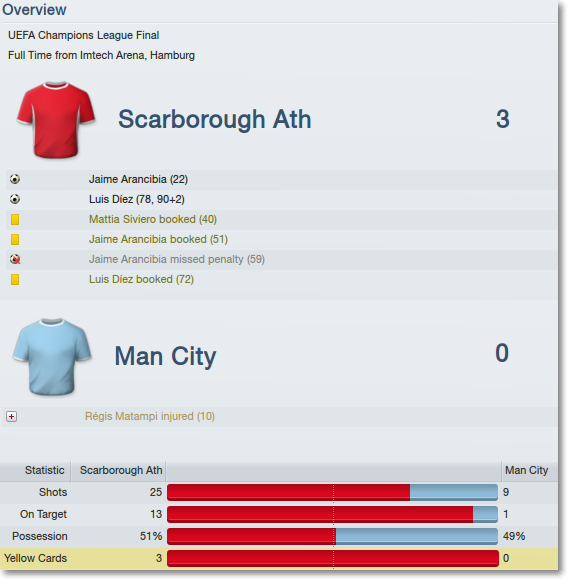 After a short but fruitful celebration it was back down to business and developing the club further. I made a few requests to the board including more money for the junior coaching which was upped to 'good' and the youth recruitment which is now 'extensive'. I also invested in the training and youth facilities which will be finished next season.




Squad stats and finances
After another fantastic season Fabricio notched up 41 goals while Southern was hampered by injury and could only manage 25 ;) But my best performers were left back Brooks who managed an average rating of 7.49, central midfield general Mokoena who hit 14 assists and the best of the bunch has to be left winger Cavus who scored an incredible 21 goals and added 16 assists.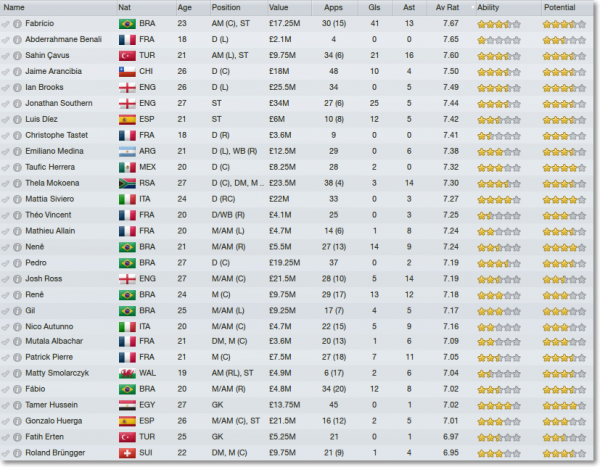 My finances also look rather healthy as we took the £110 million from last year and turned it into £135 million. Despite making another decent profit I am not impressed by the amount of cash that seems to drain from the club, considering we won almost every competition available and even made a profit of £72 million from transfers we should be making much more than £25 million through the season. I can only put the draining effect down to our wage to stadium revenue tug of war. The stadium only holds around 20,000 while I am paying the wages of some of the best talent in the world…so expect some incredible departures come the summer!!

Well that is all for today, I hope you enjoyed the post and will be back next time for some shocking departures. Until then please feel free to comment and thanks for reading.