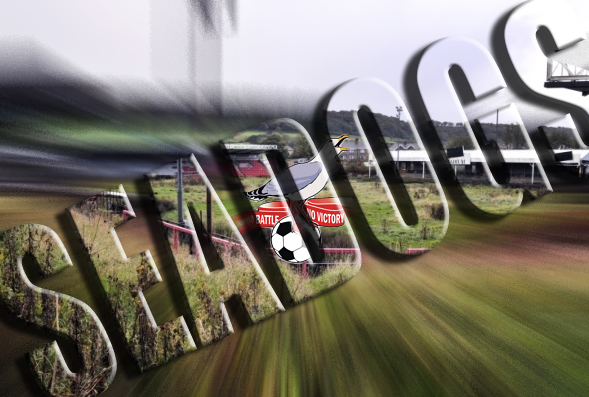 Hey guys and welcome to my FM 2012 Scarborough AFC season 13 report. Last season saw my sides best campaign yet as we lifted the Premier League title, Carling Cup and the Champions League, not to mention I wore a suit for the biggest final in club football :) But now is the time for change, from this season on its all about finances and youth. I aim to bring through 16-17 year old youngsters that can replace the older players as they leave for a profit…basically I am repeating my Y2G system from last year. :) So buckle up for a long ride as today's post is jam packed!!
We'll start today's post as we do the rest with expectations and media odds. This season saw my board demand the EPL title for the first time, and my initial transfer budget started at £17 million but after selling a boat load of talent it was increased to £74 million. That should give you an idea of whats coming up. :) As for the media, well they had me as second favorites for the title again.


OK now its time for transfers and we'll begin with players joining Scarborough today. The majority of which were youngsters under 18 years of age. These kids won't see much game time but have a bright future. I did however make two impact signings, the first was on a free transfer and very explosive for the left wing, Fathi is probably my bargain of the season. But there was an even bigger transfer, I call it the return of the king! That's right, Jonathan Southern has returned to Scarborough. I broke my Y2G system rules here but it was well worth it, the Scarborough icon had a minimum fee release clause of £17 million.

From now on you should see me make a sizable profit in the transfer market and this season is no exception. By offloading mega stars like Carlos, Matampi and Finke among others I raised £98 million.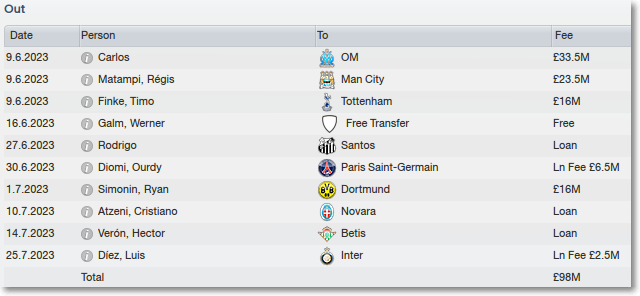 But one of my favorite market moves was the signing of Lionel Messi, sure his stats aren't great now but he must be able to develop into a mega coach, and if not I just love seeing his name as part of my backroom staff.

During the last post I mentioned wanting to lower the wage budget and most of my transfer activity was done with that in mind. We had too many key players on too bigger a wage…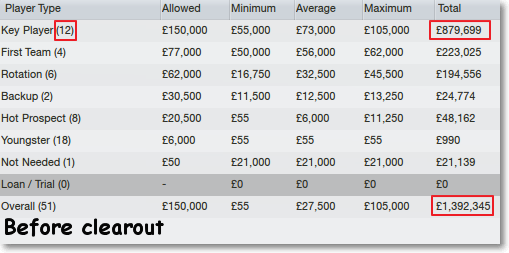 But after my transfer activity the weekly wage bill dropped from £1,392,345 to £1,229,804. That is a saving of over £160,000 a week which will equal almost £7,700,000 a year. I wanted more of a saving but this may take some time to be honest. I think the key so far has been dropping my key players from 12 to 8.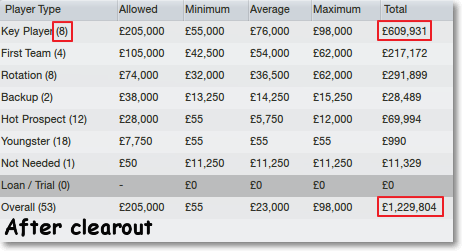 Euro Super Cup and Club World Cup results
We'll kick-off my results part of season 13 with two smaller competitions. The first, our Euro Super Cup final, was against French side Marseille. We played fairly well and while OM put up a good fight Southern's first game back was a cracker as Scarborough left 3-2 victors.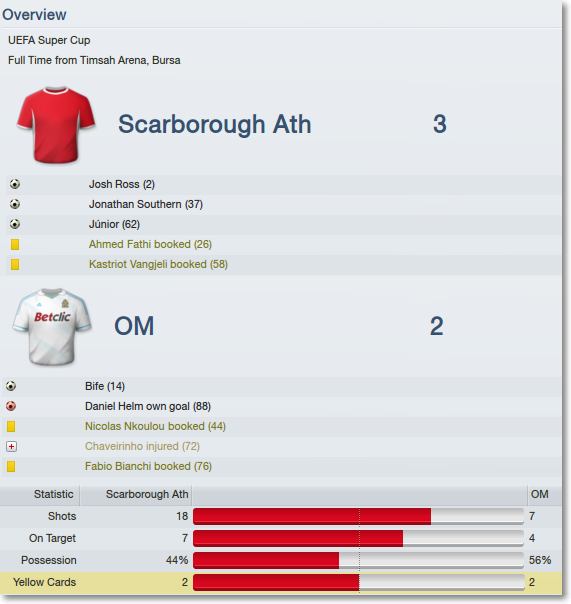 The Club World Cup is a weird competition, while the opponents don't usually seem worthy, you always want to win just for the sake of being crowned champions of the world. Our semi-final was certainly the perfect start to that goal as we thrashed Monterrey 3-0. We then played Brazilian champions Fluminense in the final and while the scoreline read 2-1 to the Seadogs, Fluminense never seemed to have a chance. Ow and I haven't shown it but we also won the Community Shield beating Liverpool 3-1.

Premier League results – first half of season
There's a lot to get through today so I won't write much about the domestic challenge and instead let the screenshots do all the talking. My start to the EPL campaign was simply brilliant as we won 11 games, drew just one and lost the one too. Some of the scorelines were just outrageous and it seems that promoting from within and losing a few of the bigger egos has had a positive effect.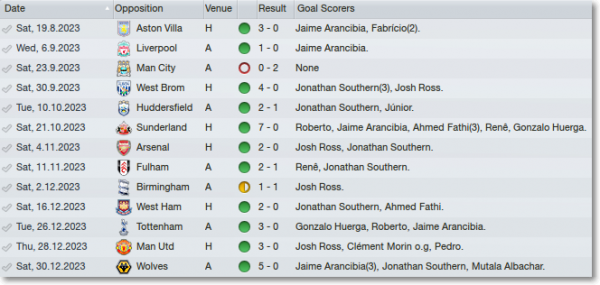 It certainly had a positive effect on my league standings as Scarborough are top of the table, 2 points clear of second with a game in hand.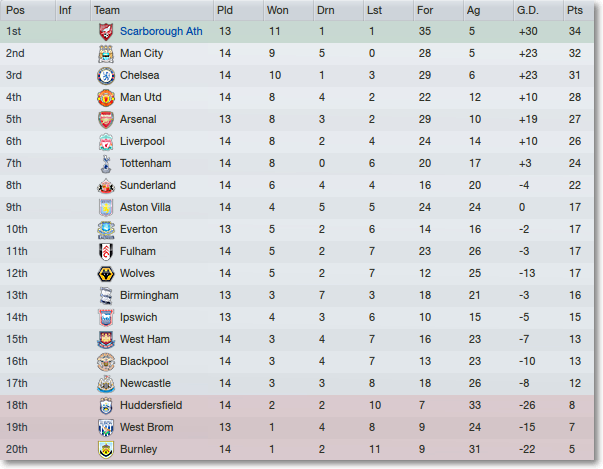 There wasn't much transfer action to talk about, I just invested in more youth spending £7.8 million.

Premier League results – second half of season
After enjoying a fantastic start to the season my boys carried the form forward winning 8 and drawing two of our next 10 games. We then had a minor slip through the next 7 matches winning just 3, drawing twice and losing twice. This form wasn't helped by a poor run of injuries to my key stars.

Despite losing my three most dangerous CM's and by far my best winger, the backup players came through fine. They helped Scarborough through the last 8 games, all of which ended in victory.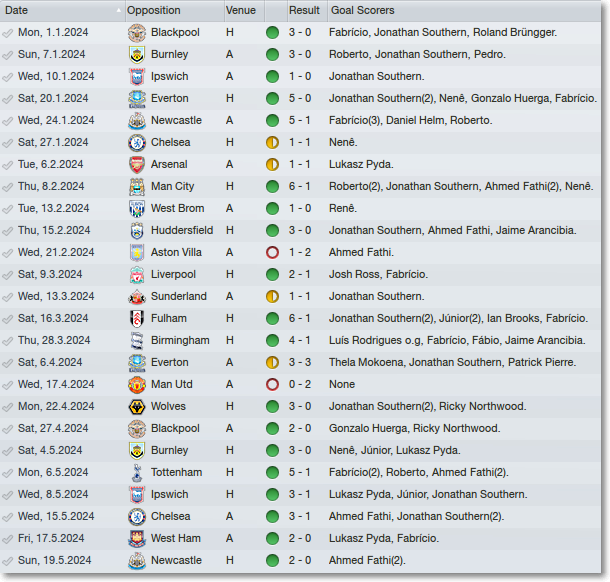 An excellent end to the season meant that any title challenge would require some miraculous form from my rivals. While Chelsea made a valiant effort they still fell 7 points short of us in second. Meaning the Seadogs have lifted their third consecutive EPL title.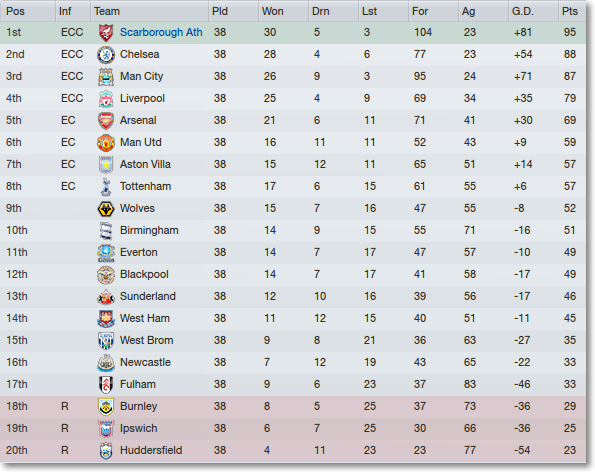 Carling Cup results
So far so good, my boys have won every trophy we are in for and still have another three to get through. We'll begin the trio with my Carling Cup run as Scarborough bulldozed through the tournament beating Burnley 6-0, Millwall 4-2, West Ham 4-1 and then Arsenal 4-1 on aggregate in the semi-final. One more side stood between me and another Carling Cup victory as Tottenham await the mighty Seadogs at Wembley.

Carling Cup final vs Tottenham
Venue: Wembley
Attendance: 90,000
Starting formations: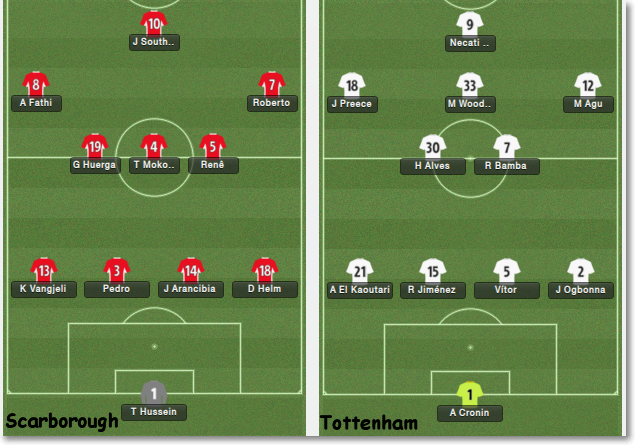 My first proper final of the season and I must admit this wasn't expected after the summer clear out. But looking through the lineups it is Scarborough that hold the better XI, we are far stronger in midfield and upfront, the only area Spurs may be better is in defense. Needless to say I was expecting victory here and a decent scoreline to boot, but finals never go as planned…..
Match stats: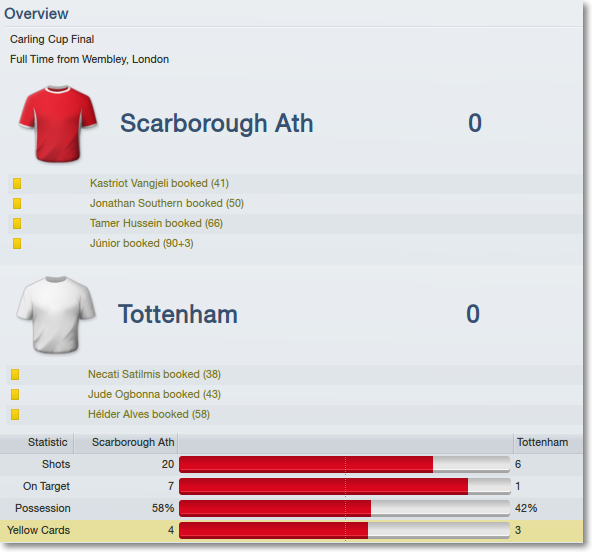 A real bore draw, Spurs seemed to have everyone behind the ball and would only commit forward on the counter. This showed in Scarborough's 58% possession and 20 shots, but we were restricted to long range efforts and couldn't manufacture any magic so onto penalties we go!!
The penalty shootout:

I must admit after enduring the negative approach that Tottenham had enforced, I feared the worst for penalties. It just felt like they were winning the tactical battle even though my boys played far better…but thankfully that wasn't the case as we thrashed the London club 4-1 on penalties.
FA Cup results
Just two more competitions to go and we're still on for a clean sweep. The Fa Cup is what I secretly crave this season, mainly because its the only trophy I am yet to lift. But all looked good from the start as we beat Brighton 6-0, then Man City away 2-0, Southampton followed losing 4-1, then we beat Exeter 4-0 and West Ham 4-2 to reach the final. My arch rivals, Arsenal await, the same side that were lucky to beat us back in 2018.

FA Cup final vs Arsenal
Venue: Wembley
Attendance: 90,000
Starting formations: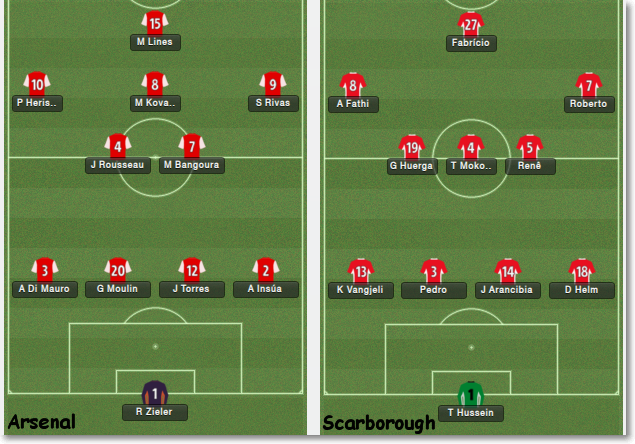 Both sides are very evenly matched and Arsenal always seem to have an advantage over me in the match engine. Their side is full quality but so in mine and pre-match I honestly wasn't sure which way this would go. I decided to stay strong and keep my attacking strategy. Rather than explain the match I'll let you watch the highlights below, Scarborough are in red and Arsenal are in navy blue.
Match highlights: Click here to watch the FA Cup final highlights
**** Spoiler alert ****
**** Spoiler alert ****
**** Spoiler alert ****
**** Spoiler alert ****
Match stats: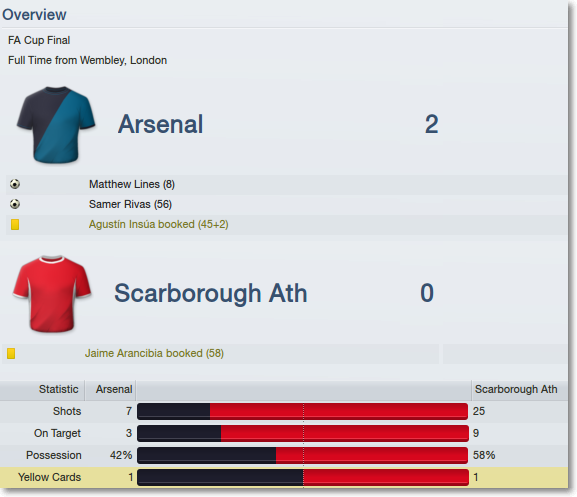 Well despite having 58% possession and 25 shots to Arsenal's 7 we still lost 2-0. We were very unlucky but every effort we had on goal seemed to be saved or skim the post, while Arsenal only had three efforts on target and two of them went in.
Champions League results
Well the clean sweep is over but we still have to see how Scarborough did a season on from winning the Champions League. One things for sure the group stage was much easier than last season. FC Bayern held us to a 0-0 draw away then we won our remaining 5 fixtures against the Germans at home, Sparta Prague and Panathinaikos.

The fantastic results meant Scarborough would qualify top, 5 points clear of Bayern who finished second. My favorite stat is the fact that we kept a clean sheet through all six group matches.

Onto the knockout stages and I wasn't too thrilled with the 1st Knockout round draw, while Sporting Lisbon are a side I beat last year they are still a tough opponent compared to other preferred choices. This became very apparent as the Portuguese champions won the away leg 2-1, the home leg wasn't comfortable either as my boys came from a goal down to win 3-1. As if that uncomfortable experience wasn't enough I drew Barcelona in the quarter-final. After drawing the first leg 0-0 at home, I held little hope for the away leg and decided to tell my boys 'there's no pressure as no one expects us to win'. This actually worked and a fabulous effort from Fabricio was enough to see us qualify 1-0 on aggregate. The semi-final drew us against another Spanish giant in Real Madrid, boy I wasn't having much luck this year. However, the stress of the previous rounds had passed and my boys secured a 3-0 victory at home before drawing the second leg 1-1…I was surprised by our ease of qualification but not so happy with the final opponents…Manchester City.

Champions League final vs Manchester City
Venue: Luzhniki, Moscow
Attendance: 89,318
Starting formations: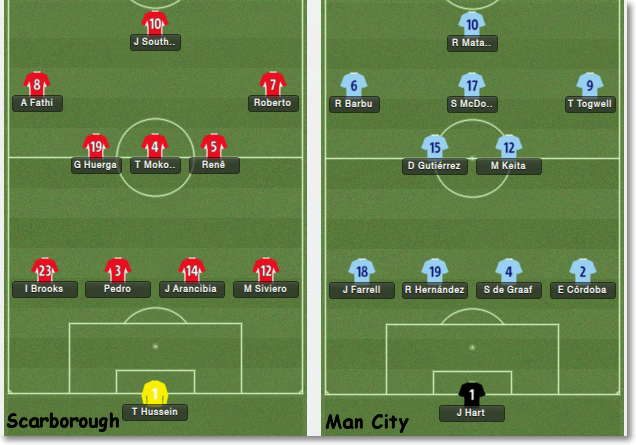 OK I'll be the first to say that my side is insanely talented but Man City are even better. They have my old star striker Matampi and he isn't even their best player. You'll notice their formation above looks very aggressive going forward, now some gamers may be tempted to sit behind the ball and then break when the opportunity arises, but I think the best way to combat them is Barcelona style. Chase the ball down in their own half and get it back before those front four can make an impact. With this in mind I kept my usual attacking strategy and begun the game….it certainly promised goals and…
Match stats: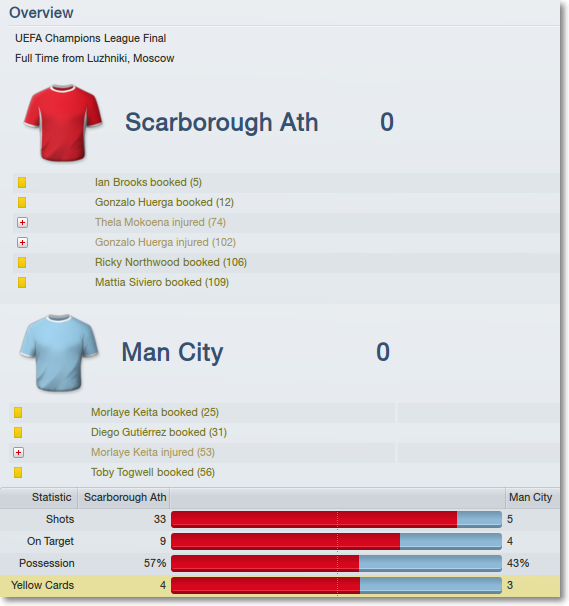 ….goals were the only thing we didn't see! This was very similar to the other finals, I enjoyed 57% possession and fired off 33 shots compared to Man City's 5. We completely dominated this game and needless to say Joe Hart would be named the man of the match. I even felt aggrieved as Mokoena and Huerga went off injured, both disruptions seemed to kill our foothold in the match late on. But we move onto my second penalty shootout of the season and while the players looked confident I watched from behind my hands.
The penalty shootout:

But my boys didn't let me down, we converted all our efforts and due to City missing their first kick I didn't even have to endure the last penalty. A truly brilliant achievement, to win the Champions League once with this club is incredible, but to do it again after offloading many stars and facing such illustrious opposition in simply awesome.
Before and just after the match I started to arrange my yearly upgrades to take place during pre-season. The junior coaching and youth recruitment are now up to a decent standard. While the boards £6.5 million investment in our youth and training facilities will make them close to the top clubs in England.




Squad stats and finances
After winning all competitions bar the FA Cup its tough to single out individuals for praise but a few spring to mind. For starters my entire back four including those rotational players, 6 of the top 8 rated players were defenders. Southern and Fabricio really did a job upfront too scoring 64 goals between them including 24 assists. Then there's new signing Fathi who chipped in with 19 goals and 9 assists from the left wing, while Huerga managed 19 assists and 7 goals from the advanced playmaker role.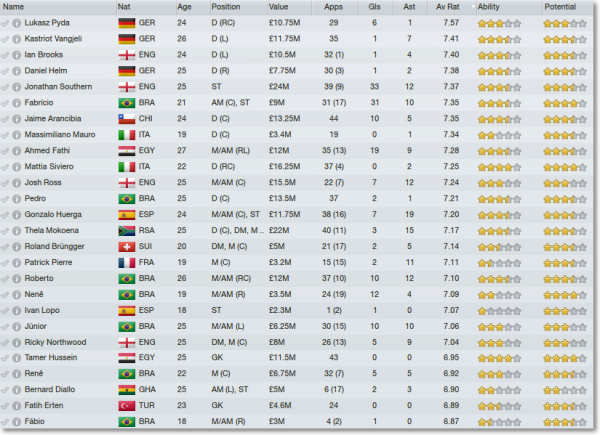 All was fantastic on the pitch and by far my best yet off it! This is the first season my chairmen hasn't pumped money into the club since we got promoted from the Championship. And the bank balance is very healthy at £72.5 million, I put this down to an insane summer transfer window but if that's what it takes to be self sufficient then that is what we'll do every season. Obviously we don't need to make such a huge profit every season but I may need to be making around £30-40 million from transfers to keep the club making money year on year.

Well that about does it for today, I hope you enjoyed the read and sorry for such a long post. Next season will see more of the same in terms of down sizing the quality and investing in the youth, so lets see if we can maintain the same level of performance. Until then please feel free to comment below and thanks for reading.