Hey guys and welcome to a very special post, not only will you witness my FM 2012 Champions League final featuring Scarborough against Chelsea…but you will also see me wearing a suit for the match. My Seadogs have already won the EPL title and League Cup, but reaching the Champions League final has been the highlight of 2023 for sure. Grab yourself a brew, sit back, relax and watch my build up video below. You won't want to miss this as it includes my real life preparations for the match, that's right, its time to suit up!! PUT YOUR SOUND ON FOR THE FULL EFFECT OF THIS VIDEO! And please watch, it'll get you in the mood for  what will follow, besides its only a minute long! I'll repeat myself, turn the volume up before clicking the link below.
Now we are all ready, let me kick-off the match build up with some analysis and key facts. I have a fair few vital players that could change the tide of any high profile match. Two of these players have been outstanding in Europe contributing 7 goals between them in the Champions League. Fabricio is my main man upfront and Arancibia is my beastly central defender.
But my most important player by a country mile is Mokoena, the central midfielder can break up play, place a killer pass or even finish a chance off himself. Mokoena is the player that makes my team tick and this is evident by his 6 assists in Europe this season.
Now if I was to tell you all three of those key stars are injured for the final I'm sure you'd fear the worst. Well I'm afraid that is the case, my best defender, best midfielder and best striker are all injured and to rub salt into the wound all these injuries came just a few weeks ago. But there is some good news, Chelsea have also endured a few unfortunate injuries including the sidelined Cornwall and Sawyers who made up for 13 of their assists in the Champions League this season. So it would seem that both teams strength in depth could play a huge role.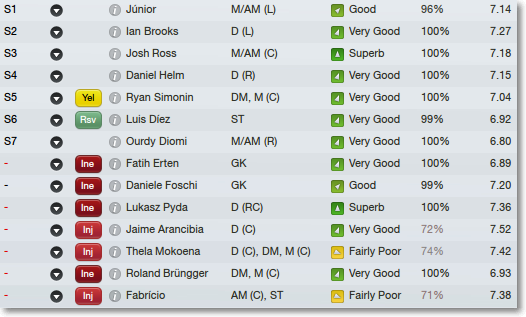 The only other key fact you need to know is that Chelsea are somewhat of a boggy team for me. They knocked me out of last seasons Champions League and have a good record of pissing me off ;) I have played Chelsea 16 times and my record reads, 7 wins, 2 draws and 7 losses. Now we have all the facts and figures out of the way lets get down to the final its self…
Champions League final – Scarborough vs Chelsea
Venue: OAKA Spyros Louis, Athens
Attendance: 69,618
Scarborough starting XI - GK: Hussein – DR: Siviero, DL: Vangjeji, DC: Finke, DC: Pedro – MC: Rene, MC: Northwood, MC: Huerga – AMR: Roberto, AML: Carlos – ST: Matampi
Click any of the names above to see the players profile. You will see that despite injuries to some of our best players the starting XI is still strong and especially talented going forward. Below are how both sides lined up prior to kick-off.
Starting formations: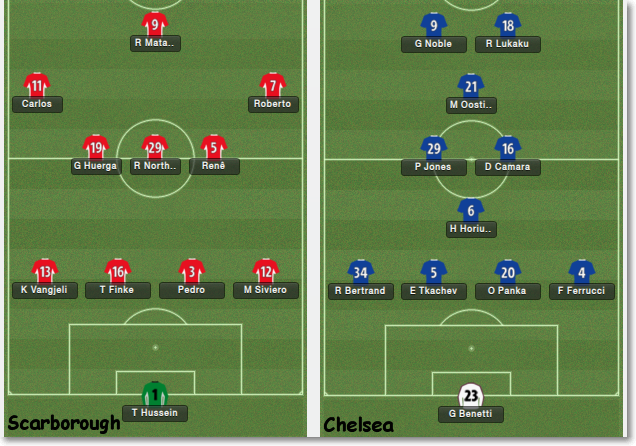 The match, first-half: With my squad selected and all my research done all I could do was sit back and hope my plan would work. Before clicking continue, I just sat, perched on the edge of my couch, hoping to see the first chance fall to someone in red.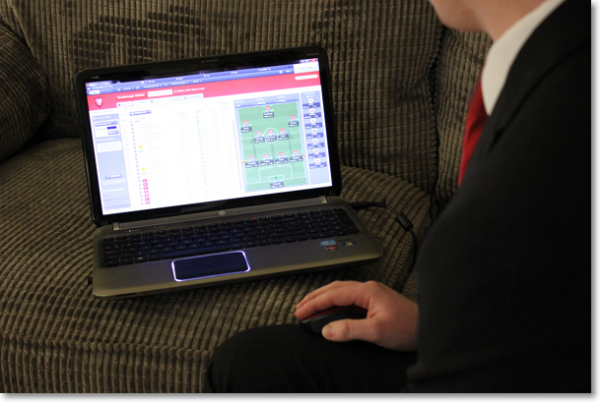 I had to wait until the 28th minute for a proper chance, but it did fall to Roberto on the right wing who cut inside from Rene's pass and then blasted the ball over the bar. A few minutes later and we enjoyed another fluid attacking move, but it ended with a similar finish as Carlos fluffed a golden opportunity from the left wing. As the stopwatch hit 40 minutes, time seemed to stay still, my striker Matampi was one on one with the Chelsea goalkeeper and tried for an audacious lob, the ball seemed to be moving in slow motion but drifted over the bar. Then just before the half-time whistle Chelsea manufactured their first threatening attack, but thankfully the ball ended up in my keepers hands as the referee blew for the break.
Half-time score: 0-0
Second-half: I was very happy during the break and made no changes, I also decided that encouragement and praise was the way forward so my team talk consisted of telling the lads how pleased I was. This seemed to work perfectly as Scarborough came pounding out of the traps. Matampi slid a beautiful pass through to Carlos who had made a run inside from the left wing, the Italian took two touches then smashed the ball into the top corner from 18 yards out!! (Click here to see Carlos' goal.) Needless to say I was delighted.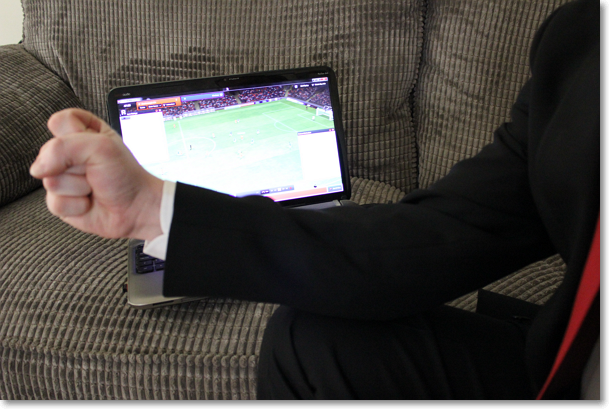 With the way things were going I could taste sweet victory and European glory. My Seadogs kept pressing, missing one, two, then three chances on the bounce…we were dominating this match with pure attacking intent. I decided to made three changes bringing off Huerga, Roberto and Matampi for Ross, Diomi and Diez. These changes had nothing to do with performance as the three departing players were excellent, I just wanted some fresh legs and to offer a prestigious appearance to the three substitutes. Well my arrogance got the better of me, all three subs looked lackluster and could be blamed for what happened next. Chelsea broke down the left with Lukaku, the Belgian centered the ball to Noble who stuck his header home!! (click here to see Nobles goal.) I was gutted and to be frank, really pissed with myself.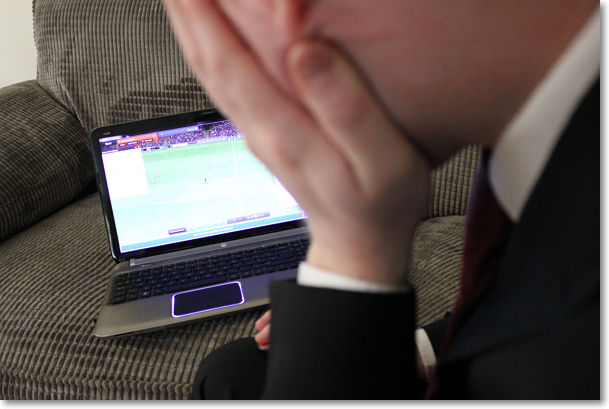 Notice my head in one hand and only if you could see my face…but there was still 28 minutes to go and I had to regroup with the scores level at 1-1. Making tactical changes or touchline shouts seemed irrelevant at the time so I just sat nervously waiting for that gritty determination my side had shown all season long. Chelsea kept pushing forward but never seemed to have that spark, or clinical edge…then on the 84th minute a well placed cross landed on the head of a hero who placed the ball in the back of the net!! (Click here to see the goal and who scored!) My reaction says it all!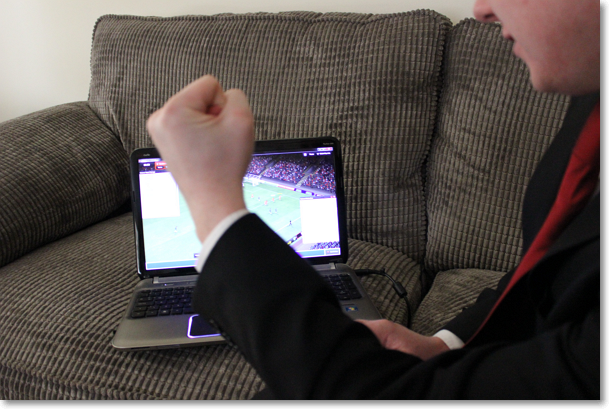 Scarborough were 2-1 up with minutes remaining, we just had to stop Chelsea scoring. But to be honest that wasn't difficult, bar one corner the final minutes were very comfortable and as the referee sounded his whistle for full-time I spent a second or two thinking, 'is it finally over?' And then I just…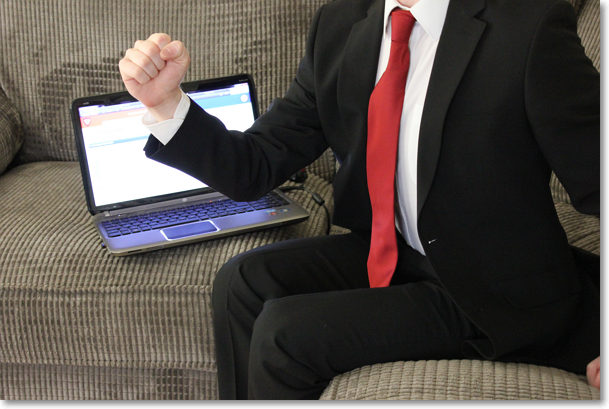 …Well I didn't know what to do, I've been building up to this moment for so long and even convinced myself we'd struggle during this final match, but to win it was just incredible! Guess I'm just glad I don't have to see how it feels to lose on FM while wearing a suit (that would have been embarrassing.)
Match stats: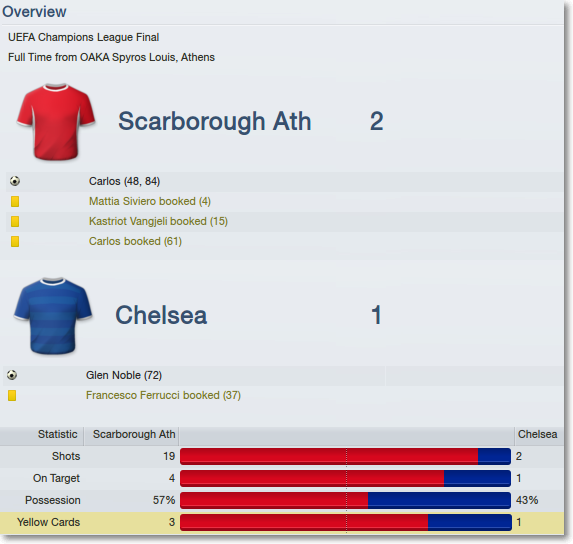 An absolutely outstanding achievement, to beat my nemesis in the Champions final, with 57% possession, 19 shots to their 2 and even wearing a suit is just plain cool!! (Well some may say its sad, but I had fun anyway.)
Squad stats
This was by far my best season on Football Manager, full stop! So many players chipped in, from Aranciba scoring 12 from corners, to Fabricio hitting 30 upfront. I was so proud of each and every player but now is the perfect time for change…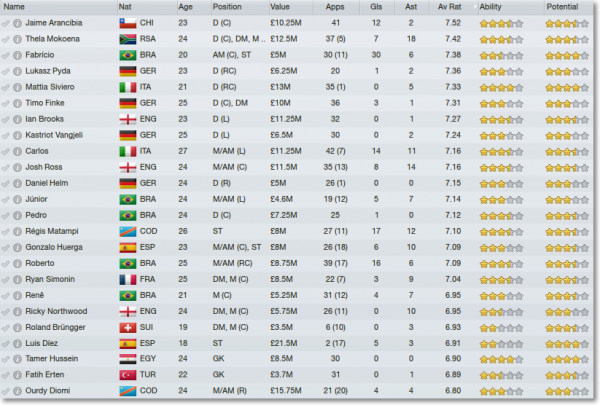 My finances look very good with £41 million in the bank, but without my rich chairmen's help that figure would read red and I am desperate to correct that. What makes me tick on FM is finances and developing youth so I am dying to get back to my morale's.
And this is how I intend on doing so, by offloading some of my stars and promoting youth from within. Looking through the highlighted players below you'll notice most are my best players, but I have to offload them sooner or later and have decided next season is when I'll take the risk. By doing so I'll save around £366K per week, add another £150K for future player wages and I could save around £220K a week which equals £10.5 million a year. This is the biggest risk I have ever taken in Football Manager but I am prepared to win nothing next season if it helps us become self sufficient and stop living out of my chairmen's pocket.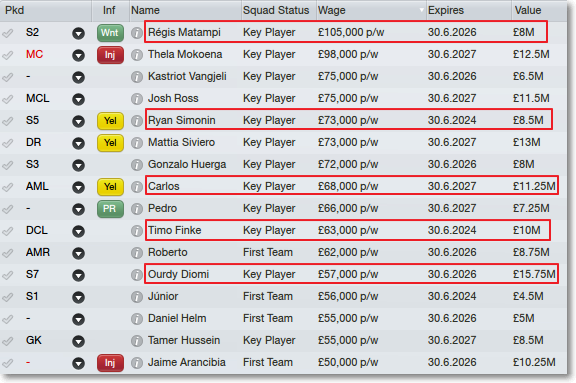 Well that is all for today, I hope you enjoyed this special post and watching me suit up for the Champions League final. My next post may be a stark adjustment but I can't wait to get the clubs bank balance back in my own hands. Until then please feel free to comment below and I have been waiting 12 in game years to show the screenshot below so enjoy. ;)
P.S. I have to say thank you to my wife who has supported me throughout my FM obsession, blogging and constant commitment to the community. If that wasn't enough she even did the video of me wearing the suit and took all the pictures while I played the Champions League final… ;) I know, I'm a lucky man! You also should know that I may be a little absent at times over the next few weeks from time to time. I am due to move home come the 13th of April and have a lot to organize as well as a lack of internet from the 13th onward.