25 Jan 2009
Chester Season 2011-2012 The Conclusion
We were third in the Coca-Cola Championship at the end of 2011, after 23 league games and with another 23 games to go. We were right on track for a playoff spot, but I was afraid that the upcoming transfer window might bring other offers that my board couldn't refuse. The best player so far was my young pacey striker Danny Welbeck, he scored 15 goals in 23 games, he was crucial for us. There were a lot of big teams that were enquiring about him, and I kept on refusing the offers. Until Portsmouth made a 2.75 million euro bid. My board accepted the offer and I lost my best player. 

I was in a tight spot because I had to get another striker, but there were no affordable targets available on the transfer market. I had to go to my parent club, Manchester United, and ask them to send Febian Brandy on loan again. They agreed and Febian returned to play for us again. But bad luck struck again: he suffered a terrible injury that made him unavailable for several months. I had to send him back to his club. And that was after he played in 3 games for us and scored 2 goals!

The transfer window was over, so I had to rely on the players that I had at the club. I promoted some youngsters from the reserve team and hoped that they could cope with the pressure. And the team was holding on quite alright, despite being knocked out in the fourth round of the FA Cup after a disgraceful 2-5 defeat at Swansea. In the league we were still in 3rd place after 33 games.

QPR were just in front of us, 8 points ahead with one game in hand, away at Swansea. Our next game was at home against QPR, and I thought that if we could win we might have a chance to hope for the 2nd place. And we won, be we were lucky to get that result.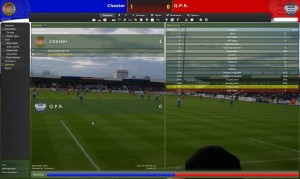 The team was playing well, we were in 3rd place and the 2nd place was getting closer. Norwich were right behind us in 4th place.

Of course, our next game was at home against… Norwich. The players were confident of getting a good win, and we did more that that. We demolished Norwich 5-0! Things were looking good, very good!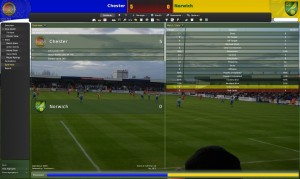 But after this beautiful win we lost again after an eleven games unbeaten run, Watford taught us a lesson with a 3-1 victory. And our young players were losing morale again. Our next game was against last placed Sheffield United, and although we had several chances we couldn't get that damn ball into their net.

With ups and downs, luck and bad luck, we remained in the first 6 places. With three games to go we were in 4th place.

Our next game was away at mid-table side Birmingham. If we won that game we would have secured a playoff place. And we won after a superb counter-attack performance.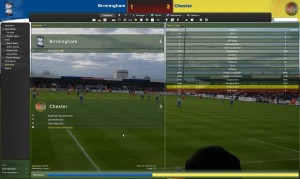 The last two games didn't matter anymore, we had the chance to get to the Premier League, we had to prepare for tha playoff games. We finished in 4th place.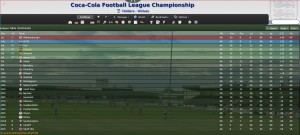 We were drawn to play against Nowich in the playoff semi final. Remember, we demolished Norwich 5-0 only a few months ago. I was feeling confident, and the first leg was away from home. If we could get a draw than we would be able to take care of things in front of our own fans. But my players did more than a draw, we won 2-1 and we missed a penalty shot in the last minute of the game!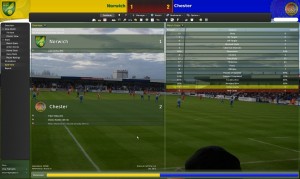 We just had to be careful in the second leg and I was certain that we would go through to the final. The second leg started like a fairytale, we scored 3 goals in the first 15 minutes! We just couldn't lose anymore.
The other semi final ended with a surprise result: favorites Hull were knocked out by Bristol City. That was good new for us, we won both games against Bristol City this year, 3-2 away and 1-0 at home. Now we had to play them in the football temple, Wembley Stadium. And we had to rise to the occasion.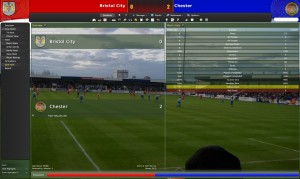 We gave them no chance, we won and our dream came true: we will play in the Barclays Premier League next season! Our fans were delighted! Although we lost our best players during this season we finally made it!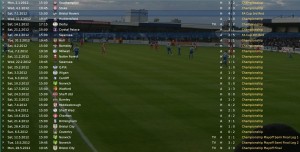 The young players that I promoted from the reserve squad did their jobs well, along with veteran keeper Jan Lastuvka, he saved our skins in countless occasions.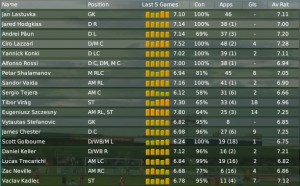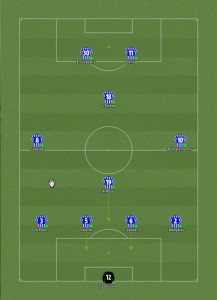 As you might notice I changed the tactic. I already told you about that and I promise I'll give you a detailed description of the tactic soon.
The best player for us was young Italian regen defender, Ciro Lazzari. I signed him for free from Reggina and he played very well for us scoring 4 goals and keeping our defensive line strong and quick.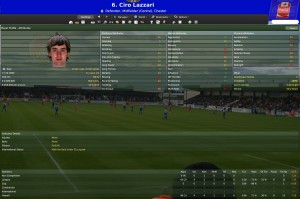 That was it! After only four seasons I managed to get my Chester from League Two to the Premier League! Now I'm determined to avoid relegation next season, but it will be tough. The club is now 11 million euro in debt, so maybe my board will decide to sell some players again… We'll see…
The founder and co-owner of the website, a Romanian Football Manager addict. He's been playing the game since CM '97-'98, never missed any of the versions since then. His footballing career stopped before it began, he liked playing the game but disliked having to run around like crazy during the pretty harsh training sessions. He's a supporter of the Romanian national team, Universitatea Craiova, Arsenal, Barcelona and… the Blyth Spartans! You can contact him at johnny[at]footballmanagerstory[dot]com
You may also like
Comments