Hello everyone!!
So it seems everything has conspired against me with this post! Took a lot longer due to technical problems and a delete everything happy Boyfriend! But thankfully I can now post my new update in my third season at Velez.
Last time we had an Ok season, which was the general feeling shared by everyone however I wanted to do a bit better this season and try and win the battle with my crazy finances!
With doing my best to lift that Copa Libertadores and complete my Pentagon challenge!
So lets see how the season went.
Managerial C.V
- Black Aces (June 2011 – June 2018)
African Premier League : 2016
Super 8′s Winner : 2015, 2016
First Division : 2012
South African Knockout Cup : 2016
The African Champions League : 2017
- New York Red Bulls (January 2019 –December 2021)
U.S. Cup : 2019
MLS : 2020, 2021
North American Champions League : 2020
- FC Seoul ( January 2022 – December 2025)
K-League : 2023, 2024
Korean FA Cup : 2022
Korean League Cup : 2024
The Asian Champions League : 2025
- Arsenal (July 2026 -June 2028)
The Premier League : 2027, 2028
The Europa League : 2027
The FA Cup : 2027
The League Cup : 2028
The European Champions League : 2028
- Velez Sarsfield (December 2028 – Present)
Premier Division Open Stage : 2029
International Career
- U.S.A (May 2017 – July 2021)
Nothing.
- Spain (July 2024 – 2027)
Nothing :(.
———————————————–
A Disaster To Begin With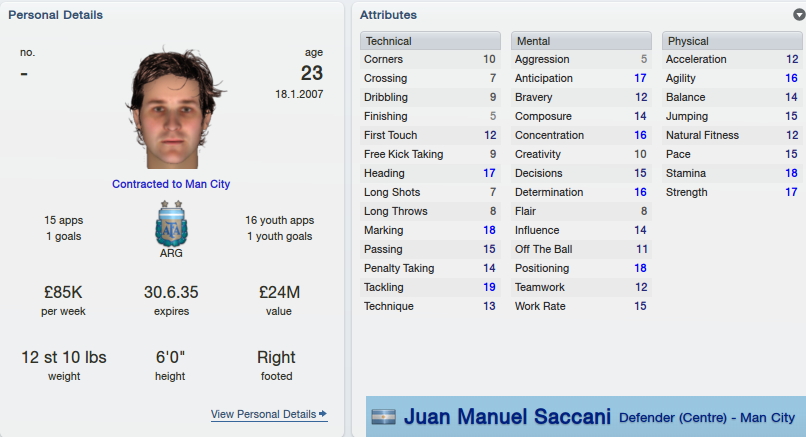 Yes he has gone…….
My star center back has been lured to the premier league for a transfer fee of £24 million pounds.
Stat wise its hard to argue that he is easily worth that investment and it was clear he was far too good for our division so I wasnt too surprised to see him go, I cant even blame my board with the finances we have it was an easy decision they took to sell him.
However even though my board sold him above my head its clear they didnt tell the media the right things, see below……….

Brilliant!
So my board sell a player above my head then pin all the blame on me!
So now my fans hate me for something I had no control over. :(
Club Info and Start of Season Finances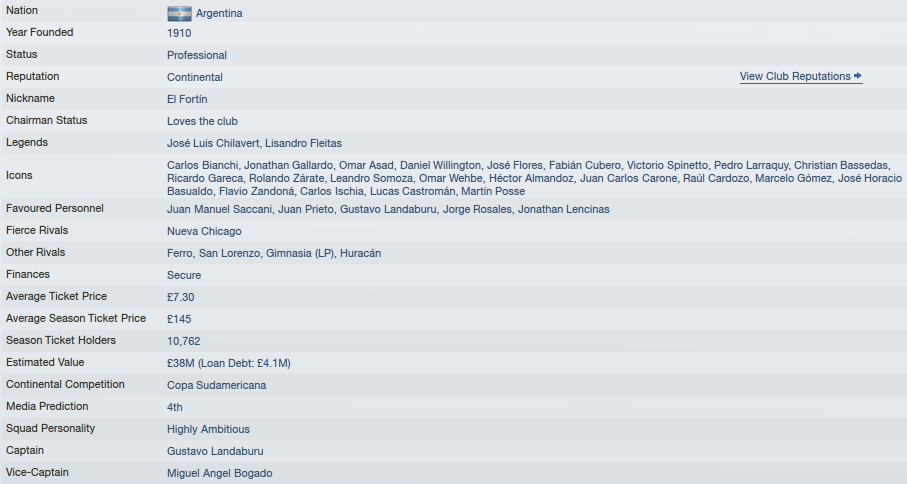 So despite losing our star defender I promoted Bogado his partner at the back to the new vice captain role, club value went up due to the money in from Saccani.
Nothing else has really changed too much since last year.

So finances are looking very healthy now with the departed Saccani, last year was a near disaster money wise so am going to do everything in my power to keep as much of this money as I can.
I did cut a few costs and re-structured my whole backroom staff to save even more money so hopefully come the end of the season we might just turn a profit!
Transfers In and Out – First Window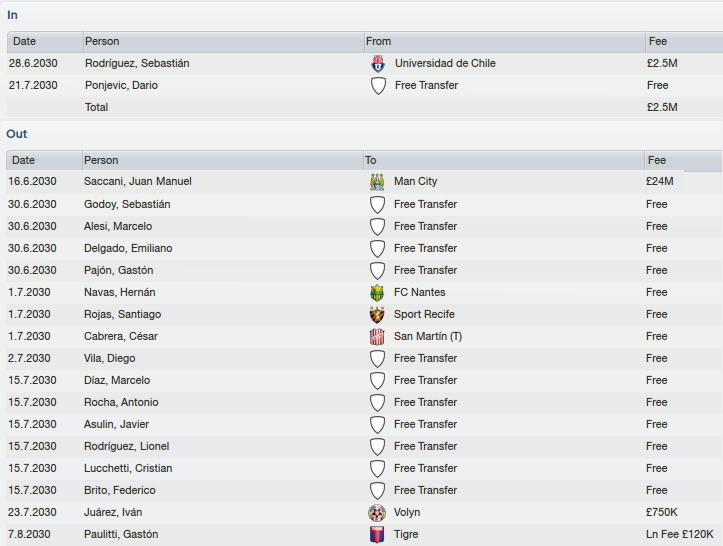 My task was simple, save as much as possible so I only bought two new players and one of them was free.
Juarez was sold due to his terrible attitude so I bought two new front men, even with Saccani gone I still feel very confident in our defense however you can never have enough goal scorers so I bought two more!
Rodriguez was bought from a team we played in last year's Copa Lib and he impressed me so I got him, whilst Ponjevic was offered to me for free so I though why not. :)
Sebastian Rodriguez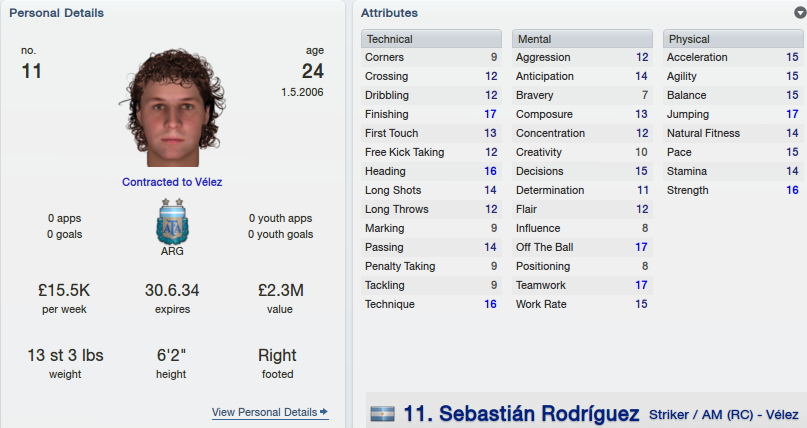 Dario Ponjevic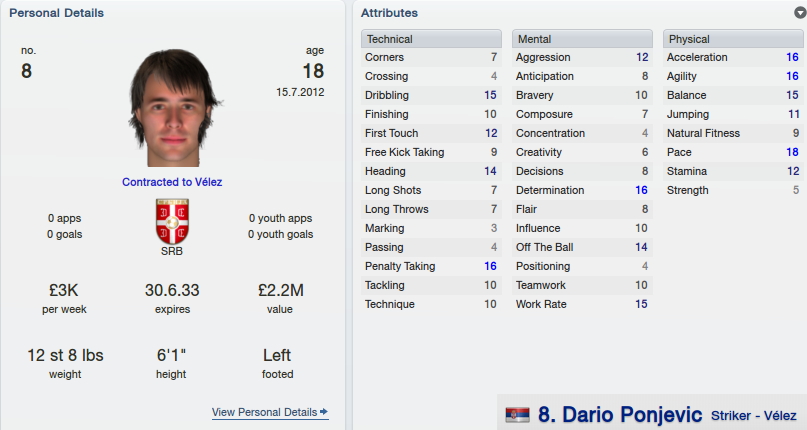 Opening Stage Results and Table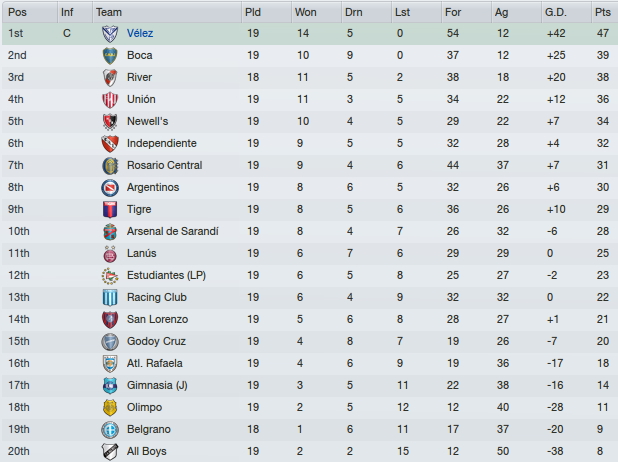 So another milestone game and another game we failed to win…..
Am getting tired of them now! :)
That said my team were faultless over the opening stage as we failed to lose a single game scored the most goals and had was of the best defenses.
With us once gain winning the opening stage we had qualified again for the Copa Libertadores so maybe second time lucky, fingers crossed!
Closing Stage Results and Table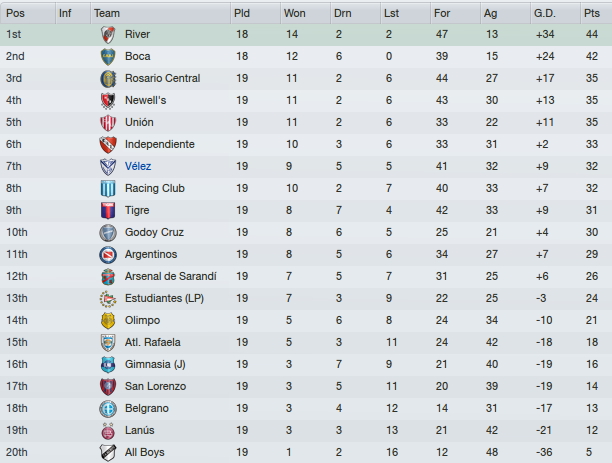 Horrendous!
I wont even waste your time by describing just how poor we were in the second half they say a picture is worth a thousand words so this will sum it up. :(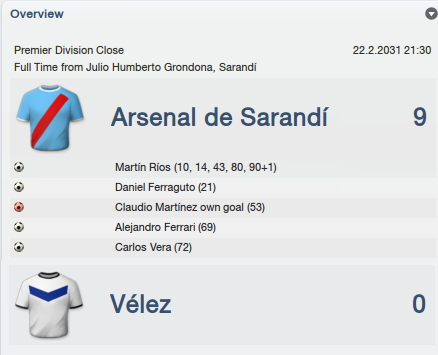 Cup Competitions
Copa Sudamericana

So I posted on Jake's story in the forums about a result where I won four zero in the first leg then lost the second by the same scoreline before, you guessed it losing on penalties!
Astounded was the word I used I mean we didnt even play that badly away from home just couldnt take chances or defend corners! ;)
Copa Argentina

Final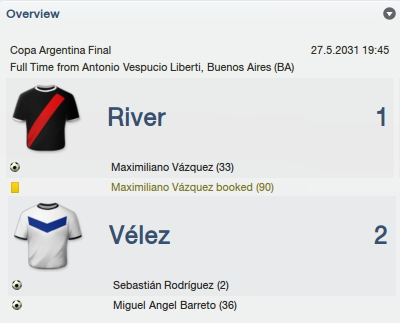 Yay!
We managed to win the Copa Argentina after beating River to be fair I felt we deserved to win by a few more, the scoreline looks like a close game but we were in charge from start to finish.
Copa Libertadores

Hmmmm,
So unlucky as we lost in the semi finals against River who avenged their Copa Argentina defeat by beating us in both legs.
This time I can have few complaints as we lost the tie in the first leg, the second was very comfortable for River we were very lucky not to get beat by four or five, disappointing but there is always next season. :)
Final Player Ratings of the Season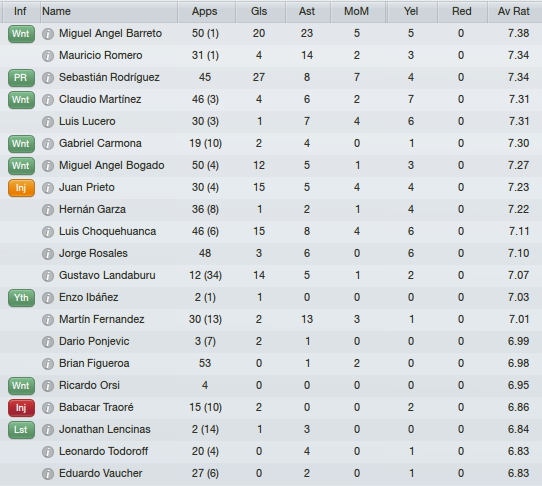 So Barreto led the ratings scoring goals and making assists he was fantastic this season, Romero had a great season in the center of midfield and new signing Rodriguez had a very exciting debut season scoring twenty seven times.
However I want you to focus on one player called Gabriel Carmona who came through the Velez ranks and was playing in our youth side until our second half season collapse and he has developed really well plus he looks really promising so here his profile alongside our star man of the season.
Star Man of the Season Miguel Angel Barreto and Promising Gabriel Carmona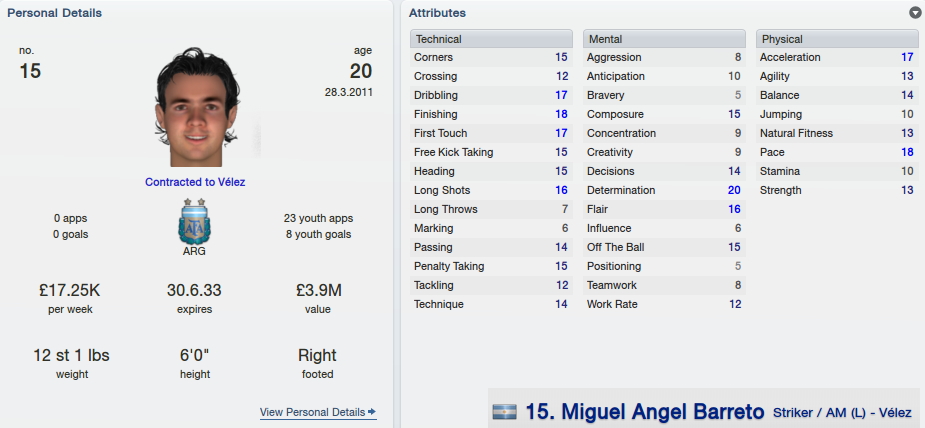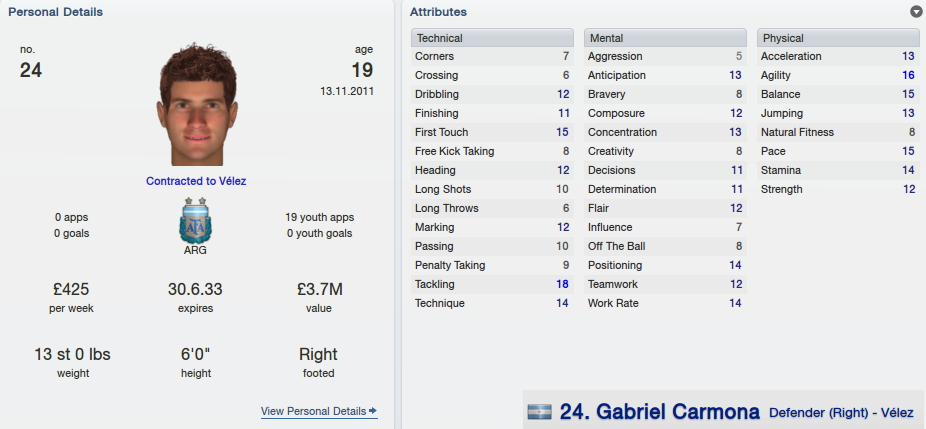 End of Season Finances and Save Game Status

!!!!
Where has all my money gone!
Lets take a closer look at those finances…………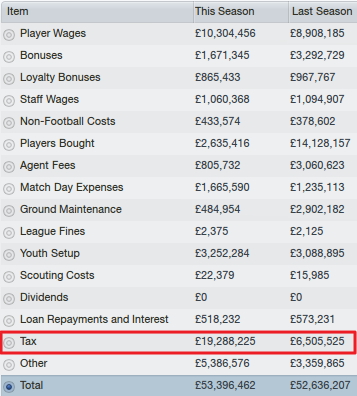 This is just impossible….
Last year we payed only £6.5 millions in tax and this season we payed close to £20 million how can I ever succeed?
I pretty much cut costs right through the whole club without selling off more of our star names and keeping the team competitive. Am sorry it just make no sense how can we have lost a million more than last season I will never win this money battle if things keep concluding this way.
Next season I will have to sell off another key player just to get us through to the next season with a positive bank balance, that will be annoying. :)

End of Season Round-Up
So where to start!
I guess with the league, unbeaten in the opening stage then completely fell apart in the closing stage, hard to explain why really!
I didnt change anything tactic wise my team showed they were good enough even without Saccani so no excuses we were just hopeless!
I would love to address the problems with a few new faces but that may also be impossible with the crazy story of our finances even when we make a lot of money it dwindles away, its just an impossible task.
The squad is good enough but I may have to sell off yet more key players to balance the books, at least we have  great youth set-up and we have a few talented players in our youth ranks. So fingers crossed a few can make it to the first team and I will give them every chance to do that.
Cup win was nice but its hard to draw any positives from our second half, probably because there weren't any! But I guess you learn more about your team when your losing than you do when winning, or is that just a cliche people use as an excuse!? :)
Any ways that's it!
We fell apart yet again and our finances are getting even worse despite the huge amount of money we got from Manchester City, where did it all go? Why did my chairman not take responsibility for the transfer of Saccani and let the fans blame me? Why do my team fall apart in the second half of the season? Why wont my chairman allow me to upgrade any of our facilities? I fear there is a conspiracy a foot! :)
LoL! So once again thank you all very much for reading and following my story, it seems the Copa Lib is still out of our grasp but you all know me by now it was never going to be easy! :P