Hi everyone! :)
Welcome back to my Pentagon challenge which has seen four champions league out of five secured as we are on the last leg trying to claim glory in South America.
Last time I left you I unveiled my new side that of Velez and after a bad start we managed to claim the runners up prize allowing us to challenge in the Copa Sudamericana (abbreviated to C Suda for easier typing! ;)), so far I am enjoying Argentina and as I showed you last post, teams from my new league have really dominated the Copa Lib so am hopeful I can conclude the final part of this journey.
So lets get on with it and have a look at how my season went.
Managerial C.V
- Black Aces (June 2011 – June 2018)
African Premier League : 2016
Super 8′s Winner : 2015, 2016
First Division : 2012
South African Knockout Cup : 2016
The African Champions League : 2017
- New York Red Bulls (January 2019 –December 2021)
U.S. Cup : 2019
MLS : 2020, 2021
North American Champions League : 2020
- FC Seoul ( January 2022 – December 2025)
K-League : 2023, 2024
Korean FA Cup : 2022
Korean League Cup : 2024
The Asian Champions League : 2025
- Arsenal (July 2026 -June 2028)
The Premier League : 2027, 2028
The Europa League : 2027
The FA Cup : 2027
The League Cup : 2028
The European Champions League : 2028
- Velez Sarsfield (December 2028 – Present)
Nothing Yet.
International Career
- U.S.A (May 2017 – July 2021)
Nothing.
- Spain (July 2024 – Present)
——————————————
Expansions and Things!


So a bit of money was spent on an expansion, well not an expansion really just adding seats as only half our stadium is seated. The problem is that due to the work we now have to ground share with River until April so we wont really have a home stadium until then.
The second is an upgrade to the training facilities which I didnt feel were that bad but another £925k was taken to improve those bringing us up to four star levels.
Club Information and Finances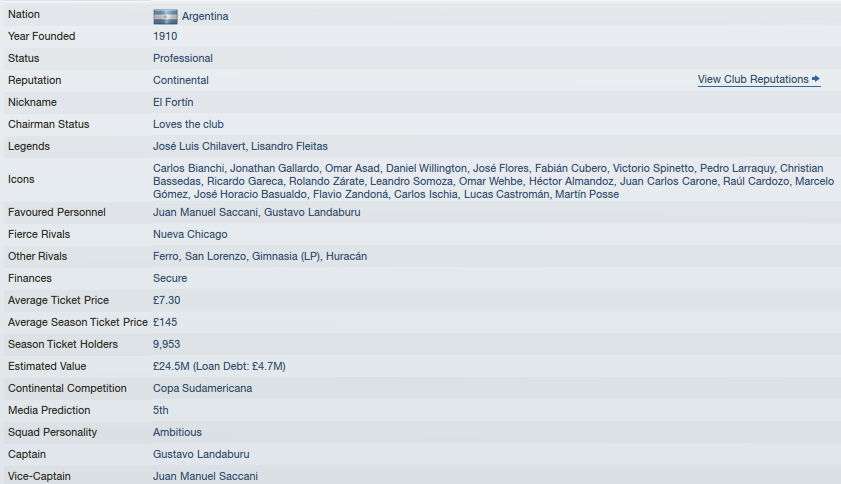 So we did lose a bit of our estimated value mainly down to the improvements and we did pay back a tiny bit of our £5 million pounds debt.
Nothing really has changed too much.

So no surprise to see our money drop a little due to the improvements which seem a bit unnecessary I would have rather have kept it for new players  so again it seems I will have to sell to buy to try and improve my squad this season.
Transfers In and Out – First Window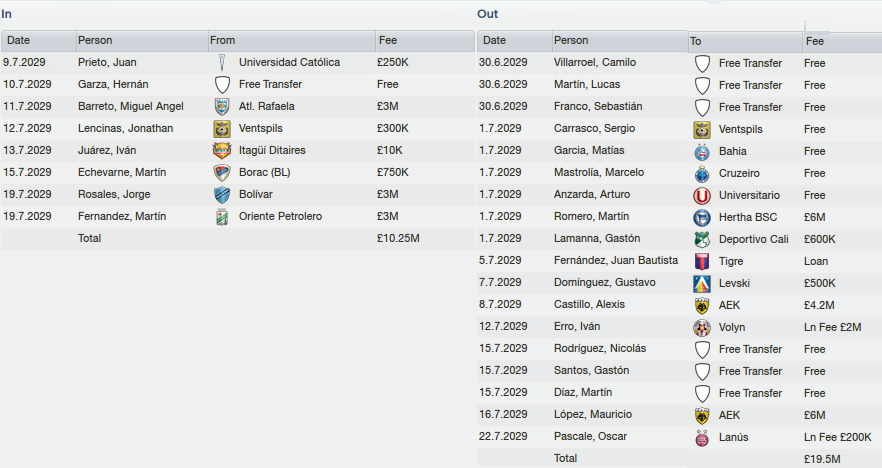 So I tried to keep my spending as low as I could whilst trying to get rid of my poorer players and keeping hold of my better ones.
I did fail to keep Mauricio Lopez, Alexis Castillo and Martin Romero but all left for Europe so I really could'nt do anything to keep them. I made lots of new signings which at first trying to focus on youth with the problem being price.
Most quality Argentine youngsters are worth as you would expect quite a lot of money so I had to re-work my plan buying the best that was available, so a lot are over 25 some even closer to thirty but should do well for at least a couple of seasons.
Martin Fernandez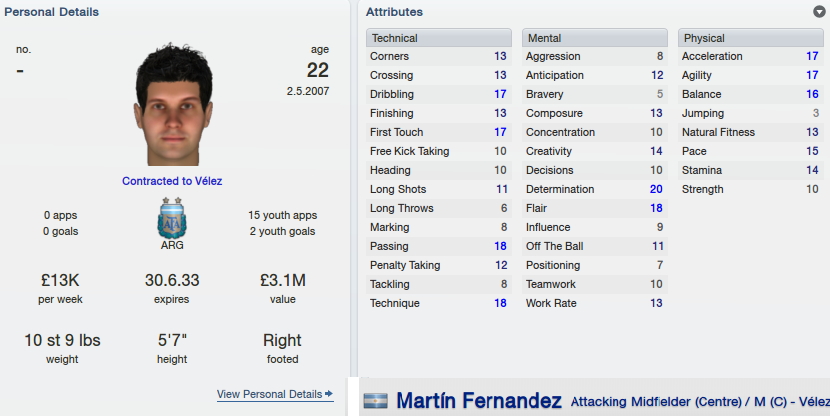 Juan Preito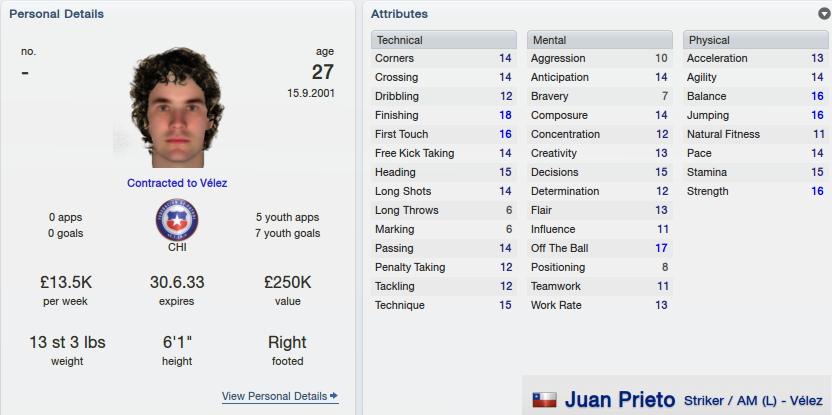 Jorge Rosales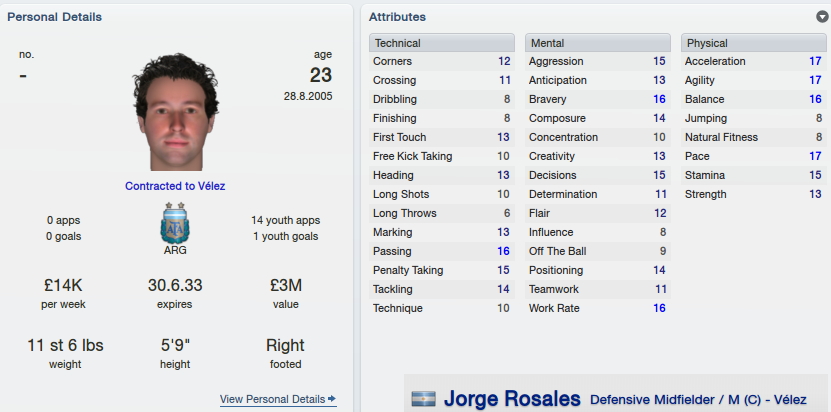 So a selection of my better buys in my opinion, Fernandez was bought to replace the departed Castillo in the center of our midfield whilst Prieto was bought to hopefully score some goals which we lacked last season.
Rosales was on-loan last season and had a buy clause in the deal which I activated as I felt he was really good last season so I made that move permanent.
Opening Stage Results and Table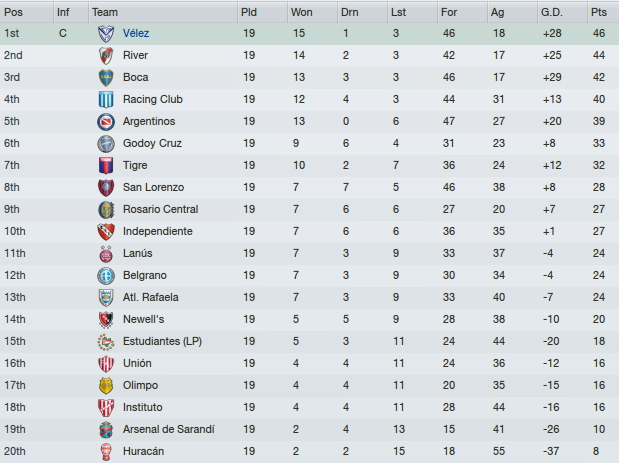 Yay!!
We won! River put up a great fight but we played so well trough the opening stage and in my opinion deserved to claim the stage, a highlight being a 5-1 victory at River!
Remember we are ground sharing with them so essentially we beat them 5-1 at home!!
Infact we are fantastic at are adopted home only dropping two points against Boca with this we qualified for the Copa Libertadores (Copa Lib) which will be posted in the cup competitions bit below.
Closing Stage Results and Table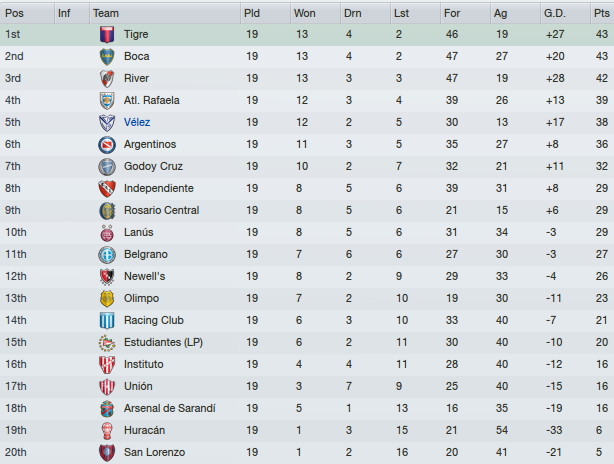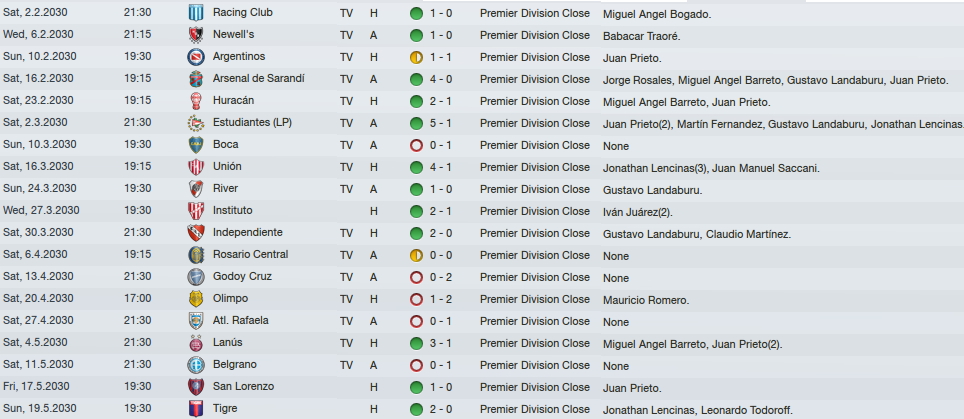 Hmmm, so a pretty bad closing stage.
A win-less run of four games then another defeat meant we never really looked like we could win this stage Tigre beat Boca in a playoff for the title due to them finishing on the same amount of points.
The curios things is that we lost away at teams that we should be beating but I wasnt too disappointed as we just hit a bad patch of results which can happen we did improve to win our final two league games but by then we really had to chance to clinch the title.
Our defense was just fine the problem was scoring goals as we are just too wasteful at the moment.
Cup Competitions
Copa Argentina

So out on penalties at the first hurdle! This is the domestic cup in Argentina similar to the FA cup or Spanish cup I guess, how we lost I will never know but it happens I guess. :)
Copa Sudamericana

So we never got going and were out in the first round to Argentinos, first leg was near disaster losing 3-1 and at home we were even worse as we created very little losing both legs and were deservedly knocked out.
Copa Libertadores

Out in the quarter finals!
We had a good go but in the end we just didnt have enough as we wasted far too many chances losing on, yes you guessed penalties! :(
We should have won both games in the second and quarter finals far more easily but we couldnt convert any chances so we were out.
Final Player Ratings of the Season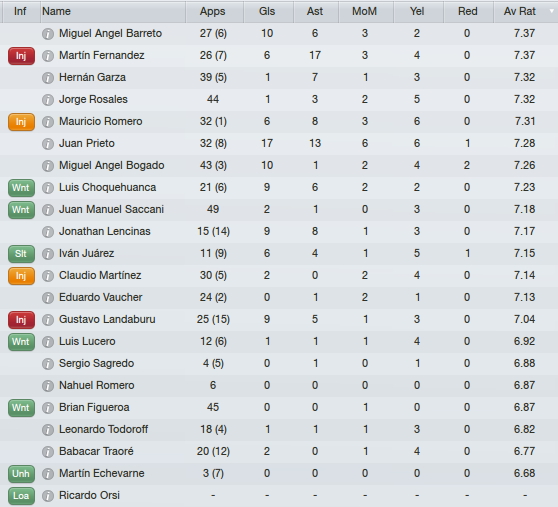 So a look at the ratings and I was delighted with all my players in all honesty.
Barreto was a star, bought for the future as he is only 19 but I played him on the wide left in my formation and he was very impressive scoring 10 times in an injury hit season.
Fernandez another new face had an excellent debut season scoring but more importantly assisting from center midfield.
Garza may have been the find of the season bought in on a free transfer he is a very talented Mexican full back aged 21 and another fine debut season. Prieto did score goals but I cant help feeling he should have gotten a few more but Saccani is now wanted my AC Milan, Barcelona, Real Madrid, Man City and my former side Arsenal, it will be a huge struggle to keep a hold of him for next season.
Star Man of the Season – Miguel Angel Barretto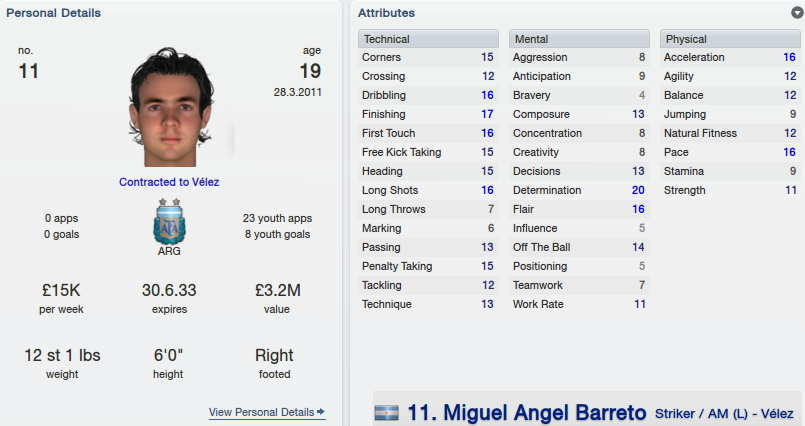 End of Season Finances and Save Game Status

Wow!!
A loss of £35 million! Honestly I cant understand where its all gone….
Lets try and break this down a bit :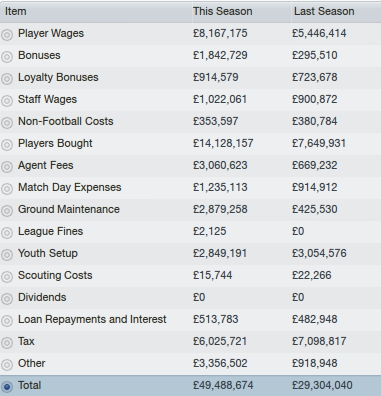 Ok this does not make any sense, I mean we have a far smaller squad yet payed MORE in players wages?
Bonuses fair enough we did have a pretty decent season, loyalty bonus about the same but staff wages went up despite me losing five or six and I didn't replace them?
Non football cost fair enough about the same, players bough fair enough I did spend a bit but I did re-coup most of that with selling players agent fees £3 million!
I guess they see me coming but I do take out bonuses like higher earner clauses and % yearly wage rises so that must save us more money over time as I seen it happen during my journey so far.
How we ended with almost £50 million lost is a complete puzzle I mean we lost almost £20 million more than last season despite making profits on transfers and competing in the Copa Suda and Copa Lib!
I Hope my chairman isnt pocketing any extra money for himself. :)

End of Season Round-Up

So that was the season as it happened, and its fair to say that it was an ok season nothing better than that.
I guess I was blending lots of new players together but I cant really use that as an excuse as we won the opening stage yet fell away in the closing one. Our cup competitions were a near disaster falling at the first hurdles twice then losing the quarter final of the Copa Lib to an inferior side a game we should have won easily.
This part of the challenge may be more trickier than I expected as most sides are very close and anyone can beat anyone on any given day, throw in the fact we are losing vast amounts of money every season with no real way of stopping it except selling our best players. They dont add up at least from what I can see maybe a glitch or something as I have literally cut as many players and staff as I could yet we are paying even more?
It does not make sense, we dont sell out our stadium so finding that money to get back on a positive bank balance will be very hard and I will have to sell my better players again to hopefully find a solution.
But I guess thats half the fun right! Battling declining finances is always a tricky thing especially as we dont get that much for entering and winning things but losing my star players will be annoying as good replacements are usually quite expensive.
So once again thanks so much for reading and following, it will be interesting too see what you think about my season and the future, I think a Copa Lib win may be a few seasons at least until I can get these finances sorted.
So until my next post, bye bye for now! :)