Hi everyone! :)
Again a huge apology for just how late my posts are coming am swamped at work at the moment and my free time is being reduced by my younger brother moving house and some family troubles on my boyfriend's side.
So am only playing a few games a week, so my next post will be again a little while longer.
That said I did finally manage to complete my second season in England so here is how it went!
If you can remember from last time (I couldnt I had to find my last post and skim read it!) we managed to win the premier league , the Europa league and the FA cup so have we will be competing in the champions league this time around.
I did quite poorly at the world cup with Spain but I have a chance to redeem myself with the upcoming European championships.
Managerial C.V
- Black Aces (June 2011 – June 2018)
African Premier League : 2016
Super 8′s Winner : 2015, 2016
First Division : 2012
South African Knockout Cup : 2016
The African Champions League : 2017
- New York Red Bulls (January 2019 –December 2021)
U.S. Cup : 2019
MLS : 2020, 2021
North American Champions League : 2020
- FC Seoul ( January 2022 – December 2025)
K-League : 2023, 2024
Korean FA Cup : 2022
Korean League Cup : 2024
The Asian Champions League : 2025
- Arsenal (July 2026 -Present)
The Premier League : 2027
The Europa League : 2027
The FA Cup : 2027
International Career
- U.S.A (May 2017 – July 2021)
Nothing.
- Spain (July 2024 – Present)
———————————————————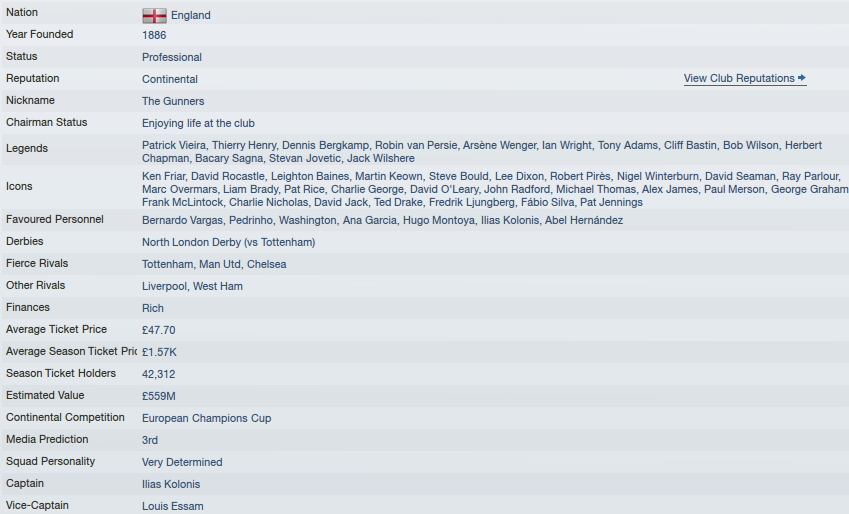 So first up a look at my club's information and it reads pretty much the same as last year. Our club value did go way up though by almost £100 million I also have a new captain and a new vice also due to my last two being sold and released.

So our finances went way up thanks largely to a massive TV revenue that we received, this was also before I was given any champions league money as well and after my transfer dealings so we should easily surpass the £100 million pound mark.
Transfers In and Out – First Transfer Window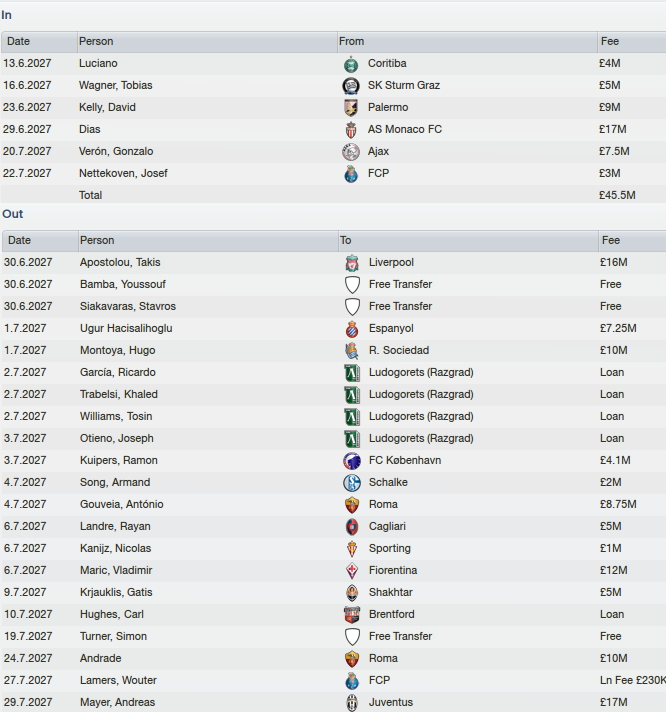 So following a traditional Arsenal style transfer window I only spent a fraction of what we received, but I did feel we needed a few new players whilst selling of our older players who were on huge wages.
Luciano along with Wagner, and Nettekoven were all bought for the future with only Dias and Veron who will be pushing for first team places with their picture profiles below.
David Kelly was a brand new goal keeper I bought and he too will be the first choice in our goal this season.
Dias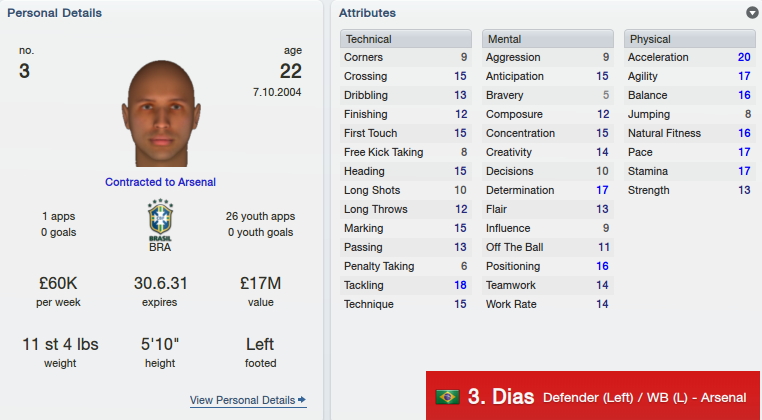 Gonzalo Veron
So Dias was a bit expensive but I really needed a good fullback and he was the best I could find but he did cost a fair bit, Veron was another forward I bought, last season we didnt really struggle for goals but I felt after selling Maric I needed a replacement and I wanted Veron last year but he was denied a work permit.
However someone said last post that he needed international caps to be given one and when he did I put a bid for him and he signed with no problems, who would have thought with all the places I have managed that England would have the most confusing rules on work permits!! :)
League Results and Table – Halfway Point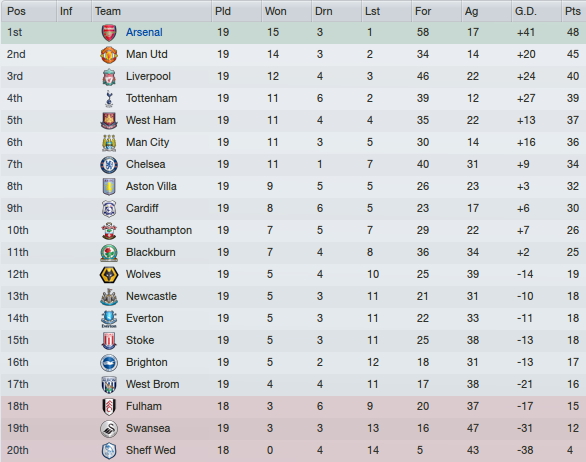 So a pretty good start and we actually lead the league with a three point advantage over Man Utd, my biggest highlight was beating Man City at home by five goals to zero!
Veron with a hat-trick and is looking like a brilliant signing already.
Job Offer/Rejected! :)

So right after beating Man City their manager was sacked and I was offered it! I rejected of course because I dont like Man City and I am happy at Arsenal but the thought or earning £76k a week!!
Thats like two and a half years work for me and I would still be short I think! :)
Spain – European Qualifiers
So as you would have expected we easily qualified top of our group and are going to the upcoming European championships. Only a last game defeat against Scotland which I think happened in my world cup qualifiers also cost me a perfect maximum.

I forgot to take a picture of all the groups so here is mine, not too difficult I fully expect to beat all three nations but Belgium do have a pretty good team so thats probably my trickiest game.
League Results and Table – Run to the End of Season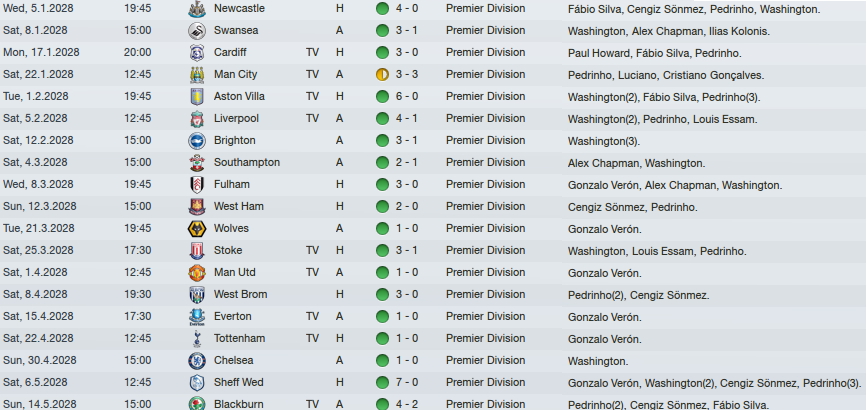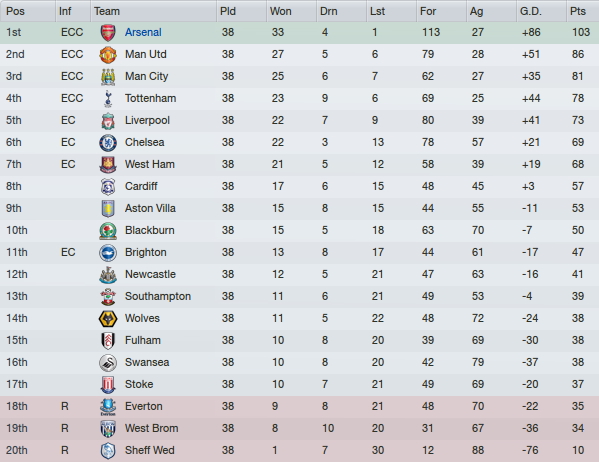 So I finally won a milestone game! My 800th was a narrow win over Southampton so I was very pleased with that. :)
A tremendous run as we just kept on winning in one of my best ever seasons on this game!
Cup Competitions
Community Shield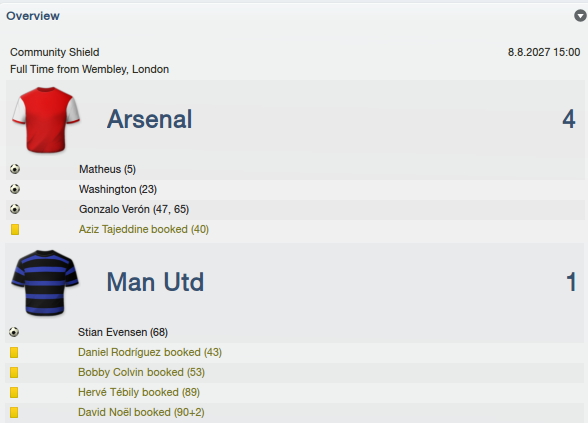 So a brilliant debut from Veron as I introduced him at half time he struck twice and probably should have got a hat-trick. My two Brazilians struck also with Matheus from a free kick and Washington with a typical clinical finish and we easily beat Manchester United.
The European Super Cup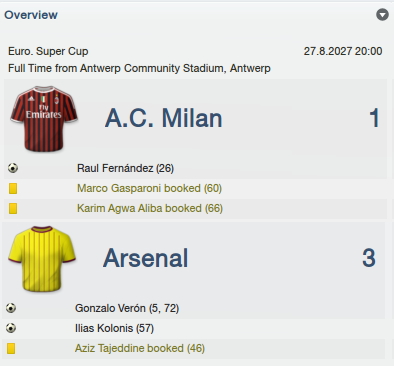 Veron again! He seems to relish the big games and once again he struck twice either side of an Illias Kolonis header to seal our first ever super cup win! Their scorer is someone I know from the Spanish national team as Raul Fernandez is my first choice striker.
The Champions League

The Final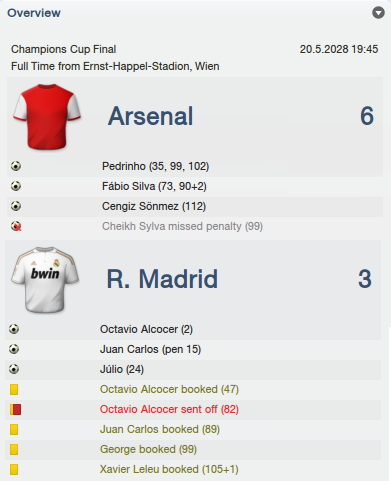 YAY!!!
All I can say was this was the best game I have ever played in my time on this game! It just had everything so its hard to even began where to start!!
First thing we started horribly and were infact THREE down after 25 minutes! The game already looked gone as we were just so poor, Pedrinho added one back on 35 minutes but at half time we looked a beaten side.
I introduced Fabio Silva and gave him the talk of no pressure after he hit a bad goal drought and on 73 minutes my faith in him payed off and he finished a brilliant move as we were all over them in the second half. The clock was ticking away and when it got past 88 minutes I felt that was that I had tweaked everything I could the red card made no difference as they just defended anyways then a miracle happened!!
I joked yesterday on Johnny's story that I had infected him with my bad luck somehow and he hoped we would have some better luck in the future and he was right!
Pedrinho in the last minute of the game curling a wonderful free kick into the far corner and the most unbelievable of comebacks!
However I feared the game would get me back on penalties as it so often happens! But I didnt have much time to react to Sylva's missed one as Pedrinho latched onto the re-bound and we led in extra time. Pedrinho added his hat-trick and what a player he is! Then Sonmez made even more sure that this would be our year!
Nothing more to say! But only one more to go! What a game. :)
The FA Cup

So we lost to our local rivals in a pretty poor game, wasnt many chances but the one they took was enough and we were out.
The League Cup

The Final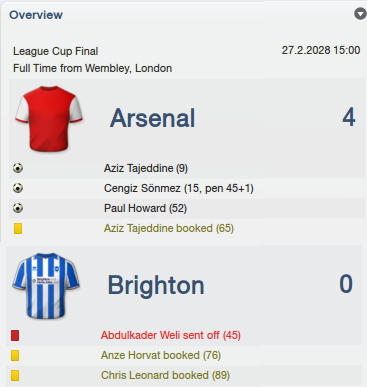 Yay!
So we manged to win the league cup and I'm surprised how many games we had to play! But we did get to the final against Brighton which was a nice comfortable win for my team as we never looked in danger of losing the league cup.
Final Player Ratings of the Season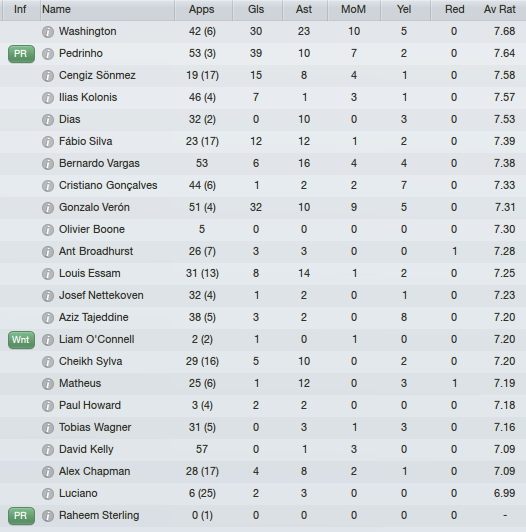 So going forward we were excellent with Washington and Pedrinho leading the way, Sonmez came along very well this season and Dias was really worth the big money we payed for him after a brilliant first season.
Veron was another who had a great season scoring 32 times but I was delighted with all my players, even my future players had a great season.
Star Men of the Season – Washington and Pedrinho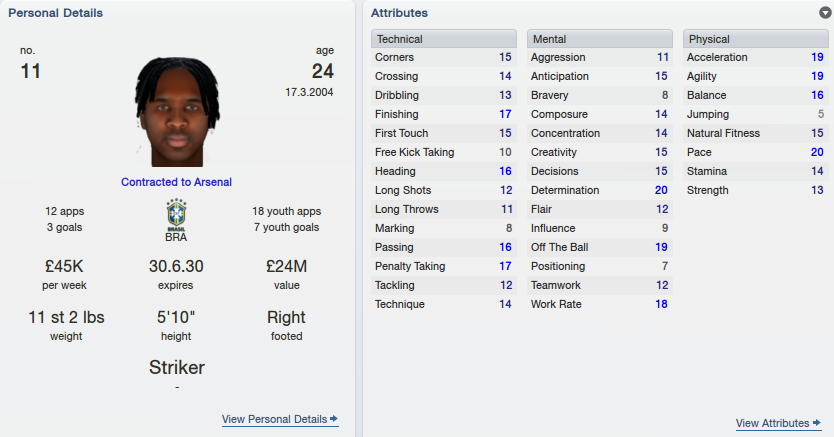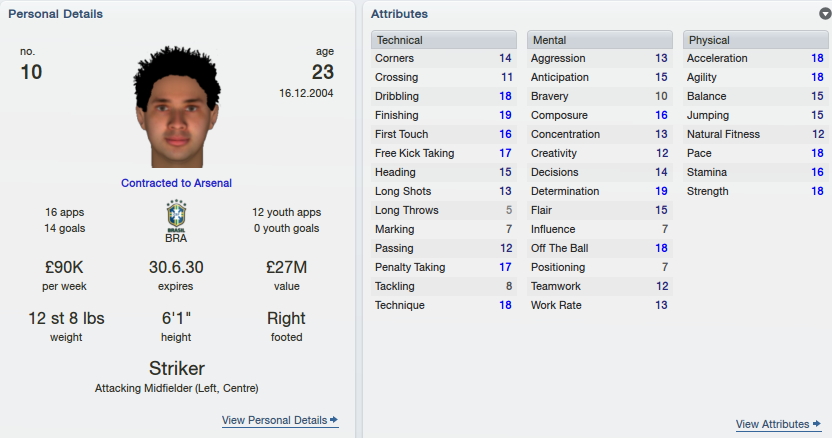 End of Season Finances and Save Game Status

So with all our prize money that we won this season and another massive amount of TV money next season the long term future is more that secure.
I probably will only buy a few new players and for the future as I have assembled probably my best ever team on FM, Pedrinho is amazing and is defiantly close to being as good as David I had at Real Union a while ago! :)
End of Season Round-Up

So I thought with only the South American CL to go I would post my Bio up!
Its pretty much everything I have already posted but makes a nice summary of what I have done on this game so far.

So I resigned, I guess I could have stayed for another season but England (dont hate me please!) isnt my favourite place to manage in fact I didnt really enjoy it all. I never understood the work permit rules, I dont like the fact that young English players are never good enough to make the first team and if they are they cost so much money.
I joined a team that already had everything, five star training, five star youth system, a vast scouting range and loads of quality scouts. In all honesty I couldnt really fail especially as my players settled into my formation right away I found it a bit easy as with the money given you can just buy who ever you like.
Sorry if that sounds a bit arrogant or anything! It wasnt supposed to come across that way I just dont feel like I have accomplished anything unlike managing at the Black Aces or at Seoul.
But I did get that European champions league and apart from that big scare against Roma in the second leg and that amazing final! I never looked like I would lose it at any stage but fitting I guess that my best ever football manager game was playing with an English team. :)
So only the Copa Lib to go and I decided to get a team after the upcoming European Championships, I have decided that win or lose I will resign (or get sacked!) from Spain and focus 100% of getting a team from South America and trying to win that final part.
I have (or will) deselected all the leagues except Argentina and Brazil for the last part of my journey, so thank you all very much for following it so far and hopefully I can complete it with only one to go! :)