Howdy folks, and welcome to another update of my Portugal story. I'd like to apologize for my absence over the past week (or so), as it was pretty hectic around the house ("spring cleaning") and at work. Of course that didn't stop me from actually playing the game in my downtime, and as a result I've gotten pretty far ahead of where we last left off. Since I don't much care for stringing you guys along over events that have long since occurred, let's get all caught up.
Let's get 2013 out of the way first. We continued to display astonishing levels of mediocrity, but started to make a mid-season push for the top (as the teams around us were even more mediocre). We managed to get as close as second place before my lads realized how terrible they were, and we slid down the table for a comfortable 4th place finish on 30 games:

This season was another sign of slow, but steady progress. We managed to secure an all-time best finish (again), and we showed definite signs of improvement over last season. I'm pleased with how we performed, and I was ready to make a push for the next season.
First up, transfers:

All of the outbounds were either asking for too much money, or had under-performed all year (you know, pretty much the only reasons you'd let someone go). The inbounds are all solid looking players, that I'm hoping will help plug some gaps:
Steve Lambert - Right back, who will hopefully shore up a weak position for us.
Edison – Aside from Tomaz, I didn't have anyone reliable as a centerback.
Dirceu – I already had a decent leftback, but Dirceu was willing to sign for such little money that I couldn't resist.
Bruno Matias – AMC was a sore spot with us last year, and I'm counting on Matias to help with that.
There was also one internal call-up. The situation on my left winger had become beyond desperate, and with literally nobody even half-way decent willing to sign for anything less than Messi-like wages, I was forced to promote a Mr. Ricardo Oliveira.
Yeah, we're doomed.
So with the squad set, we played some football. Quite a bit of it infact. I dare say, we played almost a full season's worth of football. In other words, I completely forgot to take screenshots as we played on, so I'll fill you in on how the season started:
Terrible. Absolutely, unequivocally terrible. By the end of week 3, we found ourselves sitting dead bottom of the table with a single point to our name. Despite a media prediction of 8th (our best yet), we looked set for a long and very painful season. With so few new pieces in the starting 11 and the same tactic we've used for two years, I was utterly baffled (we hadn't even played teams worth losing to).
I'd be lying if I said I didn't consider just resigning and walking away. Still, it was only 3 games into a 30 game season, and as the past two years had shown, literally anything can happen in this league. With that mentality, we began our slow march up the table. Fall turned into winter, and winter into spring, and before you could blink, there were 8 games left:

We'd somehow managed to get ourselves back into 4th position. We'd been in a legitimate title race, but after a loss and a draw in our last two games, it was looking like we going to be fighting for the honor of a top 5 finish. With title aspirations on the back burner, we played our next six games:

Yeah, remember how I said we were doomed by that Oliveira kid? Turns out he's been a revelation as a left winger. He plays well beyond what his attributes suggest he should be capable of (he has developed remarkably though, going from 2 blue stars to 1 yellow star during the course of a single season). The fans seem think he's a complete jerk, but as long as he scores goals, I couldn't care less.
Oh, and there was this:

Uh, holy cow, that's a title race! By some miracle of modern medicine, we'd positioned ourselves equal on points with Pinhalnovense. Unfortunately they had us pinned on head-to-head (the tie-breaker here in Portugal), so we'd need them to drop points if we were to have a prayer. With two games left to play, we were up against Moura (who lived in the lower half of the table):

Meanwhile:
Which meant:

I was as happy as a polar bear with a bucket on it's head:
Still, there was one last game to be played before we could truly begin the celebration. We were heavy underdogs (as we had been all season), and were in for a tough match:

I'm not even going to TRY and describe how insane this game was. I fired it up, went to take the dog outside (because I was too nervous to watch), and came back to a 6-2 score at halftime. The second half was a little bit mellower, but the 7-3 final still set both a club and league record. It also meant we'd won the South Division!

Pinhalnovense had won their last game, so we were good to have ended the season in victory. Just to put this into perspective, here is our league progression (compared with Pinhal) over the course of the year: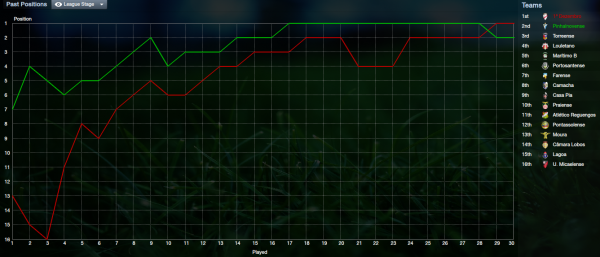 Unfortunately winning the league isn't enough in the Portuguese third tier. The champions of the three regional divisions are pitted against each other in a round-robin four game playoff, with only the top two teams being promoted.
We, um, well…didn't do so well…

Needing a win going into our final game against Gondomar, we laid a MASSIVE egg at home. The real salt in the wound? I replayed that game 6 times, and we literally won every. single. time.
The final table looked like this:

It was an absolutely heartbreaking way to end such an incredible season. Unable to take care of business at home during the playoffs ensures a 4th straight year in the South Division. The board are thrilled with the season, as are the fans, but I can't help but be disappointed. I thought we were good enough to go up, and frankly, we NEEDED to go up this year.
Why? Well…take a look at our finances: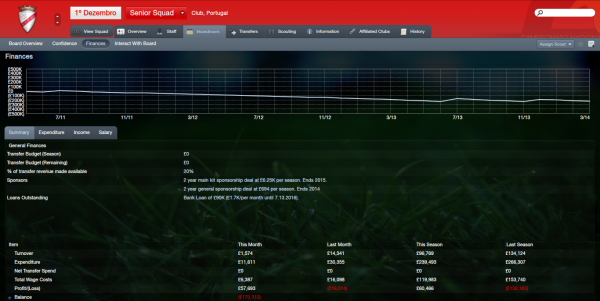 And that was from April, so they're actually a little bit worse now. The two small upticks you see in the graph are from minor board cash injections, but there is no way around the fact that we're hemorrhaging money. We're right at the cap of our wage budget, and I won't have the cash to resign several key players this off season. I suspect we're in for a bit of a rebuilding year ahead.
Ah well, we forge ahead. Thanks for reading all!