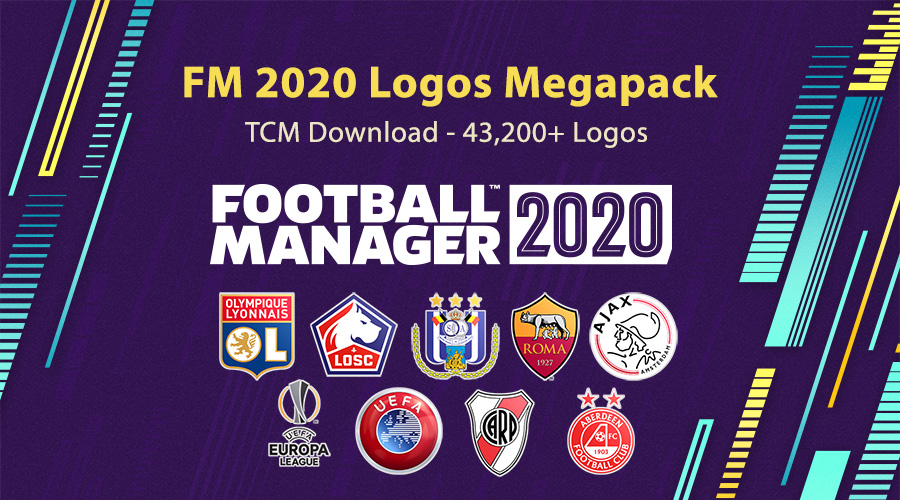 Theres nothing more annoying than loading up your first Football Manager 2020 game just to be greeted by fake logos, but FMS have a fix for that. Download this FM 2020 logos megapack.
---
Need an attacking FM 2020 tactic, try our 4-4-2, it went undefeated with Everton, just click here. :)
---
Want to know how to get real logos in FM 2020, its very simple with the help of our friends, TCM Logos. And the download is simple, no gigantic torrent file, just a simple zip file to download in minutes and extract. Lets have a sneak peak at the TCM FM 2020 logo pack.
Heres an overview of the Football Manager 2020 logos included in this megapack
FM20 Africa logos: 2503 clubs – 198 competitions
FM20 North America logos: 2824 clubs – 292 competitions
FM20 South America logos: 3406 clubs – 245 competitions
FM20 Europe: 25222 clubs – 2193 competitions
FM20 Asia: 4429 clubs – 709 competitions
FM20 Oceania: 396 clubs – 79 competitions
+ various FM 2020 International logos and flags
---
 If you are looking for the best FM 2020 facepack download, you can find it by clicking here.
---
The Football Manager 2020 full release update is here! Get your FM20 logos megapack fix below.
FM 2020 Logos Megapack Download by TCM
Please download the TCM logo megapack by clicking below, you will be redirected to the creators download page:

How To Install Football Manager 2020 Logos Megapack
Download the logos pack and extract using WinRAR or 7zip on windows or Unarchiver for Mac to the below.
For windows extract to documents>Sports Interactive>Football Manager 2020>graphics>logos (if the graphics and logos folders do not exist create them.) or for Mac extract to user>your mac username>library>application support>sports interactive>Football Manager 2020>graphics>logos
Open FM 2020 and navigate to preference and interface.
Tick the box 'reload skin when confirming changes in preferences'.
Untick the box 'Use caching to decrease page loading times'
Click confirm. All done.
Mac users to access your files on Mac open 'Finder', click 'Go' from the menubar, press and hold the 'alt' key to show 'library' in your menu, while still holding 'alt' click it, then go to 'Application Support' > 'Sports Interactive' > 'Football Manager 2020'
For further info and help use the contacts below:
Darren is the co-owner of Football Manager Story. He merged with Johnny Karp in 2011 after moving from his own successful site named Allthatisfootballmanager. Darren has played Football Manager since the dark days and created content since 2006. You can contact Darren at darrensmith360[at]googlemail.com

FM 2020 Stories
Hey guys and welcome to the first episode of my FM 2020 lower league story....

Gabriel's Diary Duesseldorf, December 18th 2017 — Starting the Monday hungover. I can't remember what...