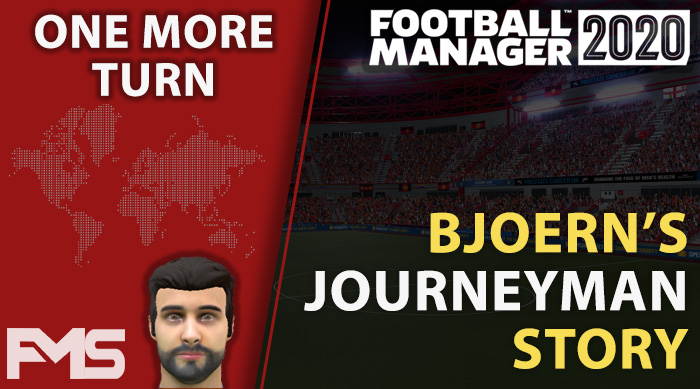 Gabriel's Diary
On a plane, somewhere above Africa, June 12 2026. — In ancient Greek mythology, there is the story of Daedalus and his son Icarus. They need to flee from an island and Daedalus constructs wings from bird feathers and wax. He then warns Icarus to not fly too low (so the feathers don't get soaked by the sea) and not too high (so the sun does not melt the wax). Icarus ignores his father's warnings and flies higher and higher. Eventually, his wings break apart and he falls to death in front of his helpless father.
The story teaches us to not become arrogant in the face of success. And I'm wondering how this applies to our last season in M'saken.
2025/26 Tunisian Professional League 1
Last season we considerably exceeded expectations by logging a mid-table finish in our first season in the top flight. Expectations for this year got a bit higher and the board asked us to finish mid-table again. The media agreed that this would be a doable feat.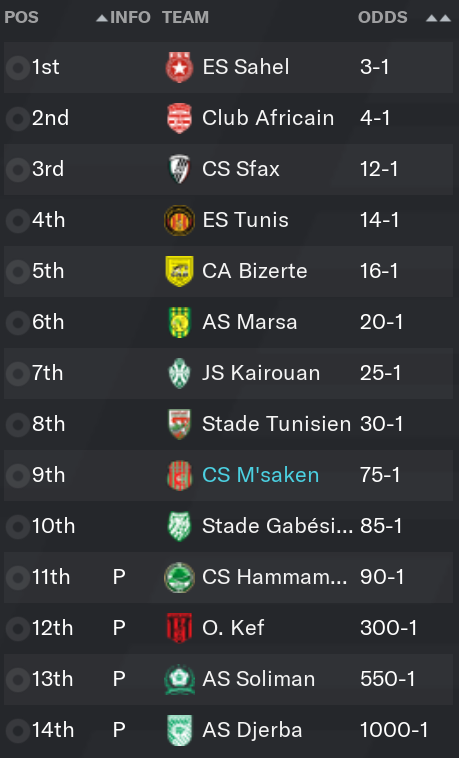 We went to make a few squad improvements. In addition to the required upgrades on the wings, we got a few offers that were too good to pass on.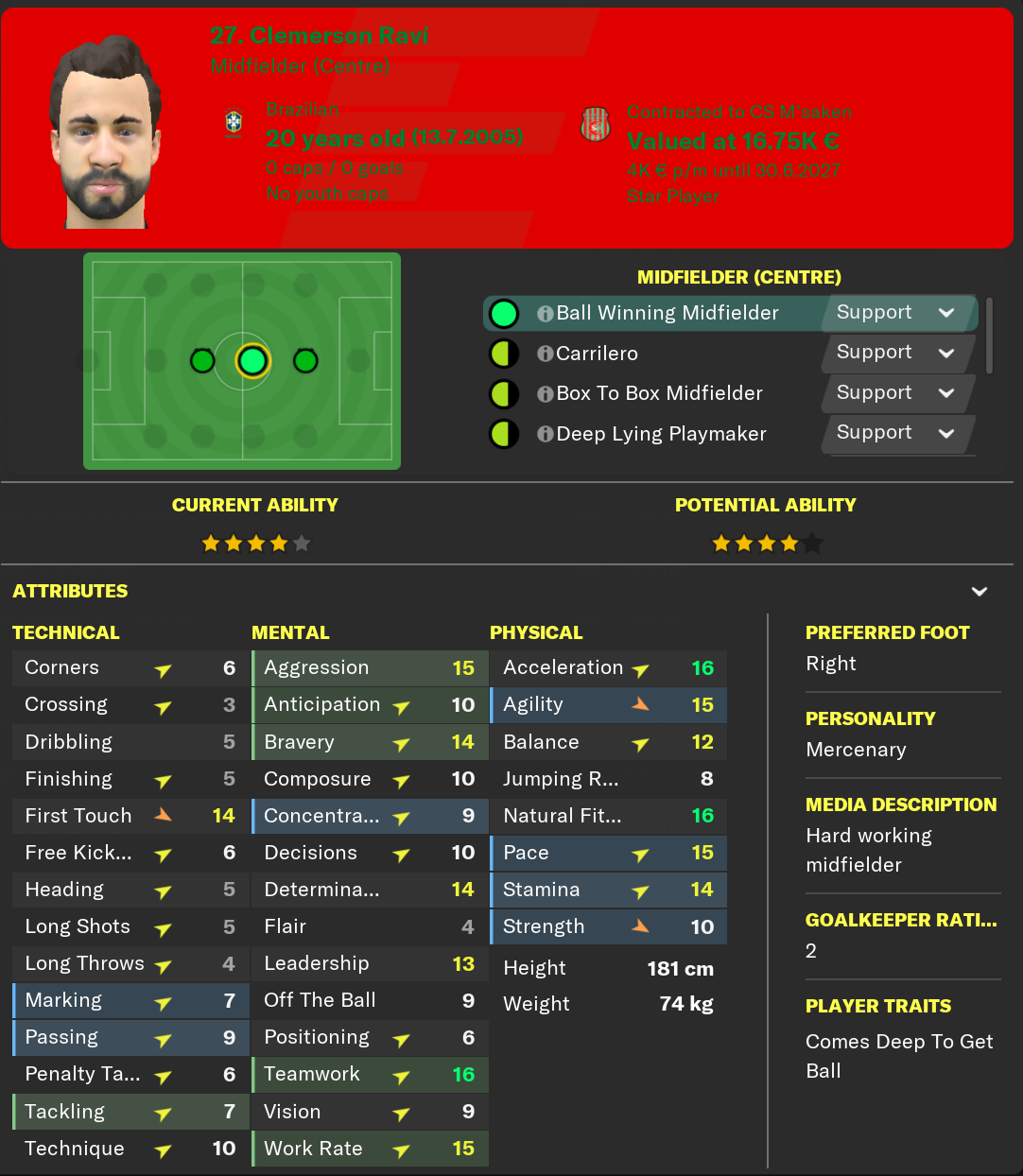 Clemerson Ravi sent us a notice through his agent some time in April that he'd be available on a free. A young Brazilian in the Tunisian leagues? Why not, let me free a foreigner spot for you! While his experience indicates he's good as a BWM, I did not really trust his tackling skills enough. Instead, I played him as a CM along side the more offensive AP Claus Dauble and thus went through the season with a German/Brazilian midfield duo.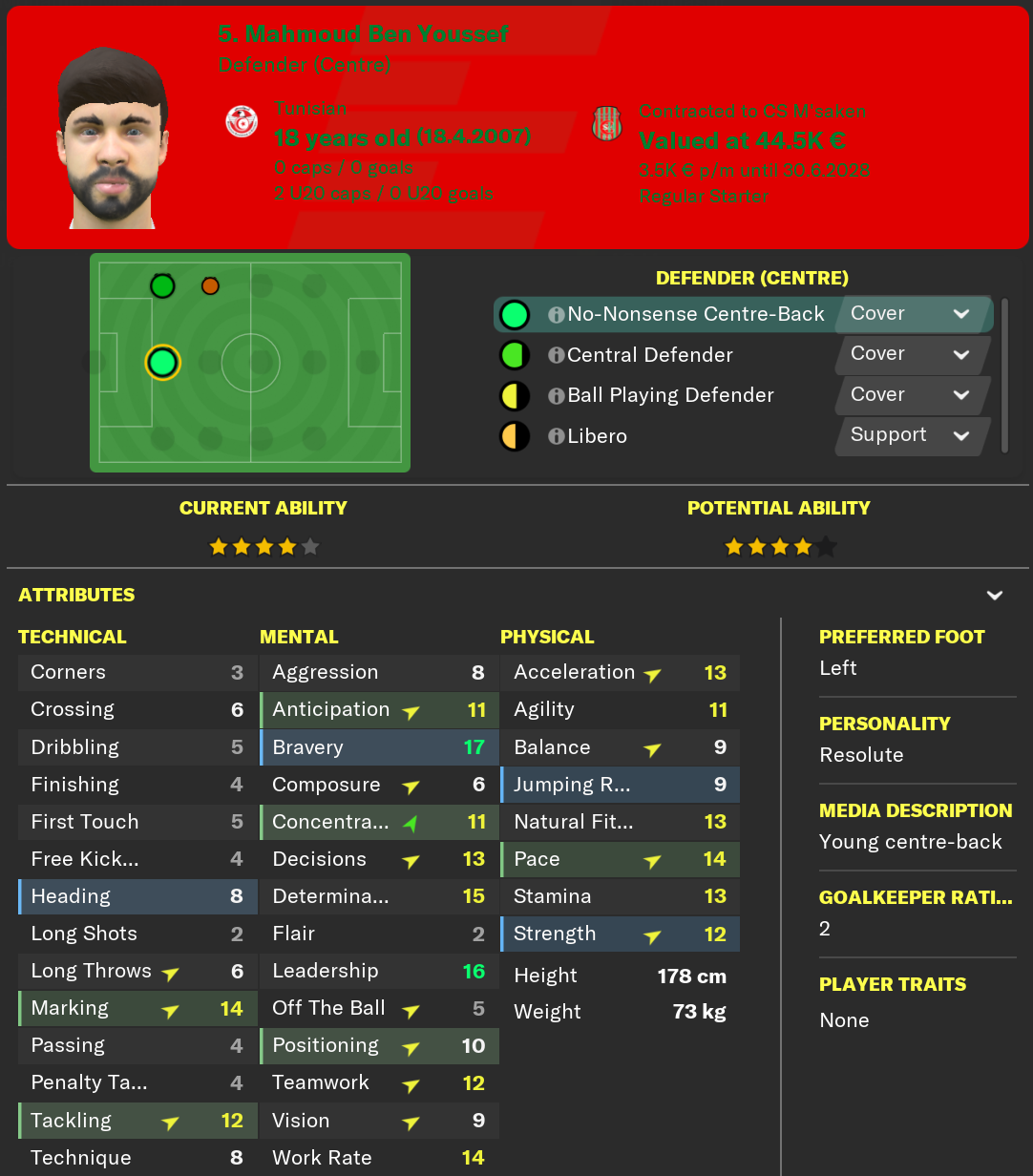 Mahmoud Ben Youssef seemed a promising future replacement for retiring CD Yacoubi. During the season he turned out to be good enough to replace Yacoubi already and played most of the matches alongside Samti who we already brought in last year.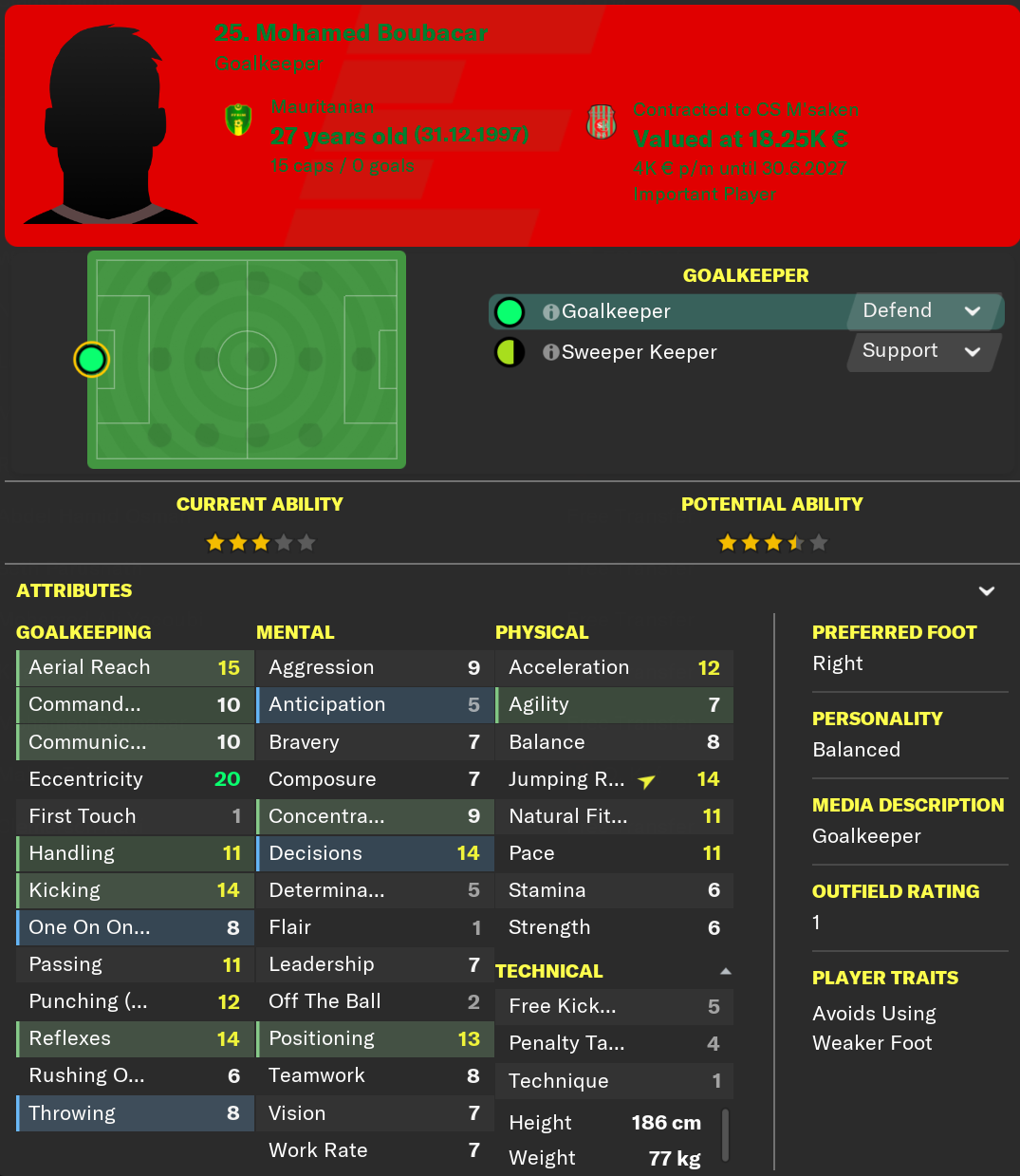 Someone who's good enough to play in Mauritania's national team, should be good enough for us as well. Mohamed Boubacar was also available on a free after this season and I brought him in to expand the goalkeeping area with his experience. He eventually played most of the season's matches as he was more consistently denying chances to the opposition than youngster Ajroud.
We started the season really well and did even better than last year.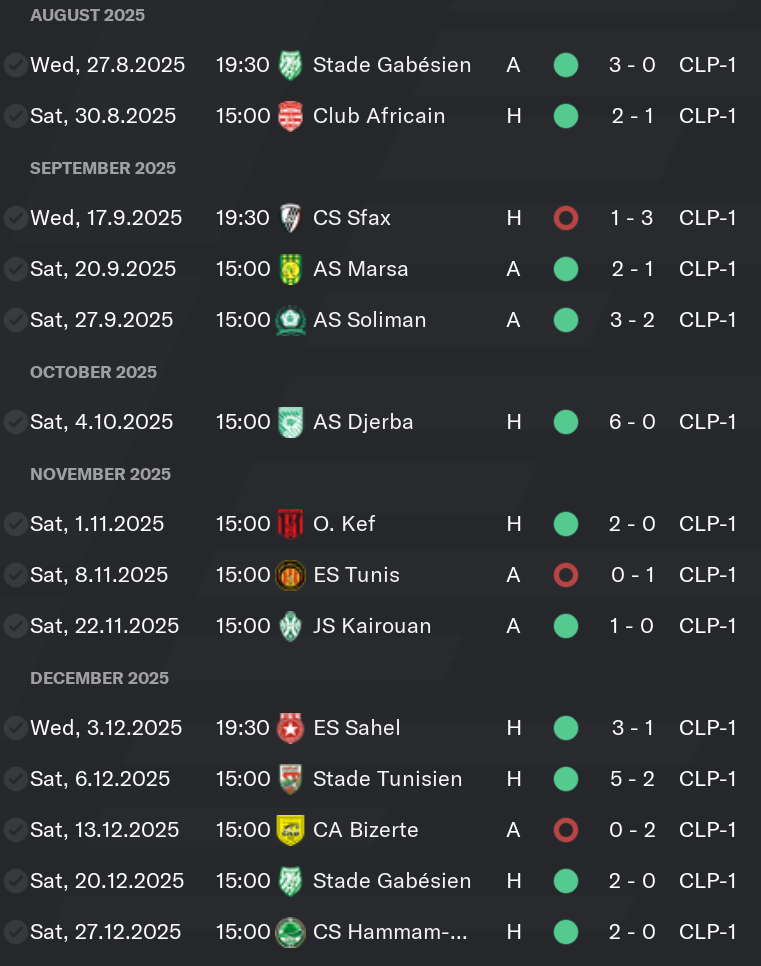 11 wins out of the first 14 matches, including awesome performances like a 3-1 home win against ES Sahel and a 2-1 against Club Africain, both of which are really good clubs in our division. We lost against Sfax, who managed to become kind of our bogey team as we never were able to beat them. The losses against Tunis and Bizerte were fine with me as well. By end of December we were topping the leage!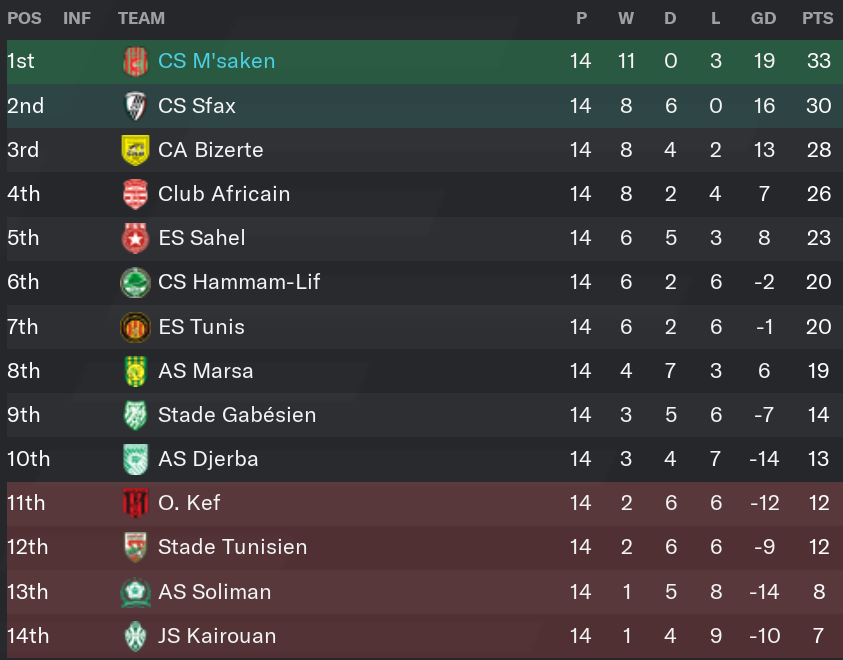 January and February 2026 continued our good run mostly.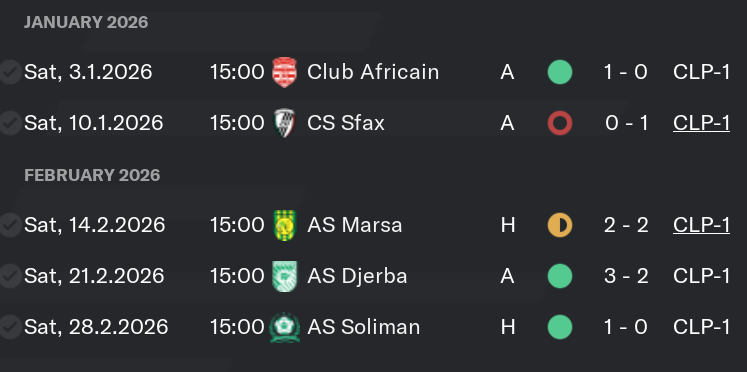 We lost against Sfax (again!) and had some troubles with AS Marsa, but then followed up beating relegation candidates Djerba and Soliman. At this point we were leading the league, while ES Sahel were trying to catch up with us and CS Sfax. Sahel had a worse start to the season, mostly because their focus was in other competitions like the CAF Champions League at the time. They dramatically improved their performances in the 2nd half of the season. Nevertheless, at this point we were 19 games into the 26 game season and I thoroughly started believing in our outside chances at grabbing the title. There were a few tough matches ahead that would decide our fate.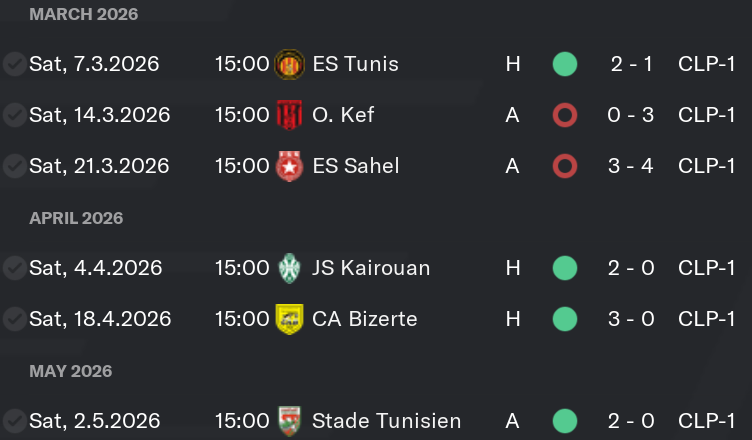 And this is where we lost our good position. We bet Tunis (!), but then lost 0-3 against relegation candidates Olympique Kef. If you need an example for complacency, this is it. The next game against Sahel we not only lost 3-4, but this also lost us the top spot in the division. And 3-4 sounds much closer than the match actually was. They could have been up 5-0 before we even started scoring, were it not for Boubacar's great goalkeeping. We still were down 1-4 around the 70th minute and then somehow managed to sneak in two more goals.
We went to win the following three matches against lower-table opposition and went into the final game with a one point leeway behind ES Sahel. Sahel played Kef at home and we faced CS Hammam-Lif away. Both opposition sides needed points to avoid relegation. We needed to win and hope that Sahel lose their match.

Neither of these hopes were fullfilled. Sahel bet Kef while we lost against Hammam, leaving the second spot in the final standings for us. We qualified for continental football next year!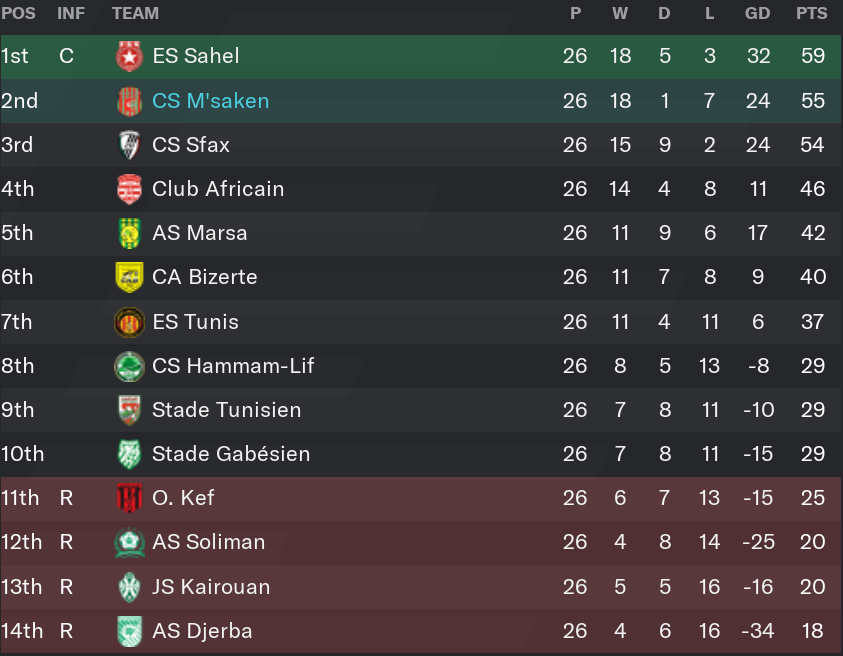 2025/26 Coup de Presidente

I promise, I do not intentionally ignore this competition! We had two easy draws in round 2 and 3. We struggled against Sahline and only scored shortly before going to extra time. We demolished Ben Guerdane in the 3rd round, which set us up for a 4th round meeting with Sfax. And as Sfax had been our bogey team at least for this season, we obviously lost and went out without any fanfare.
Outlook
Can you believe it? Leading the league for months only to fall apart in the last few games of the season. Don't get me wrong, some years from now people will still look back at this year and recognize it as the most successful year in the club's history. Consequentially, I won two manager of the month awards plus the final manager of the year award. We were also once more declared the league's top overachievers.


I should be feeling proud, but right now, this mostly hurts. The team seems to be falling apart, the best players are bound to leave this summer. Dauble left for ES Sahel as fast as he could, Clemerson Ravi is also unhappy because he wants to move to a bigger club. Hiring replacements won't be easy as the board are not seriously increasing wage and transfer budgets. Even though we'll be playing continental football next year on top of the Tunisian league, we won't be able to pay quality replacements as long as we cannot compete financially with ES Sahel, ES Tunis, or Club Africain.
I am also drawing interest from the big teams, finally. I had (unsuccessful) interviews with Al-Ahly from Egypt and Tunisian side Club Africain. I might have gotten the Africain job had I not wanted to postpone the move to the next season as I was still hoping to win the league with M'saken. After the fact, I think I maxed out the CS M'saken opportunities this year. I do not see a chance to win the CAF Champions League here. As this is the main goal for this save,  I'll actively pursue a move somewhere else this summer. Tune in next time to see how that goes…
Bjoern has dabbled in FM on and off since around Football Manager 2006. His first attempt at sharing his adventures was a save thread on the now long forgotten Lower League Management forums at SI. It was only much later, that he seriously got into FM again when he started blogging at 'bjoernsfm' for FM2019.