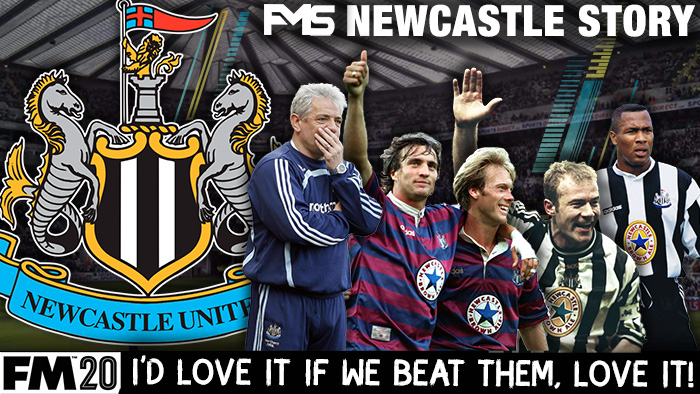 Hey guys and welcome back to another episode of 'Emulating Keegan', where the aim of the game is to finally break my cup final curse. 2021/22 delivered our first Premier League title and two silver medals as Newcastle lost to Liverpool in the League Cup and Champions League finals.
The Cup Final curse began back in 2020, losing in yet another Champions League to shock finalists Napoli. The approach for season four would be stability in the form of a settled squad. Fingers crossed this would grow chemistry and momentum to help us over the line against Europe's elite.
Transfers, or lack of
To build chemistry and momentum I abstained in the transfer market buying just one Newgen for a pitence. Digao will be a fringe player for the future and moneyball signing.
Improving the squad has left me with a surplus of players to offload. The summer transfer window proved prudent as Lascelles, Magno, and Longstaff were sold for a combined £48.75 million. With my first newgen – Claeys – knocking on the door at left back I cashed in on Renan Lodi for £33 million.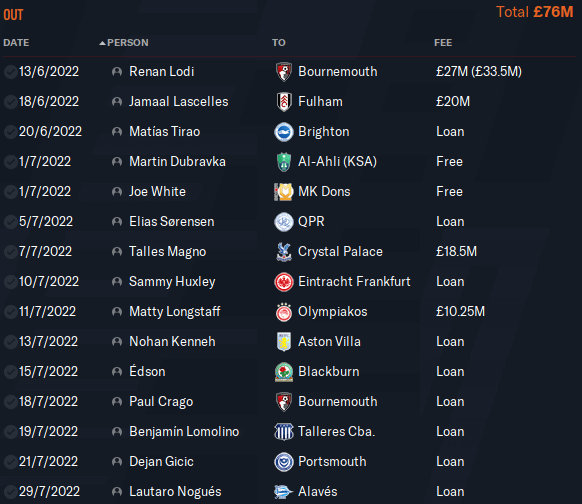 The Team
We finally have two players for every position. The plan is to field a strong eleven in the league and weaker XI in the cup competitions.
'A' Team
The majority of my 1st team are settled enjoying at least one full season together. The exceptions being Bettella, a fringe player last year and Canela our new goalkeeper returning from loan.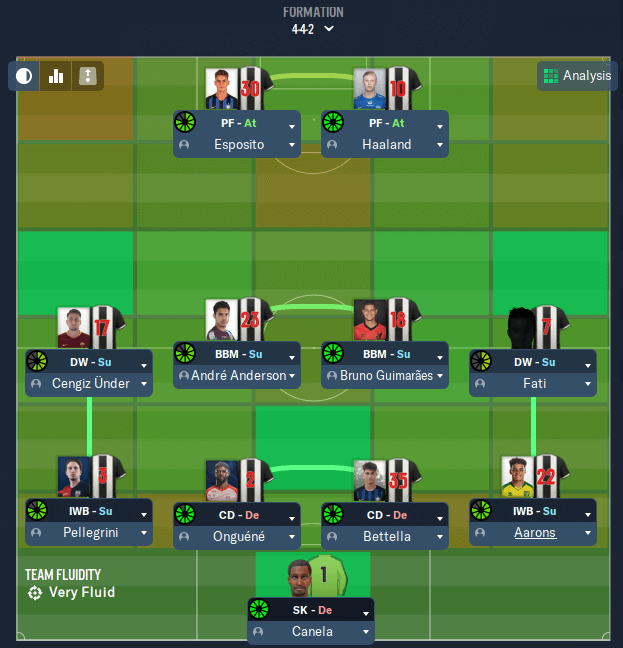 'B' Team
The 'B' team includes former 1st team players like Bowen, Ajer and Celik but is made up predominantly of newgens and future prospects. These include Adonis upfront, Dominguez and Huxley in midfield plus Claeys from left back.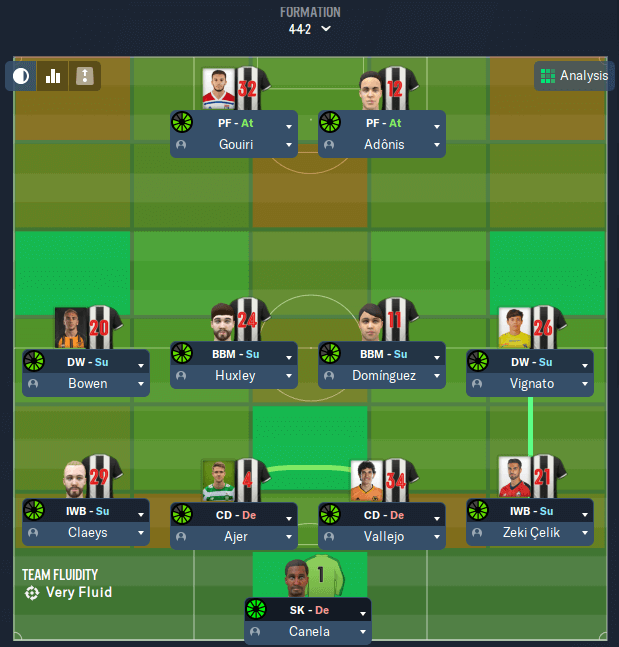 Premier League Results – 1st half
We started the season in fine form winning 17 and drawing two of our first 19 games. This included the 3-1 win at Anfield and 2-1 victory at Old Trafford. With World Cup 2022 held in Qatar we had a Winter break from November to early January but maintained morale and fitness through Friendlies.
France were crowned world champions, beating England in the final for those who are interested.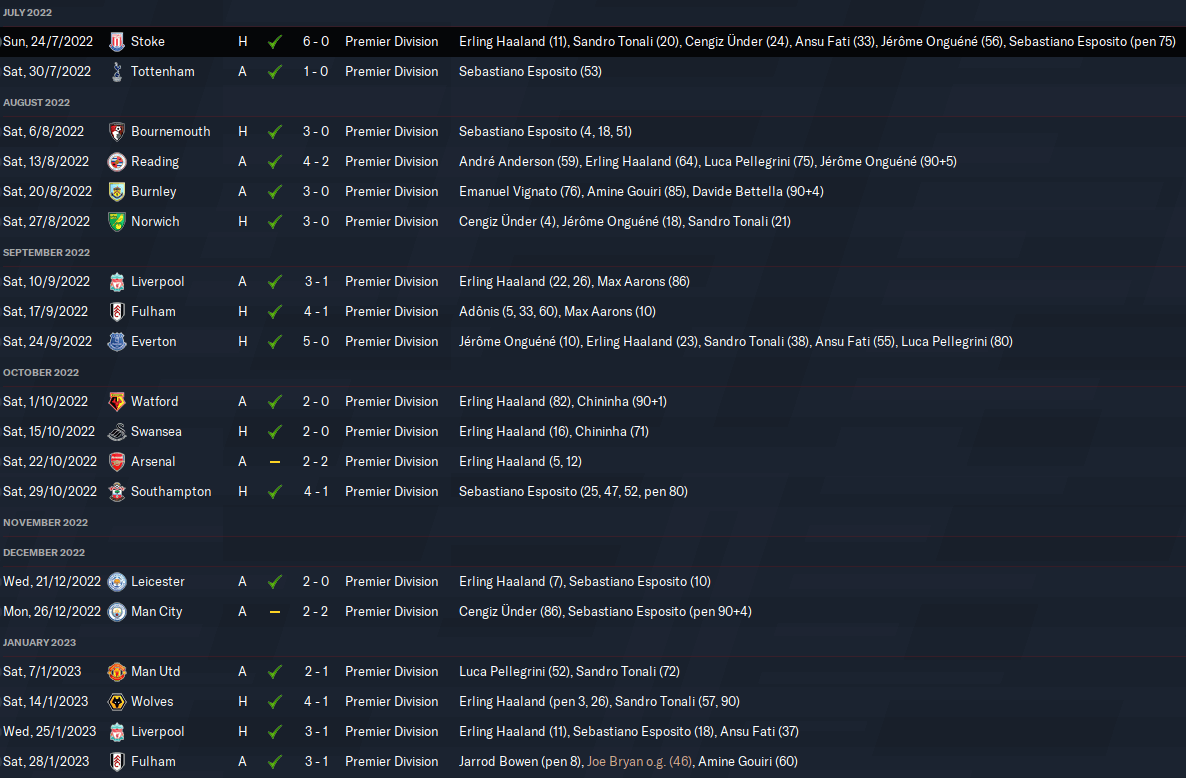 League Cup Results
An ideal opportunity to rest my first team, it wasn't until the semi-final I fielded the 'A' team. We lost to Liverpool in last years final so victory at Wembley in the semi-final felt bloody good. Arsenal await us in the final.

Champions League Group Stages
Now in our third consecutive Champions League campaign, I am determined to break the cup final curse. If the group draw was anything to go by lady luck would be on our side. Napoli, Celtic and APOEL proved easy opposition and ideal opportunity to field the 'B' team again.

Banging 13 past APOEL proved fun and only conceding the once completed a perfect record firing us through to the knockouts.

Winter Transfer Window
With so many Newgens to develop I will avoid high profile signings and try to offload some of the senior squad over the coming years. This Winter saw the departure of Sandro Tonali, snapped up by Chelsea for £58 million.
I have four Newgens to develop in the MC position, all of which need game time, so offloading the established players is part of the process and a downside of the youth to gold system.

Premier League – 2nd half
Our fine form continued past January as the Toon won 17 drawing just two. One of the highlights came away to Southampton as my second string turned over Swansea away 7-1.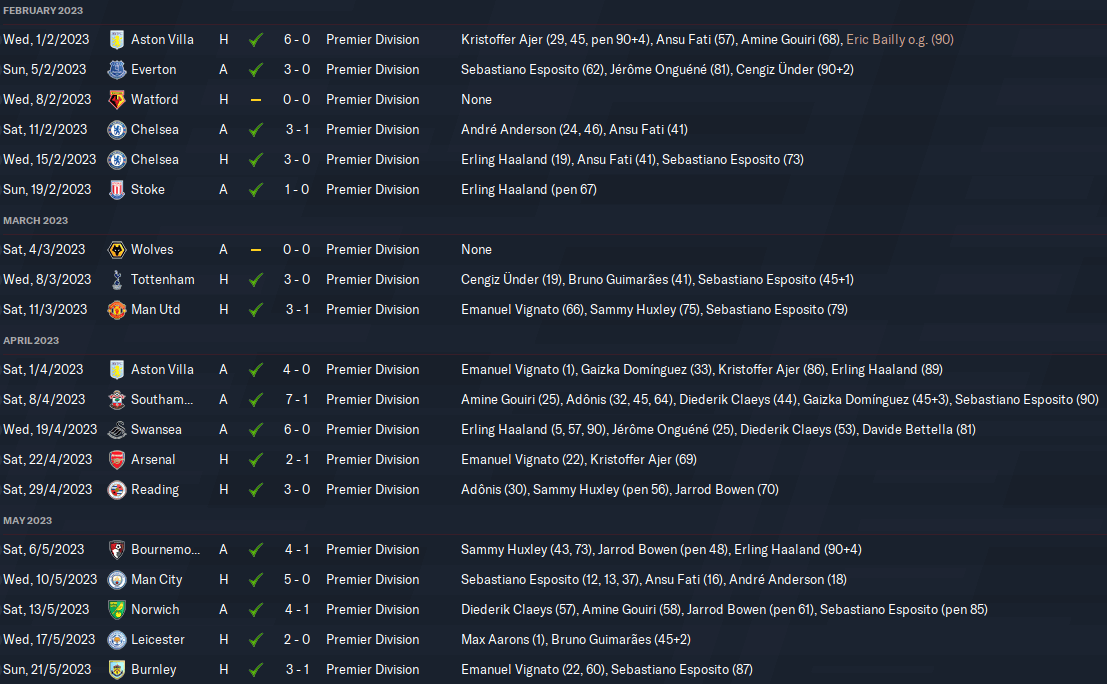 An unbeaten season in the Premier League is an achievement no matter what. Drawing just four games we amassed 106 points, setting a new record and only conceding 20 goals all season.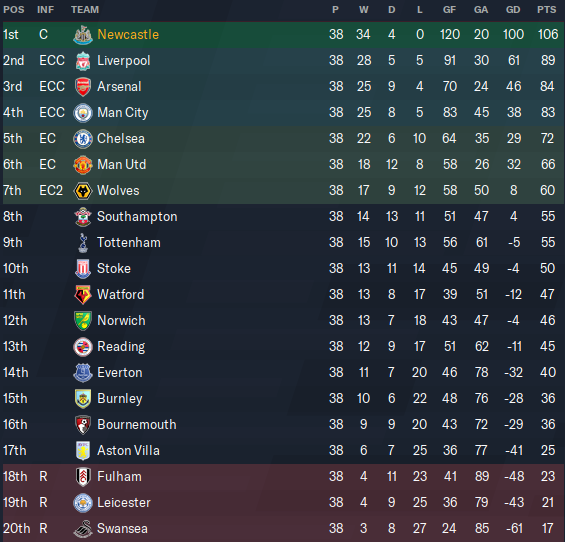 FA Cup Results
Sticking to my plan of fielding the 'b' team we breezed through the early rounds beating Portsmouth, Crystal Palace and Everton.
A mixed bag won the quarter-final 3-0 against Spurs before my 'a' team faced Liverpool, yet again. A tough, dramatic tie ended 3-2 setting up the final against Manchester City.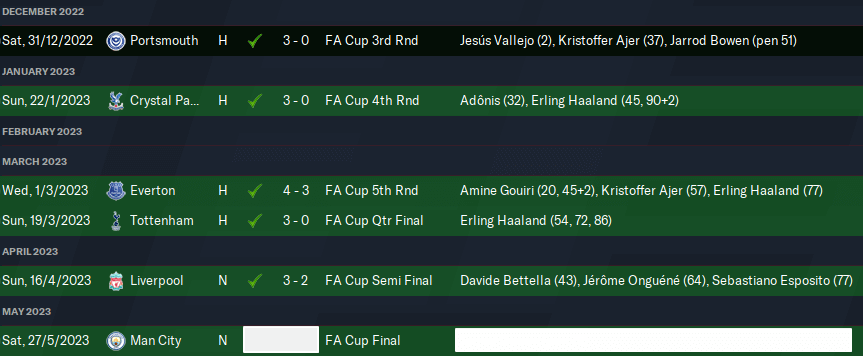 Champions League Knockout Phase
After an easy Champions League group we drew Atletico in the first knockout round. Madrid proved tough to break down winning the 1st leg 2-1 before we dominated the 2nd squeezing through 3-2 on aggregate.
The quarter-final against Barcelona was one of our best ever displays. Despite going a goal down at Saint James Park, we pulled 3-1 clear in the second-half before dominating the second leg at Camp Nou including possession. The 5-2 aggregate win saw us through to a semi-final v Arsenal.
Cengiz Under set the tone after only 6 minutes at the Emirates sending us back up North 2-1 victors. All was confirmed at Saint James Park with a 3-0 demolition job. The ridiculously talented PSG await us at Wembley for what will be our fifth visit to Wembley in one season.

League Cup Final v Arsenal
There was only ever one team in this, Esposito opening the gates after 29 minutes. With goals coming from attack, midfield and defence, open play, throw-ins and corners the Gunners simply couldn't cope.

This may only be the League Cup but it is our first cup final victory after three defeats.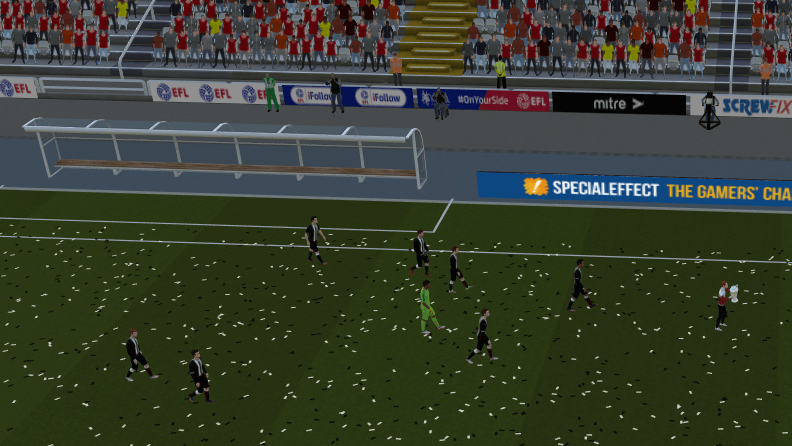 FA Cup final v Manchester City
Two down, two to go and next up the FA Cup final against Man City. The first half reached its climax after 36 minutes with the red card of Bruno Guimaraes. Despite the extra man Man City never came off the ropes as my boys dominated. Jarrod Bowen scored a penalty on the 79th minute as we prepared the confetti.
But this is FM and you know what followed. Phil Foden scored Cities only clear cut chance taking the game to extra-time and then penalties. The Citizens hit five from five spot kicks after Amine Gouiri missed for Newcastle, a crappy way to lose the final.

Champions League Final v PSG
So far we went unbeaten in the league, won the League Cup and lost in the FA Cup final, now for the biggy. I have lost the Champions League final two years running, first to Napoli and then Liverpool. Our next opponent, PSG, have the likes of Mbappe, Neymar, Pogba, Kane, Sterling…
My boys came flying out the traps hanging PSG over the ropes early on. Then on the 25th minute Max Aarons found room from a corner to fire home. Just before the break Andre Anderson scored a peach to send us into the break 2-0 up. PSG never rallied, finding the target just twice to our 14 shots before Haaland made it 3-0.
If at first you don't succeed, try, try and try again. Third time lucky baby!

Squad and Key Performers
The stats below demonstrate our dominance in every area. Max Aarons won players player of the year and Footballer of the year leaving Esposito with young player of the year. Haaland and Esposito were lethal scoring 44 goals in the league.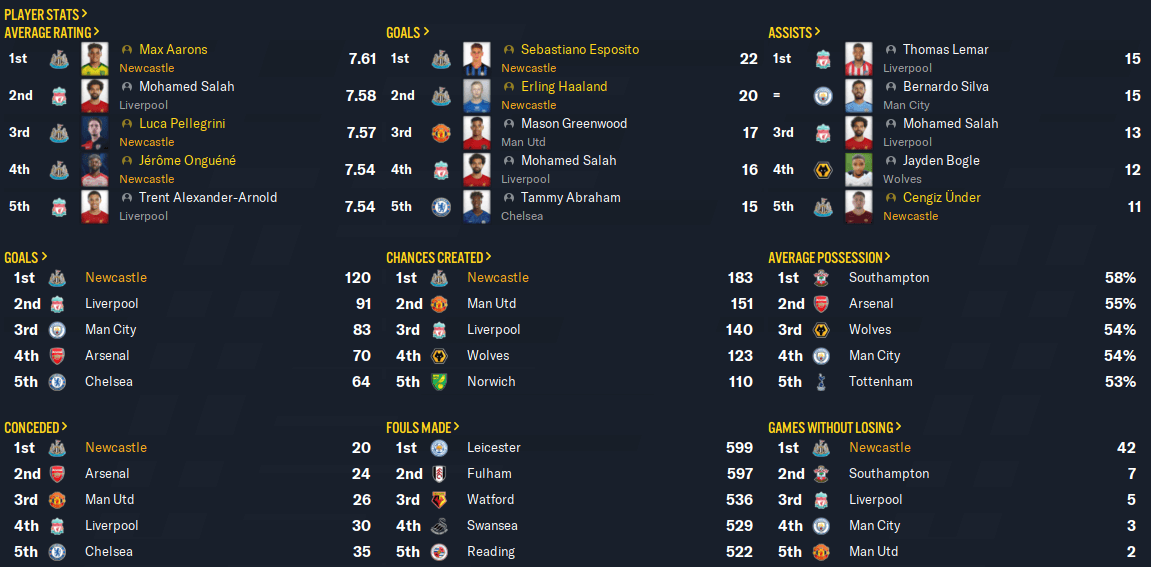 A few stats worth noting. Aarons and Pellegrini assisted a combined 22 goals from wing back, while Celik and Claeys setup 21 as second string. The combination of Cengiz and Fati scored 22, assisting 23 out wide while their understudies, Bowen and Vignato netted 20 assisting 26.
Our strength in depth continued upfront as Haaland and Esposito scored 66, assisting 19 while Gouiri and Adonis hit 20. Andre Anderson was arguably our most vital player from central midfield scoring 6, assisting 11.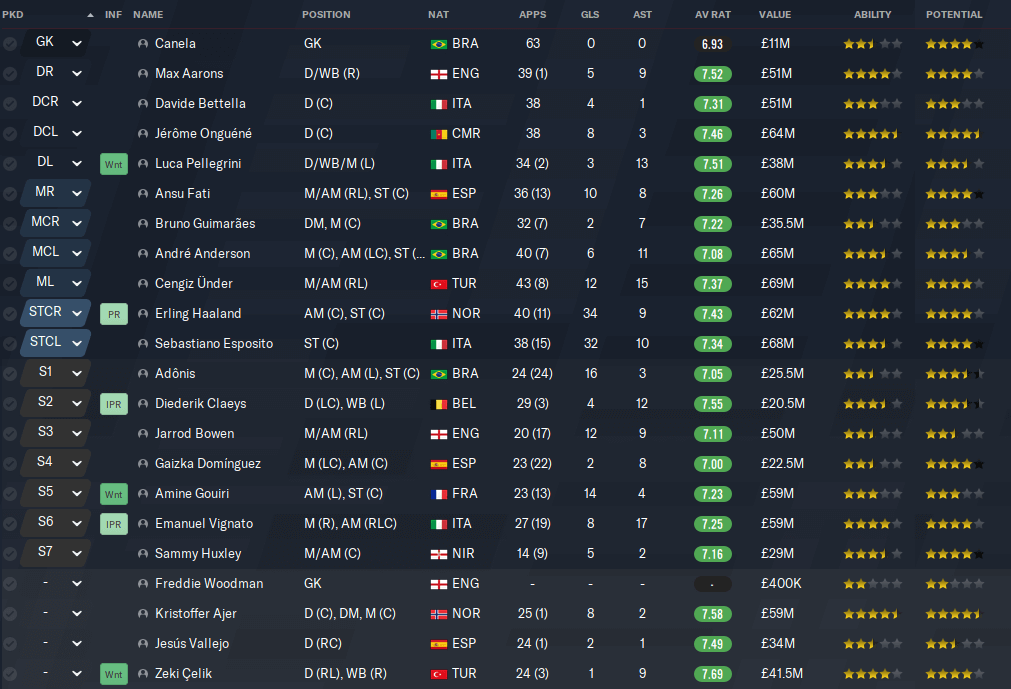 Thats all for today folks, thanks for reading. Next episode brings big changes to Saint James Park. I plan to offload 5 senior players and promote five from the youth team. The 'Youth to Gold' system is well under way chaps! Hope to see you for season five.
Darren is the co-owner of Football Manager Story. He merged with Johnny Karp in 2011 after moving from his own successful site named Allthatisfootballmanager. Darren has played Football Manager since the dark days and created content since 2006. You can contact Darren at darren[at]footballmanagerstory[dot]com