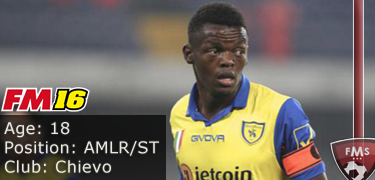 Kevin Yamga
Age: 18
Position: AML/ST/AMR
Role: advanced forward / raumdeuter / inside forward
Club: Chievo (on loan at Siena)
Nationality: French / Cameroonian
Value: £230k
Price tag: 4.5 mil (patch 16.3)
CA: 93 / PA: -8 (between 130-160)
Kevin Yamga profile in 2015 (after starting new game, 16.3)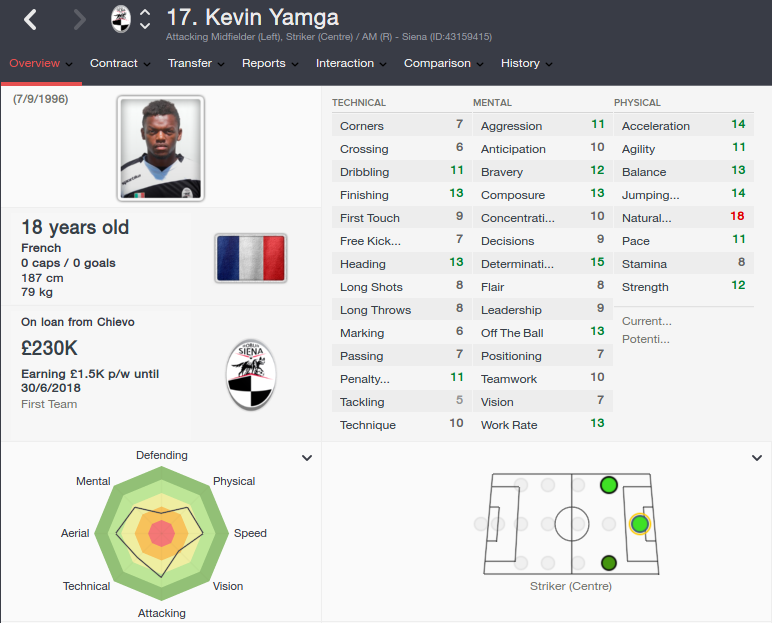 Kevin Yamga profile aged 26 in 2023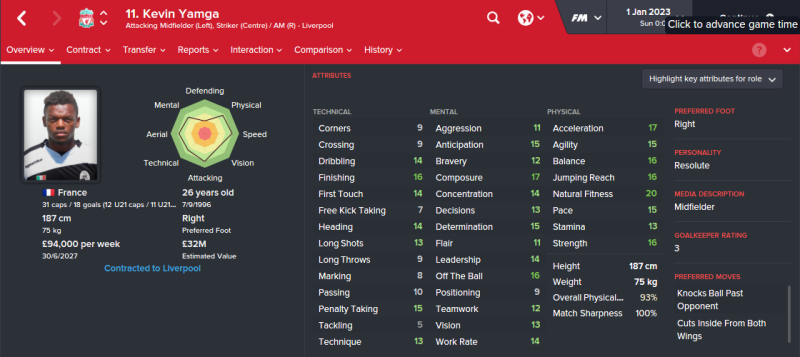 Kevin Yamga career history until 2023


This FM 2016 player profile of Kevin Yamga shows a young striker with the potential to be a future French international forward. His future profile shows a pretty versatile attacker, making him ideal for position-swapping tactics in your forward line. His high physical stats alongside an eye for goal make Yamga a very interesting option for any team, whether you decide to play him out wide as a raumdeuter or through the middle as an advanced forward.
He's not exactly pulled up any trees in this test save, but so far has shown to perform consistently, which has got him several call-ups to the France squad.
At the start of the game he's on loan at Siena, and Chievo will not let him go for any less than £4.5 mil. If you're super keen, then go for him, but I have a sneaking suspicion that he'll go for a lot less the next year. A one to watch, that's for sure.
Did this player develop better in your FM 2016 save? Share a screen shot of his future profile with us by uploading the file below! (please include your name/nickname in the file name)
[simple-wp-dropbox]