18 Jul 2015
FM 2015 Vitoria Guimaraes Guide

Why Vitoria Guimaraes?
Today we return to Portugal for a new save at one of our readers' suggestion. Vitoria Guimaraes is a club that has tried to end the favoritism of the so-called "Big Three" (Benfica, Porto and Sporting CP), maintaining good positions in the Primeira Liga, where it has finished third on four occasions. As a rule in recent years, Vitória de Guimarães has been battling for European places, trying to place 5th or above in the league. Vitória was formed in 1922 and the crest, nickname, and stadium honour Afonso Henriques, first King of Portugal and possibly a Guimarães native.
Club Information – The Initial Setup
Reputation: National
Estimated Value: €13.75M
Stadium: Estadio D.Afonso Henriques, 29865 all-seater
Affiliated Club(s): 12 clubs, including AS Monaco, FC Porto, Moreirense
Training Facilities: Excellent
Youth Facilities: Poor



Finances
Balance: €291,000
Projected Balance: €843,000
Sponsors: 2 year main kit sponsorship deal at €1.21.M per season (ends 2015)
Loans Outstanding: –
Total Player Wage Budget: €348,400 per month
Current Player Wage Budget: €354,000 per month
Transfer Budget: €0 (60% transfer revenue made available)
Board Expectations
Minimum expectations include the Euro Cup qualification and this might be hard enough to achieve, given that there is no transfer budget and the wages are already exceeding. To avoid extra pressure I always recommend selecting these, at least for the first season. There are no other philosophies included.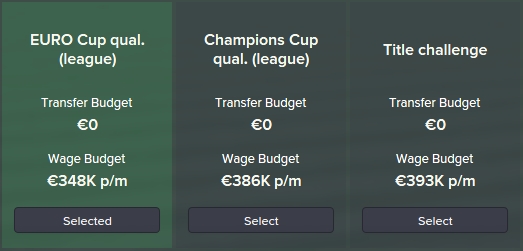 Staff Members
Mutual Termination: Flavio Meirelles (Director of Football) / Fernando Pereira (Head of Youth) / Arnaldo Teixeira (Assistant Manager) / Sergio Botelho (Fitness Coach) / Luis Castro (Under 19s Coach)
New Signings: Carlos Pereira (Assistant Manager) / Joao Aroso, Bebeto de Oliveira (Fitness Coach) / Miguel Ribeiro (Coach) / Miguel Pinho, Rui Lamoso, Major Santos (Scout)
The Squad – Key Players & Backups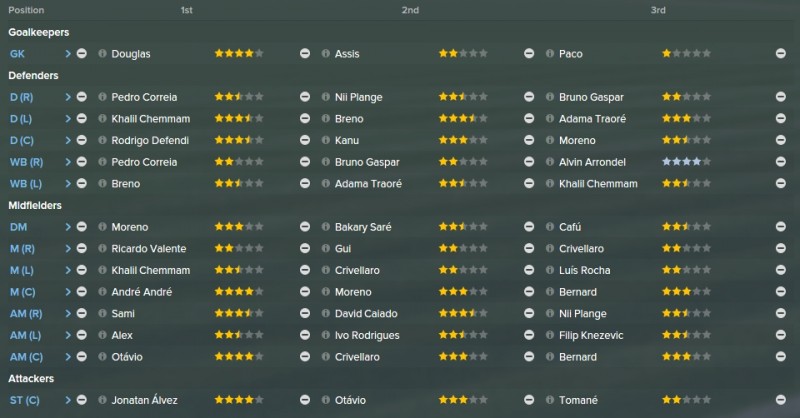 Goalkeepers: Douglas is the first choice in the team, Assis and Paco are somehow unreliable but with no other options to choose from you will have to get things done with these ones until next season. Just pay attention to Douglas, keep him away from injuries and you'll do fine.
Defenders: Khalil Chemmam and Rodrigo Defendi are perhaps the best two defenders that you have in your team. The others might look decent, but you'll learn that their performance is a bit under your expectations, so try and use them in rotation until you manage to find which one of them works best in different situations.

Midfielders: There are several good players in the midfield but Filip Knezevic has more potential than the others to be a key player during your first season. Andre Andre, Ivo Rodrigues and Barrientos are also a good choice with a decent performance in most of the games. You also have reliable backups in case of injuries and suspension.

Strikers: You might be thinking that Jonathan Alvez is a good choice since he has the best current rating of all strikers. Well think again because it's actually a very good chance of him being one of the worsts strikers of his level. At least that's how it went in my save, and after 7 games without scoring I decided to keep him on the bench for the rest of the season. Otavio was a much better choice, he started in with a double, and generally had better performances than Jonathan.

The Youth Generation
Average Junior Coaching
Established Youth Recruitment
Prospects: Otavio (19), ST
Youth Intake Rating (First Season): 4/10
FM 2015 Vitoria Guimaraes Tactics

[Download]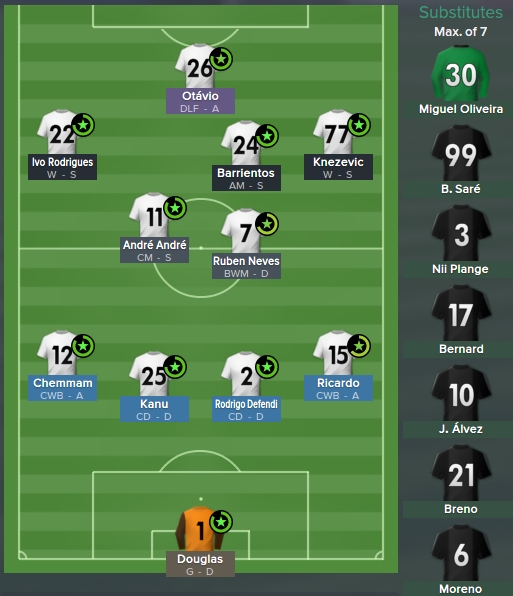 Club Transfers
Guimaraes are one of those clubs with an incredible high number of poor players, most of them assigned to Vitoria Guimaraes B. Well since I always prefer to work with the very best available, I decided to let them all go and that included no less than 36 players. Thirty players were offered mutual termination, the others were sold as follows: Crivellaro to Nacional de Madeira (35K), Tomane to Academica (46K), Ricardo Gomes to Atromitos (free transfer), while Alex and Cafu were loaned out to Pacos Ferreira, Estoril respectively. As for the new players, we only managed to get two loans but that was sufficient for what we needed to do  (you must have a large database with current International players available!).
Players In

Goalkeeper(s): none
Defender(s): Ricardo (loan)
Midfielder(s): Ruben Neves (loan)
Striker(s): none
Team Management
This one applies for each and every save possible. Always aim to encourage your players. Be careful to injuries, try the rotation system as it will help youngsters develop. Pay attention to finances, above all. Set general training to either Tactics or Fitness in pre-season, High and then lower intensity during the season. Main focus for match preparation can be set to Match Tactics initially then Teamwork. As for scouting, keep your scouts active through all season and make sure you're prepared for any future transitions.
The Conclusion

Well at first I thought it's going to be quite hard reaching the objectives. We started with a tough schedule including games vs. Porto, Benfica and Sporting within the very first 5 rounds and we lost them, morale was poor but we slowly got back on the track and finished the season surprisingly on the podium, getting the last qualifying place for the Champions League. We also played the Portuguese League Cup semi-finals, defeated by FC Porto and the biggest surprise came when we managed to win Taca de Portugal, quite lucky as we only met Sporting out of the big names in the competition.
I guess depending on your management style and tactical approach you can end your first season as overachievers, but you may as well end up somewhere near the 6th place, as media predicted however you should be fine in reaching the board's minimum expectations. Thanks for following and good luck with Vitoria!
Pros: good setup, excellent training facilities, no debts
Cons: poor youth facilities, no transfer budget, lots of players to be disposed of
Difficulty: 5.5/10
You may also like
Comments