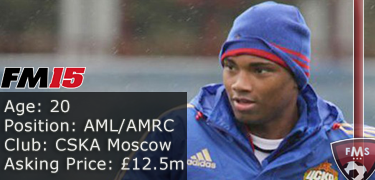 Vitinho
Age: 20
Position: AML/AMRC
Role: inside forward / winger / advanced playmaker / raumdeuter
Club: CSKA Moscow (on loan at Internacional)
Nationality: Brazilian
Value: £1.4 million
Price tag: £12.5 million (in patch 15.3)
CA: 123/ PA: -8 (between 130 and 160)
Vitinho profile in 2014 (after starting new game, patch 15.3)

Vitinho profile aged 27 in the year 2021

Vitinho career history until 2021

This FM 2015 player profile of Vitinho shows a talented young left winger, his potential could lead him to become a real star in the future. CSKA Moscow want 12.5 million pounds for him at the start of the game and I think his asking price will stay around that figure in the future. Getting an English work permit for him shouldn't be a problem.
In my test save he remained in Russia for most of his career, even got the citizenship and ended up playing for the Russian national team. He did move away in the summer of 2021 to French giants PSG and made a storming start to his debut season in Paris. His future profile screen shot in October 2021 shows a left winger with good speed and excellent agility, good flair and vision plus excellent technique, dribbling and long shots.
He should do a good job both as a winger and as an inside forward.
Did this player develop better in your FM 2015 save? Share a screen shot of his future profile with us by uploading the file below! (please include your name/nickname in the file name)
[simple-wp-dropbox]