Viktor Fischer
Age: 20
Position: AML/MC/AMC/ST
Role: inside forward / raumdeuter / winger / advanced playmaker
Club: Ajax
Nationality: Danish
Value: £2.2 million
Price tag: £17.5 million (in patch 15.3)
CA: 130/ PA: 165
Viktor Fischer profile in 2014 (after starting new game, patch 15.3)

Viktor Fischer profile aged 27 in the year 2021

Viktor Fischer career history until 2021

This FM 2015 player profile of Viktor Fischer shows a very talented young left winger, with a great future ahead of him considering his potential. Ajax want 17.5 million pounds for him at the start of the game, his quality and potential are worth that much but I would advise waiting for it to drop because there's a good chance it might.
In my test save Lazio bought him for 6 million in 2016 and then sold him for the exact same amount to Fiorentina. He didn't do much in Italy, he failed to become a first team regular, but something impressed Bayern Munich who signed him in January 2019. He did better at the German champions but still maybe not as good as he could have. His future profile screen shot shows a quality left winger, doesn't have great speed but compensates with agility and good mental attributes. He's even better on the technical side, great first touch and dribbling.
He should make a good inside forward if you ask me but his mental attributes could also make him an effective raumdeuter.
UPDATE
Check out the screen shots below, sent by Tray Loco, showing Fischer's progress in his FM 2015 save: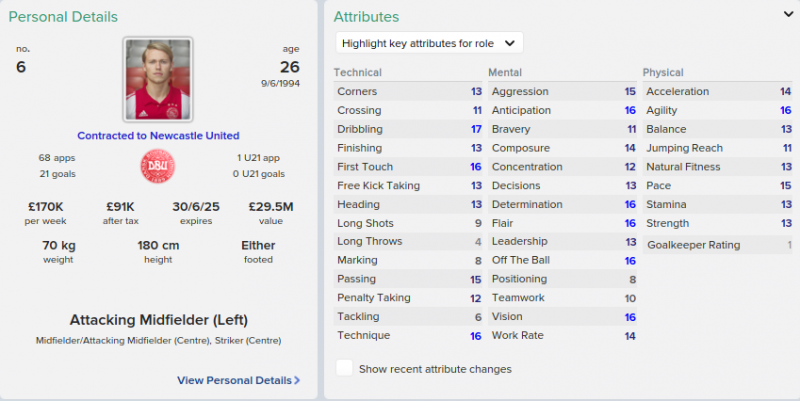 Did this player develop better in your FM 2015 save? Share a screen shot of his future profile with us by uploading the file below! (please include your name/nickname in the file name)
[simple-wp-dropbox]