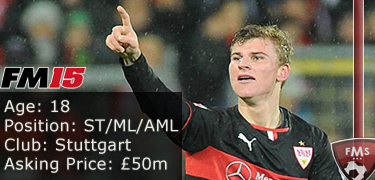 Timo Werner
Age: 18
Position: ST/ML/AML
Role: poacher / advanced forward
Club: Stuttgart
Nationality: German
Value: £2.3 million
Price tag: £50 million (in patch 15.3)
CA: 133/ PA: 161
Timo Werner profile in 2014 (after starting new game, patch 15.3)

Timo Werner profile aged 26 in the year 2022

Timo Werner career history until 2022

This FM 2015 player profile of Timo Werner shows an explosive young striker, good enough at the age of 18 but with potential to become brilliant. Unfortunately he's another case of a great German youngster that costs tons of money. Stuttgart want no less than 50 million for him at the start of the game and negotiations with them might prove futile in future seasons as well.
In fact, he remained at Stuttgart throughout his career in my test save. He did a great job for his boyhood club though, bagged plenty of goals, especially in the last season.
His future profile at the age of 26 shows a striker with amazing speed and agility, and clinical finishing. His other attributes didn't go into world class territory but they are not bad either, I guess they can become better provided good management.
Did this player develop better in your FM 2015 save? Share a screen shot of his future profile with us by uploading the file below! (please include your name/nickname in the file name)
[simple-wp-dropbox]