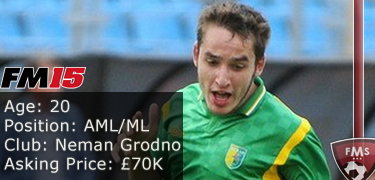 Pavel Savitskiy
Age: 20
Position: AML/ML
Role: inside forward / advanced playmaker / winger
Club: Neman Grodno
Nationality: Belarus
Value: £12.75K
Price tag: £70K (in patch 15.1.1)
CA: 115 / PA: -9 (150-180)
Pavel Savitskiy profile in 2014 (after starting new game, patch 15.1.1)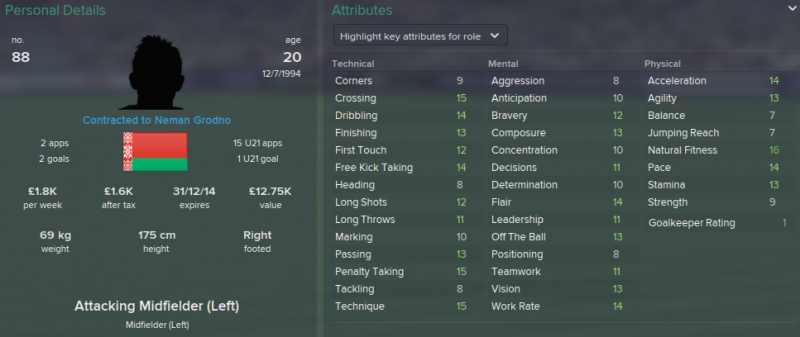 Pavel Savitskiy profile aged 26 in the year 2021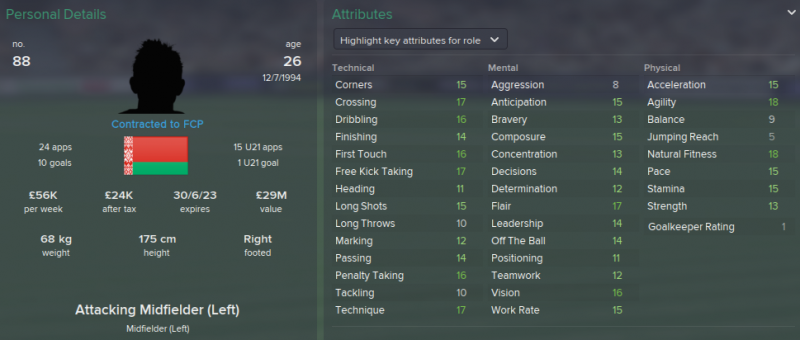 Pavel Savitskiy career history until 2021

This FM 2015 player profile of Pavel Savitskiy shows a fantastic value buy. Diving onto the scene in FM14 I think we all jumped on this lad, well he's even cheaper in FM15 and hasn't lost much ability either. With flexible potential you can expect different development from save to save but the potential is high making Savitskiy a must buy at just £70K or even free if you are prepared to wait for his contract to run down.
Developing great crossing, dribbling, flair and speed suggests the winger role, but Savitskiy also has good finishing and prefers the left wing despite been right footed so inside forward would be best. Very agile and technically brilliant you can expect him to create moments of magic.
The only downside to this deal is the work permit, which won't get accepted if you play in England. However, there's a way around this. Simply ask your board for an affiliate club to send players abroad to secure work permits. Wait for them to offer you some options and then make your move. Of course you will have to send Pavel away for a few years, but at least you'll have a potential superstar for peanuts.
UPDATE
Check out the screen shot below, sent by CristianV, showing Savistkiy's progress in his FM 2015 save until 2023:
Did this player develop better in your FM 2015 save? Share a screen shot of his future profile with us by uploading the file below! (please include your name/nickname in the file name)
[simple-wp-dropbox]

FM 2020 Stories
Heh guys and welcome back to episode two of this FM 2020 lower league...

Hey guys and welcome to the first episode of my FM 2020 lower league story....

Gabriel's Diary Duesseldorf, December 18th 2017 — Starting the Monday hungover. I can't remember what...