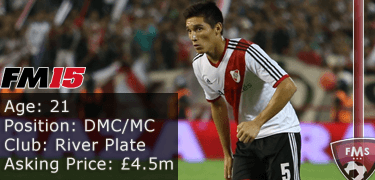 Matias Kranevitter
Age: 21
Position: DMC/MC
Role: regista / ball winning midfielder / deep lying playmaker / roaming playmaker / defensive midfielder
Club: River Plate
Nationality: Argentine
Value: £2.1 million
Price tag: £4.5 million (in patch 15.3)
CA: 135 / PA: 167
Matias Kranevitter profile in 2014 (after starting new game, patch 15.3)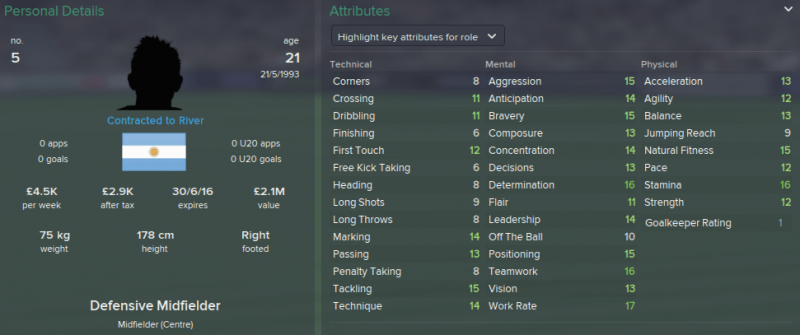 Matias Kranevitter profile aged 28 in the year 2021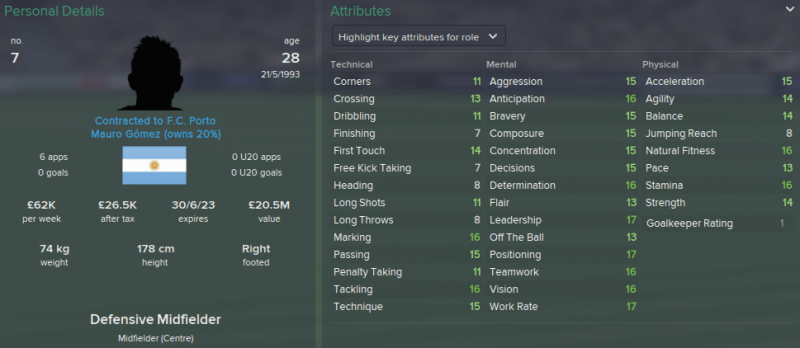 Matias Kranevitter career history until 2021

This FM 2015 player profile of Matias Kranevitter shows a well rounded DMC capable of breaking up play then launching a counter. In my future save he developed great defensive attributes, complimented with a good first touch and technique. With good vision and passing Kranevitter can pick out the right ball but its his work rate, teamwork, positioning , leadership and determination that I admire. The Argentine wonderkid will be very reliable, consistent, a real pro and enjoys good physical stats too.
At just £4.5 million this DMC will be one of my favourites in FM15. You could try a number of different roles, I like the roaming playmaker and regista personally. While Brazil may not posses the toughest domestic league, those average ratings and assists season in season out for Sao Paulo aren't to be ignored.
UPDATE
Check out the screen shot below, sent by Sam Drewes, showing Kranevitter's progress in his FM 15 save:
Did this player develop better in your FM 2015 save? Share a screen shot of his future profile with us by uploading the file below! (please include your name/nickname in the file name)
[simple-wp-dropbox]

FM 2020 Stories
Heh guys and welcome back to episode two of this FM 2020 lower league...

Hey guys and welcome to the first episode of my FM 2020 lower league story....

Gabriel's Diary Duesseldorf, December 18th 2017 — Starting the Monday hungover. I can't remember what...