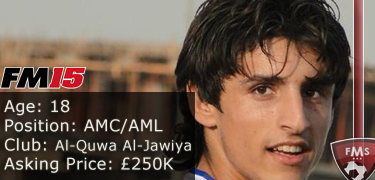 Humam Tariq
Age: 18
Position: AMC/AML
Role: attacking midfielder / advanced playmaker / shadow striker / enganche / trequartista
Club: Al-Quwa Al-Jawiya
Nationality: Iraqi
Value: £225K
Price tag: £250K (in patch 15.3)
CA: 110 / PA: -9 (150-180)
Humam Tariq profile in 2014 (after starting new game, patch 15.3)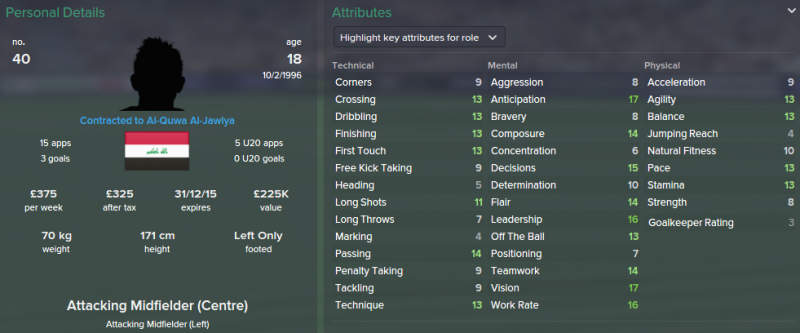 Humam Tariq profile in 2014 (after starting new game, patch 15.1)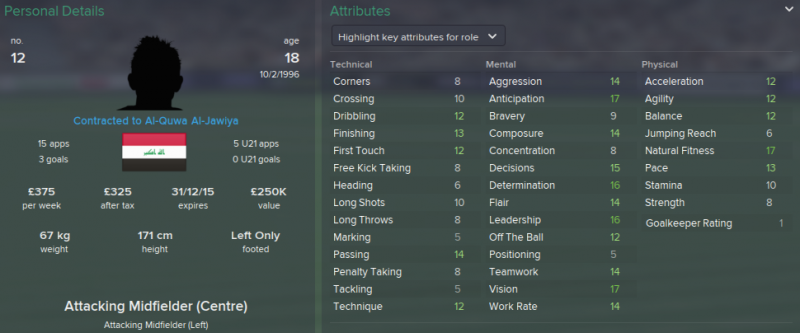 Humam Tariq profile aged 25 in the year 2021 (patch 15.1)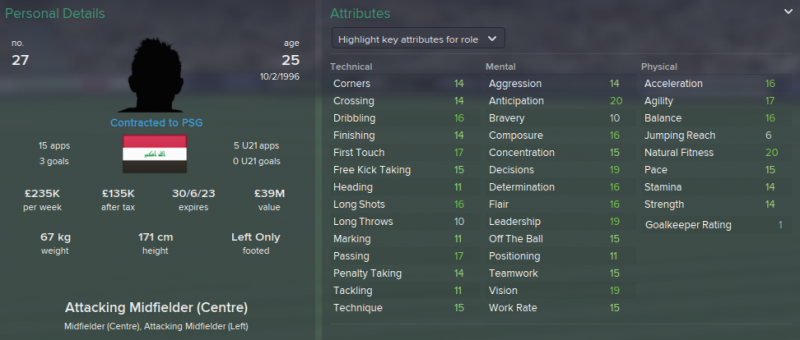 Humam Tariq career history until 2021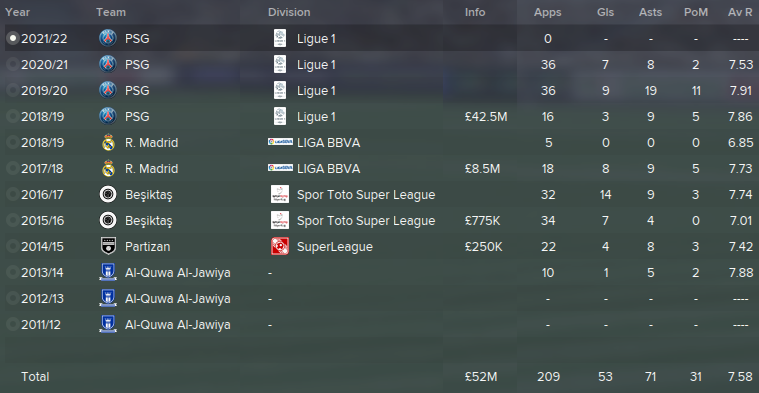 This FM 2015 player profile of Humam Tariq shows one of the most exciting playmakers in FM15 and also one of the cheapest. Tariq starts the game with brilliant vision and good all round mental attributes. As he develops these just fly, in my save he has 19 vision, 20 anticipation, 19 decisions and these are complimented by fantastic physical attributes and very handy technical skills. This kid can pass, dribble, finish and even cause problems from distance, he's truly got it all.
Of course flexible potential means he may not reach this level in every save, but for just £250K you can't go wrong either way. There may be issues getting a work permit but if so ask your board for an affiliate club to send players abroad to secure work permits. Wait for them to offer you some options and then make your move. Of course you will have to send Humam away for a few years, but at least you'll have a potential superstar for peanuts.
I would use Tariq as an AMC and the roles he can play are endless. Advanced playmaker may suit best to get the most from his assisting ability as well as goal scoring.
Did this player develop better in your FM 2015 save? Share a screen shot of his future profile with us by uploading the file below! (please include your name/nickname in the file name)
[simple-wp-dropbox]

FM 2020 Stories
Heh guys and welcome back to episode two of this FM 2020 lower league...

Hey guys and welcome to the first episode of my FM 2020 lower league story....

Gabriel's Diary Duesseldorf, December 18th 2017 — Starting the Monday hungover. I can't remember what...