Federico Vietto
Age: 16
Position: ST
Role: poacher / advanced forward / complete forward
Club: Racing Club
Nationality: Argentine
Value: £200K
Price tag: £700K (in patch 15.3)
CA: 88 / PA: -8 (between 130-160)
Federico Vietto profile in 2014 (after starting new game, patch 15.3)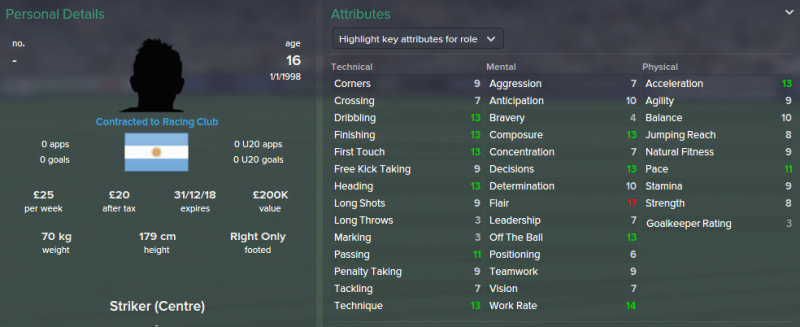 Federico Vietto profile aged 23 in the year 2021

Federico Vietto career history until 2021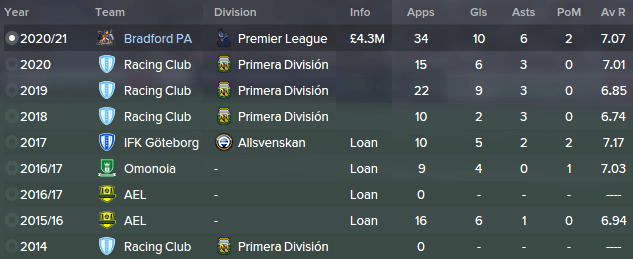 This FM 2015 player profile of Federico Vietto shows a good poacher with the ability to score all kinds of goals. In my test save Vietto developed his anticipation and movement to gain an advantage off the defensive shoulder. He also grew his finishing, heading, composure and strength which help towards scoring a variety of goals. As with a lot of the new profiles Vietto has flexible potential below that of the best, so he can be great one save then just decent the next. You should judge him from your scout report or as the game progresses. He has been great in my Bradford PA save though. Might be worth a punt for just £700K.
Did this player develop better in your FM 2015 save? Share a screen shot of his future profile with us by uploading the file below! (please include your name/nickname in the file name)
[simple-wp-dropbox]

FM 2020 Stories
Heh guys and welcome back to episode two of this FM 2020 lower league...

Hey guys and welcome to the first episode of my FM 2020 lower league story....

Gabriel's Diary Duesseldorf, December 18th 2017 — Starting the Monday hungover. I can't remember what...