11 Jul 2015
FM 2015 Borussia Dortmund Guide

Why Borussia Dortmund?
When I think of Borussia Dortmund, I think of a roller coaster. That is perhaps the best comparison when looking over the last couple of years, at least. In 2013 Borussia were playing the Champions League final against Bayern Munchen while they were finishing runners-up in Bundesliga. One year later, in the winter of 2014, the club was bottom of the league fighting against relegation. Following this fall, Borussia rised again to claim the 7th place in the league, last spot for the Europa League. This kind of scenario happened more than once during their history, and another recent example is what followed their success in 2002.
You can never fully understand the ups and downs of a roller coaster and that could turn your save into a great experience. And when you also have Bayern Munchen as rivals, the title can never be yours for granted. Borussia Dortmund is the third largest sports club by membership in Germany, with more than 115,000 members and despite all downfalls it is one of the most successful clubs in German football history. The club was founded in 1909 by seventeen football players from Dortmund and at the turn of the millennium, Borussia Dortmund became the first—and so far the only—publicly traded club on the German stock market.
Club Information – The Initial Setup
Reputation: Worldwide
Estimated Value: €555M
Stadium: Signal Iduna Park, 80720 (53569 seated)
Affiliated Club(s): none
Training Facilities: Excellent
Youth Facilities: Excellent
 
Enjoying their greatest spell of success during the 1990s, Borussia Dortmund have a history they can be proud of. Boasting a total of 18 competition wins, here are just some of their highlights: won the Champions Cup in 1997 and finished runners-up once, won the Bundesliga eight times and are six-times runners-up, won the Cup Winners Cup in 1966 and finished runners-up in the EURO Cup in 1993 and 2002.

Finances
Balance: €139M
Projected Balance: €309M
Sponsors: 1 year general sponsorship deal at €43.98M per season (ends 2015) / 11 year main kit sponsorship deal at €17.99M per season (ends 2025) / 8 year general sponsorship deal at €5.99M per season (ends 2020) / 18 year stadium sponsorship deal at €4.99M per season (ends 2026)
Loans Outstanding: –
Total Player Wage Budget: €6,927,052 per month
Current Player Wage Budget: €6,772,873 per month
Transfer Budget: €2,49M (100% transfer revenue made available)
Board Expectations
Your minimum expectations will be the Champions League qualification. Easy enough, there should be no troubles in achieving this kind of performance but once again to avoid extra pressure it's better not to push higher. There are no other philosophies included.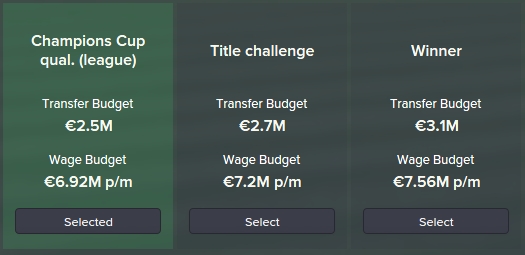 Staff Members
Mutual Termination: Andreas Beck, Florian Wangler (Fitness Coach) / Markus Braun (Head Physio) / Markus Plawa (Scout) / Cristoph Buhler, David Wagner (Borussia Dortmund II)
New Signings: Massimo Neri, Paulo Paixao (Fitness Coach) / Lleven Maesschalck (Head Physio) / Marcel Lucassen, Thomas Tuchel (Coach) / Norbert Ziegler (Scout)
The Squad – Key Players & Backups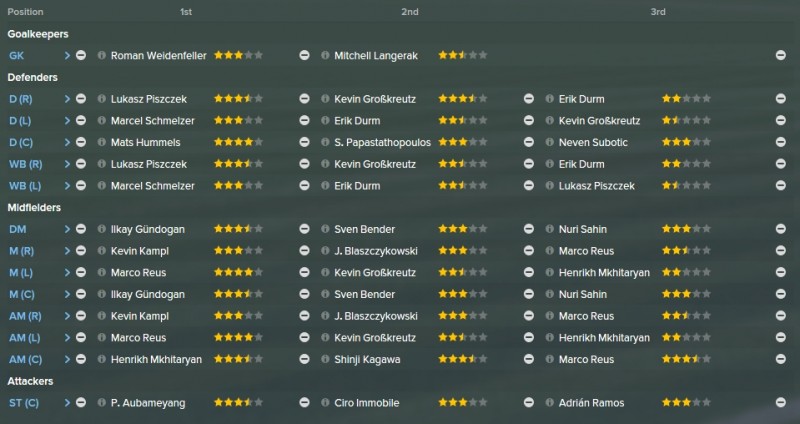 Goalkeepers: Roman Weidenfeller is of course the first choice in the team, but you can safely use Mitchell Langerak for easier games (especially when your opponents don't fire shots on your target)
Defenders: The central area is successfully covered by Mats Hummels, Neven Subotic and Papastathopoulus. Just use these guys in rotation however you like and you'll be just fine. Lukasz Piszczek is your best wing back, Kevin Groskreutz and Marcel Schmelzer can be used in rotation but I also recommend you give a chance to Erik Durm who really has great potential.

Midfielders: Quite hard to settle players in this area, since you have so many good options! But, as far as I noticed Jakub Blaszczykowski plays best as a right winger, Ilkay Gundogan central/offensive midfielder, Sven Bender as defensive midfielder. All the others are quite versatile, I also recommend playing Shinji Kagawa a lot as offensive midfielder, he will prove out magnificent. As for Marco Reus, I personally had him injured for a long time, 4 to 5 months and the team did great without him. I don't think he is worth having such a high wage and if I was to start over again, I would sell him without question. He does have great quality though.

Strikers: I have started the season with Ciro Immobile upfront and that's how I finished as well. Adrian Ramos didn't even have a chance as Immobile was simply fantastic, scoring 56 goals in 54 appearances, and without a single injury the whole season. I know that in real life Aubameyang was given this post more often but he can also be safely played as a left winger, once again I highly recommend playing Immobile as the main striker – numbers speak for themselves. You should also have Immobile as the main penalty taker (scored 10 goals, never missed one) – funny discovery as I had Marco Reus initially, he missed 2/3 penalties.

The Youth Generation
Average Junior Coaching
Established Youth Recruitment
Prospects: Gorenk Stankovic (18), DC / Felix Passlack (16), WBR / Dzenis Burnic (16), DMC / Marian Sarr (19), DC
Youth Intake Rating (First Season): 6/10
FM 2015 Borussia Dortmund Tactics
The 4-2-3-1 system proved its worth during the last saves so I went for the same structure, which once again seemed to be faultless. Ciro Immobile was a real beast upfront and so far has become my favorite striker in Football Manager 2015. This should basically work as expected with over 60% of possession during most of the games, not to mention loads of scoring opportunities for your team.  [Download]
Club Transfers
As much as I would have liked to bring new players around, I just couldn't do it. And that's not because I didn't have the money for it, but because you really have everything you need here at Dortmund, at least for the very first season. So I recommend you stick with your current players, and for the second season look for a keeper replacement and for a second striker to pair him with Ciro Immobile (to maximize your chance of finding good players I once again advise you to have a large database with current International players available!).
Players Out

I have offered mutual termination to no less than 15 players, basically any deadwood with a potential rating of less than 3 stars, as usual. The hardest decision was probably when I offered mutual termination to Sebastian Kehl, Borussia Dortmund legend but since it was his last year before retirement, I decided to help the development of younger players like Sven Bender or Nuri Sahin. Adrian Ramos was also one to be disposed, I managed to sell him eventually to CSKA Moscow for a transfer fee of €6.75M. Another tough decision was whether or not to sell Marco Reus, I ended up not selling but once again, should I start all over again I would definitely sell him if offered more than €20M or so.
Team Management
This one applies for each and every save possible. Always aim to encourage your players. Be careful to injuries, try the rotation system as it will help youngsters develop. Pay attention to finances, above all. Set general training to either Tactics or Fitness in pre-season, High and then lower intensity during the season. Main focus for match preparation can be set to Match Tactics initially then Teamwork. As for scouting, keep your scouts active through all season and make sure you're prepared for any future transitions.
The Conclusion

Club Brugge was not much of a challenge but this is almost no challenge at all, except for an interesting duel with Bayern Munchen and of course, the road to the Champions League title. That doesn't mean it's not a fun challenge. In fact, it can be quite enjoyable especially if you spice it up with challenges like the Youth Academy Challenge or anything similar. You can even push for all trophies straight from the first season. In this save we managed to win Bundesliga, but unfortunately we failed to win both German Cup and Champions League, despite reaching the finals. It was Bayern Munchen that beat us on penalties in the cup, while Real "Cristiano" Madrid won 3-0 against us.
As I see it, most of your obstacles will be related to complacency, agents trying to force you renew contracts for given players, or players fuzzing around about moving on to bigger clubs. These can however be solved with the right approach. Thanks for following and good luck with Borussia!
Pros: large stadium, excellent facilities, great prospects, very good setup, worldwide reputation, secure finances.
Cons: ? none of I can think of, except the ones noted above (well perhaps wages and bonuses are also too high for my taste)
Difficulty: 2.5/10
You may also like
Comments