23 Oct 2013
Best FM 2014 Tactics: Darren's 4-4-2 And The Deadly Duo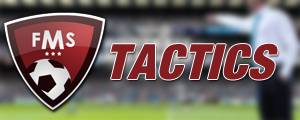 Hey guys and welcome to my best FM 2014 tactics this time based around the 4-4-2 using fluid philosophy. This Football Manager 2014 tactic is called 'Darren's 4-4-2 and the deadly duo'. I'm sure the 4-4-2 bit makes perfect sense, the deadly duo bit I guess may have a few scratching heads.
Long story short, I think FM 2014 will see us creating more tactics based around what we have in terms of players as opposed to a vision we have for creating triangles and pretty little patterns. Miles Jacobson has made it perfectly clear that this years edition relies heavily on players and using them in the right roles.
From playing the BETA its also apparent that while in the past a bunch of sliders controlled how your little men ran around the pitch, this year sees the individual players and there characteristics make the same position and role look very, very different in the match engine. For instance, when I use Llorente in the false nine role, he tends to fall short and link up play, but also gets in the box and scores lots of headers. I then use Michu in exactly the same role and most of his goals came with the ball at feet and from the edge of the area darting in.
Again, I have drifted off subject a little, what I mean is that due to the importance assigned to player selection this year, I wanted to make a tactic based around the most important players on the pitch, the deadly duo, still not getting it? your strikers of course. So after that long winded introduction I present the formation and roles.
FM 2014 tactic, formation and instructions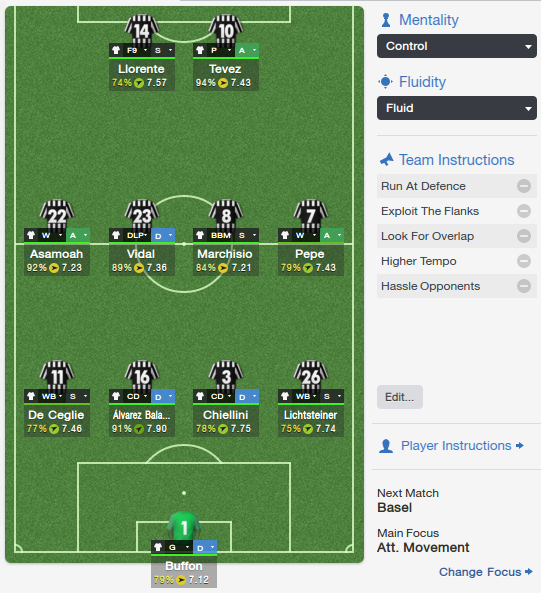 The instructions are fairly simple really, they all have one goal in mind, to service the front two while playing fluid attractive Football. The philosophy and strategy stay the same no matter what, we always want to take the game to our opponents. Same goes for the team instructions which are explained below, we do not have any individual player instructions, because I am a believer in keeping things simple where possible.
Run at defence: Simple, we have wing backs and wingers, not to mention a box to box midfielder so I want all of them to attack the opposition head on, putting our opponents on the back foot from the off.
Exploit the flanks: Width seems like a great tool to use this year, so having the four wide players exploited also suits the instruction mentioned above.
Look for overlap: Again, this suits the first two instructions, we want players to pass and move, the wing back to find their winger and then overlap him. This creates space and confuses the opposition.
Higher tempo: I like high tempo when using the wings, also helps to take advantage when we've gained possession from opposition set pieces and sparks a counter.
Hassle opposition: I like to get in our oppositions space, rush them into a mistake and keep the pressure on.
FM 2014 tactic: roles
Below I have explained what each role does and suggested appropriate attributes.
GK – goalkeeper, defend: Very simple, he stops the ball hitting the net. There are no specific requirements in this area. We all know what a good keeper should look like.
DR/DL – wing back, support: His job is to not only defend but attack. The wing back will get forward when in possession and with this tactic overlap the winger, he'll always stick to the flank. click here, for most important attributes.
DC – central defender, defend: Just your normal defender, would help to be good in the air, due to the lack of MC's you don't want him losing simple headers. Other than that, you may need 12 or above in pace and acceleration for top flight teams alongside the usual defensive attributes seen here.
MR/ML – winger, attack: Your wingers need to hug the line, be able to cross from deep and the byline and most importantly spring an attack at the drop of a hat, also note if they won't get back and defend when needed, the whole system could fail. OK now we get specific, these guys need to be fast, cross well and dribble too. Other very important characteristics I have found are work rate and flair. For the rest click here.
Important tip! Please not that if you feel crosses are been intercepted too easily or no ones getting on the end of them, go into each wingers individual instructions and select 'cross aim far post'. Do this on a game to game basis.
MC – deep lying playmaker, defend: Here we have your playmaker, the man who sits in the middle and hinges defence to midfield, to attack. He must have great passing, creativity and teamwork. You will also need him to defend and break up play, so look at stats like tackling and marking, also positioning. For a full breakdown, check here.
MC – box to box midfielder, support: Not only are we relying on this guy to dribble with the ball and bridge the gap from midfield to attack, but he needs to arrive late in both penalty areas. So long shots are helpful, but most important are physical stats, dribbling, off the ball movement and passing. This player should be your most well rounded on the pitch as his role leads to both attack and defence. Heres the full list of attributes.
ST – poacher, attack: Nice and simple, this kid is your goal outlet, his main focus is on the defensive shoulder waiting to pounce. So acceleration, finishing and composure mixed with off the ball movement are important. Usually dribbling helps but that's not as vital in this tactic. See the full list of attributes here.
ST – false nine, support: This lad will float between ST and AMC, dragging defenders with him to create space for the B2B and poacher. He needs to have a good first touch, creativity and off the ball movement, long shots are also very helpful. However, the better this guy can jump and head the ball the more possession and chances you'll have. The team like to use this guy as an outlet and lots of the play will go through him, especially direct balls and crosses.
FM 2014 tactic in action
While you may not boss the centre of midfield, there is defensive stability in shape and symmetry. See the screenshot below, this is how your side should line up from goal kicks and general attacks. Counter attacks can be a bit more tricky but I've not noticed many issues with reasonably fast defenders.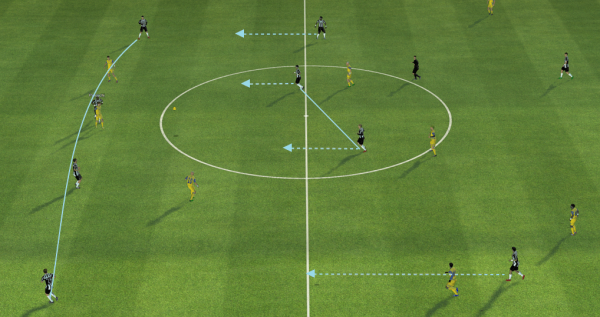 Once you're back in possession, the deep lying playmaker will drop deeper and show for the ball, your DR and DL will remain just in front of the defensive line until the ball moves beyond them and likewise the box to box midfielder. So you have four passing options in a line in front of your DC's.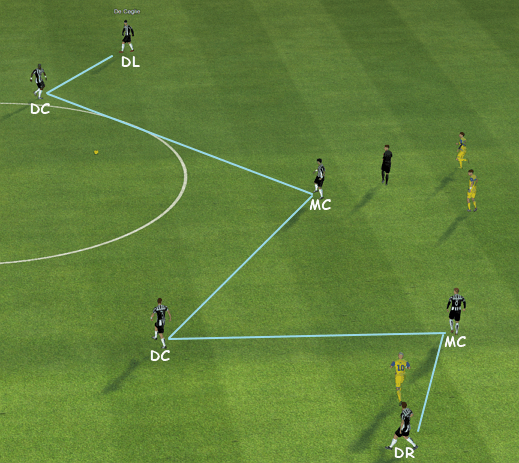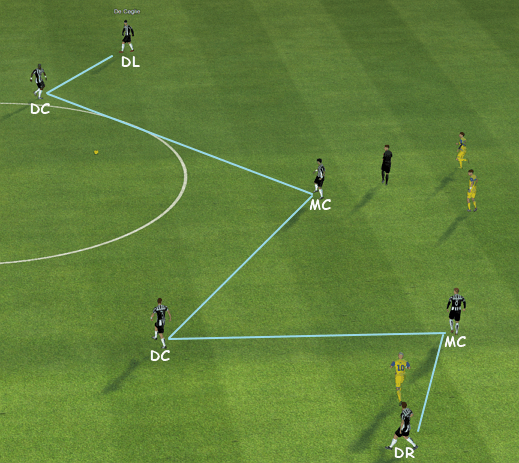 Another nice part of the build up play can be the false nine's involvement, he drops very deep in the initial stages to lose his marker, then lays off a pass and runs forward again.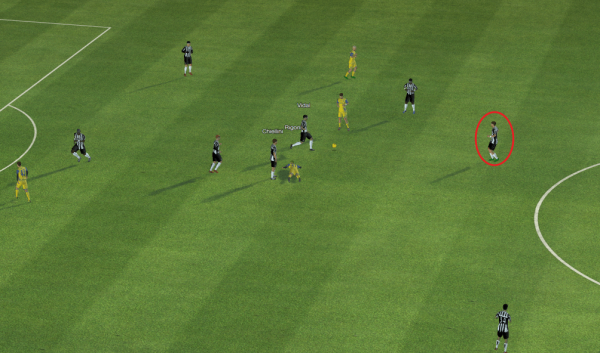 Basically everyone is instructed to overlap and move all the time. We have wing backs and wingers doing so out wide, we have the box to box midfielder doing it in the middle and the false nine striker dropping into AMC often while the poacher is forever looking for space to dart into ahead of himself. The only players who don't actively move during attack are the DC's and deep lying playmaker. Lets see how this works when attacking, below is the wing play and how your wingers and strikers attack the ball.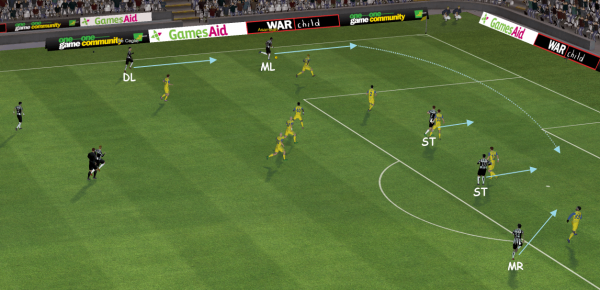 Now we have the false nines tricky movement again. The wing back has come forward overlapping the winger to gain space, he gets in a cross to the back post. Both the ML and false nine are arriving late.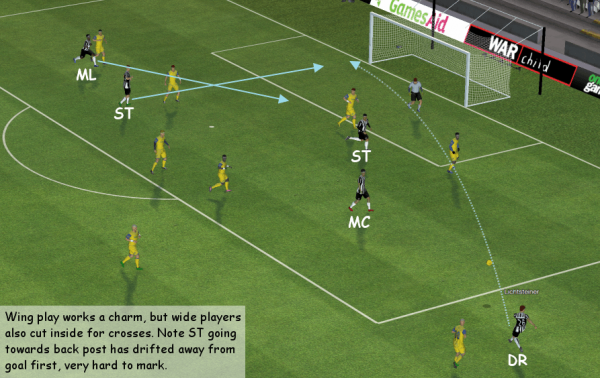 FM 2014 tactic highlights
Here are a few highlights to demonstrate better the goals that are capable with this tactic. First the goal that followed the screenshot above.
Here is our false nine losing his marker again to get on the end of a quality cross.
And finally a few goals from our poacher to show how he works off the DC's shoulder, the first a lobbed ball from our false nine and the second a perfectly waited threaded ball through the middle.
Results and key stars
So, as you may have guessed already I tested my best FM 2014 tactic with Juventus. I didn't make the tactic, then decide to try out Juve, I just started a game with the Italian giants and had to find a new system seen as my usual 4-5-1 just wouldn't work. That is when I saw their strike force as the key outlet for attacks and built around two upfront and found ways of getting them the best service.
Below is how the season went, not too shabby considering three of the six defeats were using a different tactic in the beginning :)
Serie A table

Italian Cup results

Champions League results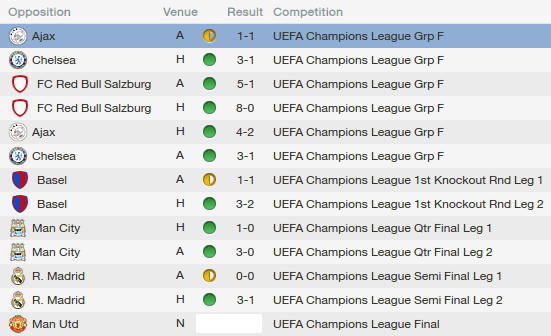 Before you see the Champions League final result, it is worth noting that all testing upto this point was done before 23/10/13, so patch 14.0.2. The Champions League final was played tonight using patch 14.0.3, so I was very nervous to see if we still had an effective tactic aaannd…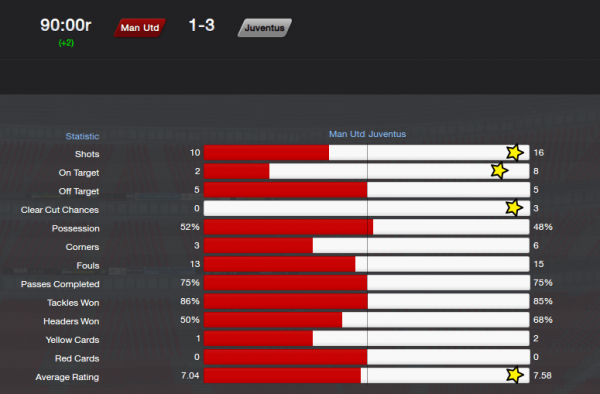 Top 5 performers
Carlos Tevez (ST, poacher) – 44 starts / 32 goals / 8 assists / 7.43 av rating
Fernando Llorente (ST, poacher) – 41 starts / 21 goals / 7 assists / 7.48 av rating
Eder Alvarez Balanta (DC, central defender) – 39 starts / 5 goals / 7.83 av rating
Giorgio Chiellini (DC, central defender) – 49 starts / 8 goals / 7.77 av rating
Kwadwo Asamoah (ML, winger) – 39 starts / 6 goals / 10 goals / 7.25 av rating
Important notes
OK like with any tactic there are disclaimers, things you must note before using this tactic.
BETA tactic – This tactic was created and tested using the BETA, upon the games full release this tactic may not work, depending on what has changed in the match engine. For example there are lots of crosses happening in the ME at the moment, if that is limited then a huge positive from this tactic will be damaged.
Poor preperation, blah, blah – Ever heard the saying 'poor preparation equals piss poor performance'? Well its true, if you don't prepare this tactic throughout pre-season don't expect an instant impact, even then it still takes time into the season before your players will perform.
Opposition instructions – Always ask your assistant to set the 'opposition instructions', they usually know best and with none set you stand little chance.
Team talks must be taken correctly in accordance with the opponents ability and current form. Get a great assistant with good motivation and ask him to do the team talks if not experienced.
Does it work in other countries – I have only tested this tactic in Italy, how well it works in other countries against different styles I am not sure. But it seems good in Europe, we beat Chelsea and United in the Champions League.
Player selection – You must have the correct players to use this system, if you don't, do not waste your time. Two very good strikers are a must and backups are needed also. The false nine works best with good jumping reach and heading, just as a forward in any crossing tactic would. Also a very strong back-line is important due to the lack of cover in midfield. Very slow defenders will be exposed.
Wing backs and wingers that can't cross won't get assists and that is where the goals are.
Pick correct roles – Pick the right players for the right roles, if you don't this tactic will not work at all…as is the same with any system.
Crossing – Sometimes asking your players to cross as they like doesn't work, it depends on your squad and the opposition, so if crosses aren't working, then go into each wingers individual instructions and select 'cross aim to far post'.
Have a backup tactic – This tactic can on occasion lead to you been overawed in the middle, always have a second tactic (maybe a 4-5-1) just in case. The AI is smarter this year and will work your systems out before long, so its always good to switch things up a little from time to time to keep them guessing. Having said that I didn't need to switch tactic at all, just while defending a lead in the dying moments when I felt exposed in midfield.
Training and match prep – The myth of training and match preperation being appropriate to specific tactics is bollocks, they are not related. Of course a possession orientated tactic needs good ball control and you can train in that area, but that only sets to train your players attributes in that area, not make them better in the tactic, it helps marginally indirectly, but they are not directly linked at all. Having said that, like with any tactic, you should do pre-season with match prep as 'tactic only' and training as 'team cohesion' and a bit of 'fitness' before changing to balanced once the season is underway. Intensity is set to high and then pick your match prep based around preparing for the opponents weakness' and strengths.
Pitch size makes such a small difference I wouldn't waste your time on it. Naturally with any wide tactic a wider pitch is preferred, but it makes very little difference.
Shouts in the match aren't needed, unless to combat certain formations or your teams bad performance. Like 'retain possession' when required or taken the lead and 'get stuck in' if your boys look like fairy's.
FM 2014 tactic download
If you like what you see, then just click the download image below and download the file from mediafire. Then follow the instructions.


Once download is complete, move the file to the following folder documents>sports interactive>football manager 2014>tactics
Now load the game as normal and enter the tactics screen.
Click the button to add a tactic and look in 'archived tactics', then select 'Darren's fluid 4-4-2 and the deadly duo'.
Hey presto there it is. Well that's it I think, hope this works for you as well as it did for me with Juventus. And if you appreciate this post and tactic, please, please, share on Facebook and Twitter etc etc…you can do this at the very top or bottom of the post, and I'd appreciate. :)
Darren is the co-owner of Football Manager Story. He merged with Johnny Karp in 2011 after moving from his own successful site named Allthatisfootballmanager. A football fanatic, whether it be the real thing or video games. He has been playing Fifa and Football Manager for donkey's years. Deriving from the North East Darren supported Scarborough. However turned into a dedicated Newcastle fan from the age of 7. He enjoys watching Soccer Saturday and any live games. However Football Manager is his real passion. You can contact Darren at darrensmith360[at]googlemail.com
You may also like
Comments