Hello everyone! My name is Garrett and I've been a self-proclaimed Football Manager nut since 2013. I've started my first save on the new game with Internazionale with the hope of returning them to the pinnacle of Italian football. Long gone are the days of 2010 when a famous treble was won but can I be the man the bring the glory back? Read on to find out...
Tactics/Formation: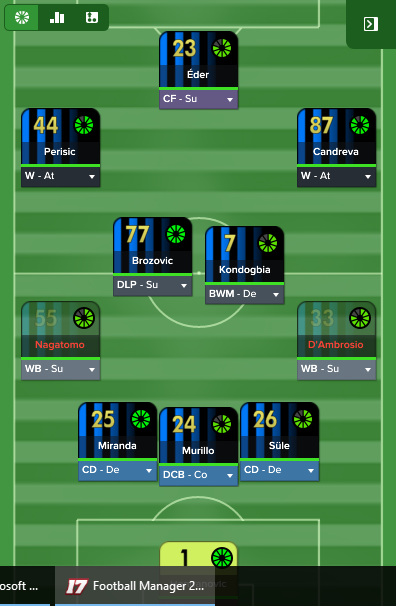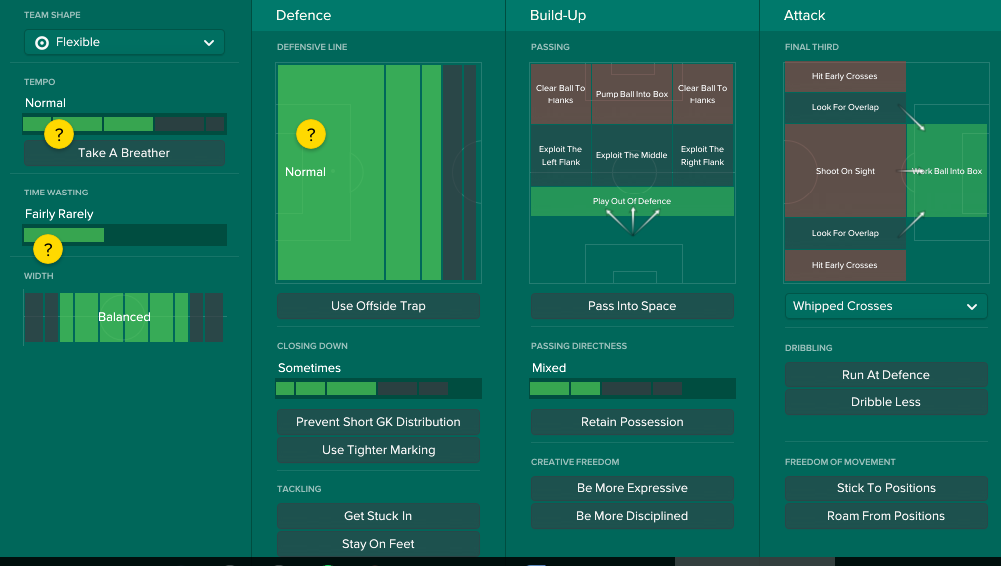 Transfers (2 Incoming, 0 Out):
Riechedly Bazoer (£8.5 million from Ajax): The first player through the door comes in the form of Riechedly from Ajax. Going forward I think we're really good but at the back I think we need depth, whilst Bazoer comes as an out and out defensive midfielder there are a number of factors that made me sign him (one obviously being that he can play in defence!).
For starters, my head scout identified him as having world-class potential meaning that he could become the best in the world in his position and what's more he was actually transfer listed by his club meaning that I could get him close to his value. With these two factors in play and the fact that he's 20 years of age I couldn't say no and decided to snap him up (rather impressively making him turn down Real Madrid in the process). He's showed glimpses of his potential throughout pre-season in both defence and midfield so I'm really excited to see what he can bring to the team.
Niklas Sule (£10.5 million from Hoffenheim): I wanted Niklas from the start of my tenure but had to bide my time in order to land him. When I first enquired his club wanted £91 million but after unsettling him by declaring my interest in the press I managed to get him to turn his team-mates against his manager and push through a move. Again, with a few weeks to go to pre-season his club reluctantly transfer listed him and I signed him for just over £10 million, as someone that could become the best in the world this is a great piece of business.
August/September:
We started the season away to Chievo and this was a game that I really thought we could win despite being on the road. Things couldn't have got any better when Antonio Candreva opened the scoring in the 9th minute but things couldn't have got any worse when Riccardo Meggiorini scored a hat-trick to put the home side 3-1 up at half-time. Despite some tactical tweaks we wouldn't really recover from this and lose our opening game 3-2, a real kick in the teeth for me after a promising pre-season.
What followed was a flip-flop set of results. We bounced back against Udinese winning 2-1 (Niklas Sule scoring on his debut) before losing mid-week against Genoa by the same score-line.
We've been drawn in the Europa League group stage with Lille (France), Krasnodar (Russia) and Brondby (Denmark). The first game of the competition being against the latter away, once again we struggled to really get hold of the game but did get all three points when Marcelo Brozevic smashed home in the 89thminute from long range, if I'm telling you the truth I didn't care how we scored I'm just glad that we did and put three points on the board. Playing catch-up in an un-forgiving competition like this isn't something that I'd recommend.
The winning feeling wouldn't last for too long though as we'd lose 1-0 at the weekend to Roma (Edin Dzeko on the score-sheet) but thankfully a team meeting saw us bounce back against Bologna and set up for my 'Game of the Post' against Torino.
Game of the Post:
We needed to stop the 'flip-flopping' and string two wins together. In order to do this we would have to over-come Joe Hart and Co. at their own ground. Fortunately for us Joe was injured (but playing) and so was their right-back. Spotting this as a weakness we attacked down the left-wing from the first whistle and reaped the rewards scoring two goals early on through Jeison Murillo and Antonio Candreva.
At half-time we led 2-0 and I rallied the troops to go and get some more goals. We stuck with the same formation, kept attacking the left-wing and got our reward scoring a third through Eder, scoring from close range after Torino fell asleep.
With a 3-0 score-line in the locker we kept possession and prodded the ball around until full-time earning a much needed three points to pump us into 7th.
League Table: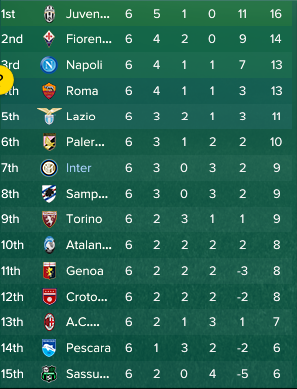 Thanks for reading! All the best
.