STORY AND MY OWN BACKSTORY


Hello and welcome to a story about União Atlético Povoense! I am Pedro Fontan! Full Name Pedro Filipe da Silva Fontan. I was born in Vila Franca de Xira about 15 Minutes away on train from where Povoense are from! I lived in Póvoa from about 2 weeks old until 13 years old when i moved to England! I played in the youth Teams of Povoense since i was 6 up until my parents emigrated and i came along
My grandfather is probably the only person who can be considered a legend at the club He played for them from 20 until he retired from amateur football at 42. Then he Managed them for about 15 years! Then he became the finance handler at the club which he still now does at the age of 77! A man for who i have immense respect and if i get to that age and i am still half as active as he is i would be very proud of myself!! He still swims and plays sport so i can safely say i have one role model in life atleast!

CLUB HISTORY
So UA Povoense are a Club Formed in 1942 in the small Town of Póvoa de Santa Iria! Póvoa De Santa Iria is a town in the heart of Lisbon belonging to the District of Vila Franca de Xira(where yours truly was born)! Their Most Successful season was in 2008/2009 where they played in the 3rd tier of Portuguese Football! Only to suffer back to back relegations and to stay in the division where they are at the Moment The AF Lisboa Pro Nacional. The pro nacional is all the second tiers in Portuguese Football and AF means Associacao Futebol(or Football Association) of the respective District, Lisbon, Porto, Braga, Leiria Etc..... They Play their Home Games at the Complexo Desportivo da Quinta da Piedade(Quinta da Piedade is a nice park in the town which has football pitches and cafes and all of that. Quite Nice i might add) So all these reasons made me want to start a save with Povoense and become the best club in the world with them atleast Virtually!
We are predicted to finish 12th which is good as there is no extra pressure on me!
LEAGUE RULES
As i have already said we play in the AF Lisboa- Pro Nacional
Only 1st place gets promoted! Oh dear! This will be harder than i thought!
This is the 4th tier of Portuguese football. And you may know that Portuguese football has had some really weird changes made to it this year so I still don't really know how it works. Get to know it along the way I guess xD



HONOURS(OR LACK OF THEM)
As you can see not the most successfull club but this makes the challenge a heck of a lot better! As any trophies won by the club will have been won by me as manager! This is by far the lowest i've ever managed in FM! I have managed in the Blue SQ south with Eastleigh but they were way more financially stable and the league had a much better reputation even though technically it's the equivalent! But then again the Barclays Premier League is quite a lot better than the Portuguese League because of the money pumped into it, but that's for another day! Our training facilities aren't that bad, however our youth facilities are really, really bad. Plenty of time to improve them though.





COMPLEXO DESPORTIVO DA QUINTA DA PIEDADE
Ok it's not exactly the Estádio da Luz but for such a lowly club, not bad!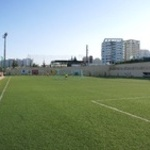 PÓVOA DE SANTA IRIA
This is Póvoa de Santa Iria! A well taken picture can make anything look good as it is actually kind of a Shithole but it's what where I lived! To be honest i Live in Stafford now so the difference isn't that big xD!






So for now that is it. One or two of you may have noticed that is the intro I used for my other Povoense Story. It told all i wanted to say so might as well use it. I did tweak it to show things for this year.

Thanks very much for reading and hopefully you will follow me through Portuguese football and an attempt to conquer it.