Hola or indeed hello to everyone!
So once again I said I would take a break until next year but having been bought the new game as an early Christmas present I decided to start a new game and one team stood out more than any other.
Many of you know that I was born in Spain in Barcelona which is half right I guess! I did live in Barcelona but I wasn't strictly born there as I born just a few miles away in L'Hospitalet de Llobregat is still technically Barcelona and is actually one of the most populated cities around!
When I lived there it wasnt as it is now, it was a really poor area and now is improved so much is like a new place and for me is the place I would call home. Some family still live there and is the place I feel most comfortable so what better place to write a story, my home country and my home town.
------------------------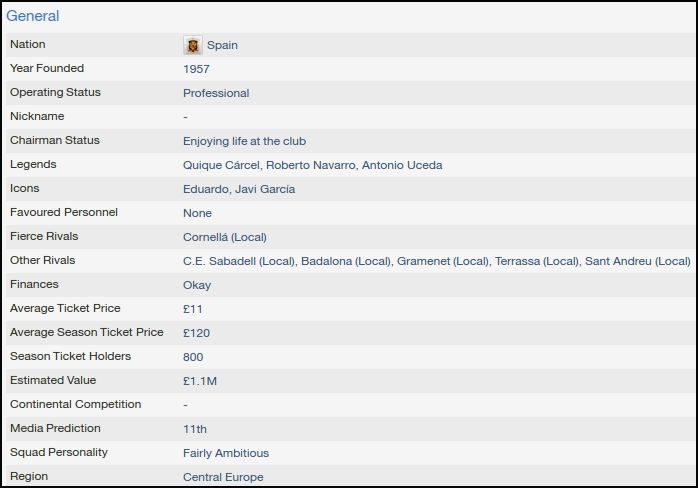 Centre d'Esports l'Hospitalet, which can be shortened to Hospitalet for all you English writers or you can add the L'Hospitalet for the correct way of saying!
I was born and lived here for maybe six or seven years and some of the rivals we have are places I also lived but mostly Badalona which is where I lived until we moved away so for me is not a rival.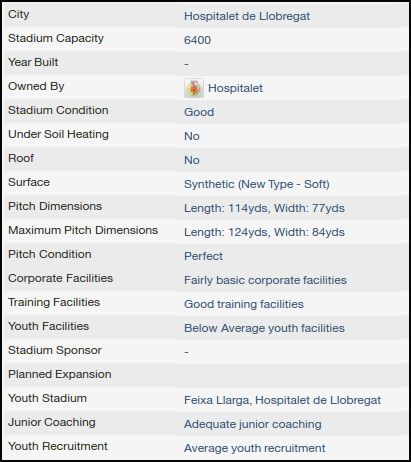 Nice stadium and a lot better facilities than my previous journey in Turkey, in fact we actually have good training facilities and a perfect pitch which is not grass but is ok a much better starting point than previous games I have done.

The finances look not too bad but this is Spain and economically the country is not doing so good which is another reason that I wanted to start here and rebuild using my own personal style of managing the finances as well as I can.
The team is actually pretty good and a little fun fact is that this team actually won their division last season! A little more about the structure below but lets just say they lost in the playoffs so failed on promotion so what fun I will have!
I guess is tricky to pick out the best players as I think David Haro is probably my best player but I will go with what the game says in the on loan (from Barca!) Jordi Quintilla and forward Kabiru Akinsola (You can click there names for their profile pictures).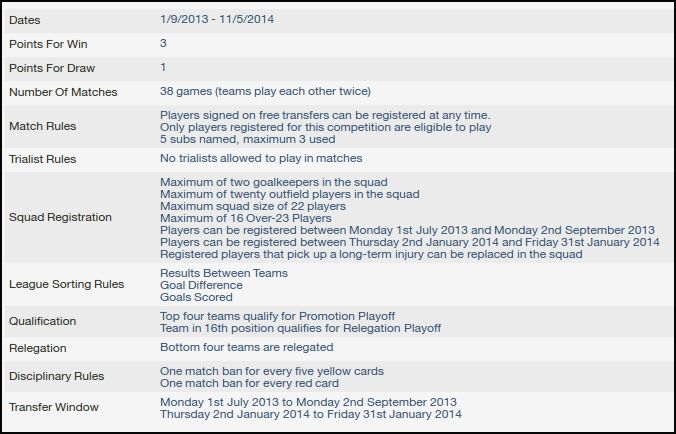 Ok here we go the incredibly confusing Spanish lower league rules! We always try to keep them as confusing as possible is just the Spanish way I guess!
The squad rules are easy no squad bigger than 22 players and a maximum of 16 players aged 23+ meaning we need a minimum of six under 23 players easy maths right!
This is to ensure we use our youth academies and sign younger players and also keep squads small to save money which is a pretty good idea when you think about it.
Now the league rules is actually quite simple but try and put yourself in my position a fluent Spanish speaker in a second language trying to explain to a majority of English speakers as their first language, is hard right! So I do apologise if is a little hard to follow but I will do my very best.
So division two (Segunda Division B where we are now) is split into four groups, each group contains 20 teams so is a total of eighty teams. They are divided into regions so for example Catalunya is obviously where we are being from Barcelona so is group three and all the teams in our group are based around there.
Group two is teams from the Basque and surrounding areas and so on so, the playoffs are even more complicated so I guess is better to explain if I can get their is easy I hope!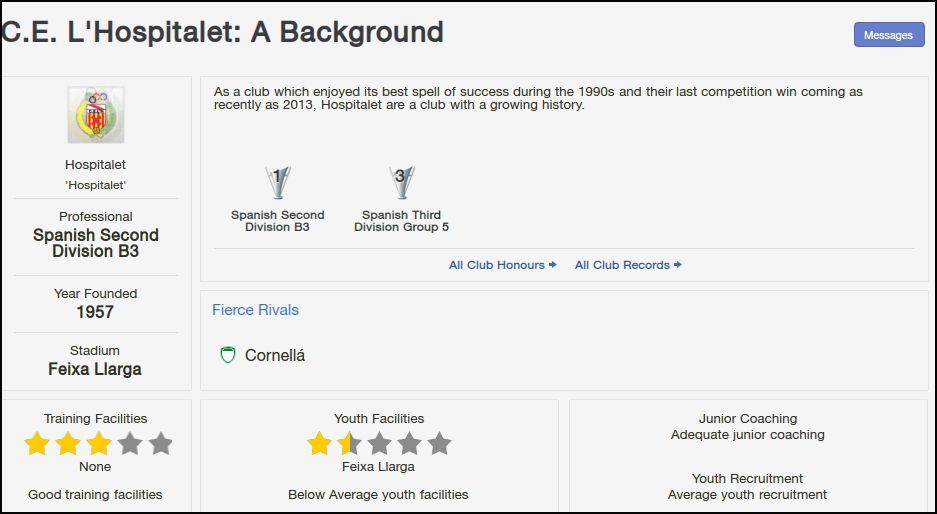 So the final picture and a really nice summary of our club, my hometown club! My aims so far are unclear I guess is just to build this team my way and to play back in Spain something I havent done since my Real Union story over 5 years or so (In real life!), I think is a good time to come back!
As you all know this story will be slowish due to my incredible slow typing and the constant struggle for free time so it will be an update every week or so which is an acceptable pace I guess, as always any questions you have feel free to ask and hopefully is an interesting team and place for you to read, follow and fingers crossed enjoy.
Edit - Corrected most of my horrible English, I think!
(Is no auto-correct again as I try to improve my English!)