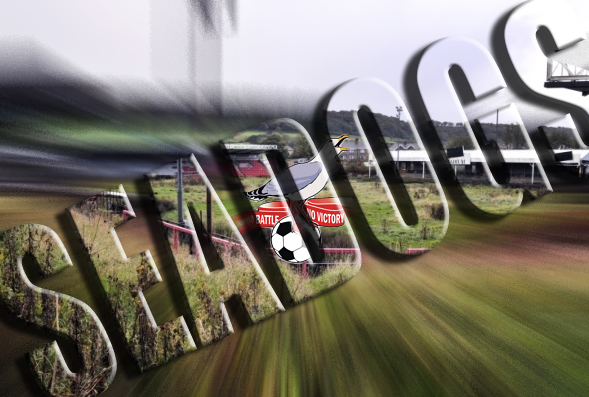 Hey guys and welcome to my FM 2012 Scarborough AFC season 11 report. Last season saw Scarborough narrowly miss the EPL title finishing 2nd, but we did win the FA Cup after beating Arsenal and also the Europa League after a nerve wrecking penalty shoot out against Benfica. All of this added up to make my best season yet and sounded my battle cry. The Seadogs had proven that we can match anyone on our day and should be taken seriously as domestic contenders. So the aim this season is to maintain that standard and try to gain some experience in Europe. As ever I'll be attempting to make my squad younger and keep finding great young talent to fund the clubs future. But to start today's post we'll move onto the boards expectations and budgets etc.
The board tabled an early pre-season transfer budget of £34.65 million and wage budget of £1.4 million per week. This set the tone again as my rich chairmen obviously saw cash as no real issue.

Once the actual pre-season came around my board requested another top half finish and I upped the ante to continental qualification, this was of course to earn a better budget. After the initial budgets were set I spent a fair amount of cash and that is why the chairmen would only allow a further £10 million for transfers.

The media had my boys in for the title just behind Man City with a respectable price of 5-1. I must admit I was surprised to see us up there so soon as the expectations and media odds are usually well behind what the team can achieve in reality.

Now its time for what I'm sure is your favorite part of every season report, the transfers. This season felt like a transitional year, Scarborough had just proven themselves on all fronts and looked destined to challenge for honors, but with that responsibility you need a strong squad. So I examined every player and anyone I felt couldn't make it in the top four of the EPL were moved on. This bold move led to 13 departures that racked up an impressive £72 million.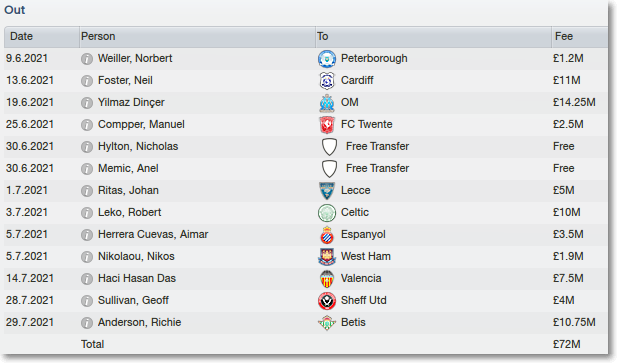 I think its fair to say I went a little crazy with my transfers, after selling some pretty good players my new targets had to be top class and Scarborough's current reputation led to me paying a premium as the pool of quality was rather shallow and resulted in slim pickings. The best of my new players were right winger Roberto signed as a straight replacement for Dincer at £16.5 million and the outrageously talented Huerga in central midfield. The Spaniard cost me a hefty £42 million but looks insane and still has room to grow. All in all my summer transfer spree added up to £103 million but offset against my sales meant a total net spend of £31 million.
The pre-season formalities were over and as I tried to prepare my squad for the season ahead I had the Euro Super Cup to look forward to. It was an all English affair and against a club I struggle to beat in Chelsea. Now I don't know if it was pre-season luck or a turning point for the club but my boys dominated this tie and beat our title rivals 1-0 to lift the Euro Super Cup. New signing Junior was on the score sheet with a wonderful strike from the left wing.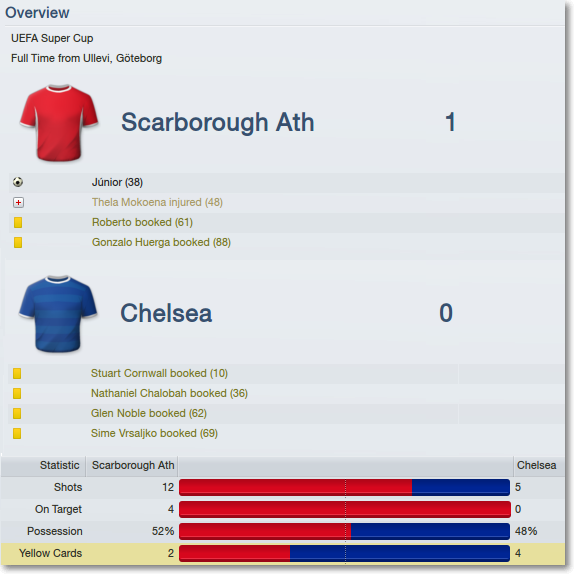 Premier League results – first half of season
I always find that a good start in the league can be the perfect remedy for success. So you can imagine my disappointment as we lost the opening game of the season away to Sunderland. My boys did make up for it with a fantastic 2-0 victory at Anfield but we failed to beat Chelsea at home in a 1-1 draw. Our start to the season continued like this, in a very inconsistent and unpredictable manner as we won 9, drew 5 and lost one of our next 15 matches.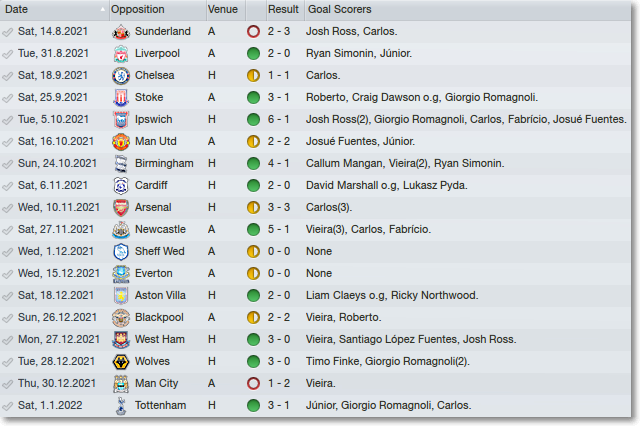 I failed to win the title last season because of our bad form against the big teams and this season didn't seem to be any better. One game into January the league table looked a little grim as I had already started to give up on any sort of title challenge. The Seadogs were 5th, four points off fourth and 12 points off Man City at the top.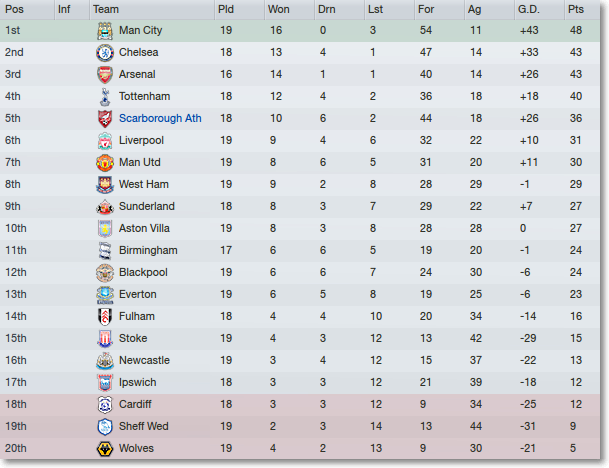 With the Winter transfer window opening up my chairmen decided to offer a helping hand as the transfer budget was increased to £37 million.

But then the clubs owner went and did something very uncharacteristic by forcing me to sell a very promising youngster, Lopez Fuentes. I had signed the Spaniard for free back in our Championship days and was gutted to lose a talented player I had invested time in developing. Inter's offer of £15 million seemed short of my valuation but I couldn't groan as the chairmen had treated me well to date. I just needed to go about my business and find a new talented centre back.

So you know about Lopez Fuentes leaving, there was nothing to be done there. However, there was another quality player departing this Winter as I offered Romagnoli out to clubs for £25 million, a number of suitors came forward but Fiorentina were the only club prepared to offer a decent fee in £20 million. I sold the striker who has developed very well since joining but never really adapted well to my tactics so it felt like a win win.
I spent all of the £35 million gathered from player sales in January, the first was a direct replacement for my departing striker and Matampi will be a beast that  should hopefully repay his £21 million transfer fee. I also signed a 17 year old midfielder from Bayern alongside a new backup keeper. But the next big thing was Funetes' replacement, Arancibia joined from Goias for £7.5 million and looks right up my street as I love pacey, strong centre backs.
I guess the chairmen felt a little guilty after offloading one of my favored players as he injected another £15 million into the club.

Premier League results – second half of season
After a disappointing start to the season my boys had to offer something extra and that they certainly did. I watched on in amazement as they won 16 and drew just 2 to climb back up the table. We even prevailed through an injury and international absentee crisis during the last few months. This amazing run left just two games in the league calender, but had we forced ourselves back into the title frame?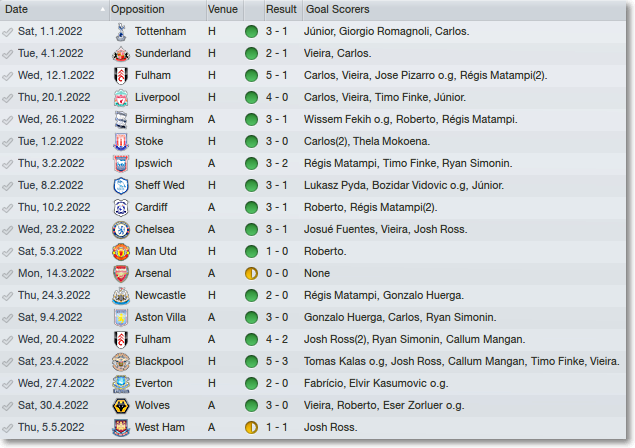 The answer to that is yes! After an incredible run my boys have climbed to top spot, one point clear of Man City in second, three points clear of Chelsea in third and five points clear of Arsenal in fourth. The only down side is that all three sides below me have a game in hand.
With two games to go, my next opponents were Manchester City at home. A very, very tough game and certainly one I'd call a title decider. But the pressure didn't get to my players as we ran out comfortable 2-1 winners, enjoying most of the possession and the best of the chances.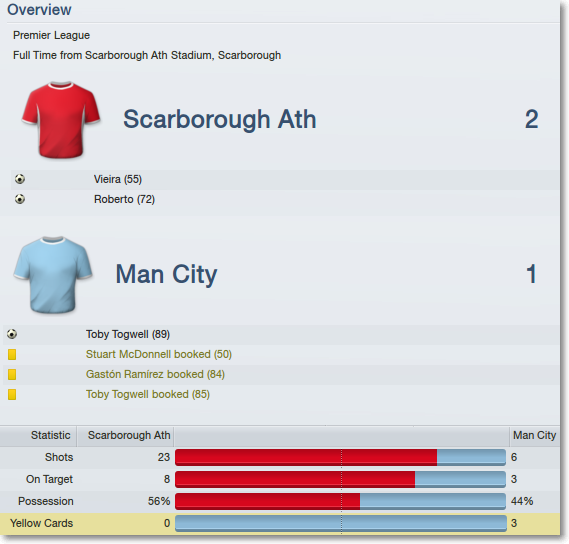 That vital victory may still not be enough as all the teams below me have a game in hand. But you know there's always a twist in the EPL and this season was no different. Chelsea drew while I beat City and they also drew their game in hand leaving them out of the title race with a game to go. After losing to myself Man City also drew away to Everton, leaving them 3 points off the pace but with a sizable advantage in terms of goal difference. Then there was Arsenal, the London club enjoyed the best form winning both their games to climb from fourth to second and just 2 points off myself.
The drama couldn't have reached a higher climax, I honestly have never experienced such a close finish to any season since buying my first edition of FM. With one game to go Chelsea are out of the title race, but Arsenal play Sheffield Wednesday away and Man City play West Ham at home while I have a very tough away fixture to Tottenham. If I lose to Tottenham (which is the likely results) then I need both Man City and Arsenal to miss out on victory which seems impossible TBH, and even if I draw the title isn't guaranteed…
One game to go and this match is just like a cup final, if we win we secure the title and if we draw we still stand a chance provided other results go our way…the first half was very nervy seeing Spurs secure the best chances but we remained level at half time. The second half whistle saw my boys take control of the match and score with 11 minutes to go but Spurs soon equalized with 5 minutes remaining. The London club kept pressing but my defense held strong and saw the game out for a 1-1 draw…but was this enough.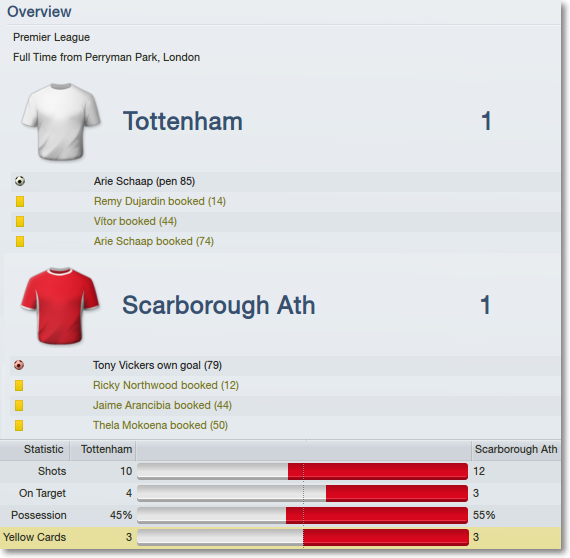 Man City beat West Ham 2-0 and Arsenal beat Sheffield Wednesday 3-0 but how did this translate to my title challenge? Had we secured the EPL tile?
Man City may have won but they were too far behind and my draw meant a one point gap…but Arsenal's victory meant they drew level on points with the Seadogs, but our superior goal difference made the difference as I lifted my first Premier League title.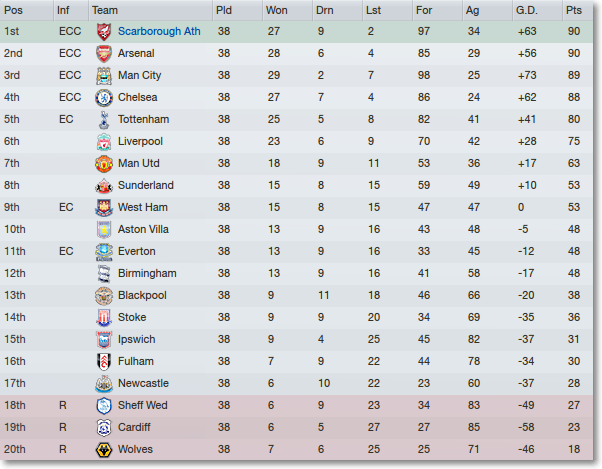 I was absolutely ecstatic, this was by far the closest title race I have ever experienced and it epitomizes what makes this game the B's and E's!! But the post isn't over yet, we still have three more competitions to reel off so stay with me. :)
Carling Cup results
After winning the Carling Cup last season I was hopeful of reaching the latter rounds for a second season. Unfortunately we managed to offer fringe players some experience in first few rounds before Arsenal thrashed us 2-0 in the quarter-final.
FA Cup Results
Last season saw us reach the semi-final in this competition and beat some serious competition, but this season was a very different story. After slaughtering Mansfield we lost away to Chelsea, while I was disappointed with the early exit I couldn't complain considering the opponents and our title challenge.
Champions League results
Due to winning the Europa League I landed a place in the 3rd pot as opposed to the fourth which can lead to a group of death. Galatasaray, PSG and Porto were all drawn in my group as a result, an easy draw considering the possibilities. We breezed through the group stage winning all but one including the 5-0 thrashing of PSG away from home.

We obviously finished top and PSG joined us in the next round.
Despite landing the flush draw we still had to face FC Bayern in the first Knockout round. Thankfully the tie seemed to suit us as every attack the Germans manufacturer led to a Scarborough counter and the tie finished 4-0 on aggregate. I was hoping for a similar if not easier draw in the quarter-finals but last years winners, Chelsea, came out of the hat. Their pace and experience proved too much as my boys were thrashed 3-0 in the away leg and won the home leg 2-1.

Squad stats and finances
This season was weird for sure, we started badly in the league but progressed into ridiculous title winning form, yet we started well in the cup competitions which seemed to fade into nothing. My German centre back, Finke, was solid this season scoring 12 goals with an average rating of 7.47. However it was in attack that we won the league, left winger Carlos banged home 17 goals and 9 assists, new striker Matampi managed 8 goals from 9 starts but Vieira was a little disappointing scoring just 18 goals from 34 starts. The entire squad chipped in scoring and assisting especially in midfield, but Mokoena was the most consistent assisting 25 times.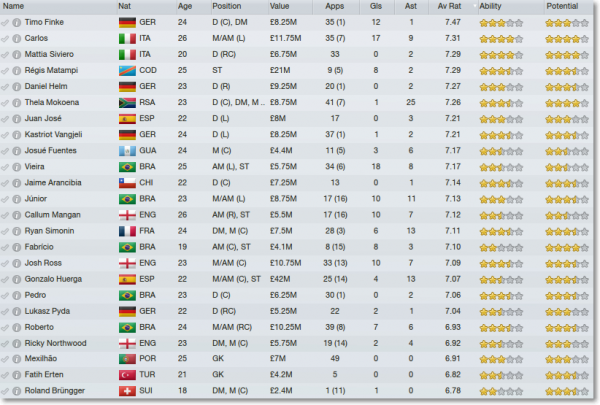 After the seasons end I went about upgrading the clubs facilities and my chairmen showed his usual ambition accepting every request at a cost of £9.5 million. While the training facilities are starting to look respectful I hold major concerns over the youth facilities and recruitment. Hopefully I can bring them up to a good standard within the next few seasons.



Talking of concerns my stadium is still very small despite been increased to more than treble its original capacity. The Scarborough stadium (original name I know!) started at 3,000 capacity, then we upgraded it to an all seater, after which numerous expansions have brought the stadium upto a capacity of 12,500. And now the board are expanding again, this time by 5,100 to make a new capacity of around 17,500 all at a cost of £6.25 million.

After investing so much in the club, my chairmen felt it necessary to increase the bank balance coughing up £25.5 million.

Come the seasons end our bank balance read £27.8 million, a nice amount to take into next season where I intend to start the Y2G system in an attempt to stop living out of our chairmen's pocket. But in reality that will take a good few years until we can raise a few youngsters and get the stadium to provide some cash flow.
Well that is it for today's post, I hope you enjoyed the read despite it being a long one. Scarborough have won the EPL after 11 seasons leaving me to plot out my new target, the Champions League, I think I'll take my suit to the dry cleaners this week. ;) Until next time please feel free to comment below. Thanks for reading.