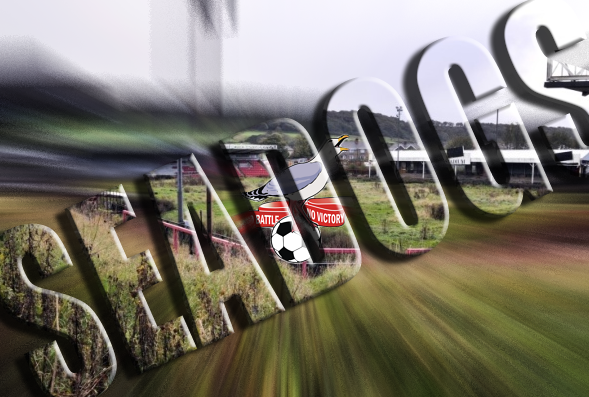 Hey guys and welcome to my FM 2012 Scarborough AFC season 10 report. My last update saw the Seadogs finish their first ever season in the Premier League 6th. This outstanding achievement meant my boys would experience European football in the Europa League, obviously I'd need to strengthen in the summer but there is much more than transfers to look at. Today's post will be a long one so buckle up for a nervy ride!
I actually forgot to get a screenshot of the boards expectations and media odds. But the clubs owners demanded a top half finish which led to a transfer budget of £26 million and extra £260K a week in wages.
I put my new riches to good use but not before offloading a few players. All our departures were no longer needed and some didn't even warrant a transfer so I had to settle for loan deals. A total of £11.75 million was raised and every penny was reinvested in the squad.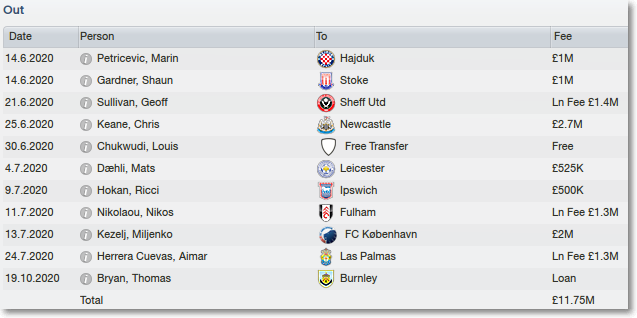 Now for your favorite part of the season, my summer signings. Almost every area of my squad was strengthened and most of these signings would become rotational players at least. The best of my signings came in defense with new centre back Timo Finke and upfront with my new 24 year old prolific Brazilian striker Vieira. (Both players profiles can be seen by clicking their names.) My summer spending hit an all time high of £35 million meaning a net spend of £23.25 million.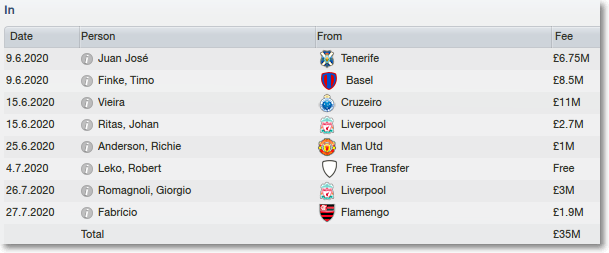 Premier League results – first half of season
After such a successful first season I set myself the goal of 4th place…while that may have seemed like a stretch looking at the quality in England, I felt like the summers additions would give us the edge that was lacked last season. And I was proven right by our early form as Scarborough won the opening three games including a 3-1 victory over Man Utd. Then despite a loss to West Ham we carried on winning against Wigan and Birmingham before things got tough. A difficult fixture list and bad luck with injuries saw my boys draw the next two against Arsenal and Newcastle before losing to both Manchester City and Chelsea. With a tough run out the way we regained composure though and went onto win 5 and draw one of our next 6 matches.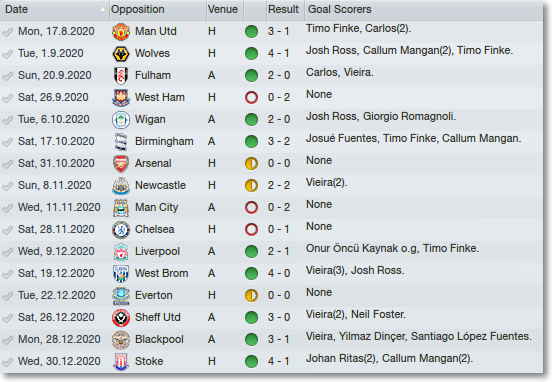 The good end to December left us sitting 4th, just four points off top spot but also just five points above 7th. The season was well and truly up in the air, anyone in the top half could challenge for Europe and the title seemed like a bizarre four horse race.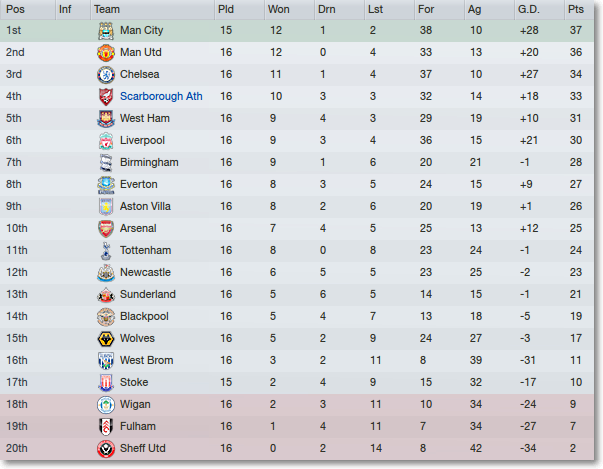 Stepping back a little to November I had some very good news, my board showed their support and enthusiasm by coughing up £12.25 million. This helped raise the bank balance significantly.

But the good news didn't end there. My board then decided to reward me for their own generosity by upping the transfer budget to £16 million…I love you Jordan Bradshaw!! ;)

I secured the signature of a genius central midfielder in Ryan Simonin, after Cardiff's relegation he was available for £2.2 million but I couldn't capture the 23 year old during the summer, so was delighted to finally get my man. I also bought Lukazs Pyda for £5.75 million, I needed a central defender that could dominate aerially and one with some potential to boot so the German seemed to fit like a glove. The season went on while I waited for my new recruits to join in January and when the time finally came my board announced the new expectations.  They were still happy for me to finish in the top half and I agreed, this left me with just over £8 million to spend before deadline day.

I had almost given up searching for talent, the main area I wanted to strengthen was central midfield as I required more depth (you'll see why soon.) Then my scout provided a report on Arsenal's Ricky Northwood who I tried to sign in the summer when the player wasn't interested in a move up North. Well now he had done a U-turn and completed the £5 million switch, an excellent coup that brought our winter transfers up to the £13 million mark.
Yes I have spent a lot of money this season, but I did mention needing more strength in depth and below is one of the reasons…come January we had a long list of casualties and players away on International duty. Besides, my backup CM's just weren't good enough.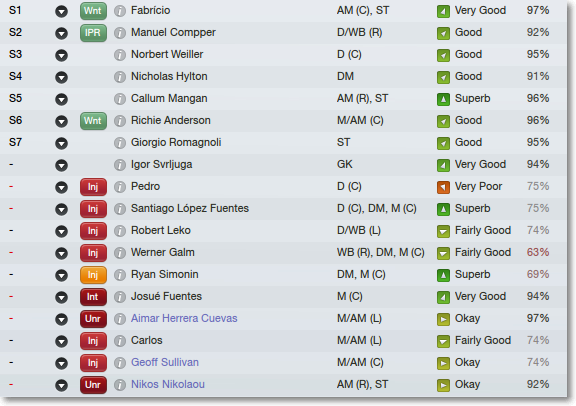 Premier League results – second half of season
So with Scarborough sitting 4th and my new signings ready to go I felt optimistic going into January. We started in style thrashing Spurs 6-0 at White Hart Lane and then continued with victory over Aston Villa. The next four games were mixed seeing two victories, one draw and one loss. The mixed form continued with two wins and one loss from our next three games, but then what felt like disaster struck as my key centre back Pedro broke his leg and would miss 6 months. This awful injury didn't seem to effect us too much though as my boys went onto win 9, draw 2 and lost one of our next 12 matches.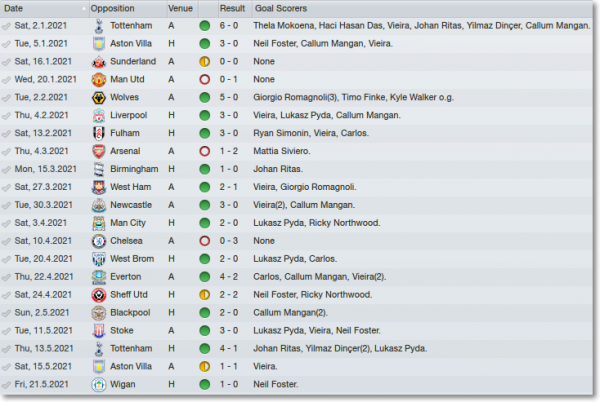 The superb late rally had put us right in the frame, not only had Scarborough qualified for the Champions League, but we just needed one point to secure second place but we even had a shout at the title with one game to go.
Just two points behind United with one fixture to go, our game was at home to Sunderland while Manchester United had to travel to Goodison Park for a tough match vs Everton.
I honestly couldn't have asked more from my players, we had a sending off after 9 minutes, then lost star left winger Carlos to injury just 37 minutes in. All was going wrong but then from nowhere we gained a penalty and Foster converted with a lethal strike. It was all Seadogs from there as we ran out 5-0 victors…I told the lads they were brilliant and then nervously waited after clicking continue…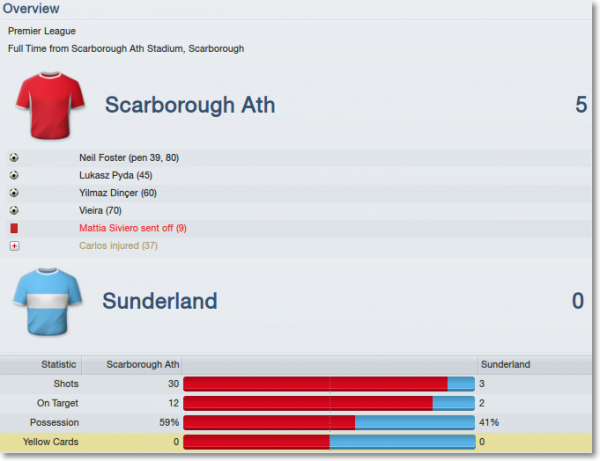 …I took a glance at the other EPL results as my eye cast over the names Everton and Manchester United. Anything but a win for United would secure the title!!!
Ahhh so close!!! Ow well, my old star striker, Shepherd, came back to haunt us as he scored for United to win them the Premier League title. My boys finished a very respectable second and that means automatic Champions League qualification.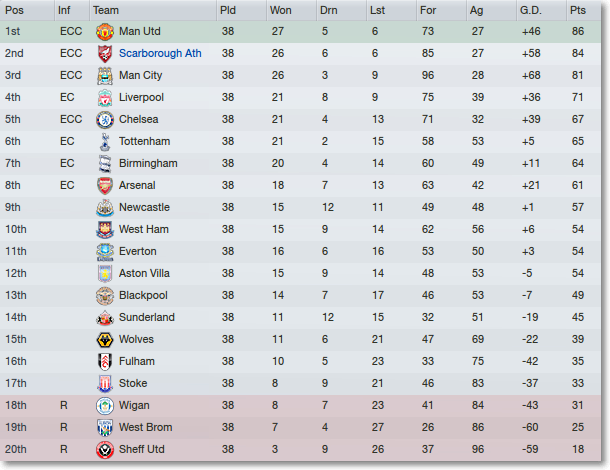 That was the league, but we are only one quarter way there my friends, I still have three more competitions to report on so go to page number 2 for our journey through the cup competitions.
Go to the next page to read the rest of the story.