Hi there!
It's me again with my final update of the 2011/12 season in my Newcastle United game and it was really tight! So without further ado let's get going!

Last time I left you our amazing start of season form had slipped a bit due to Demba Ba's goals drying up and nobody else joining the goal train. So, onto February!
February Results

Only a couple of games in this month but they went relatively well. We came up against an Everton side that I always seem to have a difficult match against and this was no different. It took a goal either side of an Everton equaliser to grab the win, Vuckic scored though which was nice.
After Everton we had Aston Villa, a team that just like in real life have gone on a long and painful slide towards the drop zone and were, at that point, hanging just above it. Usually these kind of matches are really hard but Villa just rolled over with Ba scoring twice and Vuckic netting for the second game in a row!
The month ended with a difficult away game at the loudest stadium in the country (scientifically proven, check it out if you don't believe me). Anyway the game finished 0-0 and little did I know at the time, this is where the problems begin…
March Results

We started the month against Chelsea and grabbed a very good win at a hugely underachieving team. Ben Arfa netted and no prizes for guessing who scored the other 2 goals.
Next up came Bolton. Another team struggling in the bottom half of the table which I thought we would take 3 points from, but no. We fluffed our chances to clear the ball and they equalised on the 85th minute after Ba had put us ahead early on.
Next however came two very good results as a Gutierrez goal sent Man Utd packing and 2 more goals from Ba finished off a resilient Fulham side. The problem I spoke of earlier was inconsistency and it reared it's ugly head again as we failed to beat Wolves at the Molyneux. Little did I know that consistency was about to become a problem in April!
April Results

Because we consistently started to draw almost every game!!! 6 games in April, 5 draws, and 1 win in which we crushed Sunderland (queue evil laugh). After the Wolves game I expected a reaction, but that is like trying to get blood out of a stone on this update. I don't know if anyone else has noticed but since the 12.2 update it's very hard to get a reaction from your team during team talks, and more often than not, when you do get a reaction it simply says 'didn't seem to be listening' or 'seemed to switch off'.
Anyway, a bore draw against West Brom followed by an amazing game against Arsenal, 2-0 down after 20 minutes we fought back to level things and take a crucial point in the race for a top 4 finish.
After Arsenal our fixture list didn't get any easier as we faced 2nd placed Liverpool (with us being 3rd at this point on goal difference). Here we earned another draw but this time it was Liverpool who came away happier, scoring a 90th minute equaliser that left me, well…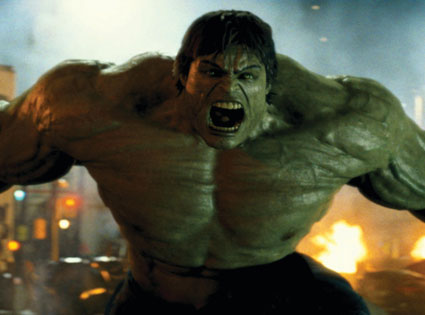 …So once I had calmed down and turned a little less green we invited Sunderland to town. In truth the way we were playing I was expecting us to get humiliated live on TV but instead we wiped the floor with them. However I was left annoyed with the team talk thing again. After we won I passionately praised my players for a brilliant display only for about 7 of them to 'not be listening'!
I expected that result to be a turning point but instead we proceeded to blow a 1-0 lead against QPR and then blow a 2-0 lead against Wigan. Our season seemed to be quickly turning sour due to our inability to turn draws into wins.
May Results

Yes I know, the Wigan result was in May and I've screenshot it wrong. Other than that we finished the season against a Man City side that had already missed out on the title to their arch rivals Man Utd. We did actually take the lead in this game but you know what's been happening for the last 2 months, well it was no different here as Balotelli and Dzeko finished us off.
The end of our Premier League season was nothing short of a disaster as we slid slowly but surely away from the 2nd position we had held so long.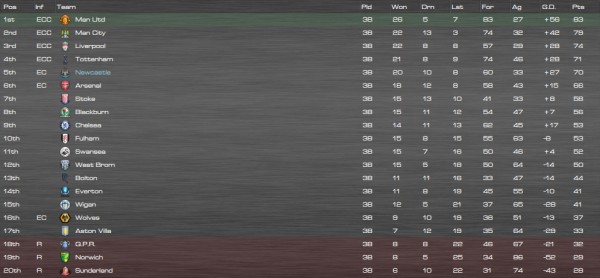 So we finished 5th, we overachieved but it should have been better shouldn't it? I'm just glad the season ended when it did because after been leap frogged by Man City and Liverpool, Spurs jumped above us after the Wigan game and Arsenal were quickly gaining on us.
So Man Utd, Man City, Liverpool, and Spurs are heading to the Champions League while Newcastle, Arsenal, and Wolves (League Cup winners) have to settle for Europa League. Aston Villa survived by the skin of their teeth and QPR followed the previously relegated Norwich and bottom placed Sunderland down to the Championship on the last day of the season.
Let's move on to a more positive note however and take a look at Newcastle U18s. They had an incredibly successful season under the guidance of Joe Joyce (a legend of the Newcastle youth system). Below is the table after 25 games:

As you can see they had won the league by February without losing a single game! They scored 80 goals and conceded only 11 to rack up a brilliant goal difference of +69!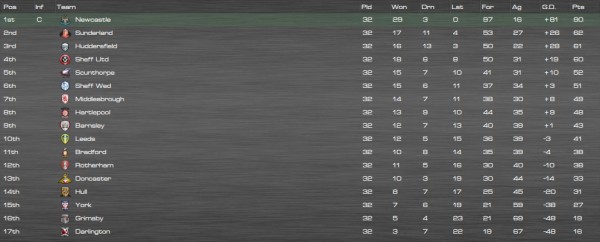 After that they still had 7 games to go and didn't let up in their pursuit of an unbeaten season. In the end they were awarded with exactly that having scored 97 goals throughout the season! Now that's my style of play!
One more thing happened after this though and that was that I was approached to be the manager of Team GB at the Olympics!

Of course I didn't reject the offer and I look forward to bringing you an Olympics post at some point throughout my pre-season!

There was another competition that I mentioned in my previous post that I loved, even if it has lost some of its glamour in recent years. The FA Cup presented a chance for me to really stamp my name on the success records of Newcastle in my first season at the club and I was going to grab that chance with both hands!

You recall us beating Brighton and Sheff Utd to get this far? If so you'll remember we beat them both 3-0 and 4-0 respectively but that was when we were scoring for fun, which was no longer the case. Regardless of that we somehow scraped our way into the final! Needing a 2nd leg to knock out Fulham, beating Aston Villa by the skin of our teeth, and then needing penalties to beat Peterborough! Although Peterborough did knock out Liverpool on penalties the round before so maybe I shouldn't have been so shocked.
But in the end who cares, we were in the final! But it was not going to be easy, Wolves had already won the League Cup and were now trying to get their hands on the FA Cup too. But who came out on top?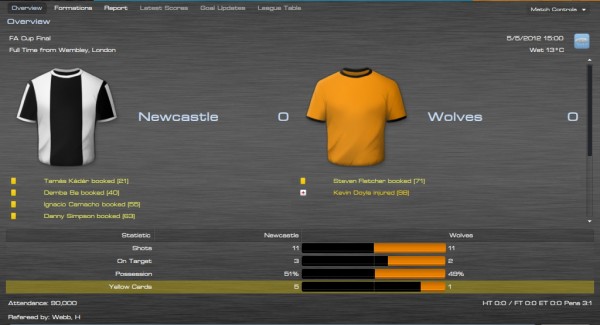 Well it was actually a really bad game full of really bad passing, finishing, and tackling. Some good goalkeeping though! So with normal time over, and extra time over we faced our 2nd penalty shootout of the competition!

It was an absolutely terrible shootout. Demba Ba missed, I was shocked! Then Cisse missed, I wasn't shocked! Cabaye, Verratti, and Coloccini wrapped the result up though since O'Hara was the only Wolves player who hit the back of the net!


So everybody's happy! I'm happy, the fans are happy, and Nolberto Solano is happy! We had lifted the FA Cup for the first time since 1955! Happy days!
So, although we had failed to get Champions League football we had managed to get our hands on the FA Cup. I'll take that! We still have the Europa League to compete for next season and that's a starting point. I would rather go for gradual improvement than race into the Champions League, get destroyed and potentially lose my job.

Now it's time to move onto the players. This season I've got mixed feelings about how my squad performed. In some instances I've got Jordan Mutch, Marco Verratti, and Demba Ba who have been brilliant. On the other hand I've had some serious disappointments, without mentioning any names *cough* Papiss Cisse *cough* some players just haven't lived up to expectations and I'm not sure what to do.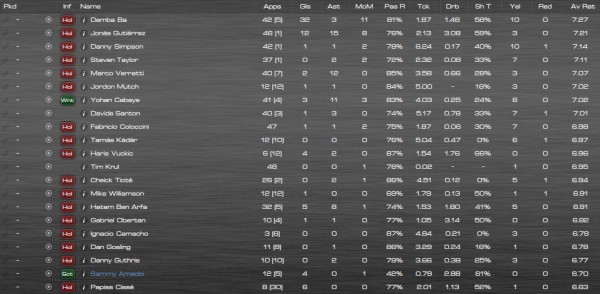 It is likely that I will give Cisse another chance since I've already started working on my new tactics that I hope will exploit my strength up front. Cisse is 3.5 stars and Ba has now risen to 4.5 stars! I've decided that I will be employing an Attacking tactic, a Controlling tactic, and a Counter Attacking tactic and at least one of those will involve Ba and Cisse up front together which I hope will be really exciting!
While I'm on the subject of player ratings I'd just like to take this opportunity to show you my U18s ratings too. They did really well so I guess they deserve some limelight!
Most of the lower ratings on this list come from the new crop of youth players who didn't have much time so have only played a couple of games. Not surprising though to see Adam Campbell leading the ratings after his 26 goals this season. Remie Streete is also up there despite having a really bad injury mid season that has sadly destroyed his chances of becoming professional with Newcastle. His potential dropped from 3.5 stars to just 1.5 stars throughout the 3 months he was injured.
Before we move on I got a request from Dragan to show Cisse and Santon's profiles so unless your interested feel free to just skip to the next section of the post:
Papiss Cisse & Davide Santon as requested by Dragan: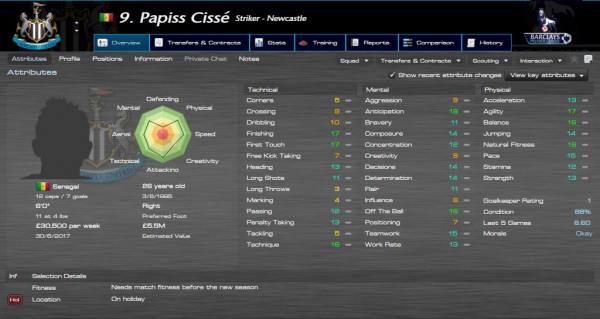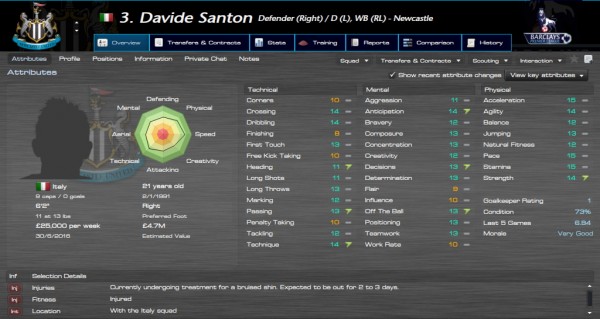 Now you can all see why it's so frustrating that Cisse doesn't score more! He has really good attributes and in fact I believe part of the problem is the 'shoot with power' trait, it causes him to blaze over more than not!

This doesn't really count as transfer news but since I didn't make a Youth System banner (which in hindsight probably should have done) and my Photoshop trial has now run out and is asking me for an extortionate £155 to buy it :o I'll just have to settle with putting my youth team news in here.
You recall me mentioning before about my new crop of youth players, well they weren't impressive at all! In fact Jimmy Norman is the best one: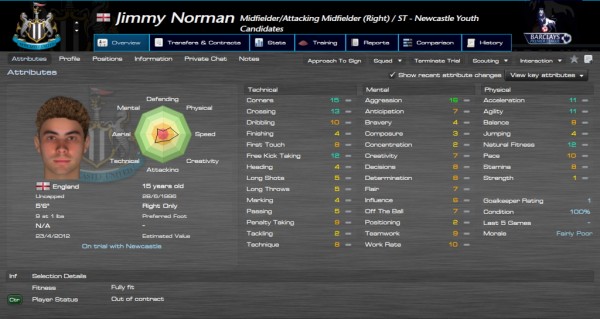 And as you can see he's not that great! Now I'm glad I spent all season picking off youth players from other teams who were not quick enough to seal a contract with their starlets. After all this is what the quality of my new recruits came too:

I was forced to sign a bunch of them to keep the numbers up in the academy but as you can see it is unlikely any of them will ever play in the Premier League. Joe Joyce is going to have to pull off something special with this lot to equal this seasons success.

Now we move onto the clubs finances. Arguably the most important yet most boring part of the post so we'll just try and rattle through it relatively quickly.
So, come the end of the season I was looking forward to seeing how much money Ashley was actually going to allow me to spend. However I then began receiving some good news: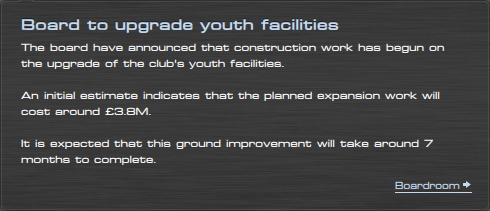 The board actually listened to me when I asked for the facilities to be upgraded! This should help develop those terrible youth players and hopefully make them even slightly useful, even if it's just for Joe Joyce!
And the good news kept coming!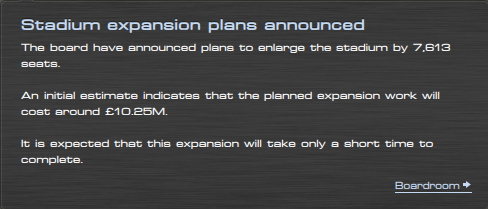 They've decided to splash £10million on enlarging St. James' Park by 7,613 seats! That will take the overall capacity of our beloved stadium to exactly the 60,000 mark! Epic! Not sure how they've managed to do it though since this has been attempted before and due to natural light infringements on the surrounded tower blocks we cannot expand at all. Maybe those flats mysteriously burned down? That's generally how people get around planning permission in Newcastle, you'd be surprised how often buildings spontaneously combust up here! :)
To help counter those expenditures the board announced the club membership intake:

And then announced a new sponsorship deal (which hopefully looks better on the shirt than the ironed on Virgin Money logo).

An increase in sponsorship of £1.25million should help our finances nicely, however that's still below £6million coming in and almost £14million going out on facilities. I was worried that this was going to have an adverse affect on what I was expecting to be an already tiny transfer budget. I expected around £7million or something.

But instead was pleasantly surprised! £11.23million seems a bit of a strange amount but oh well I'm sure I'll cope. I'm going to work on selling some players too, with the likes of Williamson and Kadar (not good enough) and Obertan (terrible in matches) for hopefully over their values since we overachieved.
In the end our finances paint a pretty good picture.

£25million in the bank and an overall seasons profit of £14million thanks to the £12million we received for our 5th placed finish and the £2million we received for winning the FA Cup.
Well that's all for now! Hopefully you enjoyed this season as much as I did despite the number of draws during the end run in. My next post will actually be a special Olympics post so keep an eye out for that, as far as I know it'll be the first Great Britain post on this site but correct me if I'm wrong.
Thanks for reading!