Hi there!
I'm back again, out of the wilderness to bring you another exciting Newcastle United post. This post was actually meant for yesterday but I realised at about 1pm yesterday afternoon that I have college work due for Monday so I've been forcing myself to do that.
Anyway we'll dive head first into the interesting stuff – Transfers! I'm sure you all can't wait to see who I signed with my enormous transfer kitty of £3million!
Transfers Out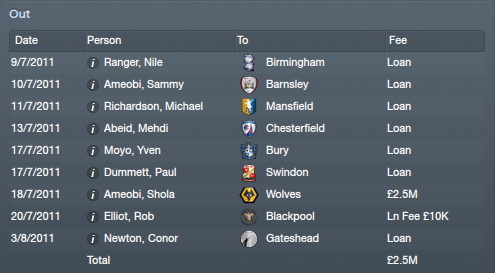 …But first we'll have a look at who I managed to offload. The answer really is nobody, Shola Ameobi left for Wolves for a very nice price of £2.5million but the rest were just loaned out. Nile Ranger, Sammy Ameobi (or Sameobi as he's come to be known around where I live), and Mehdi Abeid were loaned out because I have high hopes for them, the rest I want rid of so they went off to various League 1, 2, and Conference clubs.
Transfers In

Ta-dah! 2 Players with great potential, Marco Verratti and Jordan Mutch for £3million each. Pretty good going if you ask me, I spent £6million of a £3million transfer budget, but that is because at the start of the season we were making a profit and I had Mike Ashley eating out of the palm of my hand like an overweight goat:


The board gave me about an extra £40k in wages (which I turned into transfer budget) and improved the junior coaching of our club from adequate to good. So back to transfers. I guess you guys want to see the reports and profiles so here they are…
Marco Verratti – Advanced/ Deep Lying Playmaker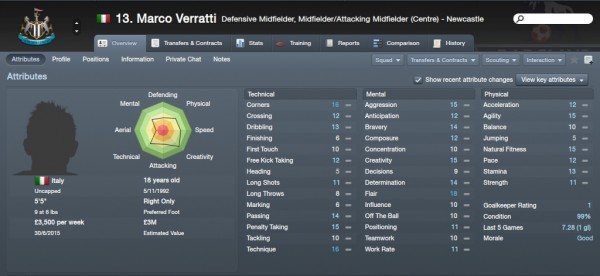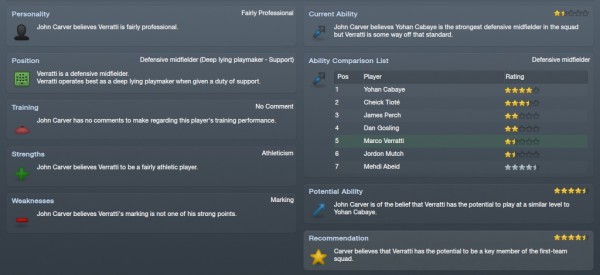 Jordan Mutch – Deep Lying Playmaker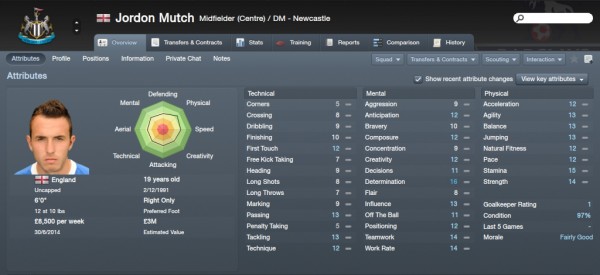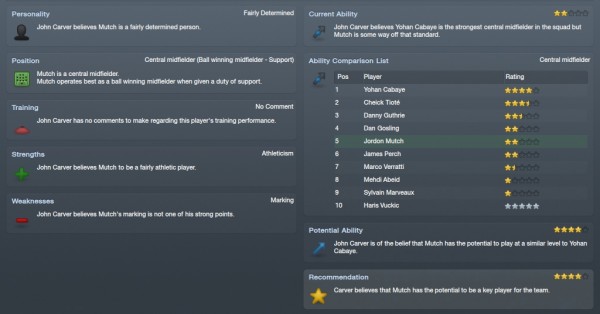 I've got to say that Jordan Mutch looks thrilled to be at Newcastle, just look at that smile! But seriously, I wasn't even planning on signing any central midfielders when I took over. I wanted to sign a backup keeper, a left back, and centre back but you may remember me saying at some point in the last post (as long as I'm not imagining this) that everything would be fine as long as we stayed "relatively injury free", well…

…As you see, Lovenkrands, Vuckic, and Ferguson (and Adjei but I don't care about him), all joined Ben Arfa, Ryan Taylor, and Guthrie on the injury list, 7 players (including Adjei) that are midfielders or can play midfield injured in pre-season! This kind of forced my hand in the transfer market.
But wait, I'm not done yet, I've also arranged a future transfer which I'm very excited about…
Carlos Fierro – Poacher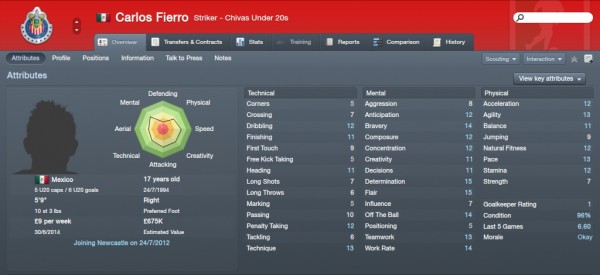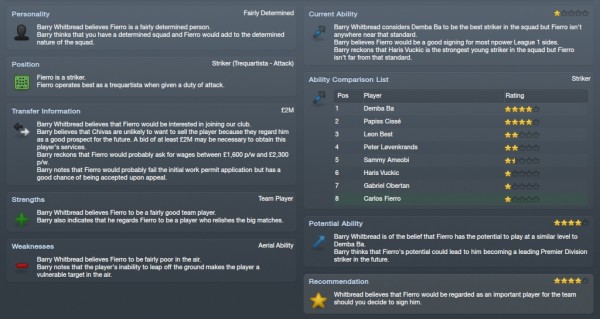 Yay! I've personally never had him but upon reading Celticman's blog on FMCrowd (I was there by accident Johnny ;) ) I saw how good he becomes in the future and although I've heard that it's usually a nightmare to get a work permit for him, I was lucky enough to get one upon appeal! Double yay! Along with Adam Campbell (whom CsAtlantis was curious to see) I could have my future strike pair sorted already!
Adam Campbell – Poacher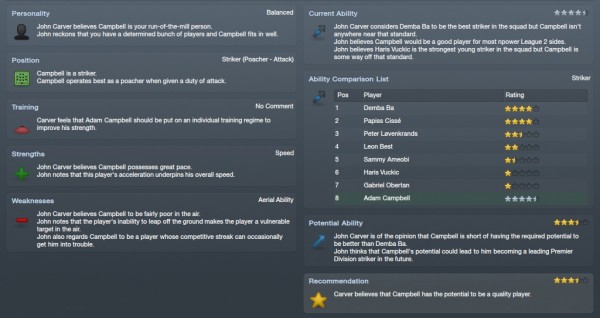 I would love to give this kid the no.9 one day, born in Newcastle and dubbed the 'new Michael Owen' so he can't be too bad when he gets older.
So that's the transfer stuff out of the way, well for the players anyway. As you probably remember I was revamping my backroom staff too and this is what I came up with:
New Backroom Staff

Senior Coaching

Youth Coaching

Much better than what it was when I first joined. I've filled my allocation for coaches and sorted the star ratings out to fit although I wish I'd signed a new goalkeeping coach rather than give my current one a new contract. I also signed 8 new scouts to fill up my allocation there along with Graham Carr who was already at the club:

Not really much to talk about here apart from Juanma Lopez is using his knowledge of South America to scout there for me and Desailly is scouting Western Africa with no success so far but a lot of good players come from there so I'm not giving up.
This has been a marathon post but we're almost done, just a few more things to go through. Firstly formations…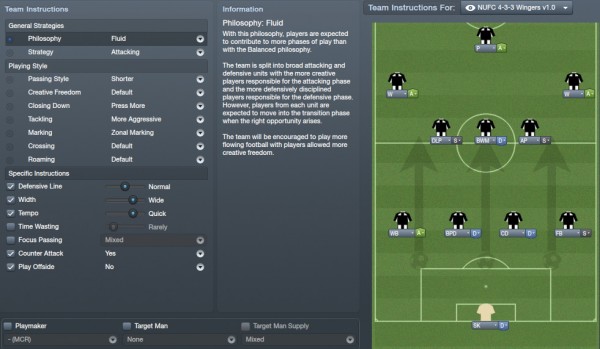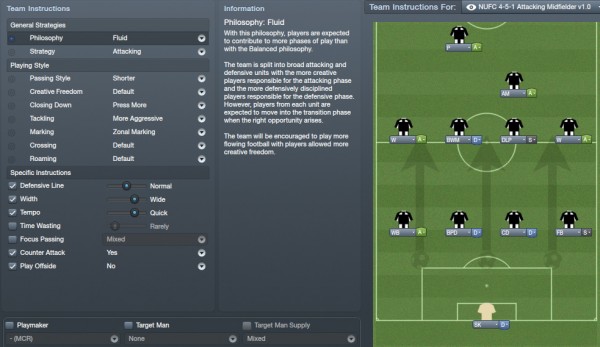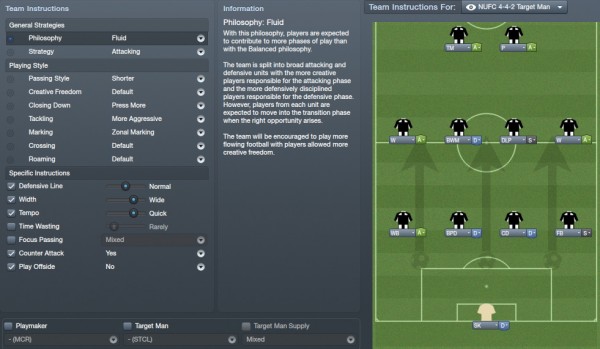 Basically all the same instructions but with a different shape. This is because I believe in playing one way and one way only…ATTACK! I like to have good wingers who can either cross the ball in or cut inside and a capable forward, who I've got in this updated man…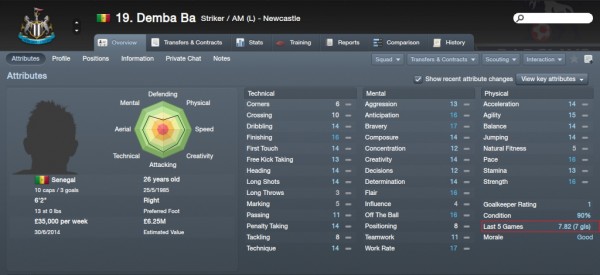 …who can create, score goals, head the ball, and generally put himself about. Look at how many goals he scored in pre-season out of my last 5 games, pretty impressive even if not against the best opposition in the world.
As for the formations, basically the 4-3-3 is my favourite and not dissimilar from what Newcastle play in real life. The 4-5-1 is for when Ben Arfa comes back and my wingers aren't doing too well, having a creative attacking midfielder will take the pressure off them as well as give the striker some support. The 4-4-2 will be used when playing weaker opponents whom I think I can put a few past with both Ba and Cisse up front.
Finally we can move onto what actually happened in pre-season…

Pretty straight forward but I've got to say that during the course of the Barnsley game after they scored a penalty in the 7th minute, and scored again just before half time I did change from this…
to this…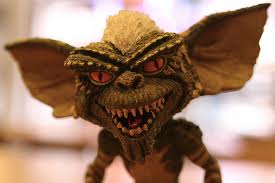 And I now have the Gremlins theme tune stuck in my head! :D But that doesn't matter because going mental at half time and bringing on Demba Ba for Cisse (who was woeful until my last 3 friendlies) got us the result we wanted.
So that's that! Pre-season done and dusted and now onto the serious stuff although we have a very winnable start to the season playing Norwich, Swansea, and Blackburn before things get a little harder.
Thanks for reading!