Hello everyone,
The title says it all, am off on holiday!

Well am leaving on Wednesday with my partner but with all the packing and sorting out to do I wont be around at all to check the stories and read the forums etc so I thought I would write up a new chapter of my story before I left but fear not I will return on Friday the 27th with hopefully a bit of sun to cheer me up after all the rain in England recently!
So a week or so in Spain staying with my Auntie should hopefully recharge the batteries a little after a hectic few weeks.
So enough of real life stuff! Onto my new update and last time we lost in the promotion playoff after having a brilliant season and as such remain a division one team desperately looking to gain promotion into the top tier of Belorussian football.
But am nothing if not determined so I took the playoff defeat (which is inevitable with me!) and went into the new season full of optimism and looking to hopefully gain a promotion I felt we deserved last season.
Did I achieve it? Well lets find out!

——————————
Club Information and Start of Season Finances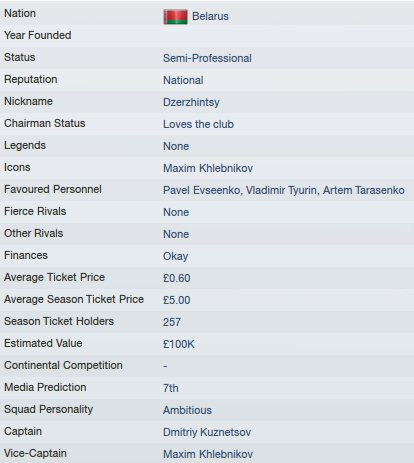 So club wise a few changes with Maxim Khlebnikov becoming the first icon in Livadia history! Joining the favoured personnel was two forward players in Pavel Evseenko and Vladimir Tyurin who had been fantastic last season. We gained a mighty six new season ticket holders! Plus the price of a ticket soared by 10 pence to a whopping 60 pence a game.

Club value increased by £10k but our finances has been slowly dwindling and we are now at a fairly worrying £23k, not crisis just yet but we did lose a lot of money last season which hindered my transfers in this season as I don't want a repeat.
Transfers In and Out – First Window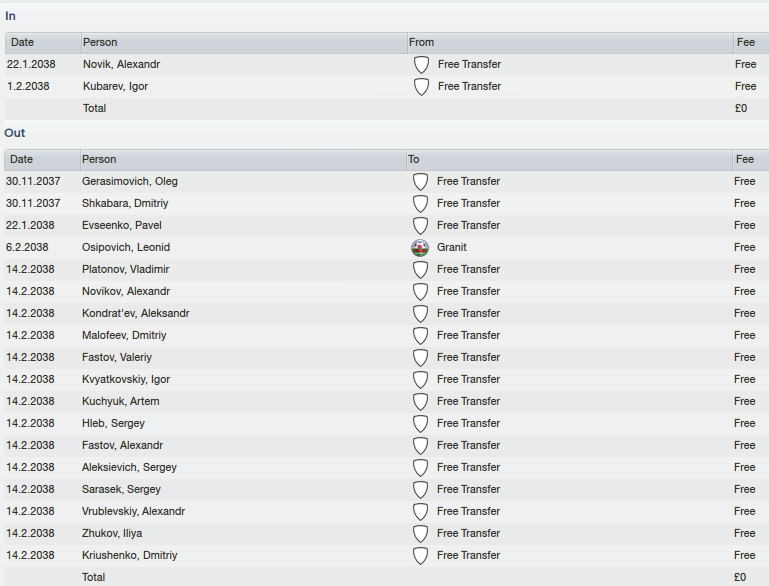 Told you!
I made only two new additions and both were more squad additions rather than first team players, Alexandr Novik  was the first signing a good promising central defender to help provide some cover in that area if we need it. The second signing was Igor Kubarev another promising forward player who can play wide left or as a forward he again will provide cover for my strikers if need be.
Results and Table – First Half of the Season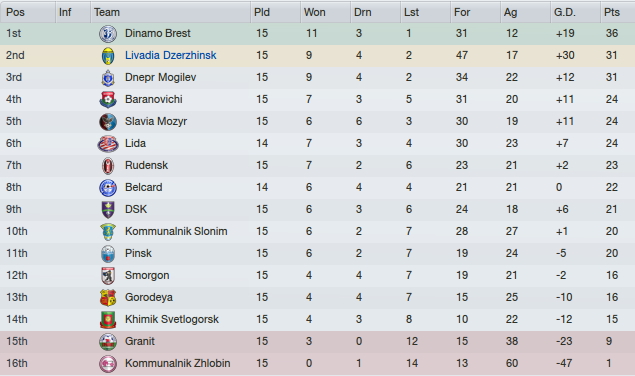 So as expected a really strong opening first half to the season,  and despite scoring more goals than the top team Dinamo Brest we are trailing them five points we didnt help our cause by losing three goals to one at home against them but they are the best team in this division so unfortunate really.
Evseenko continues to shine in the taking of chances and I forgot to add that I did change my formation slightly to have him as lone forward and am very happy with the results of it so far long may it continue I say!

Transfers In and Out – Second Window (Disaster Strikes!)

So this transfer was not the disaster I was talking about! It was one I had prepared for and in essence I would be losing one goalkeeper and signing another as Igor Volkov is leaving for Naftan for £60k which is a really nice amount of money. I had a few choices for signings but plumped for Alexandr Rud mostly as he was young and a good talent for the future.
The true disaster is as follows!

Cant believe it!
So I lost my super talented front man but in all honesty I wasn't that surprised and even though the chairman accepted the price I don't blame him as that is just so much money for this club. If I use it well that could last six or seven seasons and he was a cut above the league he was playing in so good luck to him I say!
The problem is that Pavel Evseenko was such a good front man it was almost impossible to find a like for like replacement, so I stuck to my golden rule of lower league management and found someone with lots of pace with a decent finishing stat so please welcome Pavel Tischenko to the club!
Results and Table With Three Games Left to Play


Title race!!
So this is the state of the league with only three games left to play as you can see its very tight at the top, three points separate the top three and we must play Dnepr Mogliev away so all to play for I say!
We have it in our own hands which is always nice as we are relying ourselves to get over the final hurdle and into the top flight of Belarus football!
An incredible run of results and we haven't missed Evseenko as much as I feared and back to the 4-4-2 we have settled back well with promotion in our sights.
Vs Rudensk Promotion Chase!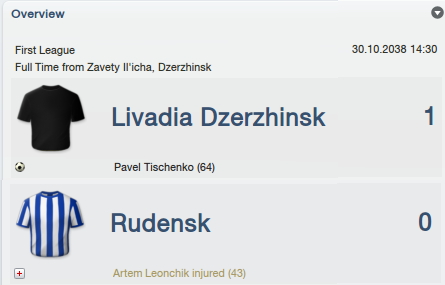 Talk about a nervy performance!
We wasted chance after chance early on then we under lots of pressure from Rudensk who were unfortunate not to lead by half time. Second half followed a similar pattern as we struggled to regain control of the match and had our goalkeeper to thank for a string of fine saves.
Then on 64 minutes the pace of Tischenko allowed him to finish well against the run of play I may add to keep Livadia at the top with only two games left to play.
Vs Dnepr Mogliev Promotion Chase!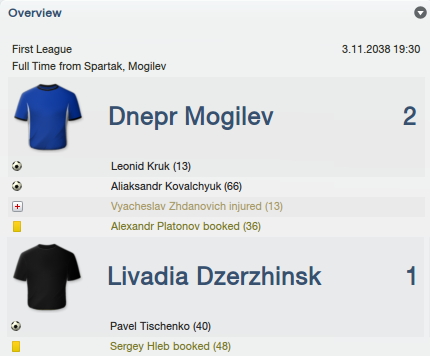 Noooo!
We were beaten by a good Dnepr team and we probably deserved a least a point in my opinion but that result had dire consequences as now Dnepr are back into the race for top spot! Dinamo Brest also won with only a game left to play!
At least its simple for Livadia, win and we are champions due to our very strong goal difference however fail to win and things become more complicated!
Smorgon stand in our way but its a home game and we have been very good at home all season, so will we be celebrating?!

Vs Smorgon Promotion Chase!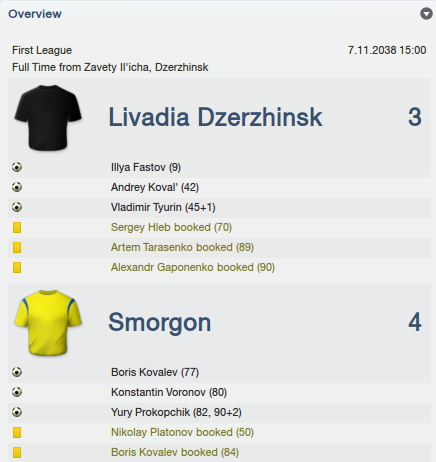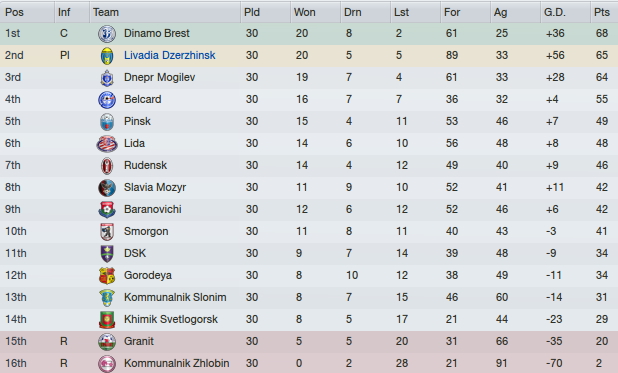 Honestly I just cant believe that….
I mean I am used to hard luck stories but this is just one too far for even me to take!
Three zero up by half time and in absolute control Smorgon barley got into our half never mind work our goalkeeper, then a collapse from no where!
The timing of the goals was really hard to take but the 92nd minute winning goal was the icing on the cake as they say, and as such we lost top spot a place we had occupied all season practically to finish in the playoff place again.
Will my playoff curse strike again or will finally the law of averages work with me to allow a victory?
Lets just see!

Promotion Playoff Final vs SKVICh – First Leg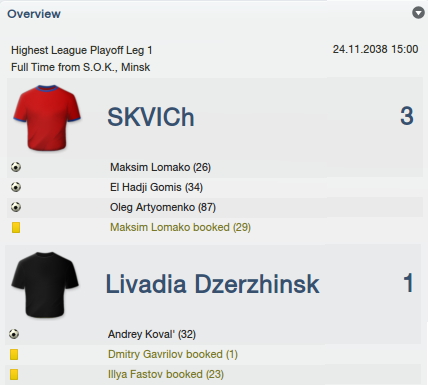 Please not again.

The result was such a poor reflection of the game we were in control for the most of it and the goals gave away were just of a really low standard and we did create chances and lots of them but again its just not meant to be.
However I will remain positive we do have a second leg to play and we are as good as this team so lets just see what happens shall we.

Promotion Playoff Final vs SKVICh – Second Leg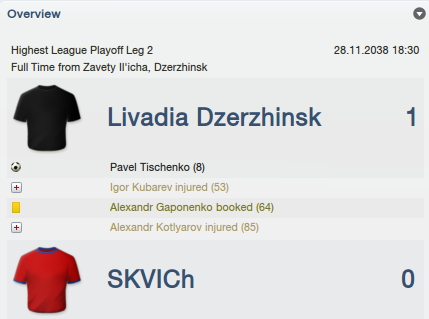 Heartbreak, absolute heartbreak.
Sometimes I just cant believe this game I mean seriously nobody can be that unlucky?
It drives me mad at times generally I take the game as a game but sometimes it just winds me up!! This was one of those times and losing top spot with two to play then lose a playoff final was doubly hard to take, I cant even right any wrongs as I wont be playing this game for the next week or so which just might be the ideal thing.
Its not I am tired of the game or writing my story its this bad luck curse I have and I can deal with it knowing that you will read my story regardless and provide encouragement which is always appreciated!

As a player though it can be so disappointing, if its a playoff I lose no matter what I try and that can be quite hard to take at times I know its just a game but this game can make you feel weird at times I find!
So a mini break away from this save may just provide me with spark I am missing, after this loss I didn't really want to continue I know that sounds extreme but its just so infuriating at times to be there and lose it all, however I tend to look at real life situation that teams like this find themselves in and say it isn't that bad.
Losing is part of the game which I can deal with, after all its just a game and I try to take the positives where I can its just at times this game can drive you a bit crazy after that playoff defeat I even had a little argument with my boyfriend! Stupid I know, so when a game can creep into your real life its definitely time for a break from it!

Final Player Ratings of the Season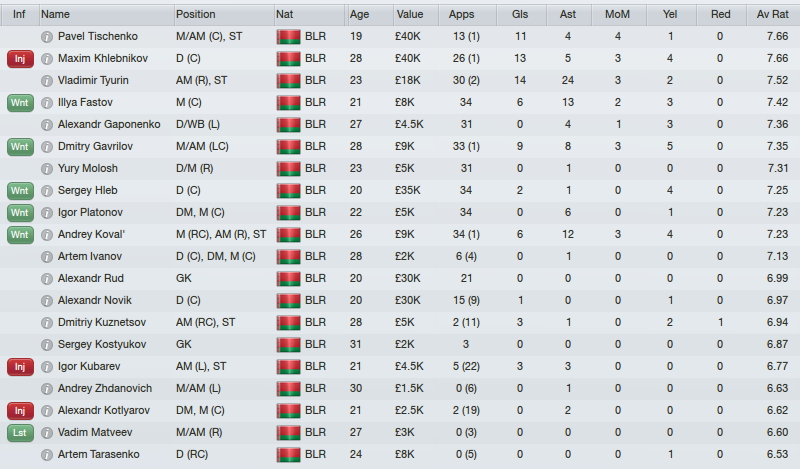 So a look at the ratings and am more than happy with almost my whole squad, Tischenko showed lots of promise in Evseenko's absence scoring eleven times and once again Khlebnikov stood out at the back deserving his icon status.
Tyurin was exceptional is goal creation with twenty four assists and scoring fourteen goals and looked a really good player this season, Fastov remains brilliant in the center of midfield an the bottom names on our squad will be leaving Livadia as I try to reshape the team for next season.
Star Man of the Season – Vladimir Turin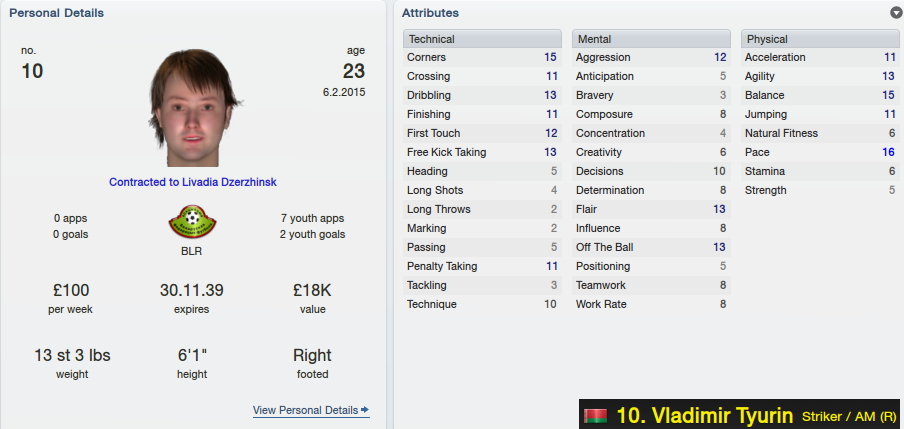 End Of Season Finances and Season Round -Up
So the financial situation look like this as you would expect with the money gained from the Evseenko transfer has pushed the club onto a very strong financial footing as it were, we had a few players in the team of the year which I was happy with as I felt they deserved it and Khlebnikov continues to win the fans admiration winning the fans player of the year for the fourth time in a row.
So that's it!
Another that ends in disappointment, real life argument, and a curse I cant shake! Just to note that this was the only disagreement I have ever had with my boyfriend over this game its not like a constant thing am not that sad (yet!

)!!
So in a way am glad to be taking a little break from this save, just to clarify I am not leaving this save and I will continue to write this story in fact I have a personal grudge with it at the moment!
To say again I will be away until next Friday, the 27th on holiday so I wont be able to read or respond to any of your stories either on the main site or on the forums but I will catch up with them all when I get back, I promise.

Hope you are all well and always I look forward to all your comments and thoughts and I will respond to them all when I get back so until then I hope you all have a great time and see you in a week or so!
Ana. xxx