August
We started by wrecking semi-professional Lunen. I only fielded my youngsters and they did not disappoint. I was happy Schalle kept a clean sheet but more than that, Prakash scored a brace! The next game against Hannover was not much of a competition either. Reus opened his account for the year as did the magnificent Ghazaryan. His aerial reminds me of Vidic (congratulations to my favorite team's captain on being included in the FIFA World XI). The goal Hannover scored was an own goal by Obih. Sadly, we need to add Ghazaryan to our injury list after he was mauled by an opponent. I cannot explain our next game against Stuttgart. Most of the time last season whenever we lost it was a close defeat but Stuttgart completely dominated us. Our defense looked lost without Ghazaryan, and the midfield was completely outplayed without Abdulrahman, while our attack lacked any sort of bite without Allagui (we didn't have Benitez yet). I hope I don't ever have to see the team play like that again. It seems my harsh team-talk after the game helped and we soared once more against Hoffenheim. Abdulrahman was back and made an immediate impact. He might be our most important player, over Reus. Horn, the promoted player last season and part of the Boris/Stevanovic class, scored his first goal for the club after coming on as a substitute. I would like to hope that he will develop aerial dominance, similar to Ghazaryan. The last game of the month was our season's first derby. Reus scored a brace and Soylemez proved that he can play just as well as Abdulrahma, and he got on the score-sheet in the process. Reus' second goal during the game is indescribable. He essential decided that he felt like scoring and just barreled through opposing defenders, odd considering his light build, and fired into the bottom corner. It was such a brute-force goal; I hope he scores more like that! Also, hats off to Mphela for scoring a bicycle kick on us during that game.
September
The first game of the month was another tense one for me, especially because this time we were beaten at home. Wolfsburg employed a very frustrating tactic of peppering my goal with shots and naturally some slipped by. They had 24 shots, 11 on target. That is insane! We held a little more position, but any time they would get the ball, they would fire off a shot; didn't matter from where. Just like last time, we had a complete score reversal and against the mighty Benfica as well! I was shocked by absolutely ecstatic to kick our first Champions League campaign off with a win. It was Allagui's first game back and he scored a goal, as did Benitez. Soylemez added to the tally as well. The next game was very even, with Bamba scoring both goals

We were the better team in the game versus Nurnberg, but we needed an own goal from them to win. Reus drove us to victory in our second Champions League game with a brace. We are sitting at the top of our group now!
October
Allagui hurt himself during training before the match, but Benitez and Reus both scored. I was pleased to win the game even though Boris got sent off. Reus continued his incredible form with his first hat-trick of the season against Bremen. The next match was against defending Champions League winners, OM. This was a scrappy game, with OM receiving 7 yellow cards after 15 fouls. It was a little frustrating and the ter Stegen scored an own goal which caused OM to tie up the game after their dirty performance. It's good to know, though, that we almost beat the best team in Europe (and probably the World).  The draw against Bayern proves we are legitimate. They scored within 5 minutes because we were still warming up to the game but the rest of the match consisted of Bayern being on the back foot. We had 60% possession, but Bayern is still Bayern, so we had to settle with a draw from Ghazaryan's header from a corner. We ended the month with solid wins againt Nurnberg in the cup, during which Benitez and Soylemez made it to the score-sheet, and Leverkusen in the league.
November
So our first month of November was our Champions League game against Champions League holders OM. We couldn't find a win but the game was absolutely fantastic to watch from a neutral's perspective. Reus and Benitez scored while OM benefited from the unreal ability of Loic Remy. Cue 3 easy wins against Freiburg, Schalke, and Benfica. Reus and Benitez scored in each of those 3 games and after the Champions League win, we qualified for the knockout stage with a game in hand! I was also very proud of the win against Schalke because they were league leaders at the time. Our next game showed us that we can't get complacent as Frankfurt won a game that we clearly dominated. We gave away 2 penalties that allowed them to take all 3 points.
December
So the last game of the Champions League group stage was a joke. Since us and Marseille already qualified, both PSV and I fielded weakened teams. I was quite pleased with how my youngsters played given the average team age was a little under 19.
I can hardly believe it! We made it to knock-out stages on the first try and we supplanted the current holders along the way! I was expecting this to be a group of death given the pedigree of the other three teams, but we were just too much to handle.
We followed that up with 2 more dominant displays and then an absolutely shock defeat at Kaiserslautern. We had the far better stats of the two teams but we conceded a late goal on the counter because I was too aggressive. We ended the first half of the season with a great repeat win over Schalke, which sees us go to the quarter-finals of the German Cup! The friendlies were quite simple and were to mostly keep up our fitness.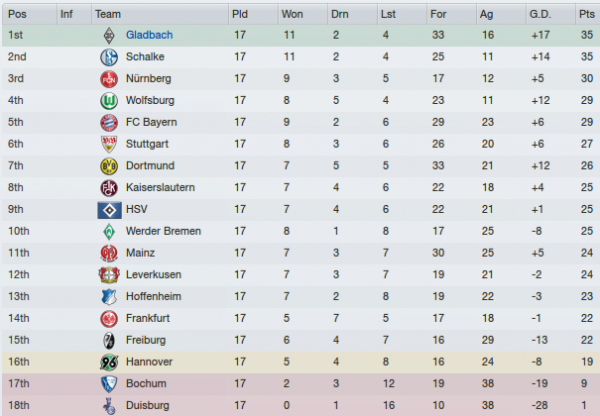 As  you can see, we knocked Schalke off their perch and we are holding onto the top spot going into the break thanks to Reus and Benitez's crazy form. Reus has scored 15 goals while Benitez has scored 9. Reus is also the top scorer in the Bundesliga with 10 goals. Bayern seem to be struggling a bit but as seen from my previous two seasons, Bayern seem to have starting trouble before they start dominating everyone. I was also quite shocked to see how poorly Bochum and especially Diusberg are doing on the other side of the table.
Transfers:
So like I stated, Ghazaryan left during the January window after Barca tabled a £12mil bid for him. Evian actually put up £10mil for him but I had to reject it in favor of Barca's larger offer. I also let Juhasz go because he was whining about first-team football. I wasn't too bummed out because he didn't unlock his potential like other high-profile youngsters, like Soylemez and the now gone Carpentieri (full-back from Argentina), Ciciretti (Italian midfielder) and Franzino. In their places I broke Gladbach's transfer fee by bringing awesome youngster Dennis Wiesner, who can actually play across the whole back, and Nikki Lewis on loan from Manchester City. I am surprised I was able to get him because he is such a great youngster. I will definitely look into keeping him permanently because he could challenge for a first team role right now!
I think this is also a decent spot to discuss how Gladbach are doing in real life. In the Bundesliga, the team in 16th place faces off the team that came in 3rd in the 2. Bundesliga. Gladbach were that team and they just managed to best Bochum. This season, however, Gladbach find themselves in 4th place, one spot outside the automatic Champions League places, and only 4 points adrift of leaders Bayern Munich. Currently it's the winter break but hopefully they can keep up their form. If they do make the Champions League, however, they will be without Reus because he has agreed to go back to his childhood club and Gladbach's rival, Dortmund, on the first of July after Dortmund activated a €18mil release clause in his contract.
Go to the next page to check out the second half of our season!